There is something very soothing and inviting about a beautifully green well-manicured grassy front lawn. It's generally the part of your home that new visitors see first and it often gives a person the first impression of your home. For this reason, as well as it being pleasing to the homeowner themselves, all house-proud people love a well-manicured lawn.
As with all things in nature, growing and maintaining a lawn that is the envy of the neighborhood can take a lot of work. So, if you are new to gardening, it can be difficult to figure out what kind of equipment you should invest in.
GREAT LAWNS START WITH GREAT LAWN MOWERS – how to choose the right lawn mower
Obviously the first, and arguably most important, lawn tool you need is a lawn mower. But, which one should you pick?
There are a bewildering amount of choices when it comes to buying a new mower, so before you start shopping, take some time to decide the type that will work best for you.
Whether it is a ride on, hover or walk-behind mower, a manual reel or electric push mower each mower type offers its own strengths and different mowers suit different gardens.
Determining what type of lawn mower you need will remove a major hurdle and cut down on your overall shopping time, help you avoid going for a machine that is ill-suited to you and give you a chance to find the best deal.
Knowing how to choose from the different mower categories available
Mowers fall into a few basic categories and each category has different options. Even mowers in the same categories have different options that include the power source, optional accessories, possible noise dampening ability and zero-turn manoeuvrability to name just a few.
So, choosing the right mower can certainly be a challenge when you are confronted with so many different types, brands, and models available for purchase.
So how can you choose the right one?
The first thing to consider is which type of lawn mower you need.
For our purposes we can break these mowers down into 2 distinct types:
Walk-Behind or Push Mowers
Riding or Stand-on Mowers
Once you have finished this article and identified which mower type you need you can read our more in-depth article giving tips for choosing the right walk-behind mower or our comprehensive guide to choosing the right riding mower.
So which mower type do you need?
Your lawn terrain makes a big difference in the type of mower you need
One of the main reasons behind the decision to buy a new lawn mower is the desire to minimize the workload associated with yard work. This is the almost always the most important factor when choosing the right mower.
So, for this reason, your particular lawn's terrain, and similar conditions should help you to determine which type of mower is best for your needs.
For example, if your lawn's terrain is flat, your yard is relatively small and the grassy area is even and without obstacles then a simple reel mower could perform just as well as the most expensive commercial walk-behind.
However, if your lawn's terrain is rough, uneven or littered with obstacles such as trees, bushes, and flower beds then a reel mower would pose problems while a high wheel mower may be exactly what you need.
If you have a lot of lawn obstacles that require precision cutting and possess a fairly large lawn area then you may want a wide area walk-behind with zero-turn capability.
The size of your lawn should be a key consideration
Usually, a lawn 1/2 acres and above is considered large and if your lawn is in this size range then it is best to use a powered lawn mower and avoid a manual reel.
In fact, if you are mowing anything close to a 1/2 acre then you really need a self-propelled mower or even a riding mower.
If you have 1 acre or more than you definitely need a riding mower or a stand-on mower.
THE TYPE OF LAWN MOWERS THAT ARE PERFECT FOR LAWNS SMALLER THAN 1 ACRE
If you have decided that you need a walk-behind mower because you have a fairly standard lawn that is less than 1 Acres your decision making hasn't finished yet.
Walk-Behind mowers also fall into a few different categories:
Manual Reel Mowers
Push Mowers
Self Propelled Mowers
Most people will opt for some type of externally powered lawn mower. However, there are many good reasons for considering a reel lawn mower which we will look at below.
Manual reel mowers for lawns less than 1/2 an Acre
If you have a standard sized lawn that is less than 1/2 an acre then you may want to consider a manual reel mower.
These mowers are unpowered manual machines that you push yourself. They are some of the cheapest lawn mowers on the market like the ones over at Amazon.
The rotary blades are placed on a cylinder that turns under manpower as you push the entire machine.
These mowers offer the advantage of being extremely environmentally friendly and extremely quiet. In fact, they make almost no noise at all. They do however require more effort.
Reel mowers are great for keeping fit and require very little maintenance. Just a little cleaning and oiling is all that is needed to keep your reel mower running efficiently for years.
There are some people who like to use manual reel mowers so that they can get their exercise while they mow the lawn so if you have a small lawn this may be a good option for you.
They are not good for anyone who has a health challenge or who wants to avoid undue physical exertion.
For those of you with bigger gardens, a more challenging terrain to mow and/or you just hold the belief that you get enough exercise walking to the car (like me) then a powered mower is a much better option.
Lawns larger than 1/2 acre need a powered walk-behind mower
There are 3 basic types of powered lawn mower:
Gas.
Electric battery/Cordless.
Electric/Corded.
A gasoline powered lawn mower is usually (but not always) more powerful but it is very noisy and not very eco-friendly.
Additionally, it has running costs in the form of gasoline and oil.
Gas powered mowers offer power & are usually self-propelled
The most common gasoline powered lawn mowers are 2-cycle and 4-cycle machines. The latter consumes less fuel and does not pollute the environment as much as a 2 cycle model.
If your lawn is small, getting a push type mower is sufficient. You will be able to get an affordable yet quality push mower and the lower end models can be snapped up for only slightly more than a manual reel mower
Push gas mowers are very low maintenance but not maintenance free since all engines need some amount of care even if it's only checking the oil levels.
These type of mower are usually quieter than the self-propelled models which require a little extra torque and are a little more environmentally friendly as they tend to use less gas.
In most cases, if you need a wider cutting area on your lawn mower you will need to get a gas powered model.
However, you will need to work slightly harder since this is a manually operated mower – only the blades are turned by the engine.
If you want less of a workout or just prefer to have a little more power, perhaps due to a more challenging lawn terrain, then go for a self-propelled model.
We also advise you to get a gas mower with an electric start to avoid the annoyance of a pull cord start.
Electric mowers are less powerful but eco-friendly
The advantage that a gas powered lawnmower has is that it is good for larger lawns and lawns that are uneven and have a challenging terrain garden environment.
If a wide cutting area on your lawn mower is not essential (anything over 21″) and you are considered about your carbon footprint then an electric mower will be right up your street (or lawn).
Although a gas mower is able to handle thick grass better than an electric mower that doesn't mean than an electric mower will be a bust. Modern electric mowers, both corded and cordless, are well able to handle most American lawns with a great degree of ease.
Obviously, the downside to a gas powered mower is that it uses gas. Thus it has all the hassles that go hand-in-hand with such a machine. You must have gas on hand to use it  – gasoline like anything else has a limited shelf life so leaving fuel in your mower for long periods in-between use is not advised.
Your gas mower also produces harmful emissions.
With an electric mower, you avoid all the problems associated with using a machine powered by fossil fuels.
Although an electric mower is often slightly less powerful than a gas mower it tends to be a lot narrower making storage and maneuverability much easier.
Electric mowers don't really handle uneven surfaces that well so they are a best for flat lawns. But being electric, they do not produce CO2 emissions hence they are much better for the environment.
You can get them with either a cord or with battery power depending on your preference.
Again, at the lower end of the price scale, the corded mowers are usually more powerful than the corded cousins but unless you are really strapped for cash and must settle for an entry-level machine we would advise you to avoid a corded model as trying to avoid the lead becomes old very quickly.
Consider if you need a mower with mulching capability or a rear bagging mower
The next decision that you have to make when you are choosing a lawn mower is what you want to do with the clippings. Most standard walk behind mowers come with side-discharge; where teh clippings are discharged from the side of the mower onto the lawn.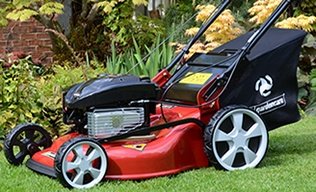 However, you also have two other options – you can bag them at the rear or you can mulch them.
Side discharge mowers are cheaper since they are simpler to build and have fewer attachments but they will slow you down since you will have to deal with the clippings afterward and manually rake the grass. Bagging mowers are usually a little more expensive with mulching lawn mowers being the most expensive.
However, these days you can get 2-in-1 mowers and 3-in-1 mowers at very affordable prices.
Knowing which walk-behind mower is best for you – in a nutshell
So, in a nutshell, what is the bottom line in choosing the right walk-behind mower?
Know your lawn size and grass type; have a general idea of how many times you need to mow, and consider what you want to do with your clippings.
Consider if going green is more important than powering up.
By knowing your lawn and having a good idea of how you want your potential lawn mower to perform, you'll have a pretty good idea on where to begin your shopping.
Now let's take a look at riding mowers.
RIDING MOWERS ARE GREAT FOR LAWNS OVER 1 ACRE
If you have a lawn that is over 1 acre or you have a large lawn that has challenging terrain then you will be in the market for a riding mower.
As with walk-behind mowers there are several options when it comes to choosing a ride-on mower.
If you would prefer a stand-on mower you can use these same guidelines to help you identify which stand-on is best for you as stand-on mowers are similar in capability and build to the larger of the riding mowers.
Monster lawns need monster mowers
It goes without saying that if you have a large lawn to mow or multiple lawns, then a standard walk-behind mower just isn't going to cut it.
Although there are so excellent commercial walk-behind mowers available in the marketplace, they are really geared toward professional landscaping businesses as additions to their lawn mower fleet rather than stand-alone machines.
A professional lawn care professional will seldom use a walk-behind mower as his/her main machine.
A professional will usually use a walk-behind mower for smaller jobs, for tidying up areas that are a little tricky for bigger mowers to access or simply to have an additional mower available to finish a job quicker.
Professionals will also keep a commercial walk-behind mower as part of his/her fleet to divide the workforce between 2 jobs without having to cover the cost associated with buying another riding mower.
Forget what you've been told – size does matter!
The obvious advantage that a riding lawn mower has over a walk-behind is that you don't have to push it. But, this is not the only advantage.
A riding mower will have a powerful engine and that means that it will take less work to get your lawn mowed and you will be able to get it done faster.
Any riding mower above the very basic entry-level machine will also have zero-turn capability.
This one feature will make mowing your lawn infinitely easier especially of you have any obstacles – from trees and shrubs to garden benches.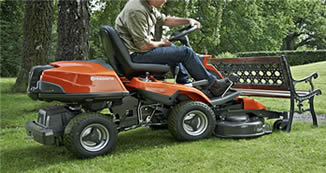 If you have a big lawn or if you have physical issues that make mowing the lawn difficult this can be a good option.
The downside of riding lawn mowers is that they are expensive compared to a push mower, require substantial storage space and they are not practical for smaller yards.
Unless you have to mow an acre or more in size it is probably not worth the investment riding mower.
BEFORE BUYING ANY MOWER MAKE SURE YOU COMPARE THE TOP BRANDS
There are various brands available in the market such as Toro, Lawn-Boy, Honda, Husqvarna, Snapper etc. and each brand has its own unique strengths.
As a consumer, you should always compare and contrast not only between models but also between various brands. Pay particular attention to price and try to ascertain if the difference in functions is mirrored in the difference in price.
Apply this approach to every potential mower and don't be afraid to ask a salesperson to justify specific price tags if you can compare it to a much cheaper model.
Be sure to check information online posted by current and previous owners of the mowers you are considering buying. Be especially aware of any key points, both good and bad, that may be recurring points in online reviews.
If you are considering buying a commercial lawn mower, it is prudent to consider whether or not the manufacturer specializes in commercial mowers.
If the brand you're considering makes two or three commercial models but focuses mostly on their range of homeowner mowers, they aren't usually a good choice. You may find that they don't have the same expertise as a company that focuses exclusively, or largely, on commercial grade mowers.
Insist on a warranty
All lawn mowers come with a standard 2-year warranty – which may be extended as part of a marketing push. However, what homeowners, who buy a commercial mower, don't know is that many commercial mowers only come with a 1-year limited warranty. These warranties can be much more strict than those for a residential mower because the manufacturer rightly needs to protect themselves from claims by professionals who basically wear out their machines through heavy commercial use.
So, be sure that any seller of a commercial mower you plan to buy will give you a standard 2-year warranty because you will be using the mower for residential use (as long as you are not planning to use it for commercial putposes of course).
Never buy a mower without fully understanding the warranty attached to it especially for expensive purchases such as riding mowers or commercial walk-behind mowers.
A lawn mower's features should be an important consideration before you buy
It is important to be familiar with possible upgrades associated with a mower if you think you will need them a later date.
If you are spending anything over a few hundred bucks then the mower should both bag and mulch and should come with the bag as standard or a free extra.
Bagging is great for picking up leaves and sticks while mulching shreds the grass and redistributes it even so you really want to have the option of either one.
The deck is the part of the mower that houses the blade. So, also be aware of the deck size.
A bigger deck means you will cut more lawn with each pass. The bigger the deck, the longer the blade, and this means that more grass can be cut in one sweep.
Keep in mind that mower speed and the rate of blade rotation depend on the horsepower of the mower and are different things.
If you have tight spaces or a lot of lawn obstacles then you will want an easily maneuvered mower.
The smaller the turning radius, the easier it will be to mow around obstacles in the lawn. Hence, a zero turn mower has a turn radius that requires no movement – it can literally turn on a dime.
This is why zero turn mowers give such a smooth unbroken and even cut.
Lastly, check out on the type of material that is used for the deck and try to get one that is of stainless steel if you opt for a riding mower. Of course, it will cost slightly more but it will be easier to maintain compared to those made of aluminum or, god-forbid, plastic.
Happy mowing!