Whether you are a professional or a homeowner with a large lawn what you need is a reliable and sturdy lawn-mower that will run forever without the need for much maintenance and which gives outstanding quality results when it comes to the cut. Since there are a number of commercial lawn-mowers on the market today it isn't often an easy task to choose the one that's best for you. So we have chosen 3 commercial walk behind mowers which are among the best and most popular market today.
When choosing our top 3 commercial mowers, budget and features, as well as the quality of cut were considerations we took very seriously. The lawn mowers we've shortlisted for this review are three of the best commercial walk behind mowers currently available. Each one of these professional lawn mowers boasts distinct qualities according to their class, design and brand.
We hope that by the time you're done reading this review, you'll have a fairly good idea about which model is best suited to your own individual needs since we will be discussing in-depth features as well as pros and cons of each mower listed below.
Best Commercial Walk-behind Mowers
Here are the three best commercial walk-behind lawn mowers according to their deck size, in descending order:
The Top 3
Turf Beast 54″
Bradley 48″ Hydro
Swisher Predator Talon 24″
Let's bring you up to speed on each one of these walk-behind commercial lawn mowers, starting with the Turf Beast 54″.
TURF BEAST 54″ HP Dual Hydro
The Turf Beast 54FB 22 HP Subaru Commercial Duty Dual Hydro Walk-behind Finish Cut Turf Mower is a 54 inch commercial-grade mower with a floating deck and is perhaps the best commercial walk behind lawn mower on the market.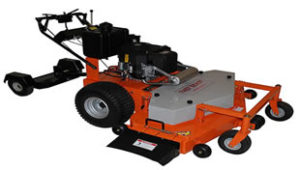 The Turf Beast is manufactured by GXi Outdoor Power. This manufacturer may be an obscure company situated in far-off China but it has developed such a good reputation for quality and value for money that it now distributes its products to almost every region in the USA and worldwide.
As far as commercial mowing goes GXi have really nailed it with specific machine.
Below we have highlighted the features that make the Turf Beast 54FB an excellent commercial walk behind mower and, in our opinion, make it better than the competition. But, to be able to make a properly informed choice you need to armed with all the facts not just the pros. So we have included, what we views as, the machine's cons as well so you're left with no surprises after your purchase. We have also included a section showing what current owners have to say about it.

The Powerful 22 HP Subaru Commercial-Grade Engine
This commercial behemoth is powered by a 22 HP (653cc) Subaru EH65V commercial-grade engine with a featured electric start capability. This makes the Turf Beast 54FB lawn mower more than powerful enough for large lot owners and commercial landscapers alike.
This engine packs enough of a punch to mow even the toughest terrains with ease over long periods of use.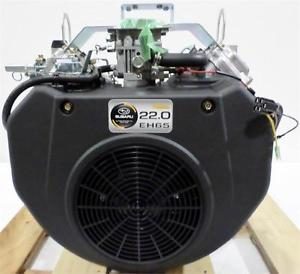 Although we usually choose mowers with American built engines (largely due to the excellent quality) this machine's 22 HP comes from a Subaru.
You may be new to Subaru mower engines only recognizing the brand for its automotive value but the company's mower range are renowned the world-over for their smooth and reliable torque range as well as their durability and low fuel consumption – no matter what RPM range you are in.
The OHV V-Twin Cylinder EH65V Series is known as the one of the best commercial-grade engines offered by Subaru. In fact, it is one of the best on the market today.
It is features such as the PTO shafts that make these engines ideal for lawn-mowers, trenchers, ride-on trowementls and general gardening power equipment.
For example the PTO shafts on the EH65V engines aren't your standard generic off-the-conveyor-belt parts; they feature an aluminum bearing support at the side of the crankshaft (on the PTO side) that minimizes shock when the engine is under extreme stress or from heavy loads.
In addition, to extend the engine's life, Subaru has also installed another unique feature through the use of aluminum alloy blocks. These aluminum alloy blocks have cast iron cylinder liners and a high-carbon steel (forged) crankshaft to provide higher engine reliability and durability.
A large-capacity air cleaner (with dual elements) is also lodged in the engine to provide superior protection from the dust and debris that are the enemy of all engines.
To prevent unnecessary damage and provide for efficient oiling, Subaru has installed a full-pressure lubrication system which uses a trochoid-type oil pump and a low-oil-pressure system that combined can extend the engine's life by many years past the norm.
Video Showing How the Trochoid Pump Works

Dual Hydrostatic Transmission Drive
When you first use this lawn mower you will, like all previous users, get to experience the much talked about dual hydrostatic drive system firsthand.
This drive system is the driving force of the mower making the engine not just incredibly powerful but also increasing its productivity. You will also find that this mower is very easy to use due to its superior maneuverability and unique "ultimate variable speed control".
These make-up the perfect feature set for allowing the user full mower control for a professional finish without the hassle or price of a bigger and bulkier riding mower.
The dual hydrostatic drive system is capable of reaching forward speeds of up to 8 MPH, which allows you to cut grass much faster than your average walk-behind lawnmower. Many mowers boast a very high top speed that sounds good but in reality is unlikely to be a viable option. On average most mowers will fail to perform at optimum level when they near their top speed. Not so with the Turf Beast!
Even at top speed, which cuts at about 18,750 ft.per min, the results given by the Turf Beast are nothing short of impressive. At top speed on an fairly even terrain you will still get an extremely high quality professional clean cut.
The Wheel Base
The rear wheels come in at 18×8 inches while the front wheels are 9×3.5 inches.
This combination allows for easily maneuverability, despite the beats's size, while simultaneously helping retain traction without leaving marks on the lawn due to the mower's weight.
In fact, the wheelbase is perhaps why the drive system feels fantastic and offers superb maneuverability, consistent grip and accurate control to the user.
It's Also a Stand On Mower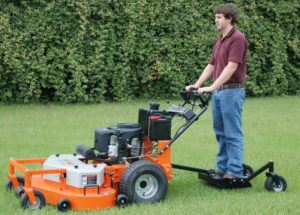 Even though the manufacturer lists the Turf Beast 54″ as a walk-behind mower it actually comes with an attachment that turns it into a Stand On Mower.
With the ability to stand on a perfect fitting platform behind the mower the user can take full advantage of the power and speed the turf Beast has to offer.
This is an excellent user feature that would be of benefit to those with medical or physical challenges that prevent them from walking and/or sitting for long periods.


Quick-adjust Floating 54″ Rust Resistant Deck
The Turf Beast 54FB has yet another feature that is an attention grabber ― the quick-adjust floating deck.
The quick-adjust floating deck is actually valued at $1000 because you don't have to use any tools or equipment to adjust the height. By simply pulling the lever, you can alter the deck height effortlessly.
The floating deck features cutting heights ranging from 4.5 inches to 1.5 inches; this gives you more room to experiment with cutting, hence creating more beautiful and even lawn cuts. It also offers superior mulching capabilities.
The high capacity 54 inch deck is comprised of 7-gauge steel, which makes it essentially a heavy-duty construction model that's ultimately rigid enough to withstand the toughest cuts without a problem.
What's interesting is that it has three 18-inch steel blades which allow you to cut more in less time compared to a single or dual blade alternative. The steel blades perform well enough to ensures quality cuts at high speeds ― perfect for yards spanning over 2 acres or more.
Additional Features that Add more Value to this Monster
Boasting a long life, great durability and impressive maneuverability, the Turf Beast proudly lives up to its name.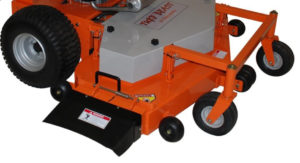 But how is "the beast" better than a variety of other commercial lawn mowers on the market?
Well as is often the case when you get to high-end products of any kind it is the little things that make a huge difference.
To provide the mower with a longer life-span the Turf Beast 54FB was equipped with high quality aramid fiber v-belt, sprinkle brakes and soft start clutch, which considerably extends belt life and greatly lowers maintenance costs.
The high impact spindles, with grease fittings, ensure superior durability and also work to extend the overall shelf-life of the machine.

Who Is This Best For?
This machine is for any commercial users that require power, durability and a professional finish from a machine that can last a life-time.
While the Turf Beast 54FB is one of the best commercial walk behind lawn mowers we've found it does have a few drawbacks (as does every product).
For example, one Home Depot reviewer claimed that the Turf Beast 54FB isn't that durable, after all. The reviewer said that it only worked well for 3 years and pretty much stopped working after that.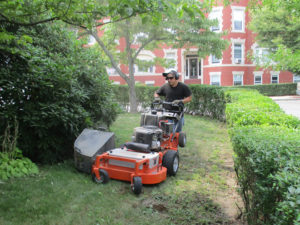 However, upon further investigation and reflection the life of the mower largely comes down to how you use and maintain your mower.
Over-worked mowers, not matter how good they are, that are not properly maintained will obviously develop problems and it should be noted that this machine is not a replacement for a riding zero turn mower if you have an exceptionally challenging terrain.
Even though (in our opinion) the aforementioned mower was not properly maintained and was essential used for work that was beyond its "paid grade" we were blown-away by the after service offered by the manufacturer to the buyer – after 3 years of use!
The reviewer sent back his Turf Beast to the manufacturer for repairs and they returned to its owner in perfect working order.
Although this seems to be above-and-beyond the norm for such circumstances you should not to rely on this happened for you should you experience any problems after the warranty has expired due to your own negligence – though the manufacturer maintains that the machine has been designed to keep maintenance and repair costs low to further help their commercial user-base save money on their investment.
We advise that you always read the warranty guide and user manual to ensure your lawn mower never gives-up on you prematurely and if and problems due arise you can claim the warranty worry-free.
We also believe that another "buyer discouragement" for some people is the price point; it is substantially more expensive than most walk behind mowers even most of our top 10 picks and our pick for the best wide area walk behind mower. But, you can rest assured that the Turf Beast is well worth the money and an almost essential addition to any commercial lawn mowing business fleet.
You can get cheaper but if you want a powerful, durable, long-lasting and reliable lawn mower that is capable of commercial cutting and don't want to opt for a riding mower then this is your best bet. It's the perfect commercial lawnmower, without a seat, for those who want top-notch performance combined with high output and productivity.

Turf Beast in Action – Video
What Reviewers Say about the Turf Beast 54FB Lawn Mower
Apart from the above review (in the "Who Is This Best For" section), other reviews that we came across were very positive. The common thread is that the 54FB is perfectly designed, highly durable, relentlessly reliable, and a powerful monster that lives up to its claims.
According to one reviewer the Turf Beast 54FB lawn mower is "made to get the job done without haste". He complimented every feature it offers.
He went on to state that the Subaru EH65V engine is fantastic, the floating deck doesn't give up even on uneven terrains ehile the cutting deck never clogs, and there is an abundance of grease fittings.
The review then adds, "It's quite obvious that the Turf Beast 54FB is going to last a lifetime".
Another reviewer who simply stated "Very good!!!" gave the Turf Beast 54FB a five-star review while listing "NO CONS" on the review website.


That pretty much covers it for the Turf Beast 54FB lawn mower.
Time to move on to our second pick of the best commercial lawn mowers: The Bradley 48″ Hydro.
BRADLEY 48″ Hydro T-Bar Briggs
So, what if you don't need the power and 54″ deck offered by the turf Beast or just don't have the budget to opt for the highest-end option? What some commercial users need is the perfect combination of power and affordability.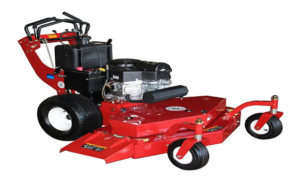 If you are a commercial user, or residential owner with a big lawn, who wants the best value for money without compromising on power or professional results you would not go wrong with a heavy duty commercial lawn mower like the Bradley 48″ Hydro Walk Behind Commercial Mower T-Bar Briggs.
The Bradley 48″ Hydro is a top-range commercial mower that performs to a high enough quality to be considered a high-end without costing an arm and a leg.
Of course you should bear in mind that there is a difference between "affordable" and cheap. The Bradley 48″ is not cheap but it is amazing value for money.
Before giving you the lowdown on specs, it's always great to understand the company behind the machine.

Havener Enterprises Inc.
The Bradley 48" Hydro Walk Behind Commercial Mower is manufactured by Havener Enterprises Inc. which is an outdoor equipment manufacturer distributing its products throughout the US. They manufacture the entire Bradley mower range.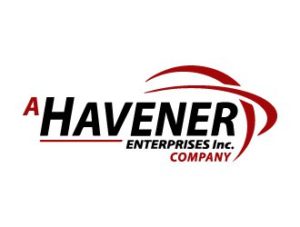 They have been in the business for about 20 years and they're products boast high-quality at reasonable prices.
Havener Enterprises Inc. is located on a 14-acre complex with a huge 300,000 sq. ft., warehouse just one hour south of Chicago, Illinois.
So if you want to buy American Bradley is a name you can depend on.
As well as distributing to every state in the USA Havener have a built a reputation for quality across a global network.
As well as the mower being USA built the engine is also manufactured in the USA.
25 HP Briggs and Stratton Commercial Turf Series™
One of the main components of every lawn mower is its engine. The Bradley 48″ lawn mower is powered by a Briggs and Stratton engine, from its Commercial Turf Series™.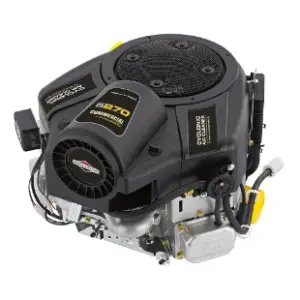 The Bradley 48″ Hydro's 25 HP Briggs and Stratton Commercial Turf Series engine comes with electric start capabilities and has been built to meet high user standards being billed as the ultimate workhorse for harsh, demanding conditions.
The Briggs and Stratton Commercial Turf Series has superior durability, productivity, and performance all of which are packed into its 25 HP version.
These Commercial Turf Series engines are so powerful that they are mostly used to power large deck riding mowers. So, having one in a walk behind mower gives the user incredible power and stability.
The engine features the excellent 5-stage integrated cyclonic air cleaner which delivers superb power and torque. It is so new and innovative that it is still patent-pending.
Briggs and Stratton have also combined the OHV technology with V-Twin design cylinders that make this engine even more ideal for commercial purposes while keeping the design well-balanced for low fuel consumption and easy maneuverability.

Let's delve a little deeper into what is essentially the heart of the Bradley 48″ commercial lawn mower:
The Briggs and Stratton Commercial Turf Series engine includes a cast iron sleeve that adds more durability and integrity, enabling the engine to withstand more frequent wear and tear.This is not only ideal for commercial users but also allows for improved oil control.
There's also a mechanical speed governor, which transmits more usable power to the engine under heavy loads.The magnetron electronic ignition system gives the engine a maintenance free, easy-starting capability, while the OHV technology ensures a long-life and improved fuel economy.
The Briggs and Stratton Commercial Turf Series also feature a float feed carburetor that's used to optimize fuel delivery.This results in improved starting capability and provides commercial-grade performance regardless of terrain or engine strain due to a heavy workload or especially challenging terrain.
At the end of the day, the Bradley 48″ Hydro offers a high- torque engine that's capable of providing more than enough power to easily mow in any environment and that can be used over long periods of time with superior fuel efficiency.
Additional Featured Engine Specs
We're quite keen on talking about some of the engine's featured specs, namely, the integrated cyclonic air cleaner.
According to Briggs and Stratton, this technology prevents the engine from getting damaged due to airborne debris ― which can be disastrous if it manages to enter the engine in large amounts.
For maximum lubrication and long-life engine stability, the mower also comes packed with full pressure lubrication boosting oil filter technology.
The twin cylinders V-Twin engine design provides an excellent mix of power and balance to the user.
Video – Briggs and Stratton Commercial Turf Series™

Hydro-Gear Hydro Drive System
An engine is only as powerful as the transmission that drives it. The Bradley 48″ lawn mower comes with a Hydro-Gear Hydro Drive System that gets the job done very nicely.
Much like the Dual Hydrostatic Transmission Drive featured in the Turf Beast 54FB (reviewed above), the hydro-gear hydro drive system is an essential and complementary component of Bradley's Walk-behind engine. It allows the user to be more productive by basically being able to do more in less time.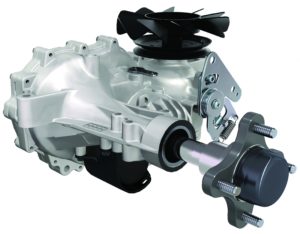 This transmission system features a debris-free internal brake, capable of stopping the lawn mower in an instant even at top speed.
It has an external oil filter that allows for easier maintenance that was positioned specifically to let commercial users save time when time = money.
It provides forward speeds of up to 8 MPH, similar to that offered by very expensive Dual Hydrostatic Transmission Drives.
Surprising the drive model (ZT-2800) installed in the Bradley 48″ Commercial Lawn Mower is listed as a drive system for residential purposes. We have no idea why this is the case especially considering that, like the Bradley 48″ Hydro's engine, is also used in high-end large deck riding mowers that often the preferred choice of commercial users.
Make of that what you will.
Video – Hydro-Gear Hydro ZT-2800 Drive System
True Zero Turn Control ― Get Efficient Maneuverability
What we found absolutely wonderful about the Bradley 48″ Commercial Lawn Mower is the zero turn capability. Unlike the other zero turn walk behind mower we chose as a top pick for the best wide area walk behind, the Bradley 48″ is considerably more powerful.
Although many commercial walk-behind lawn mower manufacturers list this as a feature on their commercial machines there are only a few who have truly utilized it properly. The zero turn capability on the Bradley 48″ Commercial mower is truly zero-turn.
The zero turn allows you to mow your lawn effortlessly with the ability to easily maneuver around obstacles. In our personal opinion, every commercial fleet should include at least one zero turn walk behind mower.

Fabricated Steel Frame
With its fabricated steel frame the Bradley 48″ lawn mower can withstand extreme terrains with no problem.
The heavy duty frame is lightweight but strong enough to make sure the mower lasts a lot longer than cheaper alternatives and even those in the same price range.
It is durable enough to endure the stress from the heavy wear and tear associated with commercial use. A commercial user will be pleased to know that the toughness of the mower's frame helps to reduce maintenance costs as the mechanical parts will wear out well before the frame ever does.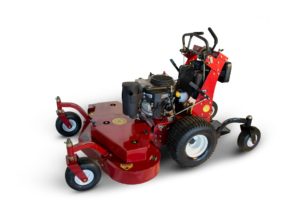 Although it's not recommended that you deliberately use your lawn mower over really rough terrain without first clearing a path this mower will still perform well under such circumstances – though you will most definitely reduce the mower's life-span doing so.
The ability to handle all types of terrain without damaging the mower and its critical parts is a major reason why this mower is, and commercial lawn mowers in general are, more reliable and durable than residential ones. It is also the reason for their higher price tags.
What's even more important than the steel frame though are the steel blades. These blades not only last longer than those made from alternative material but they will cut through anything in the mower's path (within reason) without being subjected to serious wear and tear.
48″ 7 Gauge Steel Deck with Triple Blade Cutting System
The Bradley 48″ commercial mower has one of the best built cutting systems on any commercial walk behind or stand on mower.
The deck itself is comprised of 7-gauge steel, along with the blades that are also steel made. This not only makes the cutting more precise and sharp, but also prevents grass from clogging the spaces between the deck and blade system.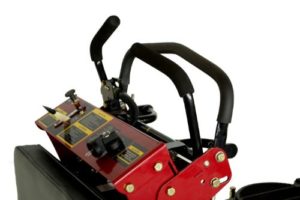 When put to the test the 48″ steel deck with triple blades proved its worth taking care of all kinds of flat-surfaced terrain quickly and with complete ease. It handled well even on terrains with multiple obstacles due to its zero turn capability.
The Bradley 48″ Hydro was able to successfully mow almost an acre with a professional quality cut in less than 15 minutes when using it as a stand-on mower! That's quite a feat, if you ask us.
As far as performance goes the Bradley performed well. The blades cut through even the longest of grass effortlessly; at the risk of annoying you with over-used cliché it was like a hot knife cutting through butter.
After tackling fairly rough terrain that had lose branch cuttings and other obstacles left uncleared the blades still looked sharp and practically new. There was no grass in the deck that might clog up the blades, and the cuts were precise and flawless.

The Small Features that Really Matter
The Bradley 48" Commercial Lawn Mower features an adjustable height of 2 – 5 inches.
Although this is perfect for cutting grass and leaving medium to large pieces behind, it unfortunately, doesn't do the best job when you want to detail your lawn through a more trimmed cut.
The mower has a 5-gallon fuel tank which is enough to last hours and the 18″ rear tires allow for a smooth and "grippy" drive.
The zero turn means you won't miss even the smallest of areas and can turn effortlessly on a dime.
Who Is It Best For?
The Bradley 48″ Commercial Hydro Walk behind Mower will suit any commercial user who does not require the large deck and super power of the Turf Beast (reviewed above) and who wants great value for money, reduced maintenance costs, lower fuel bills while retaining professional commercial-grade results.
Even though Bradley is a relatively unknown brand, which you may or may not have heard of before, it is a USA brand produced by a US company that produces high-performance products while keeping price tags below average.
We believe this is most likely due to the fact that the company probably does not spend as aggressively on advertising as some of the other manufacturers do. Advertising costs can drive up the price of products in any market often making an inferior product with cheaper components more expensive than its superior, but lesser known, counterpart.
In simple terms, you're getting a great machine while paying less than you would for a more well-known brand.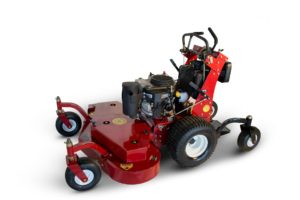 However, don't fall into the trap of thinking the Bradley 48″ T-Bar Walk-behind Commercial Lawn Mower is cheap; it isn't cheap but it is fantastic value for money.
When you consider all the features this mower packs and compare its specs to other renowned brands it is actually quite a deal.
In fact if you want the same features and go with a brand that's more "prestigious" and well-renowned you'd easily be dishing out an additional $400 to $1200 depending upon the make and model.
You should also keep in mind that this lawn mower is not for you if you're looking for a half-inch cut; for that purpose, we would highly recommend the Turf Beast 54FB Lawn Mower. However, the Bradley 48″ is perfect if you want a heavy-duty lawn-mower that gives lawn results to rival most professional $5000 riding rigs.
Since the Bradley 48″ T-Bar Walk-behind Lawn Mower isn't exactly a well-known brand on e-commerce websites yet, we did not come across many buyer reviews.
However any professional will easily see the potential this commercial lawn mower offers.
Should you decide to buy the 48″ T-Bar Walk Behind Commercial Lawn Mower, and as with every purchase, be sure to check out the Warranty and User Manual.

Last but not least here's our final review:
SWISHER PREDATOR TALON 24″ Pro Rough Cut
The Swisher Predator Talon Commercial Pro 11.5 HP 24″ Walk-Behind Rough Cut Mower is manufactured by Swisher Acquisition Inc.
Swisher have been manufacturing outdoor equipment since 1945 and their products are known for quality and innovation. The mowers are so good that their our choice for the best commercial zero turn riding mower is a Swisher.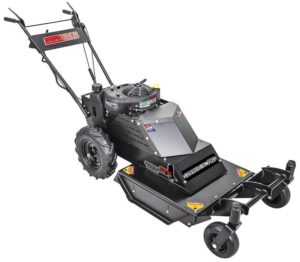 The founder of the company, Max Swisher, started his venture by investing in making his own self-propelled rotary lawn mowers and when his neighbor wanted a custom-made one, he considered it a great opportunity to start his own business.
Swisher products are reliable, affordable and all in all, very productive.
It is due to these attributes that we decided to include this lawn mower in our choice of the best commercial walk behind mowers for 2018.
The Swisher Predator Talon Commercial Pro 24″ Walk Behind Rough Cut Mower is also an ideal machine for anyone who is looking for something that's a little more budget-friendly and features a small deck that can access tighter places where larger lawn mowers would struggle.

11.5 HP Briggs and Stratton Electric AND Recoil Start Engine
Briggs and Stratton is a well known outdoor equipment manufacturer known for building products that boast superior performance and high durability, complemented by reliable engines.
Many of the most renowned lawn mower brands on the market feature Briggs and Stratton engines to ensure high performance and reliability. A great majority of our top mower choices use Briggs and Stratton engines.
The 11.5 HP Briggs and Stratton engine is powerful enough to drive the mower to cut grass with ease and precision, and won't overheat even when it's under a heavy load. However, this is not to say that it should be used exclusively on uneven terrains, with especially challenging obstacles that requires a much bigger riding mower, as this can put an immense load on the economically powered engine, which it simply can't handle.
The predator will perform exceptionally well though if used for standard commercial mowing operations even over long periods.
The OHV technology ensures improved fuel consumption and engine performance while the full pressure lube system allows for cooler operation and extends operational life.
To provide a smoother, more comfortable ride, Briggs and Stratton has incorporated an Anti-Vibration System (AVS) which further adds to comfort and usability.
What we always look for in an engine is an advanced debris management system that deflects and ejects grass as well as debris, which again, results in a longer engine life and the predator's engine comes ready with this much sought-after feature.
In a nutshell, we found the engine's performance very promising and adequate for any type of residential mowing. It's the perfect option for average lot owners who seek a powerful lawn mower or for a commercial enterprise that wants to add a walk behind mower to its fleet.
Let's take a look at some of the other standout features.
4-Speed Transmission System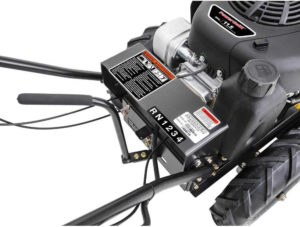 The Swisher Predator Talon Commercial Pro Rough Cut Mower has a standard 4-speed transmission system which allows you to mow in reverse whenever you please.
Given the small deck, we still found this lawn mower quite pleasing.
It has reasonably good speed, comes with the ability to mow backwards ― which is certainly handy for backing out of rough spots ― and cuts quite well.
Speaking of which, let's take a closer look at the cutting deck.

Heavy-Duty Fabricated 24″ Cutting Deck
Even though Swisher's 24″ Walk-behind Rough Cut Mower has a small deck, it's highly rigid and sturdy enough to withstand the toughest situations while still pressing on.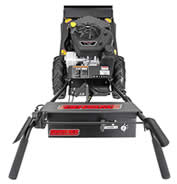 The deck has a 4″ fixed cutting height, which might not be ideal for users looking for additional options, but it does the job well enough.
The deck also comes packed with a single G6 commercial cutting blade.
While we know that most lawn mowers today have 2 or more blades for high precision cuts, the G6 commercial cutting blades get the job done with just one.
We tested the durability and reliability of both the deck and blade.
Both proved to be worthy enough to warrant purchasing the Swisher Predator Talon Commercial Lawn Mower.
Other Features
It's also worthwhile to mention some of the other lesser known features this mower has to offer.
For example, the large pneumatic chevron tread tires don't hesitate at all when rolling over uneven terrains, resulting in improved traction.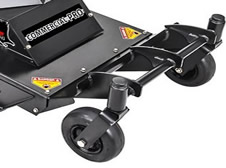 With 2 heavy duty front casters installed on each side, you get a lot of stability and ease of use since you don't really feel the unit's weight while operating it.
The adjustable height handlebar can also come in handy when you want to to adjust the handlebar to fit your own height , or if you want to teach your kids to mow the lawn (under direct supervision).
What we liked most are the front deflectors and protective guard that protects the engine from dust, debris and grass; this can often lead to premature engine damage which often isn't detected until it's too late.
The power take off option and safety control are mounted on the handlebar for easy access.

Who Is It Best For?
This is an excellent mower that is is excellent for any residential user and would most likely be the most powerful mower on the block if not the neighborhood – and it looks great. As a stand-alone mower for commercial enterprises it is simply not enough on its own. As part of a fleet, even if it is the only walk behind mower in the fleet, it would be an excellent buy for any business.
Swisher's 24″ Walk-Behind Rough Cut Mower promises reliability, a long life, durability in tough terrains, and high performance whenever you need it. It has everything a lot owner might want when seeking a small-deck commercial lawn mower that's powerful enough to meet daily needs without heavily draining the wallet.
The Swisher Predator Talon Commercial Pro Walk-Behind Rough Cut Mower has a retail price tag of $2600 but you can get it on Amazon for about $2300. In our opinion, it's quite the bargain.
Much like Bradley 48" Commercial Lawn Mower, we couldn't find any reviews to share. However, if this lawn mower is on your purchase list then we recommend that you read the user manual first before operating it and take a look at the warranty as well.

Which Mower Should You Choose
To help you make the best choice we have included a comparison chart below outlining the differences between the main features of the mowers.
The Comparison Chart
For your ease and convenience, below is a comparison chart which should help you decide what model is best for you:
| Features | Turf Beast 54FB Commercial Walk Behind Mower | Bradley 48" Hydro Walk Behind Mower T-Bar Briggs | Swisher Predator Talon Commercial Pro Rough Cut Mower |
| --- | --- | --- | --- |
| Engine | 22HP EH65V Subaru Commercial Duty | 25HP Briggs and Stratton Commercial Turf Series | 11.5 HP Briggs and Stratton |
| Cutting Deck | 7 Gauge Steel" Rust Resistant" Quick Floating Adjustment System | 7 Gauge Steel" Heavy-duty Fabricated Steel Frame | Heavy-duty Fabricated Deck |
| Blade(s) | 3 Steel | 3 Steel | 1 G6 Commercial |
| Cutting Height | 1.5" – 4.5" | 2" – 5" | 4" Fixed |
| Cutting Width | 54 in. | 48 in. | 24 in. |
| Transmission System | Dual Hydrostatic Drive | Hydro-Gear Hydro Drive | 4-Speed Transmission |
| Electric Start | Yes | Yes | Yes |
| Tires | 9" Front" 13" Back | 18" Rear Tires | Pneumatic chevron tires |
| Warranty | 1 Year | 1 Year | 1 Year |
| Price | check price on Amazon | check price on Amazon | check price on Amazon |
Whatever lawn mower you choose, we're sure you will be happy with your purchase as we consider all three to be solid contenders in their own right.