A growing number of American houses today have large lawns. While having a large lawn is desirable, maintaining one can be quite a daunting task for the average householder, especially without the aide of a good quality lawn mower. This is one of the reasons for the growth in lawn maintenance services. Stand on mowers are becoming a very popular way of dealing with large lawn among both residential users and commercial users who need something more powerful than a walk behind but less bulky than a riding mower.
Although the invention of lawn mowers in 1830 has made it a lot easier to take care of your lawn without spending hours on it every day even an average walk behind mower can require a large investment of time when it comes to large residential lawns. For residential users with large lawn areas and for commercial users who want a great addition to the mower fleet, a stand on mower can be a great way to deal with large lawn areas especially if the terrain is challenging and if storage space is at a premium.
Why a Stand On?
There are several factors a buyer needs to consider before picking a lawn mower. The right mower largely depends on your personal requirements and of course the size and terrain of your lawn.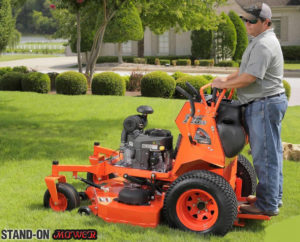 Obviously there are a myriad of mowers to choose from zero turn riding mowers to standard walk behinds.
However, there are several reasons why you would want to opt for a Stand On Mower not lest of which is because you have the same power as a riding mower without taking up as much space and in most cases you can alternate between standing on the mower and walking behind it.
In this review, we will be discussing three of the best stand on lawn mowers on the market today split by deck size.
However, before settling on out top 3 picks we considered the price tag, the quality of build and the overall performance and final cut. These are the main three criteria you should always use when considering the purchase of any lawn mower. To make things simpler, we have also added a comparison chart below the review section.
Surprisingly, even to us, our final top 3 picks are all Bradley mowers. We ended up having the same manufacturer for our top 3 stand on mowers for good reasons as outlined below.
Why We Chose Bradley Mowers
Although they may be, relatively speaking, "the new kid on the block" Bradley has more than 20 years experience manufacturing lawn mowers and other outdoor equipment.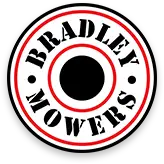 By providing well-built, high performing and high-spec outdoor equipment while simultaneously keeping their products at affordable prices Bradley have quickly gained a reputation to equal their bigger brand name rivals and allowed the company to muscle in on the hard-fought multinational market; Bradley would not have been able to survive, let alone thrive, in the market among names like Husqvarna, Troy Bilt and Poulan if they hadn't been able to offer something unique to buyers.
In fact they would not even have got a foothold in the USA market let alone been able to branch out worldwide if it had not been for their quality products.
Each manufacturer, in almost all retail markets, will specialise and excel in at least one area of their chosen market (such as Snapper in the walk behind mower range). This is indeed the case with Bradley Mowers; in our opinion Bradley Mowers is the best brand out there when it comes to stand on mowers.
Here are the three best stand-on mowers we've chosen:
The Reviews:
Let's get started with our first choice:
52″ Bradley Stand On Zero Turn Commercial Mower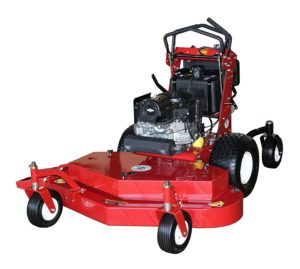 If you're looking for a lawn mower that can cut with precision, deliver commercial-use power, is affordable and can mow a big lawn (around an acre), then this lawn mower is for you.
The 52″ Bradley Stand On Zero Turn Commercial Mower packs everything that a great lawn mower should have. If you compare this lawn mower's specs with any other commercial lawn mower, you'll see why it is most people's first choice when they step out to make a purchase.
One of the major reasons this mower is such a massive success is its low price compared to competitor machines with similar specs. The price tag is similar to zero turn riding mowers that have similar specs but being a stand on mower this machine takes up much less space.
However, do not let the low price tag fool you, this powerhouse of a machine compromises on nothing.
52″ Bradley Stand On Features
Main Features of 52″ Bradley Stand On ZT Commercial Mower:

25HP Briggs and Stratton Commercial Turf Series Electric Start Engine
Briggs and Stratton American built engines are the most popular engines for lawn tractor because they are renowned for their power, durability and innovation.
These engines feature OHV (overhead valve), meaning you get the powerful performance you need but with less maintenance and lower fuel consumption. Additionally OHV adds to the life of the engine so this innovative technology also makes the engines highly durable.
You will not have to worry about the engine needing regular repairs as it's solid high quality manufacture means it will last for decades even when under regular heavy use and its clever design was created to seriously reduce the need for maintenance.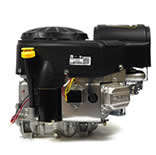 The engine design itself is well-balanced. Thanks to the twin V-Twin cylinder and the overhead valve you'll get a powerful punch from it equal to any riding mower in its class.
The engine is 25HP, making it powerful enough to mow all kinds of lawn, even when the it's very bushy, has uneven terrain or is obstacle challenged.
In the past most engines built with the type of capacity necessary to deliver the power you get in the Bradley range of stand on mowers did not last long, but innovative new features such as the mechanical governor, cast iron sleeve, float feed carburetor, and integrated cyclonic air cleaner as well as the previously mentioned OHV ensure that your engine remains safe from wear and tear much, much longer than previous version and these new engines will lasts for decades with just minimum maintenance.
It's Almost Maintenance Free
The engine is almost maintenance-free. You just have to keep an eye on the oil levels as letting any engine get low on oil is never a good idea. Change the oil often (every 100 hours of use) and you should never have a problem with it.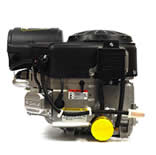 The Commercial Turf Series engines also have a higher torque than standard models, which means you'll be getting optimum power from the engine making sure the mower truly packs a big punch.
We also found the electric start capability to be very useful. You just have to twist the key, and the engine starts immediately under normal conditions. However, like any engine it might take one or two tries when the weather gets very cold.
When tested on a rough terrain with 6″+ long grass the engine performed exceptionally well. The cuts were precise, and the stand on mower had no trouble clearing the lawn, even in tight corners and harsh terrain. The finish was neat and tidy with just one pass.

52″ Cutting Deck
Let's take a look at the 52″ width 3-blade heavy duty 7 gauge steel cutting deck.
Of course a crucial part of any lawn mower is its cutting deck. If the mower has all the "bells & whistles" of top-end riding mowers but the cutting deck and the blades lack quality then the lawn mower is not going to produce the type of professional cut lawn professionals, and customers, have come to expect.
Thankfully Bradley's engineers understand this, which is why you get a sharp, smooth and precise cut from all the machines across the Bradley Stand On Mower range.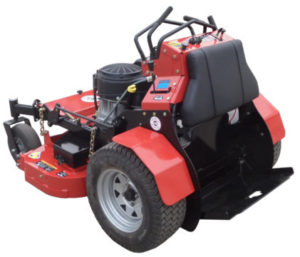 The trio blades are made of solid steel, enabling them to cut anything that comes in their path, without trouble.
The composition and quality (of the steel) also ensures that the blades last longer than traditional mower blades.
Although these blades will take a lot of abuse to ensure that you get the most from them and to ensure you get the maximum lifespan from them a little simple, quick maintenance is always advisable.
One major step would be to sharpen them twice a year if the mower is being used for commercial purposes to keep the blades at top level of functionality.
Since the cutting deck is comprised of 7 gauge steel, with a heavy-duty fabricated steel frame, you don't have to worry about the deck developing problems. Due to its composition, the deck can last for a lifetime, if you take good care of it – it's always a good idea to clean the mower after use and to keep it in a dry damp-free environment to avoid rust developing.
Thanks to its robust design and composition the frame have have no problems on rough and tough terrains.
The mower comes with an adjustable cutting height ranging from a low of 2 inches to a high of 5 inches, giving very diverse cutting heights.
With the large 52″ width cutting deck this stand on mower can mow an acre in less than 15 minutes.
This means you get a similar cut-time to a high-end riding mower but without the bulk.

Twin Hydro-Gear Hydro Drive System with Zero-Turn Controls
Hydro-Gear is a global leader in the drive system industry. They have, arguably, the most productive, and high-quality turf-care equipment on the market. The highest-end component that's installed in this lawn mower is the drive system. And the high-end specs that the drive offers comes at a price; if a lower quality (but adequate) drive system were installed the mower would be a lot cheaper to buy.
But why install a system that is so expensive when there are adequate alternatives? What's the benefit to the user?
Well, for starters, a stand-on mower requires a lot of torque for a smooth cut and mow which simply wouldn't be available on a lower-end drive system.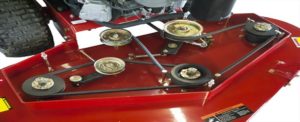 Obviously a lawn mower is packed with a 52″ heavy duty cutting deck, along with a 25HP Briggs and Stratton Commercial Turf Engine, compacted into a smaller size than a standard riding mower the drive system is going to have to shift a lot of weight.
When you add the weight of the large 5 gallon gas tank (especially if it is filled with fuel), plus the weight of the steel frame, on top of the other components previously mentioned you get a very heavy machine. The drive system therefore needs to be powerful enough to give this 52″ stand behind mower the torque it needs and to do justice to the powerful engine the machine houses – a lower quality drive system could simply not keep up and would undoubtedly have a much shorter life-span if used in this beast of a machine.
Using a traditional drive system would also result in a loss of productivity and power but the addition of the twin hydro-gear system actually provides a really comfortable ride with top forward speed of 6 mph.
The Controls
The controls come with a neutral lever, a parking brake and blade engagement capability within easy comfortable reach.
Of course, how can we forget the zero-turn maneuverability that this stander mower offers?
The zero-turn controls allow you to cut/mow the tightest corners and spots (around trees, near walls), which you just can't pull off without this feature.
The zero-turn controls are highly responsive to the drive system and in no way compromises the quality of cut even on the sharpest of turns.

Sometimes It's The Little Things that Matter
Of course, little features matter too.
This standing lawn mower houses 18″ rear tires, which are perfect for inclined terrains. And the H-Bushing spindles are worthy of a mention.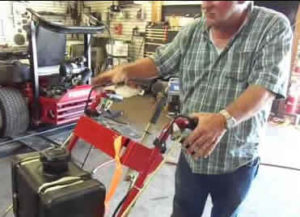 The patented stand on design provides a comfortable standing experience throughout the mow and has a very handy feature in that it allows you to convert the mower from a stand-on into a walk-behind mower whenever desired.
This makes this stand on mower range not only efficient but also a time-saver for commercial users who may use to swapping back and forth between riding mower for speed and walk-behind mower for finishing touches.
The big, 5 gallon gas tank ensures you have enough gas to work on any lawn no matter how large.
We can't also ignore the fact that the Bradley range of stand on mowers comes of a host of add-ons like the mulching and steel grass catcher kit that's available for you to purchase independently.
Even before you consider the add-ons this lawn-mower is one of the best commercial stand on mowers we have reviewed to date. But what if something breaks or malfunctions?
Well, the company has also got that covered too.
The 52″ Bradley Stand On Zero Turn Commercial Mower comes with 1 year commercial warranty or 2 year residential warranty. As with every purchase it is a good idea to check teh warranty so you know what is included and what renders it void. Click here to view Bradley's warranty.
You should also know how to take care of the lawn mower. Every lawn mower is unique and requires a unique maintenance routine. To know what works best for this stand on lawn mower, you should read its user manual before its first use, click here to go through it now.

Final Verdict
The 52″ Bradley Stand On Commercial Mower is the perfect lawn-mower for big lawns of one acre and above.
It offers the same power and speed that a riding mower offers but without the bulk. This makes it a perfect fit for any commercial lawn business.
You'll find that the 52″ stand on mower not only offers a large cutting deck but also packs quite a punch.
Its durable performance and amazing features make it one of the best lawn mowers for commercial use and in our opinion the best stand on commercial mower available.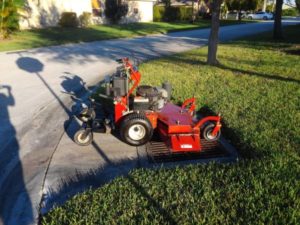 Since it's half the price of what the traditional commercial lawn mower costs, it's the perfect lawn mower for mighty lawns.
However, the downside to this lawn mower is that it's not available for sale in California, unless you order it online. Although, you might find some near you (if you live in California), it might be a troublesome issue to contact the dealers/representatives for additional parts/kit or even if you need to claim on the warranty.
For everyone else it's a no-brainer.

48″ Bradley Stand-On Zero Turn Commercial Mower 18HP Kawasaki Engine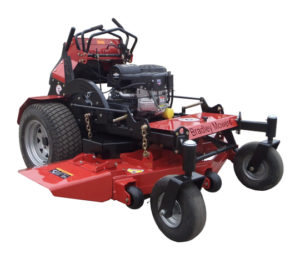 Not everyone needs a 52″ deck.
If you're looking for a mid-range zero turn stand on mower that can perform like the best of the bigger commercial monsters and are not willing to compromise on durability, features and cut then the 48″ Bradley stand on zero turn mower is definitely a great choice.
The mower offers all the same high-end specs as the 52″ but just with a smaller cutting deck.

Engine Options on the 48″ Bradley Stand-On ZT Commercial Mower
The 48″ Bradley Stand on mower comes in 2 different model:
48″ Bradley Stand on Mower with Kawasaki 18HP OHV Engine.
48″ Bradley Stand on Mower with 25HP Briggs & Stratton (American made) Commercial Turf engine.
18HP Kawasaki Electric Start Engine
The Kawasaki 18HP OHV engine is SAE certified. This means that, unlike many other engines that sport high HP, you'll be getting 98% of the power you were promised, in this case, 18HP.
It's a four cycle engine that performs like a pro. With 3 years of Kawasaki warranty, and Critical Power Certified, you can't really can't go wrong with this engine.
Like all Kawasaki engines this 18HP OHV engine is as durable, as powerful and as tough as any other high-quality commercial engine out there.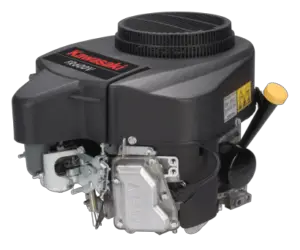 With features such as overhead v-valve (OHV), a pressurized lubrication system, the electronic spark ignition, along with the automatic compression release, internally vented carburetor, rotating grass screen, cast-iron cylinder liners, and single-stage air filter, this engine will last you for decades without losing much power.
However, you have to keep in mind that regular maintenance (changing oil every 100 km) is a must, if you want to keep it running at optimal performance.
Of course, you don't have to worry about the dust/debris that eventually makes its way towards the engine. Due to its highly efficient features, the engine prevents damage and thus provides minimum maintenance-free convenience.
The Kawasaki 18HP OHV Electric Start Engine provides the power you would expected from 18 horse-power.
Of course, the electric start system is also very convenient as it doesn't require you to exert much force to start the engine and no pulling start cords. All you have to do is push the button and the engine should spring into life immediately 9 times out of 10.

25HP Briggs & Stratton Commercial Turf Electric Start Engine
The 48″ model with the 25HP Briggs & Stratton performs just as well as the 52″ model which isn't surprising as it has the same engine.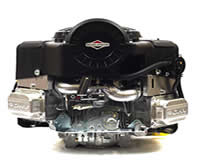 If you want a detailed review of the engine scroll above to the engine section under the 52″ Bradley stand on review on this page.
Here is a quick overview.
The 25HP Briggs & Stratton Commercial Turf:
Is American Built.
Sports an OHV (over-head v-value).
Has a Twin V-Twin cylinder
Has an innovative mechanical governor
Has a cast iron sleeve.
Has a float feed carburetor.
Stays debris free due to its integrated cyclonic air cleaner.
Although you can't go wrong with either engine our choice is the USA-made Briggs & Stratton for only 2 reasons: It's built in the USA and its a little more powerful.
48″ Wide 7 Gauge Steel Cutting Deck
The only difference between the 48″ stand on and its 52″ big brother is the cutting deck width.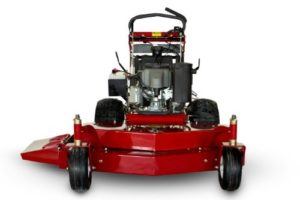 Both of these Bradley's Stand On Commercial models are excellent and performance is similar.
The 48″ wide cutting deck of this stand behind lawn mower provides just as smooth, sharp and most precise a cut as any other mid-range mower and that includes even the best zero turn riding mower we have reviewed to date.
Due to its heavy-duty fabricated steel frame and 7 gauge steel build, the cutting deck is almost indestructible and can withstand rough and solid objects flying through it without trouble.

Trio-Blades
The trio of blades are also made of high-grade steel, which means they'll last longer than the traditional ones still found in many modern models.
It's cutting is quite impressive.
These sharp blades effortlessly cut an even height regardless of the grass length, uneven terrain or even when the mower has to navigate obstacles and cut through hardy bush-like weeds while leaving finely cut grass/debris behind.
You won't have the need to sharpen your blades every 3 months as is very often recommended in mower user manuals.
Bradley stand-ons use blades composed of the highest quality steel – Bradley have refused to compromise on cut quality even though good quality steel is still expensive as China's thirst for steel continues and they rive up prices of the commodity.
However, even though these blades require no maintenance we always recommend taking care of every part of your mower and gardening equipment i.e. washing them, oiling and cleaning the respective parts after use.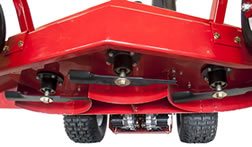 Taking the short time needed to give your machine the good care you would give to your personal vehicle will add years of life to your lawn mower and in most cases it will ensure a lifetime of use.
Something that should be of paramount importance to commercial users.
The cutting height can be adjusted from 2 inches to 5 inches. As many commercial users will already be aware 2 inches is the minimum ideal grass length for cuts since cutting more than that can actually cause your lawn to be unhealthy and can weaken the roots from deepening and it will be rare to cut to a 5″ length except for a heavy use rye grass lawn or similar.
The 48″ width of the cutting deck does a a perfect job at mowing an acre of lawn in half an hour crushing the time it takes even the best of walk behind mowers, and unlike a walk behind the mower requires little to no effort to operate.

Twin Hydro-Gear Hydro Drive System with Zero-Turn Controls
As we have stated previously, the Hydro-Gear is a global standard provider of drive systems.
Arguably the best bit of kit that Bradley has installed on their lawn mowers is this drive system.
The Hydro-Gear hydro drive system is a perfect compliment to the power of the high HP engine that powers the zero turn mower.
Installing such a high quality drive system allows the engine to perform at its fullest.
The torque that this drive system provides to the lawn mower allows it to easily navigate tough and inclined terrains that may not have been possible to cover with a lesser system. In conjunction with the engine is provides enough push to carry the weight of the lawn mower, a full 5 gallon tank and driver without effecting the quality of the cut and without leaving unsightly track marks on the lawn.
The Hydro-Gear hydro drive system provides a really comfortable experience to the user since the drive system is ultra-responsive to the touch. It makes the whole experience easy despite the size and weight of the machine.
The drive system allows the lawn mower to run at speeds of up 6 mph forward, although if you want a precise and even cut we advise you to keep your speed under 4 mph which will allow for more fine cuts of the lawn. However, having a top speed of 6mph is great to have when you are in a rush.

Speed Range
Even though you can max out the machine at 6mph running the machine at lower speed has other benefits as well. It will allow you to save on gas over long strateches of use and, as well as giving a better cut, is also much more safer to operate.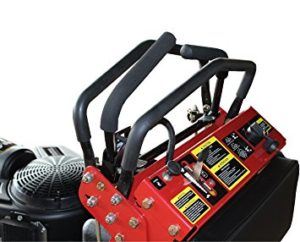 However, the mower does work exceptionally well at its maximum speed and the quality of cut is still better than lower-end machines.
With other features such as a parking brake and neutral lever you're getting the bang for the buck from this stand on lawn mower.
The blade engagement capability lets you operate the machine and drive it without cutting so you get to your target area without the need for additional lift from one area to another (believe it or not there are still some machines that do not offer this capability).
In addition to that, the zero turn capability is quite useful itself and makes the job a lot easier.
As a stand on mower takes up much less space than a riding mower it is much easier to fully utilize the zero turn capability around walls, trees, flower blades etc.
We recommend that you lower your speed (to around 2 mph) when you are maneuvering a zero turn, otherwise the lawn mower can pluck at the grass and lift clumps out of the lawn. Keep the revs low and all will be well.

Additional Features
We can't help but mention some of the minor features that this lawn mower offers. For example, the 18″ rear tires are extremely useful to cover up rough terrains without slowing down. On the other hand, the patented stand on design is convertible – you can make this stand on lawn mower into a walk-behind one, in mere seconds and the 11″ front tires make the mower easy to push as it glides over the lawn.

Of course, the 5 gallon gas tank also becomes useful since it is more than sufficient to handle two or three acres of mowing without emptying.
The adjustable cutting height system, easy to use controls, zero-turn driving, blade-engagement, parking brake, and neutral lever, all make this lawn mower a match for any riding mower available today.
As with most mowers you get a 1 year commercial warranty and 2 year residential warranty. It is fairly straightforward to make a claim if anything unfortunate happens to the mower. But we recommend you to read the warranty guide first, to be aware of anything that can void the warranty.
To keep your lawn mower safe from malfunction, we highly recommend you to go through its user manual at least once. Maintaining your lawn mower accordingly, ensures a lifetime use. Click here to see the warranty guidelines, and here for the user manual.


Final Verdict
If you're looking for a mid-sized cutting deck, (between 40 – 50 inches wide), on a zero turn commercial machine and want something with more poke than commercial walk behind mowers but don't want the bulk of a riding mower then this is the machine you will want to go with.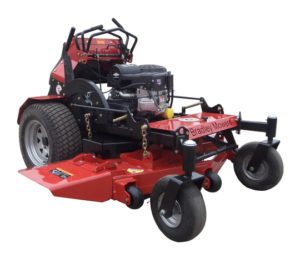 The 48″ Bradley Stand On Commercial Lawn Mower comes packed with a powerful and reliable 18HP Kawasaki electric start engine or, in our choice, the 25HP Briggs & Stratton Commercial Turf engine. This means that you'll be getting a powerful punch from this stand on mower.
The amazing feature that this mower houses, are perfect to keep it running for decades.
Speaking of its downside, there isn't any except that you won't find it in California – not by the authorized dealers anyway.
Who's this lawn mower for? It's for people who need a mower that can quickly traverse a half an acre of lawn more and lawns that are a little too challenging for walk behind mowers and/or that have lots of obstacles that require zero turn capability.

36″ Bradley Stand-On Zero Turn Commercial Mower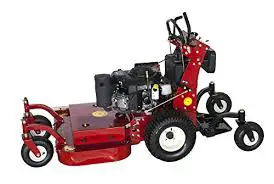 Just like the 48″ stand on commercial model the 36″ commercial stand on model is almsot identical to the 52″ Bradley Stand-On Zero Turn Commercial Mower which we reviewed above – can you see why are top 3 stand on mower picks are all Bradleys?
The only real differences between the 3 mowers (with the exception of the Kawasaki engine option in the 48″) is in engine horsepower, the width of the cutting deck and the amount of blades, and, of course, the price of course.
If you have alrteady read the above reviews of the 52″ and/or 48″ then you don't need to read the following information. If you have jumped straight to this section then you just need to be aware that the bigger deck models mentioned above have similar specs.

The 23HP Briggs & Stratton Commercial Turf Series Electric Start Engine
Briggs and Stratton are known for their quality engines that not only Amercian built but provide a powerful punch. They are also extremely durable and under normal operating conditions (even for commercial users) should last a lifetime.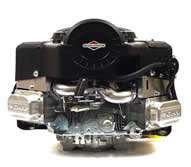 The Briggs and Stratton Commercial Turf Series engines are housed with the OHV (overhead valve) technology that provides better fuel consumption, more durability and optimum power levels (about 95-98%).
Most of the Commercial Turf Engines are identical to one another, but this one is a little unique. This engine is housed with a V-twin cylinder design which provides more balance to the engine and the stand on lawn mower itself.
You get a whooping 23HP from this engine, which is powerful enough to move this mower effortlessly over acres of lawn quickly.
Due to the Mechanical Governor, Integrated Cyclonic Air Cleaner, Cast Iron Sleeve and Float Feed Carburetor, Briggs and Stratton engines are not only innovative but are more reliable and more durable than other traditional engines powering some alternative mowers on the market today.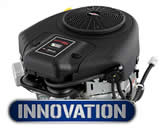 The engine on the 36″ Bradley stand on, like the ones on its contemporaries reviewed above, is almost maintenance-free.
Though many users perform no maintenance at all on their Briggs & Stratton engines we recommend you change the oil every 100 hours (an engine's milestone) to keep the engine in optimal condition and to avoid wear and tear.
The electric start capability is very convenient. The engine will almost always start immediately or failing that it should start on the second try unless it has developed a fault.
On a rough terrain or steep incline the engine can take a heavy load and still result in a fine even mow.

The 36″ Width Twin Blade Heavy Duty 7 Gauge Steel Cutting Deck
The 36″ wide cutting deck does what you'd expect from a high-quality lawn mower.
However, unlike the 52″ and 48″ models, which have a trio blade system, the 36″ has only 2 blades. The twin blade set-up is more than enough for razor-sharp professional grass cuts though.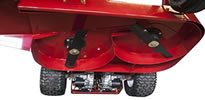 Like the larger models the 36″ has a cutting deck made of high quality 7 gauge steel, with a heavy duty fabricated steel frame. This robust foundational structure ensures the mower performs well on rough terrains over long periods of use. Since the cutting deck is also tough and rigid the cut remains smooth and even creating perfect results every time.
The dual blade system isn't as good as the trio-blades, we discussed above, but it gets the job done quite well too. Of course, since the blades are stainless steel, you won't need to work very hard to maintain them, but a little care can go a long way.
Sharpening of the blade twice an year, and regular cleaning of the blades would do just fine.
In fact, you can wash the blades every time you mow your lawn as long by simply wiping them with a damp cloth. Since, they are comprised of stainless steel, you can even hose them clean and you won't have to worry about them rusting.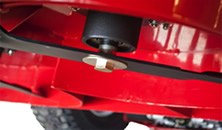 The blades seem to cut through anything (even stones, nails, etc.) that come in their path. Although to avoid undue stress on the blades and to eliminate teh risk of chipping them it is always advisable to clear obvious debris from your path before mowing.
We are confident that under normal conditions the cutting deck should last you for decades, or even a lifetime if you keep a good care of it.
The cutting deck has an adjustable cutting height, which goes from 2 to 5 inches.
Let's talk about another feature that makes this stand up lawn mower worth buying.

Twin Hydro-Gear Hydro Drive System with Zero-Turn Controls
There is nothing new to the hydro-drive system that we haven't discussed above. You now know that Hydro-Gear is a global leader and makes one of the finest drive systems today. Although, the drive system is expensive, but it still is worth having in your mower.
There is a reason why Bradley have installed twin hydro-gear hydro drive systems on their stand on commercial mowers. It's quite simple. This drive system is the very reason you'll enjoy mowing your lawn, since it allows you to give complete and precise control over your lawn mower's movements. You'll feel the ultimate maneuverability, with zero turn capability, and the power to move the lawn mower along with you.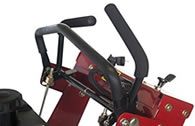 The drive system allows you to launch your lawn mower at a maximum speed of 6 mph. However, 4 mph is the recommended speed for safety and perfect cuts. No matter how expensive a lawn mower may be, it cannot cut precisely at higher speeds (more than 4 mph).
Of course, since the deck is smaller than the other two stand on mowers we have reviewed above, it would take a little longer to get through a few acres of lawn even though its top speed is the same. While it may take longer than other mowers on the list, it is equally easy to use and gives precise results. As a result you will not find the job to be daunting.
Of course, the neutral lever, along with the parking brake and the blade engagement makes it easier to have control on the mower.
But what about other features that are available in high end commercial mowers? Does the 36" Bradley Stand On ZT Commercial Mower also have such features?
The answer is yes; here are some of the other features found in this powerful machine"
Additional Features
Similar to the other lawn mowers we have mentioned in this review guide, the features of the 36″ Bradley Stand On Mower include: 18″ rear tires, 11″ front tyres, a 5 gallon gas tank, h-bushing spindles, the ability to swap between stand on and walk behind, and optional mulching and steel grass catcher kits.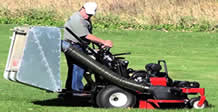 With this stand on lawn mower, you get the standard 1 year commercial warranty and a 2 year residential warranty.
Of course, if you're living in California, you'll have a problem obtaining any of these stand on models as Bradley doesn't sell their lawn mowers in the state. If you want to read the warranty guide, click here.
We recommend that you keep a regular maintenance of your lawn mower, according to the user manual. You can read the user manual by clicking here.

Final Verdict
The 36″ Bradley Stand On Zero Turn Commercial Lawn Mower has all the features of a high-end commercial lawn mower and is just a smaller version of the 52″ and 48″ stand on mowers reviewed above. With only a slight difference in the power of engine (23 HP instead of 25 HP) from the larger models this machine packs a real punch.
The very respectable 36″ cutting deck and twin blade set-up can make short work of even the biggest of lawns.
This is perfect for a lot of owners who own lawns and landscapes that are a few acres or less. It is also a fantastic addition to any commercial fleet especially if that fleet already obtains a larger deck riding mower.


California Alternative
Unfortunately due to restrictions the mower is not available in California, which is why we thought it'd be useful to mention another lawn mower as an alternative.
The Beast
Since Bradley doesn't sell its products in California, we have chosen another brand – the Beast.

The Beast 54 in. 22 HP Subaru EH65V Commercial Duty Dual Hydro Walk-Behind Finish Cut Turf Mower with Floating Deck is a perfect alternative.
This lawn mower is equipped with electric start Subaru (a reliable company) 22 HP Commercial Engine, which does the job quite well.
You might want to check it out on Amazon by clicking the link here.
Comparison Chart
We cannot end our review guide without a comparison chart of the 3 mowers. By taking a look at this chart, you'll know which one is teh best fit for your needs. Spoiler alert: you won't really see much of a difference.

| SPECIFICATIONS | 52" Bradley Stand On ZT Commercial Mower Briggs and Stratton | 48" Bradley Stand On ZT Commercial Mower Kawasaki Engine | 36" Bradley Stand On ZT Commercial Mower Briggs and Stratton |
| --- | --- | --- | --- |
| Engine | 25HP Briggs & Stratton Commercial Turf Series Electric Start Engine | 18HP Kawasaki Electric Start Engine | 23HP Briggs & Stratton Commercial Turf Series Electric Start Engine |
| Drive | Hydro-Gear hydro drive system | Hydro-Gear hydro drive system | Hydro-Gear hydro drive system |
| Cutting Width | 52 inches | 48 inches | 36 inches |
| Zero Turn Capability | Yes | Yes | Yes |
| Blade System | Trio (3) Blades | Trio (3) Blades | Dual (2) Blades |
| Mower Frame | Heavy Duty Fabricated Steel | Heavy Duty Fabricated Steel | Heavy Duty Fabricated Steel |
| Cutting Deck Composition | 7 Gauge Steel | 7 Gauge Steel | 7 Gauge Steel |
| Cutting Height | 2 – 5 inches | 2 – 5 inches | 2 – 5 inches |
| Rear Tires | 18 inches | 18 inches | 18 inches |
| Parking Brake | Yes | Yes | Yes |
| Stand on Platform | Patented Design | Patented Design | Patented Design |
| Maximum Speed | 6 MPH | 6 MPH | 6 MPH |
| Gas Tank Capacity | 5 Gallon | 5 Gallon | 5 Gallon |
| Neutral Lever | Yes | Yes | Yes |
| Warranty | 1 Year Commercial 2 Year Residential Warranty | 1 Year Commercial 2 Year Residential Warranty | 1 Year Commercial 2 Year Residential Warranty |
| MSRP Price | Check Price on Amazon | Check Price on eBay | Check Price on eBay |
Conclusion
We are sure that by reading this review guide, you must have realised by now that there isn't much of difference between all of the three lawn mowers we reviewed. You'll also find that there is only a a few hundred dollars of a difference between each stand on mower. This should make it a lot easier to choose which works best for you based on deck size.
Obviously the 52″ Bradley Stand On Zero Turn Commercial Mower is the best value for money between the three stand on mowers but this deck size may be too large for your current needs, especially is you are a commercial users who needs a smaller deck-sized mower for your fleet. The smaller deck sizes offer the same excellent cut results and would be a great addition to any commercial mower fleet or for someone who is storage-challenged or who simply has a smaller lawn area.
We hope you would have enjoyed this review and it has given you all the info,ration you need to make a decision on which stand mower will best suit you. If you live in California, where these mowers are not officially available, we recommend you check our other lawn mowers reviews or take a look at our alternative pick The Beast – on Amazon.