Buying a lawn mower is not an easy task these days. Though selecting a machine may seem a fairly simple procedure the ever-growing number of brands available can make it difficult for even the most astute buyer to select the right one. However, among hundreds of sellers, there is one name that has always stood out – Snapper.
Snapper Inc., was the very first company to produce self-propelled rotary lawn mowers and classes itself as the most innovative company in their field but since 2002 Briggs & Stratton have been in charge of the manufacturer of every snapper lawn mower. So are snapper mowers still innovative and the best buy for consumers or has Briggs & Stratton messed up the brand as some claim?
Snapper Mowers
Snapper Inc., has been a leader in the garden and yard tools industry since 1951 when they developed the first ever self-propelled rotary lawn mower. This launched the company to the top of the heap (excuse the pun) and made sure the name Snapper became synonymous with quality and innovation.
But with the fast-paced technological advancements of the late 20th and early 21st Centuries other companies have came along with innovative, quality products that vie for the affections of gardeners worldwide. So, why chose a snapper over the many other makes of lawn mower?
Why Choose a Snapper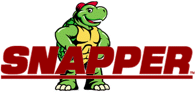 Well even though Snapper Inc., were years ahead of their competition in the '50s are they still relevant to savvy modern gardeners today?
Well since their rotary revolution Snapper may have had several ownership changes but hey have not rested on their laurels.
They are still considered today, by many experts, to be a benchmark of quality and still produce innovative yard products.
Cheapest Snapper Prices & Best Deals
Many people like to make large purchases from local dealers so they have someone they can speak to in person should they encounter any problems with their new purchase.
However, a growing number of astute buyers prefer to take advantage of the large savings offered online where a retailer has very little overheads and no shop costs and is willing to pass those savings on to the customer.
Riding Mowers & Self-Propelled Mowers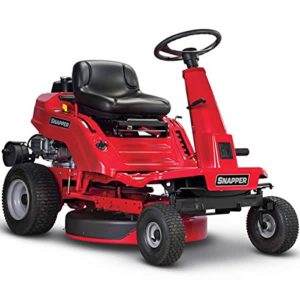 With advancements in modern technology Snapper has made huge improvements to their yard tools and machinery line-up, producing a wide range of power equipment such as their walk-behind mower range which you can view on Amazon, leaf blowers, zero turn riding tractors and hedge trimmers.
Although Snapper didn't make it into our top 10 zero turn riding mowers they wouldn't look out of place having one or 2 mowers in that list. And, they have certainly stayed at the top of their game when it comes to walk behind mowers as well.
From the fantastic 46″ Snapper riding mower with its powerful Briggs & Stratton Pro Series V-Twin OHV Engine and its smaller brother the Snapper RE130 a 12.5HP Rear Engine Riding Mower that incorporates the a large 33-Inch Hi-Vac Mower Deck, to the excellent Commercial HI-VAC Self-Propelled Lawn Mower also available on Amazon which is one of the best commercial walk behind lawn mowers to date, Snapper Inc., is showing that it still has what it takes to stay ahead of the curve.
Which Snapper is Best?
The market is flooded with lawn mowers of all sizes and different power grades, but before you make a purchase you should consider exactly what features you're going to need.
Modern lawn tractors are at the cutting edge of lawn mowing but the added features sometimes feel a little overwhelming to people used to old reel self-propelled mowers while others don't need that much power even for commercial use. And let's not even discuss the difference in price! So, it's not surprising that walk behind mowers are still the top choice for gardeners today.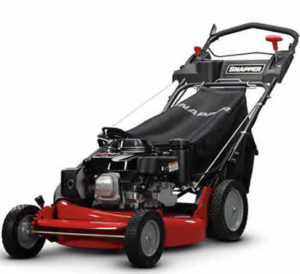 Different yard challenges also arise depending on your personal environment.
For instance, people living in hilly areas often find it tough maintaining a neat yard or lawn with a standard mower because they lack the power and maneuverability of the higher-range machines.
Hard tree roots, tall grass and wild weeds are among some of the many obstacles that a lawn mower has to cut through. In this regard, you need to make sure your lawn mower has an engine that packs a punch.
For this reason we wanted to choose a mower that was easy enough to use that it would breeze through residential lawns while still having the power and features to make commercial use possible.
During our review process we discovered that the Snapper CP215520HV meets the criteria because, although it is a big step up from the traditional lawn mower, it still retains the same feel of a push reel mower but without the need for physical exertion. Plus this mower packs enough power to be marketed as a commercial-grade machine.
The Commercial HI-VAC Self-Propelled Lawn Mower
In our opinion the Snapper CP215520HV is the best snapper available for several reasons not least of which is that this excellent commercial-grade machine boasts a massive but quiet and durable Honda-powered GXV-160 OHV Engine.
Although we found the best commercial zero turn riding mower was a 66″ Swisher, the Snapper CP215520HV walk behind mower can also make commercial use a breeze for over $5,000 dollars less (albeit both machines are in different classes).

What Makes the CP215520HV the Best Snapper?
Below you will see some of the great features that the Snapper CP215520HV offers to users.
As the CP215520HV's has a GXV-160 OHV Honda-powered engine, which is an air-cooled 4-stroke beast, it is equal to even the toughest of environments.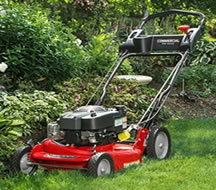 The mower's powerful GXV 160 OHV Honda-powered engine and its 21 inch deck, which gives a professional cut equal to machines twice its price, means this machine can be used for commercial purposes as well as for standard residential use – basically you are getting a commercial-grade machine for the price of a residential one.
This easy-to-use mower has adjustable handles for your convenience which also helps to find the best cutting height for individual users.
It has specially designed rolling wheels that are designed with premium quality ball bearings, making it a breeze to move around.
There is also has a high quality HI VAC mower deck on this machine which provides high-power suction so that your grass is bagged efficiently.
The industrial grade heavy duty 140-gauge steel mowing deck packs strength and power, meanwhile the reinforced bracing, powerful axle and durable wheels complete the overall package nicely.
If you plan to do your own research and online just be sure to take into consideration the additional shipping charges and taxes that are often not listed but are levied at checkout.

The Honda OHV GXV-160 Powerhouse
Although owned by Briggs & Stratton, who are best known for their own range of excellent engines, Snapper have decided to install a Honda engine in walk behind commercial-grade mower the CP215520HV – probably because they want to stay innovative.
Honda GX series engines are a revolutionary innovation of engineering. These engines are reliable and they deliver incredible performance.
The GXV-160 is certainly one of the best Honda has ever made as it generates very little noise, vibration or emissions, all without compromising power output.
Some cool features are:
It is fuel efficient because of its precision camshaft design which offers efficient timing and perfect overlapping of the valves. The OHV design and high compression ratio lets the engine transfer maximum power while maintaining excellent fuel efficiency.
The reduced piston weight and balanced crankshaft precision, which is supported by ball bearings, makes it possible to run this engine virtually vibration-free. This makes the operation of the machine not only easy but reduces stress on the arms and body of the user.
It has aluminum push rods which help reduce noise and valve clearance making the mower exceptionally quiet especially compared to other machines with similar power output.
It is made from noise-reduction materials further reducing both vibration and engine noise. It also has a rigid crankcase which has a forged steel crankshaft.
The gears are helical cut and it has a very unique and sophisticated air intake system.
The carburetor chamber has a protective coating and filters that help against impurities that will help keep the mower in top shape and increase its over life.
It is emission compliant with no smoky residue making mowing a pleasant, quiet and pollutant-free experience.
It is very easy to maintain.

The Cutting Deck
The cutting deck in a lawn mower is one of its most vital components. After all power is useless without a precision cut. It is the cutting deck width which determines how much grass the mower can cut in one single pass.
The size of the blade or blades and their adjustability also plays a critical role in the cutting capabilities of the lawn mower; many lawn mowers offer several blades but they lack adjustment controls, which means you have to put in much more time and effort often making mowing a tedious and tiring choir.
Although the Snapper CP215520HV has only one blade you can customize it by selecting your own ideal cutting height; the dial goes from 1.5 to 4 inches and has 7 positions with precision up to 0.35 inches.
The width of the blade is an acceptable 21 inches and the blade type is Integral Lift.
The Transmission
The Snapper CP215520HV is a rear-wheel driven mower and has a 4-speed adjustable disc drive transmission making its maneuverability nothing short of impressive. The rear wheel drive, 4 speed transmission and lightweight body makes it possible for the lawn mower to cut through large areas in very little time, while keeping up efficiency and not overburdening the engine.
You will not only save time but you will also enjoy the effortless nature of the cutting process – no more tedious, strenuous pushing a heavy machine. The machine is designed in a way that makes the job fun to do.

Little Extras Make a BIG Difference
The Snapper CP215520HV comes with a handy adjustable handle so you can set it for optimal use. Thus you can easily pick the height that best suits your personal stature thus eliminating the chance of back and arm strain from operating an ill-sized mower.
This powerhouse also comes with a unique suction feature reducing mess and making it much easier for you to clean. This allows you to bag the grass easily, saving you time and effort making which makes this one of the most friendly mowers out there and major plus for commercial users.
The standard three year warranty covers you for most things but the battery, as with all manufacture's, only has a 1 year warranty though they will replace it within that 12 month period without hassle.
If you are using the mower for commercial use the warranty is not as generous but that is to be expected due to the increased usage.
Top 3 Snapper Walk Behind Mowers
Let's take a look at our pick of the top 3 snapper walk behind mowers. In the comparison chart below the CP215520HV is in bold as we believe this is the best self-propelled snapper lawn mower on the market.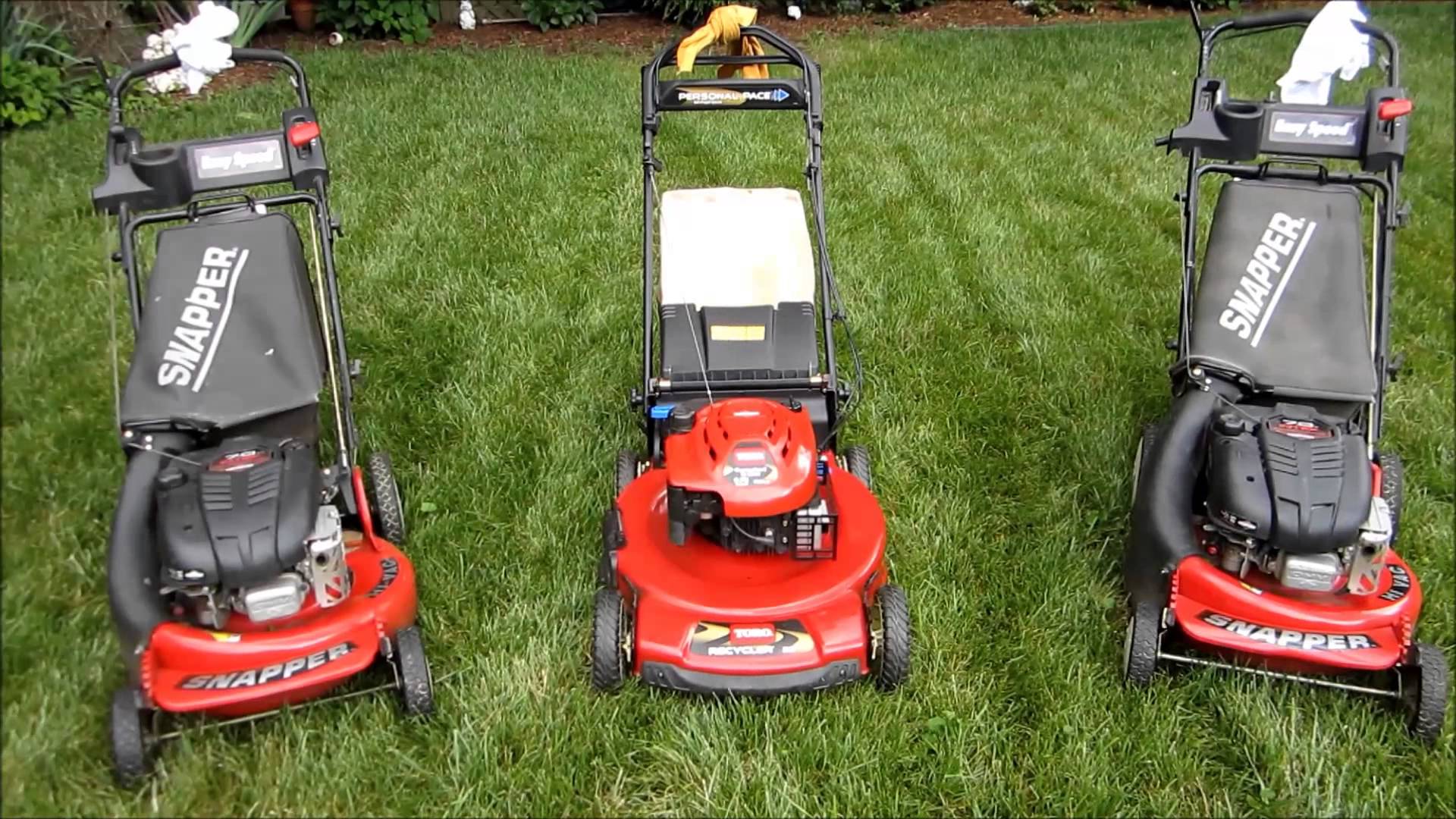 Comparison Chart
| | | | |
| --- | --- | --- | --- |
| Model Name | Snapper 21" Self Propelled Gas Mower | Snapper P2185020E | SNAPPER CP215520HV (Commercial-Grade) |
| Engine Brand | Briggs & Stratton | Briggs & Stratton | Honda |
| Engine Model | 725exi Series | 850 Pro Series | GXV-160, OHV |
| Engine Torque | 7.25 ft-lbs | 8.50 ft-lbs* | 7.1 ft-lbs** |
| Engine Displacement (cc) | 163 | 190 | 190 |
| Transmission Drive System | Rear-Wheel Drive | Rear-Wheel Drive, Disc Drive Transmission | Rear-Wheel Drive, Disc Drive Transmission |
| Ground Speed (mph) | Variable | 4.0 (with Cruise Control), Variable, up to 4 | Variable, up to 4 |
| Mower Deck Cutting Width (inches) | 21-Inch NeXite® | 21-Inch HI-VAC® | 21-Inch HI-VAC® |
| Blade Type | Integral Lift | Integral Lift | Integral Lift |
| Height of Cut (inches) | 6 Position, 1.25 – 3.75 | 7 Position, 1.25 – 4 | 7 Position, 1.25 – 4 |
| Handle Height Positions | Adjustable (but only 38 inches max) | Adjustable | Fully Adjustable |
| Front Wheel Size (inches) | 8 | 8 | 8 |
| Rear Wheel Size (inches) | 11 | 10 | 10 |
| Fuel Tank Capacity | 1.6 U.S. qts (1.5 liters) | 1.6 U.S. qts (1.5 liters) | 3.3 U.S. qts (3.1 liters) |
| Oil Capacity | 0.56–0.63 (18-20oz) | 0.56–0.63 (18–20 oz.) | 0.61 US qt. (0.58 L) |
| Lawn Mower Configuration Discharge | Side | , Rear | Rear (optional side) |
| Mulching | Versatile 3-n-1 side discharge | mulching and rear bagging, NINJA® | Optional |
| Bagging | Versatile 3-n-1 side discharge | mulching and rear bagging, HI VAC® | HI VAC® |
| Residential Use Warranty | 3 Years | 3 Years | 3 Years |
| Commercial Use Warranty | 3 months | 3 months | 3 months |
| Shipping Cost | FREE | FREE | FREE |
| Model Name | Snapper 21" Self Propelled Gas Mower | Snapper P2185020E | SNAPPER CP215520HV (Commercial-Grade) |
Taking Care of Your Snapper
The residential usage years that are guaranteed by the manufacturer are calculated using general formulas based on hypothetical use.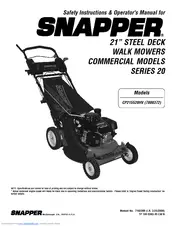 If you truly want to extend the mower's life, you need to take care it by following guidelines outlined in the user manual.
Operator manuals can be found online under the 'Manuals Section' of the Snapper official website.
Viewing operator manuals is a good way to get an overview of what a mower can do and how it will perform.
Though this approach is extremely tedious given the vast number of mowers available these days it can pay off in the long run.
If you don't want to go to all that trouble just be sure to check the reviews by other buyers as they often give clues to both the pros and cons and that may affect you personally.
Maintenance
Every engine needs regular maintenance yet most people who spend a large amount of money on a mower never take the time to maintain it. One of the most overlooked maintenance tasks is the oil.
If you are buying a mower for your own residential use only then always check your oil level before turning the mower on as it could be weeks or even months between uses. We also urge you change the engine oil according to schedule outlined in the manual.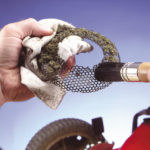 These two simple tasks could add years onto the life of your mower.
If you're going for repairs, make sure they are carried out by a professional who knows what he's doing, otherwise your warranty may be void.
If you're looking to get spare parts it is usually recommended you only get them from a certified dealer. Here is a list of official Snapper dealerships.
However, if you are competent enough to tackle the repairs yourself, or you just want additional accessories, buying from Amazon can often save you a small fortune.
Before starting your grass-cutting session, we recommend you roll out the uneven spots beforehand. Although not a necessity doing this assists you in producing an even and lavish cut.
Bag the clippings in the summer months because grass can grow at its tallest that time of year. You can choose to mulch in the non-summer months.
The snapper safety manual with instructions can be found here.
In addition to reading the product's operator's manual, you should also go through the engine's manual. For example the manual for the Snapper CP215520hv is available here.
Accessories
Make sure that any add-ons you buy are compatible with your machine.
Putting an improper fitting accessory on your mower can damage either the accessory, the machine or both and end-up costing you a lot more money than any saving you thought you were making from buying a cheap unbranded part.
One way to ensure you get this right is to only use company made products, though if you are careful this is not essential.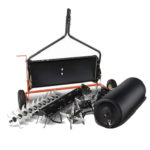 The safety guidelines outlined in the operator manual for your snapper lawn mower are very important to follow if you want to keep the mower and yourself safe.
Take extra care while you're fueling up your Snapper mower and make sure you use a simple funnel with a mesh guard available from Amazon to stop debris getting into the tank; this ensures the engine's shelf life is increased and your mowing experience is not only safe but comfortable.
What do the Reviews Say?
There are overwhelmingly positive reviews of snapper mowers by satisfied customers and to highlight this we have chosen to share the reviews of the CP215520HV as we view this the best snapper available.
The Snapper CP215520HV is made by engineers who've invested decades worth of research and customer feedback data into their product range.
One person referred to the Snapper CP215520HV as a "rugged and efficient machine". He said this was his second 21 inch commercial Snapper mower and that his previous one had lasted him 20 years.
Although many Americans prefer to buy American built hardware the Honda engine seems to satisfy even the harshest of critics of foreign engineering.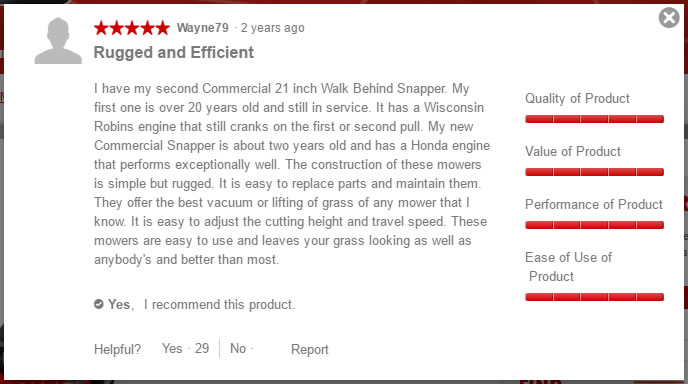 The simple design and lightweight nature of the product is a winning combination with more than one reviewer stating that other products on the market are slow and lacking in sturdiness by comparison.
On the negative side one reviewer mentioned his bad experience with a previous Snapper model and how he vowed never to buy a Snapper lawn mower again. It seems this was around the period when Snapper Inc., was bought by Simplicity Manufacturing before they were acquired by Briggs & Stratton. This particular reviewer was won back by the company due to the innovations on the CP215520HV.
One individual rather enthusiastic reviewer stated that many companies do not live up to their marketing but that Snapper always delivers.
Many users actually seem to view their Snapper purchases as an investment due to the machines' long-life and low maintenance requirements.
There is also a large amount of Snapper customers who are repeat buyers with at least ten years snapper experience under their belts. Their purchases seem to be driven by a desire to upgrade rather than a need to replace their existing machine which is a very good sign for potential first-time snapper buyers.
The Best Walk Behind Snapper
They don't make the biggest lawn mowers out there, nor do they design for show. However Snapper have been at the forefront of lawn tools and lawn mowers for a long time. They have always stayed innovative and ahead of the competition.
A perfect example of their dedication to innovation and quality is the Snapper CP215520HV which is our choice for title of "Best Snapper Lawn Mower".

This 21-inch self-propelled commercial-grade mower comes with a powerful Honda engine with an easy to use functions and gives a quality cut to match machines 10 times its price.
To find the best price available at the moment on the commercial grade CP215520HV click the link below.

The reviews for this powerhouse are extremely positive with new owners confident in their purchasing decision, largely due to their past Snapper Lawn Mower experiences.
Snapper mowers tend to outlast their warranty period much better than their competitors and it is unusual to need repair or replacement parts during the warranty period even when the mower is being used for commercial purposes.
Choosing Your Snapper Riding Mower
Snapper make some great riding mowers (though they don't make the best riding lawn mower out there in our opinion).
Below are our top 2 riding mower choices in the snapper range.
Top Riding Mower
The Snapper SPX2246 46″ 22HP Lawn Tractor is our pick for the best snapper riding mower.
This Snapper boasts a powerful key start 22HP/646cc Briggs & Stratton Pro Series V-Twin OHV Engine with Hydro-Gear® T2-HP™ Hydrostatic Transmission that allows this machine to glide through even the roughest of terrain.
Forward speed starts at 0.5 mph and tops out at a fairly fast 5 mph with a respectable reverse speed of 0.3mph to 3 mph. In case engaging the throttle still makes the mowing experience feel too much like work this mower has cruise control.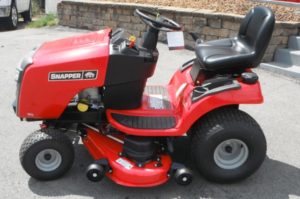 This lawn tractor has a huge 46-inch, 3-in-1 Mower Deck, made of Stamped Steel with side discharge.
It has a very reasonable turning radius of 14 inches.
The 7-position height-of-cut can be adjusted in ranges from 0.5 to 4 inches giving you a good range but always delivering a great even cut.
It is very comfortable even over long periods of usage due in large part to its 15″ mid-back, adjustable seat.
The addition of the 2-bulb incandescent headlights and a handy cup holder for a hot or cold beverage makes mowing easy day or night.
The 14-gauge stamped steel construction, 3-blade deck cuts grass evenly under all conditions even when the grass is wet.
With a fuel capacity of 3.5 US gallons, 2 cylinders and 22 gross horsepower this riding mower will blast through the toughest of jobs for several hours while you relax in the ergonomically designed seat.
We found a great deal on the Snapper SPX2246 46″ 22HP online at an amazingly low price. To check the latest price click on the link below.

Quick Stats Snapper SPX2246
Engine
Briggs & Stratton
Model
Professional Series™ V-Twin OHV
Gross Horsepower
22
Cylinders
2
Starter
Key Start
Fuel Tank Capacity
(U.S. Gallons) 3.5
Battery (cca)
230
Type
Hydro-Gear® T2-HP™
Forward Speed (mph)
0-5.5
Reverse Speed (mph)
0-3.3
Differential
Hydro
Frame
12-Gauge
Front Axle
Cast-Iron
Front Tires (inches)
15×6
Rear Tires (inches)
20×8
Number of Anti-Scalp Wheels
4
Seat
15" Mid-back
Adjustable
Turning Radius (inches)
14
Cutting Width (inches)
46
Deck Type
Stamped Steel
Mower Configuration
Side Discharge
Number of Blades
3
Height of Cut (inches)
1.5 – 4
Height of Cut Positions
7 positions
Blade Engagement
Electric
Deck Thickness
14-Gauge
Deck Suspension
Frame Hung
Spindles
Aluminum
Mower Deck Lift
Mechanical
Headlights
2-Bulb Incandescent
Cruise Control
Yes
Maintenance Monitor
No
Hour Meter
No
Cup Holder
Yes
Fuel Level Indicator
Yes
Assembled Length (inches)
71
Assembled Width (inches)
58
Assembled Height (inches)
45
Minimum Price Found
Check Price on Amazon
Shipping
Free
Warranty (Residential)
3-Years
Warranty (Commercial)
90-Days
Mid Range Riding Mower
The Snapper RE130 33″ 12.5HP Rear Engine Rear Engine Riding Mower is a great mid-range riding tractor.
It offers an easy step on and step off platform with excellent operator visibility and ergonomically placed controls by the side of the operator.
The Snapper RE130 has a key start Briggs & Stratton PowerBuilt™ OHV Engine with 13.5 gross horsepower. Transmission is an 8-Speed Disc Drive.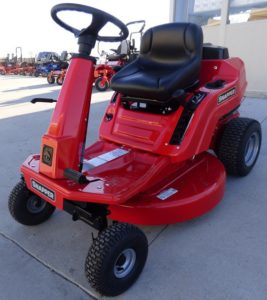 Forward speed starts at 1 mph and can reach a speed of 4.5 mph. It has a reverse capability with a speed of 1.9 mph.
This riding mower has a huge 33-inch HI VAC ™ Mower Deck with a mechanical deck lift.
It has a convenient 6-speed shift on-the-go drive system or hydrostatic transmission and an ultra compact size for easy storage.
It has a very tight turning radius that can handle cutting around obstacles easily and intricate landscaping jobs.
With a fuel tank capacity of 2 US gallons and a seat that flips up easily for instant access to the 190 cca battery and Briggs & Stratton engine.
All controls are easily accessible via a side panel which houses a single lever PTO engagement, height of cut adjustment, engine throttle, parking brake, brake pedal and the key switch.
Incandescent headlights are an optional extra but the handy cup holder comes as standard.
The 12-gauge stamped steel construction, 3-blade deck cuts grass evenly under all conditions even when the grass is wet.
An easy-reach 6 position height-of-cut dial can be adjusted easily from the control panel to the right of the operator to engage cutting positions that range from 1.5 to 4 inches.
Snapper's RE130 is one of the easiest riding mowers to step on and to step off. It offers a comfortable ride with an 11″ mid-back, adjustable seat.
To find the best deal on the Snapper RE130 riding mower from a reliable supplier click the link below.

Quick Stats Snapper RE130
Engine
Briggs & Stratton
Model
PowerBuilt™ OHV Engine
Gross Horsepower
13.5
Cylinders
1
Starter
Key Start
Fuel Tank Capacity (U.S. Gallons)
2
Battery (cca)
190
Forward Speed (mph)
1 – 4.5
Reverse Speed (mph)
0 – 1.9
Differential
8-Speed
Disc Drive Transmission
Frame
12-Gauge Steel
Front Axle
Welded Steel
Front Tires (inches)
11×4
Rear Tires (inches)
16×6.50
Number of Anti-Scalp Wheels
N/A
Seat
11" Mid-Back
Adjustable
Turning Radius (inches)
20
Cutting Width (inches)
33
Deck Type
HI VAC®
Number of Blades
1
Height of Cut (inches)
1.5 – 4
Height of Cut Positions
6 Positions
Blade Engagement
Manual Lever
Deck Thickness
13-Gauge
Deck Suspension
Frame Hung
Spindles
Steel
Mower Deck Lift
Mechanical
Headlights
Optional
Cup Holder
Yes
Assembled Length (inches)
66
Assembled Width (inches)
37
Assembled Height (inches)
43
Minimum Advertised Price
Check Price on Amazon
Shipping
Usually free but check incase this has changed
Warranty (Residential)
3-Years
Warranty (Commercial)
90-Days
Choosing Your Snapper Walk Behind Mower
The price range of Snappers varies according to the class of the mower.
Top End Walk Behind
We chose the CP215520HV as the best snapper lawn mower because it is a commercial-grade machine capable of meeting even the toughest of lawn mowing assignments yet is available for the price of a residential mower.
To see the cheapest option available for Snapper CP215520VH commercial-grade mower with free shipping click link above.
Mid-Range Walk Behind
If you would like a more mid-range machine then you really can't go wrong with the Snapper P2185020E.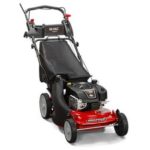 It is powered by the 190cc Briggs & Stratton 850 Pro Series and comes complete with a NINJA® mulching system and HI VAC® bagging.
This machine offers almost all the same features as its big brother, the CP215520HV, except is has a smaller fuel tank and a Briggs & Stratton engine.
The cheapest option we found for purchasing the Snapper P2185020E comes with free shipping and can be viewed by clicking on the link above.
Entry Level Walk Behind
However, if price is an issue, or you just don't need that much power, the smaller engine size on the Snapper 21″ Self Propelled Gas Mower may be more up your street with its lower 163cc engine displacement and very reasonable price tag.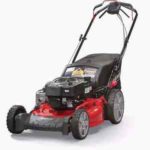 This very reasonably priced mower comes with a Versatile 3-n-1 side discharge, mulching and rear bagging along with the HI VAC® bagging technology included.
We found the best deal for the Snapper 21″ Briggs & Stratton 850 Pro Series, with shipping included, online. You can find the cheapest price by clicking on the link above.
Summary
Snapper make machines that do the job they were designed to do.
The company have kept themselves at the cutting-edge of mower technology by evolving and listening to their customers (something other companies should take note of).
Their mowers are also priced well for what they offer; no-one has ever complained about a Snapper being overpriced.
In this review we have focused mostly on the commercial-grade CP215520HV as we feel the snapper lawn mower best encapsulates what Snapper have to offer; precision, innovation, excellent pricing, and most of all, quality.
However, we included the top 3 snapper mowers based on affordability and operational needs.
In the 3 mowers you will find a fit-for-all-lawn-needs kind of lawn mower to meet your specific requirements. Buying a snapper lawn mower is an absolute no-brainer.
Snapper were the first to produce a self-propelled rotary lawn mower setting them years ahead of their competitors and snapper mowers remain as innovative and quality driven today as they have always been.