Choosing the right walk-behind mower can mean the difference between an enjoyable weekend chore or an absolute drudgery. It can also mean the difference between a lushly, neighbour-envying, manicured lawn and a messy rough garden that's the disdain of the neighborhood.
Obviously, this is where a good lawn mower becomes invaluable. But, which lawn mower should you choose?
How to Choose the Right Walk-Behind Mower for You
Although the prominence of the riding mower has grown immensely in the last few decades the Walk-Behind Mower is still a tried-and-tested garden gadget, and it`s easy to see why.
Apart from providing an easy and fast way to trim your lawn, these machines are cheaper and easier to operate while being just as efficient as their more expensive counterparts.
In short, this type of mower offers the residential user a one-stop solution for all his/her gardening needs.
But, with a myriad of walk-behind mowers on the market, from different brands to different extras, it`s challenging to find for a model that will suit your specific personal needs.
Unfortunately, due to the large array of lawn mower choices, and being presented with the difficult task of differentiating between them, many gardeners are driven by the cost factor rather than the suitability of the mower.
This has led many gardeners to waste their hard earned cash on purchases that do not meet their needs and that fail to perform their intended tasks efficiently.
Therefore we have set out a simple here all-rounded Walk-Behind Mower buyer's guide, dedicated to providing you with the best information for the purchase of a mower.
Our main aim is to enable you to make a worthy purchase at budget friendly cost.

Below are the main factors that you should account for before making a purchase.
Mower Type
Walk-Behind Mowers are available in three modes: electric, gas, and reel lawn mowers.
The three modes are differentiated from each other by its mechanism and power source.
Let's take a closer look at these three mower types by how they are powered to see which one is the best fit for your individual needs.
Power source
Depending on your preference, you can either choose an electric or gas powered mower for your mowing projects.
Alternatively, you can go for the reel mower, which makes use of human labor. For small to medium scale mowing projects, an electric or human intensive mower is a good option.
As a rule of thumb, if you have an extensive area with long and tough grass to be cut, a gas powered mower is always the best option.
Super Charged – Electric Mowers
The electric mower was conceptualized as a reaction to the growing toxic discharge of the gas powered mower.
Electric mowers come in two types:
The electric walk behind mower is gaining popularity thanks to the zero emission nature, thus making it environmentally friendly.
Also, it leaves less of a carbon footprint than a gas mower and has the added advantage of zero oil leakages on your lawn or gear.
The best part about the electric mower is its (almost) silent nature, making it ideal for early Sunday morning mowing even in residential areas.
The only downside to the electric version is that the battery-powered cordless versions are often not powerful enough.
On the other hand with the corded versions, you`ll have to put up with extension cords which are cumbersome, can limit the coverage area and quickly become a pain to manoeuvre around.
Gas Gusslers – Gas Mowers
Gas lawn mowers run on combustible carbon fossil fuel such as oil or gasoline.
The biggest advantage of owning a gas lawn mower lies in its pragmatism, and robustness, which translates to better mowing power.
Most gas mowers are more powerful than most electric mowers.
Additionally, gas lawn mowers are durable and the best will exhibit great versatility and be suitable for a wide range of lawn types.
For example, most gas mowers can traverse any type of surface from flat to a steep incline and can handle tough and thick grass much better than their electric cousins.
The main limitation of using this mower is the emission of toxic gasses and the high cost of fuel and engine maintenance due to the regular tune-ups and oil changes.
Reel Power – Reel Lawn Mowers
A reel lawn mower is no doubt seen as a step-down from both the electric and the gas types of lawn mower because it is basically powered by human labor (although there are less-popular gas powered versions). However, this type of mower does offer some advantages over the other two.
Compared to the previous mentioned mower types, the reel mower is infinitely quieter, much more environmentally friendly and a lot cleaner.
This type of lawn mower is ideal for small to medium homeowners, who are environmentally friendly and/or desire to get some kind of workout from their mowing chores.
The biggest challenge of using a reel mower lies in the unfortunate fact that most of them are unable to trim closer than 3 inches around obstacles and can be tough to move in especially challenging environments such as on steep inclines or rough uneven terrains.
Mower deck size
Bigger is not always better when it comes to lawn mowing.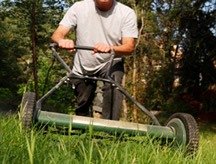 Many people think that getting a mower with a bigger deck size is always the bets option but this is not always the case. It is always advisable to get the right sized deck for your particular yard. The right deck size for the right job is important.
For those who don't know the deck size is the measurement of the width of cutting swath. This width defines the number of times you need to move to and fro to cut a whole lawn. Obviously, a bigger width sized lawn mower will cut more grass in one push than a smaller deck-sized mower.
So, the wider the deck size, the faster you will cut a lawn.
Nonetheless, the size of the deck will again depend on the surface of the lawn you intend to cut.
Smaller lawns require smaller deck sizes and it is actually more advantageous to use a smaller deck-sized mower.
Trying to manoeuvre a large machine in an enclosed or limited space is counterproductive and if you have a garden with lots of obstacles, such as garden beds, trees and shrubbery etc. then a mower with a smaller deck would be a much better fit for your lawn.
Grass handling
Different mowers offer different grass handling options, and you should consider what best suits your own garden environment.
For instance, the most basic option for the grass clipping is the discharge mechanism that ejects clipped grass from the side of the mower.
Side discharge can be messy and so many walk-behind models come with an option that includes the collection of the grass clippings in a rear bag attachments for easier disposal later. Others also have mulching capability so the grass clippings can be put back into the lawn.
According to your lawn requirements you can easily pick a mower that suits your needs best.
Alternatively, there are many walk-behind mowers that offer a 2-in-1 cutting deck for side discharge & mulching and even those that offer a 3-in-1 cutting deck for side discharge, rear bagging, and mulching.
Maintenance
Different mowers require varying levels of upkeep and maintenance to keep them running smoothly. Obviously, this holds true to not only to the walk-behind mowers but also to other versions of mowers. If you want a lawn mower you need to be prepared to take the time to maintain it.
Some of the major factors that influence the level of maintenance in any walk-behind lawn mower include:
the material used for constructing the mower (stamped parts or welded steel)
the size of the engine, horsepower
the size and number of blades
While the upkeep of any lawn mower is always a "hidden" price that is not openly apparent during the shopping phase, it's always important to factor this in at the time of purchase to avoid later frustration and surpirse bills.
Price
An ideal choice of a lawn mower is that which is within your budget level. Most of us are, at times, tempted to buy the least expensive mower in an attempt to save money. But, like any "false economy" buying the cheapest option may cost you much more later on down the line.
Buying a mower that is not up to the task of your particular lawn due to a small deck size, weak engine or just because it simply isn;t up to the job will turn out to be more expensive in the long run than any saving you think you've made at the time of purchase.
The few dollars that you save will be ultimately "eaten up" in repairs or maintenance costs. You might even find yourself having to make a new purchase after only a few short years if you wear your lawn mower out on tasks that are "above its pay grade".
This does not mean that the most expensive lawn mower is the best fit either.
If you buy the right mower for your gardening needs and go for a solid reliable make and model it can last you a lifetime.
The trick here is to strike a balance between the cost of the mower and its qualities/features.
Base your buying decision on how well the lawn mower is suited to your personal gardening environment first and then take the other aspects of the purchase into consideration and you will end up with a good mower.