From all the riding lawn mowing machines available for 2023 we found 4 that are way ahead of the competition in their respective class.
We have included 4 machines based on cutting width, size of machine and engine and of course price.
However, we have included two machine sin the 46″ class of our list simply because we had to – one has zero turn capability while the other is more of a lawn tractor.
Both have their advantages and both are great machines – hence our inclusion of both.
Our Top Picks; The 4 best riding mowers for 2023
Husqvarna Z246 Zero Turn 46″
Poulan Pro 960420170 46″
 
Husqvarna 960430211 42″
 
1. Husqvarna Z246 Zero Turn 46″ Riding Mower
Our top pick is the Husqvarna Z246 V-Twin 724 cc 46″ Zero Turn Mower as it is the best riding lawn mower in its class with zero turn capability on the market.
Husqvarna have provided all the features a landscaper needs and then some.
This review will take you through the detailed specifications and major features of this small zero turn mower.
If you are in a hurry, a quick look at the specifications tables below will give you all the information you need.
You can also visit the link below to get the best price available on the Briggs & Stratton version of this machine or this Amazon link for the Kawasaki version; selling online reduces the overhead costs for vendors and many pass this saving on to customers.
We do suggest though that you go through the entire review because a riding mower is a long-term investment and making an informed choice is better than buying something which doesn't fit your needs.
2 Different Husqvarna Z246 Versions
The Husqvarna Z246 V-Twin 724 cc 46″ Zero Turn Mower is one of the best riding mowers available.
Although it doesn't have as big a deck as our pick for the best wide deck zero turn mower, it still offers quite remarkable performance given its size.
There are 2 versions available. One houses a 23 HP Briggs and Stratton engine while the other houses a 21.5HP 726cc Kawasaki Engine.
As seems to be the norm with zero turns regular users seem to prefer the Briggs and Stratton version (which is also American made) so we would advise you to go for this machine over the Kawasaki version.
Both the Briggs & Stratton machine and its rival Kawasaki version come with free shipping.
The prices vary from month to month.
Sometimes the Briggs & Stratton version is cheaper while sometimes the Kawasaki machine is cheaper.
So it is well worth checking the price of each version of the Z246 before purchase.
Briggs and Stratton
The Briggs and Stratton engine has some amazing features which promise performance and durability that match the quality of the rest of the mower.
Features include:
L/W/H: 19.1″/18.2″/14.3″
Power: 23HP
Displacement: 724cc
Engine Type: V-Twin OHV-Valve
Cylinders: 2
Oil Capacity: 64oz (1.9 quarts)
Weight: 84 lbs
Bore x Stroke: 3.12″ x 2.89″
Engine Fuel: Gasoline
Lubrication System: Full Pressure Lubrication
Fan: An oversized fan which provides ample cooling.
Dual Element Cartridge with Advanced Debris Management.
Super-finished bearing surfaces.
Chrome-plated valves.
Check the Briggs & Stratton powered Z246 via the link below.
Kawasaki
The Kawasaki engine has some amazing features which promise performance and durability that match the quality of the rest of the mower.
Features include:
Shaft Size: 1 1/8″ x 3 15/16″
Power: 21.5 HP
Displacement: 726cc
Engine Type: 4-Cycle V-Twin OHV-Valve
Cylinders: 2
Compression Ratio: 8.2:1
Oil Capacity: 2.2 quarts
Weight: 89 lbs
Bore x Stroke: 78 x 76mm
Engine Fuel: Gasoline
Lubrication System: Pressurized Lubrication System
Electronic spark ignition
Automatic compression release
Internally vented carburettor with fuel shut-off solenoid
Rotating metal grass chopper screen
Cast-iron cylinder liners
Single-stage air filter
Check the Kawasaki powered Z246 via the link below.
Which Engine is Best?
You really can't go wrong with either engine.
Both versions of the Z246 have a 46″ reinforced stamped steel cutting deck.
The integrated zero-turn transmission translates into maintenance free performance. While the high quality frame and casters are durable and reduce chassis flex.
The addition of a rear engine guard protects the engine from any damage caused by airborne dust and debris.
The transmission is a Hydro-Gear hydrostatic and gives the riding mower its zero-turn radius. The design is cutting edge, and combined with a high-powered engine, will turn your lawn maintenance from a painful chore to an activity you will look forward to.
We will look at both the Briggs and Stratton version and the Kawasaki version of the Z246. Regardless of which engine the mower houses the rest of the machine parts and frame are identical.
As both engines are excellent we advise you to check both versions of the machine for their latest prices as most times one machine will be considerably cheaper than the other.
Why The Husqvarna Z246 Our #1 Choice
The Husqvarna Zero Turn Z246 is a robust and reliable machine. Its superior power and performance are among the major reasons why you should consider purchasing this mower.
The factors which set this machine apart from other machines in its class are discussed below in more detail.
It has autostart
The Husqvarna Zero Turn Z246 has an automatic choke system.
This technology is described by the manufacturer as Ready Start.
Ready Start enables the machine to start easily and under typical conditions it does not require any user input.
The cut is exceptional
The machine is able to deliver a superior cut because of air induction. The air is drawn in from the top is such a way that it lifts the grass, allowing the mower to cut away the required length easily.
The cutting deck is made of strong, reinforced, and stamped steel. The portions of the trim side and leading edge are durable and will not wear down easily.
It offers zero turn capability
This is the biggest selling point for this machine and the reason why it gets our number 1 spot about the Poulan Pro.
A zero turn mower offers all the benefits of a standard riding lawn mower with the added advantage of increased, and incredible, manoeuvrability. In effect a zero turn mower (also known as a ZT-Mower) has a turning radius that is effectively zero.
Different brands and even different machines integrate the zero turn capability in different ways, but the ability to control the hydraulic speed of each individual wheel independent of the others is the most common method employed by manufacturers.
This sounds much more complicated than it is.
As a user all you have to do is manipulate the right and left stick controls to move the vehicle in any direction you want including a full 360°.
The capability to manoeuvre such a large machine basically 'on a dime' makes mowing around obstacles such as trees, shrubbery, flowerbeds etc., incredibly easy.
Obviously, for people with very challenging lawn terrains with twists & turns and lots of lawn obstacles this incredibly flexible manoeuvrability can save them a lot of time and heartache.
It offers superior usability
The Z246 has an integrated bumper which protects the nose of the machine during operation.
There is also an LED headlight kit which will provide sample illumination in dark conditions.
As far as the productivity of the machine is concerned, the Husqvarna Zero Turn Z246 will allow you to mow 2.4 acres per hour depending on the amount of terrain obstacles you encounter.
The maximum forward speed is 6.5 miles per hour.
All these features combine to provide a powerful entry-level zero turn riding lawn mower.
Taking a closer look at the engine
The Husqvarna Z246 has a 32 HP Briggs and Stratton engine.
The engine is part of the Endurance Series created and manufactured in the USA by Briggs and Stratton.
The engine is powerful enough to provide smooth operation and long-lasting durability.
It has a full-pressure lubrication system and a full-flow filter.
The Z246 has a large fuel capacity of 3.5 gallons and a cylinder displacement of 44.18 cubic inches – not too shabby for an entry-level machine.
The engine comes with a consumer warranty of 3 years.
Major Engine Specifications
| | |
| --- | --- |
| Engine Brand | Briggs & Stratton |
| Model | Endurance Series V-Twin |
| Power | 23 HP/724cc |
| Battery Type | Lead Acid |
| Fuel Tank Capacity | 3.5 Gallons |
| Cylinders | 2 |
| Oil Filter | Included |
| Battery Voltage | 12 Volts |
The 46″ reinforced stamped 13-gauge deck makes any job fast and smooth
The reinforced stamped cutting deck comes with an unbelievable 10-year limited warranty which ensures years of worry-free usage of the Husqvarna Z246.
This clearly demonstrates Husqvarna's faith in their product.
The shell of the deck is made from a rugged steel sheet which is 1/4th inch thick.
The method of construction uses dual sheets to ensure that the spindles get sufficient support.
The cooling mechanism is efficient and will allow easy operation over several hours of mowing even on the hottest of days.
The deck has been reinforced with 14-gauge welded steel which enhances its durability.
Wear and tear is minimized due to the tough materials.
The Cutting Deck Specs
A quick look at some of the features/specifications of the cutting deck:
| | |
| --- | --- |
| Number of blades | 2 |
| Anti-scalp wheels | 3 |
| Cutting Height | 1.5-4.0 Inches |
| Material | 13-Gauge |
| Spindle Material | Aluminum |
| Number of Positions | 6 |
| Construction Type | Reinforced Stamped |
| Engagement | PTO Electric |
| Deck Lift System | Manual Hand Operated |
| Deck Drive | Belt |
| Cutting Options | 3-in-1 (Side-Discharge/Bag/Mulch) |
Hydro Gear EZT Hydrostatic Transmission
| | |
| --- | --- |
| Drive Wheels | Rear Wheels |
| Maximum Forward Speed | 6.5 mph |
| Maximum Reverse Speed | 3.5 mph |
| Transmission Type | Hydrostatics |
The Husqvarna Z246 owes its smooth operation to the hydrostatic transmission.
The mower can be maneuvered around easily and can turn on its axis because of the zero turn radius.
Therefore, no grass is left uncut; the user can simply make a 180 degree turn when the end of the area is reached.
The user also experiences minimum vibration from the machine during operation.
This is because of the rubber isolators which offer a buffer zone and serve to separate the body of the user from the frame of the mower.
The user suffers no fatigue during long hours of use due to the ergonomic comfortable design.
Other Notable Features
The LED headlight comes in handy if you are operating in low-light or foggy conditions.
Another thing which makes operating the mower a lot easier is the fact that the throttle, choke and ignition are placed together.
The foot pan can be easily removed, giving the user easy access to the pulleys, spindles and deck belts.
Also included are a deck wash port, an hour meter and a handy cup holder.
Additional useful specifications
The ability to customize and upgrade the machine are often considerations most buyers take into account before making a purchase decision.
Therefore we will take a look at accessories and additional comfort factors available for the Z246.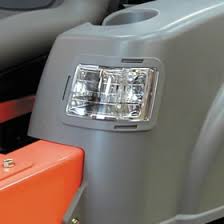 Most users purchase riding mowers because they operate the mower for hours at a time, so comfort is important.
To ensure the most comfortable riding position the seat of any mower must have an adequate height and width.
The seat of the Z246 is easily adjustable and has a 15-inch high back comparable to even the highest-end commercial machines.
Additional accessories such as a rear bagger, mulcher kit available on Amazon, engine guard, trailer hitch, and arm rests available on Amazon are sold separately but are very reasonably priced.
The mower requires some minor assembly upon purchase but is easy to setup if you follow the directions provided in the owner's manual.
Assembly should take no more than 30 minutes.
The mower weighs about 580 pounds and is delivered in a wooden crate free of charge if you get it online.
We found the cheapest price was online offered with free shipping.
Let's take a look at the set-up
The lap bars have to be setup before you can use the mower. The seat also requires some setup and you also have to connect the battery (very easy to do).
This takes about half an hour if you have the required tools.
Once this is done, you can air up the tires, check the oil and you are good to go.
Basic Specs:
Weight: 580 lbs.
Tire size, front width: 4 in.
Tire size, front diameter: 11 in.
Tire size, front diameter wheel 5 in.
What Makes The Z246 The Best Riding Lawn Mower
The Husqvarna Zero Turn Z246 is the best riding lawn mower in our opinion for a multitude of reasons.
Although the very best mower we If you don't have very large areas to tend but have sufficient lawn space that requires a riding mower then you can't go wrong with this model.
The mower is faster and more durable than the other models in its class.
Judging from the actual performance, specifications and online reviews, in conjunction with the online low price this mower is probably one of your best options.
As mentioned previously Husqvarna also has this same model available with a Kawasaki engine and a Briggs & Stratton engine.
Many manufacturers will provide you with different engine option on higher priced machines because customers tend to trust a specific brand of engine manufacturers.
Another reason is that customers have become familiar with the maintenance and service routines of their preferred brand.
For example, users in Europe will be more familiar with Kawasaki while North American users will be more familiar with Briggs and Stratton.
Many USA users also prefer to support the local/national industry by purchasing the USA made engine rather than its Japanese counterpart.
This could be one of the reasons the Briggs and Stratton version gets a higher review rating because both machines are almost identical.
Depending on the deals available at the time it is very common for one of the two versions to be cheaper than other.
Sometimes it's the Briggs & Stratton version while other times its the Kawasaki version.
Unless you are very pro going American-built (and why not) buying the cheaper of the two options will never mean getting an inferior machine – it just means you've saved a few hundred bucks!
What Owner Reviews Say
The Husqvarna Zero Turn Z246 is a highly rated machine. Reviewers mostly give it a 4-star or 5-star rating.
This is reflective of the durability and performance of the mower. The specific aspects which are highlighted in the reviews include the speed, power and smooth operation.
However, a reviewer suggested that the mower does not handle rough terrain very well.
This is not surprising because the mower is designed for residential use and most households have even flat lawns. All entry-level mowers will definitely run into problems if used on hilly and rough terrain.
Bear in mind that although the Husqvarna Zero Turn Z246 is capable of operating on hilly surfaces, it doesn't have the chops to handle rocky or rough land.
Product Comparisons
Below is a quick comparison chart of similar machines:
| | Husqvarna Z246 | Husqvarna Z246 | Husqvarna Z254i |
| --- | --- | --- | --- |
| Engine | Briggs and Stratton Endurance Series V-Twin 23 HP | 21.5HP 726cc Kawasaki Engine | Briggs and Stratton Endurance Series 24 HP |
| Cutting width | 46 inches (13-gauge) | 46 inches (13-gauge) | 54 inches (12-gauge) |
| Cutting deck type | Stamped | Reinforced | Stamped |
| Cutting methods | Side Discharge Capable | Mulcher | Rear Bag |
| Productivity | 2.4 acres/hour | 2.4 acres/hour | 2.8 acres/hour |
| Blades (speed) | 2 (16600 fpm) | 2 (16600 fpm) | 3 (18500 fpm) |
| Ergonomic control panel | Yes | No | Yes |
| Bumper with integrated LED headlights | Yes | Yes | No |
| Dimensions | 46 inches' x 72.75 inches' x 45 inches | 46 inches' x 72.75 inches' x 49.5 inches | 46 inches' x 72.75 inches' x 49.5 inches |
| Weight | 550 pounds | 550 pounds | 598 pounds |
| Price | Check on Amazon | Check on Amazon | Check on Amazon |
Husqvarna after-sales support and parts
The manufacturer has an excellent information portal you can use to find details about spare parts, accessories and general help about your Husqvarna Z246 (967323903).
You can also find online versions of your user manual by checking this link.
The company recommends that you register your riding mower immediately after purchase to ensure you trigger your full warranty.
An accessory that is quite useful for landscapers operating zero turn mowers is a mulch kit. Husqvarna has some excellent accessories available.
The Husqvarna HU46 46-Inch Mulch Kit with Blade is highly rated on Amazon and will turn your Z246 into a more versatile machine.
You can locate a Husqvarna authorized dealer via their website or purchase your riding mower through an online retailer such as Amazon usually at a greatly reduced price.
Purchasing from Amazon also gives you the advantage of Amazon's warranty as well as that of the manufacturer in addition to a reduced price.
Summary: Husqvarna Z254 Zero Turn
The Husqvarna Z254 Zero Turn offers unmatched power and operates smoothly for an entry-level mower.
The mower reaches top speeds of 6.5 mph and its hydrostatic transmission allows easy operation at varying speeds.
The 46-inch reinforced and stamped cutting deck makes this machine durable and efficient.
You can operate this at 6 different cutting positions, ensuring that your lawn gets a perfect cut every time.
The foot pan of the mower is easily removable, allowing you access to the service ports for routine maintenance.
The Briggs and Stratton Endurance Series V-Twin engine offers 23 HP of cutting power while the Kawasaki version gives 21.5 HP from its 726cc engine.
The Endurance engine operates quietly and the power output is smooth.
The transmission is a Hydrostatic Hydro-Gear commercial drive system which enables the mower to smoothly transition between various speeds.
The cutting speeds are up to 6.5 mph and the available cutting heights range from 1.5 – 4 inches.
As far as usability is concerned, the mower is easy to get going with the simple electric start system.
The seat has a 15-inch back just like the end-end machines and is comfortable. It slides easily so you can adjust it whenever needed.
All the main controls are easily reachable from the seat. A digital hour meter is also clearly visible from the seated position.
The deck can be adjusted effortlessly because of the springs and you can set the deck height at precise height adjustments.
The foot pan can be removed with very little effort if you need to clean or service the mower.
The manufacturer provides a consumer warranty of 3 years. During this time, your mower is protected against any defects in workmanship and materials.
The details of the warranty and warnings are given in the owner's manual so be sure to read it before you start mowing.
All-in-all we found the Husqvarna Z246 to be the best riding lawn mower with zero turn capability that you will find on the market in 2018.
Briggs & Stratton Deals
Check the Briggs & Stratton powered Z246 via the link below.


Kawasaki Deals
Check the Kawasaki powered Z246 via the link below.


2. Poulan Pro 960420170 46″ Lawn Tractor
Poulan Pro have a long heritage of innovation that began in 1944.
Their history is reflected in their powerful riding mowers, lawn mowers, tillers, trimmers, blowers, snow throwers, and chainsaws. 4-cycle and 2-cycle engines from the industry leading suppliers make their equipment long lasting and powerful.
You can depend on them to help you get the best looking lawn in the neighborhood.
What the Poulan Pro Offers
If you are looking for a dependable, riding mower the Poulan Pro 960420170 riding mower is one of the best deals you can get for your money.
Offering the best value to homeowners, the Poulan Pro 960420170 riding mower belongs to an exceptional line of Pro equipment from Poulan that are guaranteed to provide power, durability and quality.
Equipped with a 20 HP V-twin Briggs 7 Stratton engine, it offers the power to handle the most difficult and extensive lawn maintenance tasks.
The large 46-inch reinforced cutting deck cuts a broad path in a single pass, so you can get done fast.
It has large 4-gauge all-terrain wheels and a short 16-inch turning radius.
It is also affordable, low maintenance, and has a very comfortable seat with easy reach ergonomic steering wheel that gives an overall relaxing feel to your cutting.
Image Overview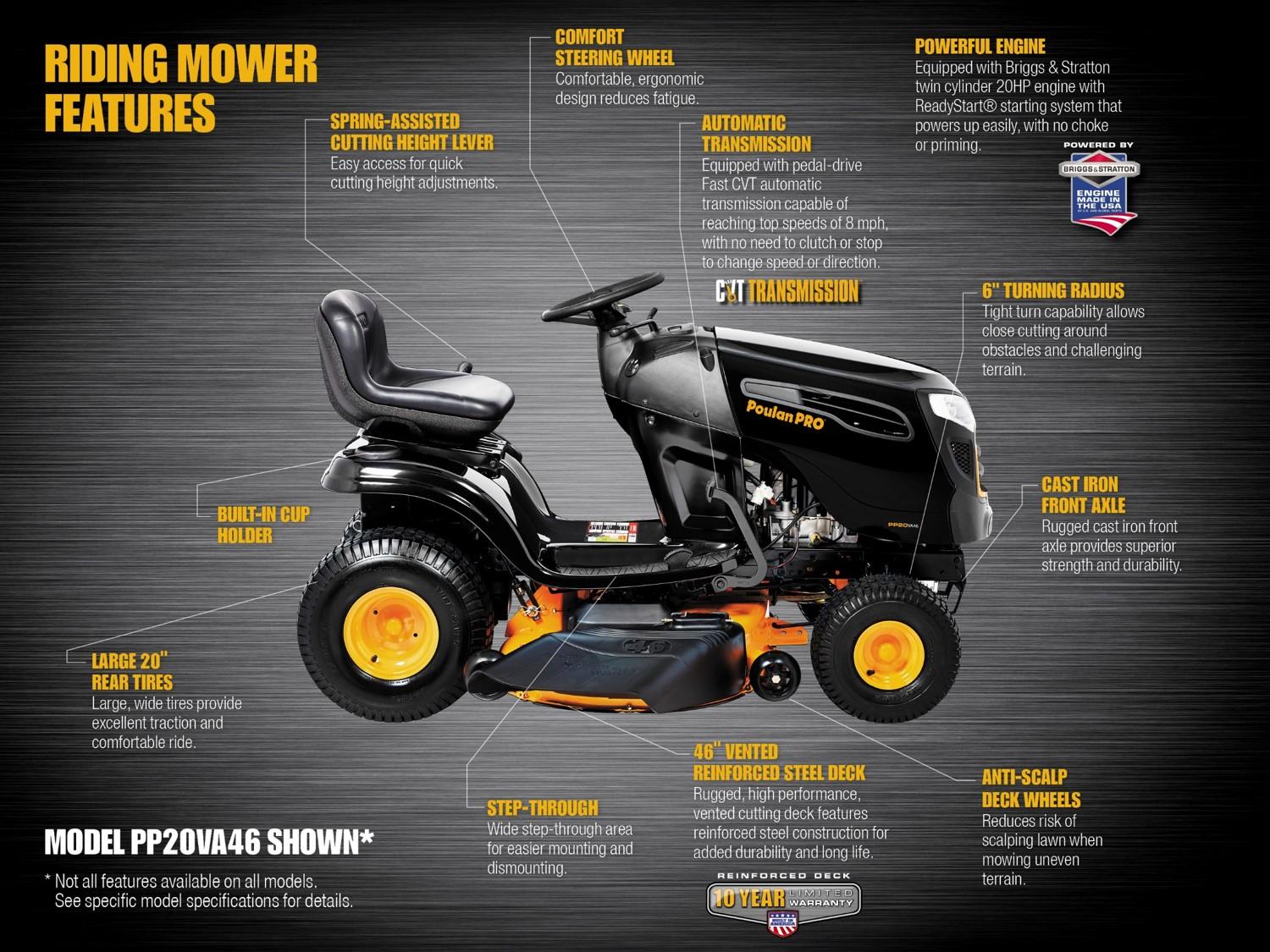 It has a powerful 20 HP V-twin Briggs & Stratton motor
Engine horsepower (HP) measures the power output of the engine that's available to share among the many mower components such as the transmission and blades.
With powerful 20 HP available in the Poulan Pro, you can typically do more work faster than most other mowers in this class.
Its smooth running motor has great fuel economy, and includes full pressure internal oil lubrication.
A premium oil filter along with a high-quality paper air cleaner, with foam pre-cleaner, ensure no debris disrupts the smooth operation of the engine.
The mower's gasoline tank holds a very generous 2.5 gallons, so you can mow a huge area with one tank of fuel.
Due to the gas powered engine, you can expect more than enough power to maintain large lots or tracts of land regardless of how challenging the terrain is.
The V-Twin engine turns this machine into a garden workhorse
A riding tractor is built to be the workhorse of your landscaping arsenal. Delivering power is the job of your machine's engine.
The Poulan Pro 960420170 mower uses a V-Twin engine that delivers better balance, more power, cooler running and longer engine life.
You will appreciate the high horsepower when towing carts, using tillers or clearing snow.
In fact, this type of powerful lawn tractor can be used with a myriad of accessories to perform a lot of different lawn care activities.
And if you're working on a large plot of land with varying terrain, the extra power makes any long, heavy-duty task easy to tackle.
Ready start technology ensures a first start every time
ReadyStart technology is a new innovation by Briggs that makes starting the Poulan Pro 960420170 mower far easier.
Old mowers require choking and priming the engine and pulling the starter cord to have the engine start. With this new feature, you don't have to prep your engine. Just pull the cord you are ready to go.
ReadyStart makes this possible by sensing the engine temperatures and automatically adjusting the air-to-fuel mixture.
Fast CVT transmission offers a smooth ride
It uses the Fast CVT transmission, by General Transmission, which means the transmission stays cooler and the mower can handle hills with ease.
This is a great transmission if you want to use a snow blade because it goes faster so the snow will roll off your blade better.
The automatic transmission makes it easy to control the speed of the mower without the use of a clutch or changing gears.
This is possible because it's pedal-operated, which allows you to keep both hands on the steering wheel while adjusting your speed and direction with foot pedals.
This is also the most flexible type of transmission for speed control.
You get the ultimate in control and a wide range of forward, neutral, and reverse speeds. You can even mow in reverse!
This transmission also offers lower efficiency but requires more fuel and maintenance.
With a manual transmission, you have to stop the tractor every time you change gears.
The automatic transmission gives you seamless adjustment while driving.
If you have a tight space that requires lots of turns, backing up, and changing directions, you will find the automatic transmission very suitable.
This can be good for slowing down when making turns or cutting close to flower beds.
The wide 46″ cutting deck makes short work of most jobs
If your property is more princely, you might want a riding mower with a wider cutting deck. Cutting deck width indicates how wide a swath of grass you can mow in a single pass, i.e. wider the deck, the more grass it cuts.
In general, if your lawn is large and mostly open, it's more important that your riding lawn mower has a wider cutting width.
Because it has the engine capacity, horsepower, and torque necessary to power large cutting blades, the Poulan Pro 960420170 is able to offer this massive deck width.
The 46″ width of cut significantly reduces the amount of time you will have to spend mowing your lawn if you are used to a standard walk-behind mower or entry-level riding mower.
The reinforced cutting deck is durable
The steel tube on the edge of the cutting deck gives improved durability.
This ensures that your purchase will last a while, and that you won't have to make any mechanical changes other than repainting it in another century.
You get great performance & good maneuverability
It offers incredible performance overall.
With its heavy steel frame blade and powerful engine, you can trust that it will pull heavy loads.
Most functions are automatic, whether it's engine start-up, blade engagement or transmission.
The mower has a fairly respectable 16″ turn radius but, like all non-zero-turn tractors, cannot turn very tightly.
If you have a lot of obstacles around your yard or need the ability to make tight turns, a zero turn mower would be better suited to your needs.
Who is the Poulan Pro Best Suited To
This is model cuts exceptionally well on flat terrain and is best suited to lawn sizes of two to three acres.
However, it also performs well on sloped and uneven terrain due to the power of its Briggs & Stratton engine along with its great traction.
If you perform a lot of different yard work that requires transporting heavy equipment, tools or goods such as soil then attaching a dump cart to the Poulan Pro will save you a lot of time and energy.
With the proper accessories, you can also use this machine for snow plowing, aeration, grass collecting, leaf bagging and a host of other garden-related activities.
If you need a workhorse that also gives a professional lawn cut then you won't go wrong with the Poulan Pro 960420170 46″ Riding Mower.
Poulan have a great warranty
The Poulan Pro 960420170 is offered with an incredibly generous 10-year warranty for its cutting deck and belt.
The mower itself comes with the industry standard 3-year residential use limited warranty.
Summary: Poulan Pro
In the Poulan Pro 960420170, you have a riding lawn mower that is easy to use and has what a homeowner with up to 3 acres of lawn needs to keep his or her property looking great.
We know that buying a riding lawn mower is a significant purchase for homeowners who need a machine that gets the job done and fits their lifestyle, but sorting through the available models and accessories sometimes feels overwhelming.
Hopefully, we have helped to make the choice an easier one for you.
But, if these two lawn mowers are too big for you perhaps one of the other 2 below will better suit your needs.
3. Husqvarna 960430211 YTA18542 42″ Lawn Tractor
The Husqvarna YTA18542 is compact and powerful 42″ riding lawn mower that handles itself admirably on lawns big and small.
The 42″ deck allows you to maneuver in and around small areas. While, the 18.5 Briggs and Stratton Intek engine gives you enough power to tackle about 2.5 acres/ hour.
Being able to reach a top forward speed of 7.4 mph, while maintaining an even cut, means you will be able to zoom around your lawn and have your grass cut in quick time.
A CVT Auto Transmission allows you to control the speed with just a pedal, no clutch required as the mower operates similarly to an automatic motor vehicle.
Other notable features include a convenient step-through driver's seat design, manual blade engagement control and an angled steering wheel.
Cruise control, deck wash port for easy clean-up, and a cast-iron front axle all add to the convenience and durability this lawn mower offers.
The Briggs & Stratton Intek engine sets this machine apart
The Husqvarna 960430211 YTA18542 has a Briggs & Stratton Intek engine which is both powerful and durable.
The engine offers 18.5 HP and has a V-twin design, which means the engine, is smaller and vibrates less than similar engines with two cylinders.
It has a 12V battery that is also powerful.
It also has combined a pedal control with FAST auto drive transmission that requires less power to drive the mower and thus sends more power to the deck for cutting.
Main Intek Features
The Intek engine has several other features worth mentioning:
ReadyStart for Ride Technology.

Automotive-style, no choke easy starting. This feature makes starting your lawn mower far easier. Old mower models require priming and choking the engine and a hard pull of the starter cord to get the engine to start.
This new feature doesn't require any engine pep. Just turn the key or push the button and go.
ReadyStart does this by sensing the engine temperature and automatically adjusts the air-to-fuel mixture.

Advanced Debris Management.
Keeps the engine clean by deflecting and ejecting grass and debris for a longer engine life.
Anti-Vibration System-AVS.
Provides a smoother ride and more comfort.
Full Pressure Lube System.
Reduces component wear for longer engine life.
The CVT transmission offers a smooth ride
A CVT is a lesser-known alternative to a conventional automatic transmissions.
You operate it just like a regular one in that you slide the shift lever from "P" to "D" and off you go.
However a CVT technically doesn't have gears at all; rather, it's like having one 'magical' gear that's variable across all driving situations.
That's why you don't feel shifts from one gear to the next. You just use the pedal to control your speed.
With the CVT in the Husqvarna YTA18542 you can expect above-average fuel economy as well as simple, efficient power delivery.
Adjustable cutting height gives versatility
The cut length of your lawn very often depends on the season in which you are cutting.
For this reason almost every mower on the market comes with variable cutting heights.
However, some require a changing of wheel height via a lot of fiddling with tools and nuts. Not so with a riding mower.
It is extremely easy to choose a cut for your lawn with the aid of a handy lever that allows you to chose from any of the 6 cutting heights available.
The Husqvarna YTA18542 allows you to easily adjust the cutting height as the adjustment lever is mounted conveniently on the fender, which is within arm's reach of your seat.
The air induction technology helps deliver a superior cut
Air Induction mowing technology draws air into the mower from the top and the bottom of the deck, improving grass lift and helping to deliver a superior cut.
Cast iron front axle allows this machine to take some abuse
The superior strength of the cast-iron front axle, as compared to a steel axle, is of particular value when your yard contains rugged terrain or numerous small obstacles that makes the ground uneven.
It has been shown over a long period of time that axles made from cast-iron withstand greater loads than the alternatives; they have better vibration damping than steel and demonstrate much better resistance to wear & tear, heat and corrosion.
While it's still a good idea to mow carefully, the cast-iron front axle is more likely to emerge from traumas, such as hitting a ditch, unscathed.
The step-through mount is a great erogonomic feature
The step through frame design in the Husqvarna YTA18542 is very quick to mount and dismount, and is suitable for mowing even when there are many stops.
With this design there is less risk of stretching or ripping clothes or straining muscles when mounting.
You literally just step on board.
It's especially suitable for elderly users and others with restricted agility.
It offers great usability
With regards to its ease of use, this mower scores higher than average.
Its leg room is sufficient to accommodate taller guys while remains comfortable enough for average-height women.
It comes with a comfortable seat 13-inch vinyl slide spring assisted seat and an easily operable steering wheel for those long working hours.
Plus, you get a handy hour meter that shows you how many hours you have been working and when it is time for you to service the machine.
The Husqvarna YTA18542 has been built to include extra features such as headlamps for sundown mowing as well as reverse mowing.
Reverse mowing as standard
Reverse mowing is a feature that lets you cut in reverse.
Some tractors don't let you cut grass in reverse. While a good safety feature, this can also be inconvenient in tight areas.
Certain models instead require you to engage an override switch.
The deck washout port makes cleaning easier
With this mower, after you've finished mowing the lawn the clean-up is very easy.
The deck washout port allows you to easily connect a standard water pipe to the deck and clean the underside of your deck.
Simply stop the engine, remove the bag for clippings if one is connected.
Then re-start the engine, turn on the water the hose is connected to and the mower deck will clean itself.
This simple task means that the underside of your trimming deck is tidy in a matter of minutes.
This is such an easy activity that you should do it after every mow.
Do not be tempted to merely park up the machine and leave it as this will lead to a blunting of the blade.
Great warranty
This mower is offered with a 3 year limited, 5 year frame/chassis and front axle consumer warranty.
Owner Reviews
Online reviews by owners of the Husqvarna YTA18542 are mostly 5-star.
Review 1
Review 2
February 25, 2017
I love this mower its easy to use and cuts greats.

I like how strong and solid its made and it goes pretty fast very happy with my purchase. Verified purchase Amazon review
Review 3
Review 4
September 30, 2016
This review is from: Husqvarna 960430211 YTA18542 18.5 hp Fast Continuously Variable Transmission Pedal Tractor Mower, 42″ (Lawn & Patio).

So far it was one of the best purchases we have made with lawn tractors. Verified purchase Amazon review
Review 5
Summary: Husqvarna YTA18542
The Husqvarna 960430211 YTA18542 is suitable for medium to large yards. The mower is solid and strong and can handle most mowing jobs pretty easily.
If you have an incline above 15 degrees it will struggle to maintain traction though.
Although it is very comfortable to operate over sustained periods of time you may need a few breaks if you intend to mow very large areas over several hours considering the amount of foot pressure required to operate the pedal. A bit like driving for several hours at a time.
Or, of course, you can just engage the cruise control!
The auto CVT transmission is really just the icing on the cake as it is the quality of the cut that makes a mower really great and this machine delivers quality in abundance.
4. Troy-Bilt 382cc Powermore 30″ Riding Lawn Mower
At the entry-level for riding lawn mowers is the 30″ Troy-Bilt.
If you want excellence and performance on one machine, you'll be hard pressed to pass the Troy-Bilt 382cc Powermore OHV Riding Lawn Mower.
Why?
First, it has a powerful 382cc Powermore OHV engine that is designed to last longer than the average engine and give clean performance with every use.
Next, a 30″ cutting deck in large enough to make short work of even the largest of lawns, and with the comfortable seat, you can mow for hours.
382cc Powermore Engine
The 382cc Powermore Auto Choke OHV engine engine in this Troy-Bilt riding lawn mower was designed to perform in harsh conditions. Its components are constructed of heavy-duty parts that wear better and last longer than industry standard parts.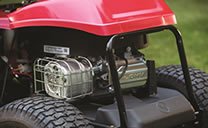 Lasting protection is possible with the wear-resistant, cast-iron cylinder sleeve on the OHV.
All-in-all the heart of this Troy-Bilt is a tough, high-quality engine for your yard care. Hard working performance is ensured by a forged steel crankshaft and ball bearings.
You also get more power from the POWERMORE® overhead valve design than similarly sized engines, but with fewer emissions.
The engine gives teh mower a top forward speed of 4.25 MPH via its 6-speed transmission.
It has a 1.3 gallon fuel tank with a handy sight window that allows you to check gas levels.
The exhaust fumes are safely expelled behind which means less obstruction and a better view.
Auto choke ensures a first time start
The mower has an automatic choke system, designed for a first time start, eliminating the need to prime or choke the engine.
Unlike manual choke, this technology uses sensors to respond to the air-fuel ratio requirement.
It automatically senses engine temperature to deliver the appropriate amount of air and fuel under all starting conditions giving an effortless first time start regardless of climatic or weather conditions.
The built-in mechanism in the carburetor comes in operation on its own if engine temperature is low.
This automatic operation ensures hassle free start even in cold weather conditions.
Simply engage the clutch pedal with your foot, as the engine will not start without the clutch being depressed for safety reasons, and start the engine.
The 5 adjustable cutting heights offers great convenience
This lawn mower offers 5 cutting heights which makes it suitable to use all year round.
During the spring/autumn and winter months when it's wetter, you will want to maintain the grass at a longer length.
While in the warmer and dryer months of the spring and summer, you will want to cut the grass much shorter.
By having 5 adjustable cutting heights you will be able to maintain your lawn better and ensure the grass remains green all year round.
Just be aware that settings 1 or 2 can cut the grass very low, so start with a higher number and work your way down until you find the ideal cutting height.
Troy Bilt Powermore Controls are ergonomically sound (video)
Below is a video of a Craftsman 400cc machine and a quick overview of the controls. This mower is almost identical to the Troy-Bilt 383cc mower with the notable exception of the manufactuer and engine size. We prefer the Troy-bilt but you can't go wrong with either machine.
A word about the Manual Power Take-Off (PTO)
The mower is equipped with a power takeoff (PTO) function that the operator uses to engage the mower blades of the machine.
The PTO consists of many parts, one of which is the PTO pulley which is attached to the clutch and rotates the blades of the mower that are located under the mower's deck.
The PTO system is designed to engage the blades within approximately five seconds of activation.
The 30″ cutting deck is large enough for small to medium sized jobs
Most of us don't have a lawn that is as level as a baseball field.
We have dips, bumps, divots, swales and other rough areas so we need a mower that is easier to maneuver.
Due to the 30″ cutting deck this mower is fairly easy to maneuver.
However, as with all lawn tractors these mower can turn sharply.
It does though have a very respectable 18-inch turn radius which isn't bad for a small lawn tractor.
It won't cut as large of a path in a single swath, but you can speed up the mowing process by pairing the smaller deck with a larger horsepower engine.
The 30 inch deck allows the Troy-Bilt 382cc Powermore OHV to mow through and over those bumps and depressions to give you the best cut over your entire lawn.
A lawn mower with a wide deck can cause trouble when used on a small lawn.
When using a mower with a wider deck cutting on a small lawn, or a lawn with lots of obstacles to navigate around, could have you backing up the riding mower just to make tighter turns.
This, of course, can be avoided with the use of a zero turn mower but those machines are large and unsuited to small mowing areas and they are also very expensive.
The Troy-Bilt Powermore may not have as tight a turning radius as the a zero turn, or even the 46″ Poulan Pro reviewed above, but its 18″ turning radius is more than adequate for average American yards.
The deck will pivot along with the front axle giving you a superior cut through turns.
There is also a very handy deck wash port where you can attach a standard garden hose to flood the deck with water which automatically removes debris and dirt without the need to get underneath your mower.
The cut & finish are very high quality
Most walk-behind lawn mowers have a hard time cutting through extra thick grass and even some low-end riding mowers struggle with challenging terrain.
No such trouble with the Troy Bilt Powermore 30″ though.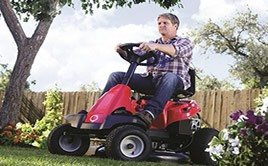 Should you have a lawn that's entirely made of one or two types of very thick grass such as Zoysia or St. Augustine, you will already know the importance of having a powerful mowing solution.
The Troy-Bilt lawn mower does not have a problem with these any of these grasses. Just adjust the height of your mower's blades to prevent it from being bogged down in the thick grass.
Overall the Troy-Bilt Powermore 30″ performs best on flat and even terrain though it does an admirable job on more challenging terrain.
If you have very bumping or sharp drops on hilly areas drive the mower very slowly as it tends to scalp those areas all too easily at higher speeds. In fact, if you have a very challenging lawn you may be better with a zero-turn or higher-end mower like one of those reviewed above.
The adjustable steering wheel is another great ergonomic feature
The Troy-Bilt has a 13-inch soft grip steering wheel with an 18-inch turn radius.
The front wheels are controlled by the steering wheel.
This allows you to cut your lawn more efficiently due to the ability to turn well at the end of a mowing row.
It allows for a better maneuverability and quality cutting at higher speeds.
Although the mower ensures the blades cut to even proportions and allows for enhanced stability on hills and slopes you should slow down on very bumpy areas as you can easily scalp the lawn when going too fast.
The steering wheel has an adjustable column that can be set to your preferred height very easily.
Unlike a zero turn mower this more familiar steering method will allow you to easily adapt to your mower, and will help to prevent turf scalping.
A soft grip steering wheel is easy on the hands
If you've ever left your mower on your lawn mower on a sweltering summer day, you know it can sometimes take a few minutes for your steering wheel to cool down enough to touch.
And in the winter months, it can be just as uncomfortable as your wheel feels like ice.
The soft grip steering wheel on the Troy-Bilt Powermore does not get overly hot or cold. It is more comfortable for those long drives, and it ergonomic design can help reduce driving fatigue.
The mid-back seat offers real comfort
Many people invest in a riding mower for the comfort factor. So, any riding lawn mower you buy should be as comfortable to drive as your car or truck.
The Troy-Bilt Powermore avoids the hassle of back and neck strain when you're mowing.
It's got a very comfortable retro, lightly cushioned, design.
The cover allows the seat to "breathe" well in order to keep your back cool.
The compact design and cushioned padding make for a very comfortable ride.
This compact machine is easy to store
Rear engine mowers like this are scaled-down making them ideal for gardens with lots of obstacles or hills.
You can maneuver these mowers around fairly tight spots fuss-free.
Storage is simple since they don't take up much space at all.
Troy Bilt offer a reasonable warranty
Troy-Bilt offers a 2-year limited warranty with extensive coverage to give you the durability you should expect.
However, if a defect or malfunction occurs, such a warranty will usually be limited to the repair or replacement of the mower and does not include any compensation for any loss arising.
After 2 Years of Use (video)
Comparison Chart of all 4 Riding Lawn Mowers
| | Husqvarna Z246 Zero Turn 46" | Poulan Pro 960420170 riding mower | Husqvarna YTA18542 lawn mower | Troy-Bilt Powermore 382cc Riding Lawn Mower |
| --- | --- | --- | --- | --- |
| Item dimensions: | 46" x 45" x 72.75" | 46" x 45" x 72.75" | 45.5" x 73" x 48" | 26" x 34" x 62" |
| Cutting Width: | 46" | 46" | 42" | 30" |
| Zero Turn Capability: | YES | NO | NO | NO |
| Item weight: | 550lbs | 515lbs | 585lbs | 336lbs |
| Engine: | 23hp v-twin 724cc Briggs & Stratton Endurance | 20 HP V-twin Briggs & Stratton | 8.5 HP V-Twin Briggs & Stratton Intek | 382cc 10.5 HP Powermore OHV |
| Transmission: | Dual Hydro-Gear EZT | Fast CVT | Fast CVT | 6-speed |
| Start: | Ready Start | Ready Start | Ready Start | Auto choke |
| Power source: | Gas-powered | Gas-powered | Gas-powered | Gas-powered |
| Warranty: | 3-year limited | 10 year deck | 3-year limited | 3 year limited |
| Price: | Check on Amazon | Check on Amazon | Check on Amazon | Check on Amazon |