With the ever-increasing concerns about the environment and climate change, electric lawn mowers are now becoming very popular in the mainstream outdoor equipment market. However, there is a conception among most consumers that electric lawn mowers are not capable of delivering the same powerful performance of gas-propelled lawn mowers.
The Best Electric Lawn Mower Is As Good As A Gas One & It's Cordless
After hundreds of reviews on this website we found that not only is there an electric mower that can rival its gas-powered counterparts, but we found one that can do that without the need for a corded electrical connection.
The best electric mower we tested is the cordless Ego Power+ 21″.
Most people believe gas-powered mowers are more powerful than electric ones. And, almost everyone believes that corded electric mowers are less powerful again. But, the Ego Power+ 21 inch Cordless lawn mower blows that conception apart.
Unlike many of its contemporaries this  battery-powered lawn mower is capable of performing like any gas-powered mower in the same category.
We will show why we believe this is the best battery electric lawn mower on the market.
The best electric lawn mower is the cordless Ego Power+
The Ego Power+ 20in Self-Propelled Lawn mower is one mower that has really been put to the test.
And these tests were so tough that there have been only a few honorable lawn mowers that actually made it through in one piece.
So let's move ahead with the review of what we consider to be one of the best lawn mowers on the market today and, without doubt,5 the best cordless electric lawn mower there is.
The 7.5 Ah ARC LITHIUM battery version of the Ego Power+ battery operated Lawn mower, available from Amazon and other sellers , has won the Pro Tool Innovations Awards for three consecutive years.
The 21st century innovation behind this electric mower
Ego is a well respected and innovative manufacture and their products have been reviewed in prestigious newspapers and magazines such as New York Times, CNET, Wired and Men's Journal.
On average their lawn mower products have been given 4.5 star reviews out of 5, based on power, performance and durability in tough environments along with a great battery life and clean cut.
The company has its fans all around the world and its products are sold in huge numbers thanks to the fame it enjoys.
EGO has constantly tried to change the way mowers work by introducing new designs and cutting techniques to make make mowing easier and less strenuous.
They have also striven to reduce the environmental impact of their machinery. So, it is no surprise that they have the best electric cordless mower on the market.
The EGO Power Plus features make mowing a breeze
The Ego Self Propelled Lawn Mower (model LM2100SP) is just as quiet as it promises to be (something not many other mowers can boast), yet it delivers a powerful punch parallel to that of any gas-propelled lawn mower in the same class.
Features of the Ego Power cordless electric mower:
Self-Propelled for effortless operation.
Extremely quiet operation.
Powerful Arc-Lithium technology.
Battery operated.
Environmentally friendly.
Mows up to 2 miles on a single charge.
The Ego Power+ doesn't produce any environmentally damaging CO2 omissions due to its powerful on-board battery power.
The lawn-mower is shipped with a kit version that includes a 7.5 Ah battery and a rapid battery charger. The charger is able to charge the 7.5 Ah battery in under 60 minutes which provides the battery a run-time of 60 minutes under light cutting. Longer charging leads to longer operation time.
The battery itself is a marvelous piece of equipment.
EGO calls it "ARC Lithium" where ARC represents the build and shape of the battery. The design is completely sealed and coated in black epoxy which not only looks cool but also helps dissipate heat and keeps the battery from weather damage as well as water droplets.
In simple words, this is one tough and powerful battery.
The best part is that battery lasts for up to 2 hours of continuous use on a full charge. This means you can mow your lawn without having to worry about going back and charging it. This saves you a lot of time as you do not have to charge it again and again and can complete the job in a jiffy.
The 21″ cutting deck is good enough for small commercial jobs
The Ego Power plus electric lawn mower we like the most features a 20″ cutting deck, matching inch for inch its predecessors and gas powered equivalents.
However, this mower comes in a range of cutting decks from 20″ to 22″.
While an inch might not seem much, it can make a notable difference when you are cutting very long grass but for most jobs the lower prices 20″ is more than efficient.
One of the main reasons we believe the Ego Power+ to be the best electric lawn mower is because it can stand neck-to-neck with traditional gas-propelled lawn mowers. Gas-powered mowers that feature cutting decks between 20″ to 22″ have nothing on this electric machine as it matches them in every respect.
The chargeable battery-powered drive system delivers real power
Once you get your hands on this battery powered lawn mower, you'll never want to use another lawnmower again.
The battery powered drive system enables the mower to mow at speeds from 1.8 MPH to 3.6 MPH – pretty impressive numbers if you compare them with the gas-powered alternatives.
Even though you can cut at 3.6 MPH, in our opinion, the lower speeds are perfect for cutting smoothly and giving your lawn a clean-cut and even look.
Though many users will feel just as comfortable with the cut at higher speeds.
The innovative battery feeds a rear-mounted motor which delivers power to drive the left rear wheel in a gear-drive manner.
When it comes to the actual wheels we noticed a slight change in them from previous versions.
EGO has now upgraded the wheel bearings which allows for a smoother push and reduces friction during the mowing process, hence, enhancing the mower's run-time and providing greater ease of use.
Distinctive features of the EGO Power+ electric lawn mower
The EGO Power+ 20″ Mower may be an electric lawn mower but it offers the familiar push button start we find on other EGO mowers.
But this lawn mower does have one fantastic feature that makes it better than other Ego mowers and those from other manufacturers.
The Ego Power+ is capable of collapsing and folding into a compact model that can be placed vertically into a 37.5 x 22.5 x16.6 inch space.
This is a good feature and may appeal to many people who are looking for a compact lawn mower for easy storage yet who are not willing to compromise on power or performance.
Of course not all electric mowers are cordless but the Ego Power+ is and comes with its own rapid charger.
The battery, being IPX4-rated, means it is resistant to sustained water splashes from all directions. This means that it starts and runs easily even when it's raining and though we don't quite recommend letting it get soaked in the rain for hours.
This truly is the best cordless lawn mower available at the this time because it is offers the same power you'd expect from a gas-propelled lawn mower while producing very little sound. If you are use to traditional lawn mowers then using the Ego Power+ will be a pleasant surprise. Low vibration and quiet running motor makes mowing a much more pleasant experience.
While many people prefer not to mow in the dark, some actually do enjoy mowing at night especially during particularly hot or humid summers. This beauty fortunately takes this into consideration and comes with pre-installed with twin LED front headlights just in front of the battery compartment.
This is a feature that is usually an expensive extra even on high-end zero turn riding mowers and isn't even an option on many walk-behind mowers.
The usability of the Ego Power +
The main advantage of owning a cordless lawn mower is that it doesn't need any gas or oil to run.
This will not only reduce your overall running costs but it will eliminate messy refills of and oil changes. What's more electric mowers tend to start first time, every time!
Since the EGO Power+ 20″ electric cordless lawn mower houses a 7.5 Ah lithium-ion battery, that uses Arc-Lithium technology, it starts first time with the simple push of a button.
After testing 2 versions of this electric lawn mower, one with the 5.0 Ah battery (from Amazon) and one with the 7.5 Ah battery (both are Arc-Lithium), there was a marked difference in running time. The only difference between the different versions are the battery strengths.
On average the larger battery pack gives a 30-minute run-time over the smaller one.
If you have a large garden or wish to mow for several hours on one charge then you will definitely need to get the larger battery – there is nothing more irritating that running out of juice before you've finished your lawn.
Using this mower is easy on the back
The ego power+ is a great choice for anyone who has back challenges.
The self-propelled motion means there is no need to put effort into pushing the mower; it almost glides across the lawn and you hit obstacles they are much easier to overcome.
This mower is also great for people who are taller or shorter than average height.
While many lawn-mowers don't included a height adjustment feature in their handle, the EGO Power+ electric cordless mower does.
Since it is battery-powered, changing the height adjustment doesn't affect the performance at all.
Although, you may want to avoid telling your kids that it's a self-propelled mower because they may find excuses to play around with it, something that you shouldn't encourage.
Testing The Cut Quality of the EGO Power+ Electric Lawn Mower
We wanted to test the durability of this lawn mower's battery and also how much power the cordless mower can deliver, which is why we switched to mulching mode and ran it across a turf of thick, stubborn grass that had been growing for months.
In mulching mode, which you turn on by inserting a plastic plug, the blades perform a "double cut" on the grass which results in mulching the grass into finer pieces.
This is actually a great way to recycle nutrients back into the soil and helps the grass grow healthy making it greener and more beautiful.
The run-time on the mower was nothing short of excellent though to get the maximum from the battery-time you need to give it a full charge.
You can use rapid charge but you will get less run-time from the machine.
The juice in the battery provided an impressive run-time of 52 minutes under rigid conditions.
Even after we completed the job we didn't see any caution light telling us the battery was heating up or unable to perform under such conditions.
Under normal circumstances the battery can perform even better and run-time increases quite significantly when you are merely maintaining your lawn and not tackling heavy grass growth.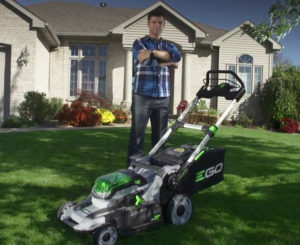 We wanted to see where this lawn-mower would fail so we introduced a unique series of tests for this purpose.
This time, we chose a turf full of acorns, fallen leaves and small twigs so we could see how well the blades perform under such conditions.
We turned off the mulching mode by unplugging the plastic plug and inserted the bag.
Of course we don't advise you to do this with your mower; clear away obstacles by hand or rake first to ensure your mower lasts longer.
To our surprise, this electric mower took care of everything that came in its path while disposing of the cut grass like a boss.
To make the test even more extreme, we mowed both dry and damp grass and it performed well in both cases, cutting the grass nice and clean.
Even after being put through such conditions, the blades remained sharp and still cut exceptionally well.
For this battery lawn mower, we recommend that you sharpen the blades twice a season to reap the best results.
Maintaining this battery powered lawn mower is easy
Since the EGO Power+ 20in Lawn Mower is powered by a battery and the construction is IPX4 certified, it doesn't really require any kind of maintenance.
However, we recommend you read the user's manual before you start using the mower, which can be downloaded here.
Don't worry if your lawn-mower does encounter some malfunctions or takes any damage. The mower has such a good track record and problems are so rare and sparse that EGO provides a 5-year warranty so you can be worry-free if anything goes wrong.
It is recommended that you read the warranty policy so you know what kind of claims can be made on defects, parts replacement, repair work or service especially if you plan to use the mower for commercial purposes.
Comparison Of All EGO Power+ Models
Before buying any lawn mower you should acquaint yourself with its specifications.
Here are the specs on 3 "Power" models manufactured by the EGO company to let you decide which one is the best option for you:
Comparison chart – EGo Power cordless electric mowers
| SPECIFICATIONS | POWER+ 20" WALK BEHIND LAWN MOWER | POWER+ 21" LAWN MOWER | POWER+ 21" SELF-PROPELLED LAWN MOWER |
| --- | --- | --- | --- |
| Propulsion | push | push | Self-Propelled – 1.8 MPH to 3.6 MPH |
| Torque of Gas | Yes | Yes | Yes |
| Run-Time | 45 minutes | 45 minutes | 60 – 120 minutes |
| Rapid Charging | 60 minutes | 40 minutes | 60 minutes |
| Cutting Deck | 20 inch | 21 inch | 20 inch – 22" |
| Storage | Fold Flat | Compact | Compact |
| Construction | IPX4 | IPX4 | IPX4 |
| Headlights | LED | LED | LED |
| Functionality | Mulching" Rear Bagging" Side Discharge | Mulching" Rear Bagging" Side Discharge | Mulching" Rear Bagging" Side Discharge |
| Handle Heights | 3 Position | 3 Position | 3 Position |
| Height Adjustment | One Handed | One Handed | One Handed |
| Cutting Height | 1 ½ inches – 4 inches | 1 ½ inches – 4 inches | 1 ½ inches – 4 inches |
| Bag Capacity | 2 Bushels | 2 Bushels | 2 Bushels |
| Rear Wheel Size | 9 inches | 9 inches | 9 inches |
| Warranty | 5 Year | 5 Year | 5 Year |
Owner reviews of the EGO Power+ electric mower
As we sifted through the company's website, we came across more than 250 proud EGO Power+ Self-Propelled Lawn Mower owners who were simply amazed by its performance. Then there are equally positive reviews posted to other online platforms such as Amazon.

Click to open image in new window
When checking numerous reviews the one major feature that stands-out is that the Ego Power+ cordless electric mower is one of the very best electric lawn mowers in the EGO range – or at any rate it is one of the most popular.
The average 4.5 rating out of 5 on Amazon, based on over 347 customer reviews, shows just how popular this lawn mower is.
One review on the Ego website describes the Power+ as being "extremely powerful and well-engineered" in the headline.
A late 2016 review by a verified purchaser called Sean describes the Ego Power+ 20″ in extremely positive terms by stating in his 5.0 out of 5 star review, "This thing is basically a Tesla".
The Power+ lawn mower range has received excellent reviews across the entire Internet.
One user said, "I bought this lawn mower a few months ago after hearing about it from a close friend of mine, and I have to be honest that I am in love with it. Not only does it look beautiful, it's also lovely to use. I do not have to put any pressure on it when doing the job and my lawn is done within half an hour. Now I get more time to spend with my family as I do not have to spend hours trying to get the lawn done."
Another user said, "My daughter gifted me this lawn mower when I told her about my previous lawn mower that was having trouble only after six months of use. I told her I was not a fan of electric mower, but she insisted that I try this one and I must agree that I have been impressed so far. It has already surpassed the life of my previous lawn mower, and hasn't shown any signs of depreciation. It seems like this is a machine that is getting better with time as I am getting more and more used to this beast."
Verdict
The EGO Power+ 20″ lawn mower comes with great features and offers stunning performance with no maintenance overheads or fuel consumption to worry about.
It is Eco-friendly without ever compromising on power or performance. It is a great choice for those of us concerned about reducing our carbon footprint to help the environment.
It is the perfect solution to mow your lawn while keeping lawn mower maintenance expenses at bay.
This is why we feel the extra price for the bigger battery (7.5 Ah), compared to some gas-powered mowers, is well worth the investment.