Zero turn mowers, i.e. those with a turning radius that is close to zero inches, are truly a work of art. Not only can they cut your lawn effectively with 180 degree turns but they also allow you to cut your mowing time in half. All without compromising on the quality of cutting despite flaunting higher speeds and super responsive controls.
If you're in the market for one, be it for your personal use or for your business, here are ten zero turn mower reviews of the best models based on their individual strengths and ability to do specific jobs.
Be sure to read our guide to choosing the right riding mower before you make a choice.
Zero Turn Mower Reviews – Top 10
Here are 10 in-depth reviews of the best zero turn mowers available on the market today. We have included each mower's strengths and weaknesses along with a comparison chart of the best rival machines in the same class.
We have also scoured the Internet and local dealers for the best prices and deals available and are therefore pleases to be able to include information and links where you can buy the mowers are the cheapest possible price.
The Swisher ZTR2766BS is an excellent option for anyone looking to purchase a commercial riding mower or looking to upgrade from a less-powerful machine. The 27 HP engine coupled with the 66-inch wide cutting width provides you with the speed and efficiency needed to mow large areas of land in a few hours.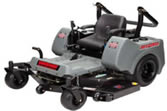 The Swisher ZTR2766BS reaches a top speed of 8 mph and also has the same speed in reverse. The ZTR allows you to move 360 degrees. The machine is also comfortable when used for long periods of time. The controls are ergonomic and allow the driver to effortlessly move across hilly terrain. The throttle, brakes and steering respond rapidly, making it easy to maneuver the riding mower.

Online reviews give this machine a highly positive rating. The factors most reviews highlight are the speed, performance and durability.
The manufacturer provides a warranty of 3 years and the engine manufacturer warranty period is up to 2 years. This mower gives the buyer great value for the money.
Swisher also has a lot of options when it comes to accessories and additional parts for your riding mowers. You can customize the mower according to your requirements. We believe it is the best commercial zero turn mower because of these & other factors … Read Full Review.
Poulan Pro has been making gardening and landscaping equipment since the 1940's. They manufacture top of the line riding mowers, tillers, standard lawn mowers, chain saws and snow throwers.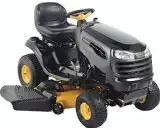 The Poulan Pro 960420174 is a 24 HP pedal-controlled zero turn riding mower which packs in quite a punch and is our choice for best poulan lawn mower. The engine is a robust Kohler V-twin which delivers performance and speed.
Residential landscaping needs can be easily met with this power horse. Whether you have a large lawn or a couple of acres to take care of, you can depend on this mower to deliver a stellar performance every time. The Poulan Pro does not disappoint when it comes to quality and value. The pedal controlled fast auto drive transmission enables the mower to perform smoothly.

The mower can handle steep hills easily; anything up till 25 to 30-degree incline should be manageable. It is advised not to use it on wet terrain or grass because its ability is compromised under wet conditions. The mower is built for speed and not designed to be used for tilling or other similar equipment.
The person operating the mower will feel minimum vibrations and will be comfortable. The seat is quite comfortable as well, with a 15-inch high back and armrests. The deck is 54-inches wide and is made with robust steel. The Poulan Pro 960420174 comes with a 10-year belt and deck warranty … Read Full Review.
The Poulan PRO 967330901 P46ZX Briggs V-Twin Pro 22 HP promises comfort, durability, and high performance.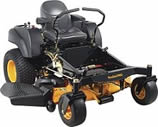 One of this zero turn mower's top features is its 22 HP Briggs & Stratton Professional series engine, which enables it to handle any terrain. The Poulan PRO P46ZX also comes with a dual hydro gear EZT drive system that ensures the mower's reliability. Complementing these is the frame of this mower, which also exudes durability long before you touch it.
When it comes to performance, this riding mower can easily cut through 2.4 acres per hour thanks to its 46" two-bladed deck, 6 mph speed, and 3.5-gallon fuel capacity. You also get the flexibility of adjusting the cutting height between 1.5" to 4", allowing you to give your lawn a professional look when you're done.

These aside, the Poulan PRO 967330901 P46ZX provides its users with a digital hour meter, three anti-scalp rollers to prevent damage to the turf, and dual levers padded with foam as well as a high back seat for your comfort. Priced at $2,715.91 by the manufacturer, this model is truly worth its title as the best zero turn mower on the market in its range … Read Full Review.
The Troy-Bilt Mustang 54 is the manufacturer's largest Mustang zero-turn riding lawn tractor. Priced conveniently at $2,949.70 on Amazon, it promises its users a professionally-landscaped lawn quickly and efficiently.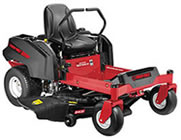 To fulfil its promise, Troy-Bilt has fitted its mower with a 25 HP Briggs & Stratton Intek Twin Cylinder Engine that also comes with an added oil filter and dual hydro-static transmission to deliver the ultimate performance. Further adding to the mower's efficiency is four deck gauge wheels and a rear roller.
The Troy-Bilt Mustang 54 is just as dedicated to your comfort as the rest of the models on this list. It comes with a high back seat with dual suspension springs that can ensure you of a smooth ride. The 54" triple-blade side discharge deck also makes this the best Troy Bilt mower available. As it comes with a deck wash and Electric Power Take-Off (PTO), you'll enjoy quick and easy blade engagement.

In fact, with eight positions for height and up to 7 MPH forward speeds and 2.5 MPH reverse speeds, you will be done mowing your lawn before you know it. Complementing these features are a floating front axle, fuel site gauge, four deck gauge wheels, and a rear roller that ensures efficiency … Read Full Review.
When choosing lawn mowers, customers need to consider three basic aspects: the type of cutting options required, the terrain you will be targeting, and the drive systems. Home owners in the market for the best Husqvarna zero turn will find that the Z254i meets the requirements of even the most demanding customer.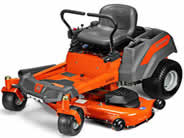 The Husqvarna Z254i promises power, speed and strength. This is possible through its Briggs and Stratton engine, tough cutting deck, and powerful blades. It can handle tough terrain, hilly areas and will help you maneuver around obstacles. The controls are ergonomic and the transmission does not require the hassle of maintenance.
The zero-turn mower is capable of handling hilly and rough terrains. Most riding mowers are notoriously difficult to maneuver across debris-filled terrain, but the Husqvarna Z254i can handle this easily. After all, the wide deck and hydrostatic transmission make it move smoothly.
The machine uses a Briggs and Stratton engine, which is a major plus point for this model. The engine is not only powerful, but it makes significantly less noise as compared to other brands. The engine's air filtration system is also very efficient; the entire engine is kept cool by an oversized fan.

The deck is made of reinforced stamped steel which enhances the durability of the entire machine. The construction of the deck is reinforced on the trim side and the leading edge.
The frame of the Husqvarna Z254i is quite robust and is well designed to protect the internal mechanism from any damage.
Finally, the convenient location of the control panel puts all the frequently used controls within easy reach of the operator … Read Full Review.
If you are in the market for a zero turn mower under $5000 then the Husqvarna MZ52 is a great buy. It has a commercially constructed engine which houses high quality components allowing the mower to reach a power capacity of 25 HP. This helps you get any landscaping job done efficiently.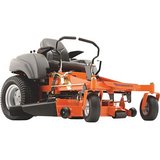 The cutting deck is 52-inches wide and is constructed from twin sheets of 11-gauge steel. This result is a heavy-duty cutting deck which remains durable for a long time.
The operator can make adjustments to the cutting height by using an ergonomically placed pedal. There are 12 different steps which can move through the cutting heights ranging from 1 – 4.5 inches.
There are three cutting methods available; collecting, mulching and side discharge. While the zero turning radius allows the mower to make precise movements around obstacles.
This machine does not skimp on features related to comfortable operation either. Apart from the pedal-assisted cutting deck, the MZ52 also has foam-padded dual levers which allow for easy steering of the mower.

The mower also has an oversized welded frame for more structural support and better operator comfort overall. The seat is made of tough vinyl and has a high back to ensure comfortable operation over long hours.
The MZ52 has easily accessible service points, everything from the oil, filter, electrical system, battery and hydraulic drive components can be maintained with ease.
The entire mower weighs only 740 lbs. and stands at a height of 42 inches. The Husqvarna MZ52 comes with a 3 Year Limited Warranty for homeowners and a 1 Year Limited Warranty for commercial owners.
The product retails for $4,799 and is available at Amazon making it the best zero turn mower under 5000 dollars. Note that the price might fluctuate a little from time to time … Read Full Review.
The Troy-Bilt TB30R is an entry-level rear-engine riding lawn mower. It works well over flat terrain and can easily handle medium-sized lawns.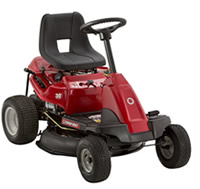 The cutting deck has a width of 30-inches which is perfect for navigating around obstacles. This compact mower will help you mow areas where the larger mowers don't fit.
The transmission is a 6 speed Shift-on-the-Go, which lets you customize the mowing pace. The seat is a medium-back and can be adjusted as required for a more comfortable mowing experience.
The frame is quite compact.
The mower has an 18 inch turning radius and is easily maneuverable. The compact size of the mower (157.48 L x 86.36 W x 91.44 H cm) makes it easy to store and move.

The Troy-Bilt TB30R is a 420cc riding mower with a 30-inch deck, it is a compact and useful machine and is perfect for residential lawns. Its small deck allows you to access narrow areas like a walk-behind mower yet gives you the power of a riding mower. You can easily store it in a garden shed or garage.
The features and specifications are designed for easy operation on a relatively flat landscape. The fuel capacity of the tank is 1.3 gallons and the blade can be adjusted to 5 different cutting heights. This is the best small zero turn mower for those new to zero turns or riding mowers in general.
The manufacturer provides a 2-year limited warranty for homeowners … Read Full Review.
Husqvarna Z246 Zero Turn Mower
The compact Husqvarna Z246 Zero Turn Mower gets our vote as best of the best riding lawn mower because it offers unmatched power and operates smoothly. The mower reaches top speeds of 6.5 mph and its hydrostatic transmission allows easy operation at varying speeds.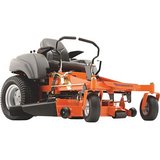 The 46-inch reinforced and stamped cutting deck makes this machine durable and efficient. You can operate this at 6 different cutting positions, ensuring that your lawn gets a perfect cut every time.
The foot pan of the mower is easily removable, allowing you access to the service ports for routine maintenance. While the Briggs and Stratton Endurance Series V-Twin engine offers 23 HP of cutting power. The engine operates quietly and the power output is smooth.
The transmission is a Hydrostatic Hydro-Gear commercial drive system which enables the mower to smoothly transition between various speeds. The cutting speeds are up to 6.5 mph and the available cutting heights range from 1.5 – 4 inches.
As far as usability is concerned, the mower is easy to start with the simple electric start system. The seat has a 15-inch back which is comfortable and slides easily to adjust whenever needed. All the main controls are easily reachable from the seat. A digital hour meter is also easily visible from the seated position.

The deck can be adjusted effortlessly because of the springs. You can set the deck height at precise height adjustments. The foot pan can be removed if you need to clean or service the mower.
The manufacturer, Husqvarna, provides an excellent consumer warranty of 3 years. During this time, your mower is protected against any defects in workmanship and materials. The details of the warranty and warnings are given in the owner's manual so be sure to read it before you start mowing.
Poulan Pro 960420170 46″ Riding Mower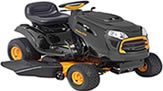 If you are looking for a dependable, riding mower the Poulan Pro 960420170 riding mower is one of the best deals you can get for your money.
Offering great value to homeowners, the Poulan Pro 960420170 riding mower belongs to an exceptional line of Pro equipment from Poulan that are guaranteed to provide power, durability and quality.

Husqvarna 960430211 YTA18542 42″ Riding Mower

The Husqvarna YTA18542 is compact and powerful 42″ riding lawn mower that handles itself admirably on lawns big and small.
The 42″ deck allows you to maneuver in and around small areas. While, the 18.5 Briggs and Stratton Intek engine gives you enough power to tackle about 2.5 acres/ hour.

Troy-Bilt 382cc Powermore 30″ Riding Lawn Mower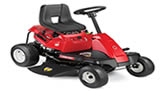 The 382cc Powermore Auto Choke OHV engine engine in this Troy-Bilt riding lawn mower was designed to perform in harsh conditions. Its components are constructed of heavy-duty parts that wear better and last longer than industry standard parts.
Lasting protection is possible with the wear-resistant, cast-iron cylinder sleeve on the OHV.

All-in-all the heart of this Troy-Bilt is a tough, high-quality engine for your yard care. Hard working performance is ensured by a forged steel crankshaft and ball bearings….Read Full Review.
After looking at a lot of mowers we found that the Poulan Pro P54ZX is the best zero turn mower available on the market. Whether you are a homeowner or own a landscaping business, this machine can be a valuable asset. It is a powerful and durable machine that is getting solid reviews from users.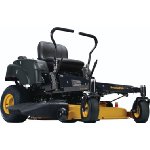 Most of the verified purchasers on Amazon seem pretty happy with their decision. Priced at just $2,979, the Poulan Pro P54ZX (Briggs and Stratton) is an affordable machine that will easily take care of 2.8 acres in an hour. Just one of the reasons we have chosen this as the best zero turn mower available.
It reaches top speeds of 6 mph and easily handles uneven terrain. The zero turn radius allows it to move freely, and cut easily, areas around tree trunks or other garden obstacles.
The machine weighs about 538 lbs. and stands at 40 inches in height. The cutting height ranges from 1.5 – 4 inches and is adjustable in increments of 0.5 inches.

The cutting deck is made of steel and is 54 inches wide while the anti-scalp wheels allow the mower to smoothly negotiate across uneven or debris-strewn ground. The blades are made of strong and durable materials giving them a great shelf-life.
As far as your comfort level is concerned, the P54ZX hits the mark. The seat is adjustable and has a good shape. The control levers are padded and are placed at a good height and within easy reach.
If you are looking to invest in a zero turn mower, then you can't go wrong with a Poulan Pro P54ZX. It has all the features you will need from a small engine to commercial grade zero turn mower … Read Full Review.
Slightly more expensive than many entry-level mowers, but much lower than other mowers in its class, with its price starting from $4,607.79, the Swisher ZTR2454BS Response 24HP 54-Inch B&S ZTR Mower is one of the best lower width zero turn mowers for the money. But, when you get to the 66″ model you get a lot more for your money!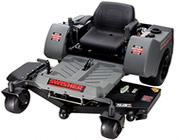 This fast, powerful riding lawn mower offers homeowners with large lawns, as well as professional landscapers, a lot of mower for the money. You get the manufacturer's 60 years of design experience as well as a set of unique features you may not find in other popular zero turn mowers.
Under the hood is a durable and reliable 27 HP Briggs & Stratton engine. Interestingly, the engine isn't as loud as other engines, ensuring a quieter mowing experience. The Swisher ZTR2454BS Response also comes with a digital hour meter, alerting users whenever they need to carry out maintenance on the engine.
Performance-wise, you'll get your money's worth and more. There is a steel 66″ fabricated cutting deck fitted and inside are three Gator mulching blades that can cut from 1.5″ to 4.5″ to ensure a professional-looking lawn every time. And if you thought you'd be compromising on speed because of these valuable features, don't. The Swisher can go up to 8 mph both forward and in reverse.

So with a top speed of 8mph and a large fuel tank, which can hold up to eight gallons of gas, you can zip through about 3 acres in an hour easily.
However, the biggest feature of this model is its Rapid Response system (giving rise to the mower's name Swisher Response). This riding lawn mower uses the latest version of this innovative control system, enabling users to maneuver the Swisher zero turn mower using a simple joystick-style control panel.
Convenience aside, the Response range of mowers are more comfortable to use as well as more responsive to other mowers in their class. With heavy-duty composite fenders, an 18-inch high back seat with armrests, and swivel front wheels to add, the Swisher ZTR2454BS Response will prove to be worth every cent you spend on it thus making it the best zero turn mower for the money … Read Full Review.