When it comes to lawn work sometimes you need something a little more powerful than a standard walk behind mower. Sometimes even a garden tractor won't do. If you are in the market for a zero turn mower then you can't go wrong with the Troy Bilt 54″ Mustang.
The Best Troy Bilt Mower On Today's Market – The 54″ Mustang Review
If you are in the market for a Troy Bilt mower, you are bound to come across numerous models offering different functionalities.
Troy-Bilt has been associated with numerous great zero turn riding mowers on the market. Its products vary widely across mower grades, engine power and performance. From entry-level residential grade mowers to extremely powerful professional/commercial mowers, a lot of options are available.
They also make some amazing walk-behind mower including one with zero-turn capability: you can read our top 3 Troy Bilt walk behind mowers review here.
Here we review the 54″ Mustang zero turn mower.
Whether you are a novice homeowner/DIY landscaper or a professional, the following lines will guide you on buying for zero turn riding mowers while reviewing one of the best Troy-Bilt models –  The Mustang 54 XP.
You can get it online for much cheaper than you would get it from a local dealer.
The Troy-Bilt Mustang 54 XP Zero Turn Mower boasts 8 positions of height settings and has triple blades for maximum efficiency.
The cutting deck measures 54 inches and will help the user easily tackle large areas of uneven terrain. And this is just the cherry on top. Read on to find out why you should give this machine ample consideration.
The Mustang is powered by the Intek™ Series (V-Twin) 25 HP Briggs and Stratton engine
To assess how good a machine can be, check under the hood. The engine is what matters while trying to judge the power and performance of riding mowers. The Troy-Bilt Mustang 54 has a powerful USA built Briggs and Stratton Engine, the Intek™ Series (V-Twin), which packs in 25 HP of power.
Briggs and Stratton are pioneers in engine manufacturing. The brand's riding mower engines are widely used in the industry. The engine fitted in the Troy-Bilt Mustang 54 remains faithful to the quality Briggs and Stratton has delivered over the years. Its biggest perk is the easy-start system called ReadyStart. This enables you to start your mower like you would start a car, i.e. with the push of a button or the turn of a key. This feature pretty much makes the choke on mowers obsolete.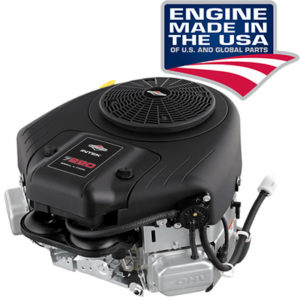 The Intek V-Twin Is a gasoline powered engine with a fuel capacity of 2.8 Gallons It is easy to maintain and clean as you can easily access the filters if you need to change them. A major plus is that the process does not require any tools. The engine has an overhead valve, which makes it less likely to overheat.
This also means that the engine will last longer and ensure better fuel economy. The air filter is designed to deflect any debris such as small stones or grass that may damage the filters. This is often the reason why other riding mowers require frequent filter changes. The dynamically balanced crankshaft of the Intek V-Twin keeps the mower operating smoothly and gives it a longer life.
This engine is low-noise, low-vibration and easy to service. It is easy to start and runs well.
However, just like any other riding mower engine, you will need to take care of your equipment according to the engine owner's manual.
Check the oil before each mowing session and change it at least once a year.
The spark plugs are another major component which needs to be checked. Remove the spark plugs and inspect them once a year. Be sure not to use any fuel that contains more than 10% ethanol.
As part of the Troy-Bilt Mustang 54, the Intek V-Twin boosts the mower in terms of power, reliability and value.
It also promises value for money as it comes with a consumer warranty of two years. The Mustang 54 itself, however comes with a three-year warranty.
Hear her purr (video)
Listen to how quiet the super powerful engine is.
The 54″ triple blade stamped aluminum deck makes short work of big jobs
The Troy-Bilt Mustang 54 XP has a maximum cutting height of 10 inches. Its powerful engine propels it to a top speed of 7mph.
On the other hand, the top speed you can get while going in reverse is 2.5mph. Overall, this zero turn mower is highly efficient because the wide 54-inch deck will clear large areas.
The deck has triple blades for fast cutting and a side discharge.
The manufacturer has further made blade engagement easier and faster by using electric power take-off (PTO). These features, along with the front axle grease fittings added, guarantee the long service life of the product.
The Mustang 54 XP has a large 54-inch deck made of 13-gauge aluminum.
It has triple blades which work with high precision on flat spaces as well as hilly areas.
As with most products you can get better deals online than you could ever expect to get buying from local dealers.
The 54″ Mustang can be picked up cheap on Amazon but you can also get a 46″ version on Amazon.
The Mustang offers unparalleled comfort
People operating zero turn riding mowers often have to spend a couple of hours sitting in the seat. Therefore, the comfort level of the seat and ergonomics of the design are major decision factors.
Luckily, the Mustang 54 XP has a high-back, 18-inch seat that is comfortable enough for continuous sitting.
The seat also has dual suspension, which ensures smooth rides even over bumpy terrain.
If your legs get cramped easily during lengthy periods of sitting, this mower is a good buy for you.
The mower has significantly more leg room as compared to other similar models.
Being able to stretch out your legs is a great way to help avoid nasty cramps.
The lap bars used for controlling the vehicle are also fully adjustable.
Moreover, you get a cup-holder, which comes in handy if you want to have a quick drink as you work, as well as a standard hour meter and fuel tank window.
To further ensure your comfort and convenience, the mower engages the breaking mechanism by itself once it is started.
A Comparison between the 46″ and 54″ Troy Bilt Mustang
Troy-Bilt manufactures four different kinds of Mustang riding mowers. These all have pretty much the same level of quality and durability. However, they differ in performance and price. Here is a side-by-side comparison of the Mustang 54″ XP Riding Mower and the Mustang 46″ XP Riding Mower.
| Model: | Troy-Bilt Mustang 46" XP | Troy-Bilt Mustang 54" XP |
| --- | --- | --- |
| Price on Amazon: | $2,864 | $2,949 |
| Transmission: | Twin Hydro Dual EZT | Twin Hydro Dual EZT |
| Max Speed (Forward/Reverse): | 7 mph/ 2.5 mph | 7 mph / 2.5 mph |
| Engine: | 24 HP Briggs & Stratton Intek V-Twin | 25 HP Kohler Twin Courage |
| Fuel Tank Capacity: | 2.8 gallon | 2.8 gallon |
| Product Dimensions(LxWxH): | 84" x 52.50" x 34.50" | 84.5"x 60.75" x 35.50" |
| Extras: | Deck Wash (included), Rear Bumper, optional mulch kit or bagger | Cruise Control (included), Deck Wash, Rear Bumper, optional mulch kit or bagger |
Size and weight specs of the Troy Bilt Mustang
Troy-Bilt Mustang 54 weighs 829 pounds. The mower stands at a height of 35 inches max.
At its widest point, it measures 52 inches and has a maximum length of 84 inches.
Other useful specifications you may want to know are:
Deck Material: 13-Gauge
Deck Construction: Stamped
Spindle: Aluminum
Number of Blades: 3 Blades
Positions: 8 Positions
Cutting Height Range: 1.5-4.5 Inches
Deck Lift System: Hand Operated
The FastAttach™ accessories that turn this ZT mower into an all-round garden machine
Buyers who want to turn their Mustang 54 into a more powerful and versatile machine can opt for FastAttach™ accessories from the manufacturer. These include mulching kits, tire chains, baggers and spare parts.
These tools will transform your regular mower into a powerful workhorse, sparing you from getting additional tools.
Now it is easy to confuse the specifications of the four Mustang models available from Tory-Bilt (42″, 54″, 50″ and the 54″). So, make sure you get the right accessories for your mower.
What owners say about the Troy Bilt Mustang 54 XP
Most online reviews are pretty detailed and present the pros and cons of the product objectively. However, it is not wise to simply look at the reviews on the manufacturer's website. Most companies will not post any highly critical reviews. Therefore, Amazon is usually your best bet for accurate information.
At a quick glance, the online reviews for the Mustang 54 are mostly positive. Everyone who has purchased and tested out this product is happy with its performance. In fact, a majority of the reviewers say that the product exceeds expectations. One reviewer said that the Mustang 54 XP was able to handle slopes as steep as 20 degrees. However, the manual puts that number at 15 degrees.
A final word and some advice – is the Mustang worth buying?
In short, yes, the Troy-Bilt Mustang 54 XP is a great investment for anyone looking to take proper care of their landscape needs. You can order the product from Amazon, but check the delivery time because it varies.
Now the Troy-Bilt Mustang 54 XP itself weighs 715 lbs., so this will be one heavy shipment. Make adequate arrangements for handling it. Moreover, have someone sign for the package since Amazon requires this for products of the high value.
Another important bit of advice is to carefully read the owner's manual that comes with your Troy-Bilt Mustang 54.
All the information and safety guidelines there are meant for your safety. Adhere to these and your mower will last longer and work more efficiently.
You will also get an engine owner's manual. Read both the documents properly before you try out your mower. This is especially important if this is your first time operating a riding mower.
As for after care, maintaining the mower should be easy for more experienced and handy users out there.
If you do not know how to handle the mower and its parts properly, get an expert to help you out or else risk damaging it.
Finally, thoroughly study this safety guide published by the Outdoor Power Equipment Institute.
It contains helpful tips and guidelines for running and maintaining all kinds of riding lawn mowers.
Summary The 54″ Mustang Review
Troy-Bilt has created a powerful machine which conforms to international standards. It is one of the best middle-grade zero turn riding mower you will find.
The Mustang 54 XP has a powerful 25 HP Briggs and Stratton engine that boasts an overhead valve design to provide improved fuel economy.
You will find that the Mustang 54 is durable, reliable and performs consistently. It also has a full pressure lubrication system, which ensures that the machine remains in top working condition.
The transmission system is a dual hydro-gear EZT transmission which allows the mower to achieve fast speeds up to 7 mph. It also enables the mower to maneuver on a hilly terrain. The transmission also makes the Mustang 54 move smoothly across flat or debris-filled terrain.
The wide 54-inch deck ensures that the mower can easily reach around obstacles such as trees or boundary walls. The deck has a handy wash port which makes cleaning out the grass clippings very easy.
The Mustang 54 is controlled using two lap bars. The controls are designed ergonomically and are suitable for riders of all sizes. The mower has a reinforced frame which comes with a lifetime warranty.
Among the Troy-Bilt zero-turn riding mower product line, the Mustang 54 is the most efficient and high-performing option.
Therefore, if you happen to be in the market for a zero turn riding mower and are trying to decide which Troy-Bilt to buy, this model will be worth your investment.
You can take advantage of low internet prices by grabbing a model for much less than it would cost from a local dealer.