Although it is well known that Swisher is one of the top manufacturers for high performing commercial riding mowers we found that one particular model, when compared it to its nearest rivals, stands out head & shoulders above the rest to earn the title of the best commercial zero turn mower we tried.
The Best Commercial Zero Turn Mower On The Market Today Review
We found a stellar machine which hits the mark in matters of speed, power and reliability.
The manufacturer has created a powerful machine which will deliver consistent performance for many years after purchase. As usual we found that the cheapest deals are available online.

Swisher ZTR2766BS Response 27 HP – the best commercial zero turn mower
The Swisher Zero Turn ZTR2766BS is designed to easily handle large areas and hilly terrains. The zero-turn feature allows you to easily maneuver the mower in any type of terrain. Moving around obstacles such as tree stumps, rocks, boundary walls, and thick hedges is easy with the highly responsive joy-stick controls.
A CARB (California Air Resources Board) compliant version of the Swisher ZTR2766BS is also available for an extra $100 if you are interested.
Zero turn riding mowers make light work of commercial jobs
Most professionals will tell you that time is money when it comes to landscaping.
The speed of the work depends mainly upon the power and the effectiveness of the riding mower you are using. This is why commercial zero turns are the best options for professionals and semi-pro users over standard zero turn mowers and even high-spec zero turns such as the very effective Poulan Pro 960420174.
Commercial grade machines are more powerful than entry-level mowers and have more features to enable the user to mow at a much faster rate while maintaining the same professional finish.
Commercial riding mowers have powerful engines which enable them to move across rough terrain smoothly at a fast speed without loss of quality output. Some of the more high-end mowers can even reach a top speed of 13mph. To reach these speeds while ensuring a top quality finish a majority of these machines are powered by Briggs and Stratton or even Kawasaki engines.
These engines are powerful enough to provide up to 30 HP.

The 27 HP (810 cc) Briggs & Stratton engine offers commercial grade power
The Swisher ZTR2766BS has a 27 HP ELs v-Twin OHV engine.
The engine manufacturers have been in the business for over six decades and all that experience shows.
The engine of the Swisher Zero Turn ZTR2766BS has a power rating of 27 HP. The capacity of the fuel tank is 8 gallons and the battery is 12 volts. The engine comes with a consumer warranty of 2 years for peace of mind. The engine has full pressure lubrication and a spin on oil filter.
The transmission is hydrostatic, specifically a Hydro-Gear 2800 Dual Commercial. This powerful transmission mechanism allows the mower to reach speeds of up to 8 mph both backwards and forwards. The mower is also able to move smoothly across rough terrain because of the ingenious Ogura clutch.
Comparison chart – commercial zero turn mowers
| | Swisher Zero Turn ZTR2766BS | Husqvarna MZ61 | Swisher Zero Turn 2760BS |
| --- | --- | --- | --- |
| Transmission | Hydrostatic Hydro Gear 2800 | Hydro-Gear ZT3100 Hydrostatic (Commercial) | Hydrostatic Hydro Gear 2800 |
| Deck Size | 66" (11-gauge fabricated) | 61-Inch (Fabricated) | 60-Inch (11-Gauge Welded Steel) |
| Max Speed (Forward/Reverse) | 8 mph/8 mph | 8.5 mph/5 mph | 8 mph/8 mph |
| Engine | 27 HP Briggs & Stratton ELS V-Twin OHV Engine 24HP/726cc | Kawasaki FR730V Series V-Twin Engine | 27HP/724cc Briggs and Stratton V-Twin Engine |
| Fuel Tank Capacity (gallons) | 8 | 5 | 8 |
| Product Dimensions (L"xW"xH") | 67 x 81 x 75 | 42 x 75.5 x 76 | 45 x 79 x 63 |
| Extras | Ogura clutch,12V adaptor Front,rear hitch,ROPS standard | Mega-sized steel frame | Ergonomic seat,2 reinforced anti-scalp rollers, nose roller |
| Weight (pounds) | 855 | 770 | 616 |

What Makes This Swisher The Best Commercial Zero Turn Mower
Below we look at some of the things that make this Swisher ZT machine the best commercial zero turn mower on today's market.
The 66″ cutting deck makes short work of large lawns
The cutting deck is an impressive 66″ 11-gauge Fabricated Steel. This large cutting deck on the Swisher Zero Turn ZTR2766BS provides a wider cut when compared to other models in a similar class. What's more the material is fabricated 11-gauge steel.
It also has three powerful and highly durable Gator Mulcher mower blades. These stay sharper a lot longer than most alternatives and also provide superior performance to those on other models.
The mower also includes machined steel spindles. The wheels are cleverly designed to prevent scalping and have a thickness of 4-gauge.
Those of you with back problems, other muscle strains or even arthritis will be glad to hear that the deck can be lifted effortlessly using the spring-assisted foot lever thus avoiding unnecessary strain on your back often experienced when using other poorly designed mowers.
The height adjustment capability lets you avoid scalping at speed
The Swisher Zero Turn ZTR2766BS has an easily adjustable deck.
Smaller castor wheels than normal are located on either side of the deck making it super easy to adjust the height.
The surface diversity of the mower enables the height to remain constant and free from any bumps during use.
The cut quality is second to none
A power of 27 HP, cutting width of 66 inches and the massive Gator blades ensure that the Swisher Zero Turn ZTR2766BS gives you the perfect cut every time.
The quality of the cut remains consistent irrespective of whether you opt for mulching or use the side discharge.
However, in order to mulch to properly, you may have to purchase a special blade for a small additional cost (outweighed by the value for money you get with the mower itself).

Commercial grade comfort & ergonomic controls that offer ease of use
Controlling the mower is easy with the simple joystick design. Unlike the lap bar mowers, the learning curve for this one is not very steep. Simply set the height and start your mower.
Move the mower in a forward direction and then backward by simply pushing and pulling on the joystick.
A short word of warning though, when you first get your mower and are making turns be careful not to push too hard on the joystick because you will end up leaving pivot holes.

Pivot circles will leave the landscape looking like a crop circle was drawn on it by your friendly neighbourhood aliens.
The height adjustment of the seat works exactly like it does in a typical car seat and is just as easy to use. Then once the user is seated, every control is within arm's reach.
The design of the mower is very ergonomic; the only thing which isn't within easy reach is the deck's height lever. The controls have been designed to work like they would in a normal car so it's easy and intuitive to operate.
Swisher has tried, and succeeded quite well, to maximize the power-to-weight ratio and the torque in this model. Well done guys!
The motor power packs a punch
The 27 HP Briggs and Stratton Commercial engine is a powerhouse of performance and torque. The engine, although very large, is not heavy.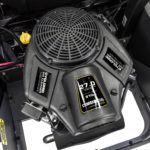 This, coupled with the fact that Swisher has tried to keep the frame size to a minimum makes for a lighter and more powerful machine, makes it easy to manoeuvre and economical to run yet just as powerful as similar models from other manufacturers.
These features make the Swisher Zero Turn ZTR2766BS just as highly responsive and agile a machine as smaller models yet one that packs enough power for commercial use.

Maintenance and care are easy
The mower is a sturdy and reliable piece of machinery. With routine maintenance and careful usage this mower will give you years of consistent performance with virtually no input from you other than cleaning it.
The machine is sturdier than other commercial ZTRs because of the larger front wheels. The additional castor wheels mentioned earlier also help maintain the integrity of the mower and the frame in addition to their other uses.
The long warranty coverage ensures that you don't have to pay for minor engine repairs, hydraulics or frame issues should they occur – a strong vote of confidence from the manufacturer in its machine.
Productivity Calculations for the Swisher Zero Turn ZTR2766BS
This is the main specification you need to focus on when deciding on a commercial grade machine. It will help you determine what kind of mower you need to purchase.
With ZTR2766BS the transport speed is 8 mph, both forward and backwards, and the cutting deck has a width of 66 inches, these values can be used to calculate the productivity (in acres/hour):
Mower speed: 8 mph
Mower speed in feet/hour: 5,280 X 8 = 42,240
The width of the cut: 66 inches or 5.5 feet, therefore the productivity in feet/hour will be, 42,240 feet X 5.5= 243,320 feet/hour.
This is the productivity if the machine consistently operates at a 100% efficiency rate. This is however not very realistic. This number is theoretical not applicable to real-life scenarios. At best, you will be getting an 80% efficiency rating which is still pretty impressive.
There are a couple of reasons for this 80% efficiency value:
The cutting width will not always make a clean 66-inch cut; there will be overlap in the grass/weeds.
Uphill terrain slows down the speed (as with any mower).
Any obstacles will interfere with the cutting and speed.
Therefore to get a more realistic number simply multiply the above number by 0.8 to calculate 80% efficiency:

243,320 feet/ hour X 0.8 gives us a realistic value of 194,656 feet/hour.

As there are 43,560 square feet in 1 acre, 194,656 feet equals 4.4 acres (194,656/43,560 = 4.4).

So a realistic value is 4.4 acres per hour which is pretty good for any mower.
This formula can be used to calculate the productivity of any riding mower if you have the specs. It is also a handy way to determine the speed and width requirements when researching riding mowers.
So, put simply, the Swisher Zero Turn ZTR2766BS has a productivity of 4.4 acres per hour if it operates at only 80% efficiency.

Available accessories can turn this into an all-round yard machine
The mower includes some basic accessories such as an engine guard, trailer hitch, and arm rests (a big plus on the comfort front).
A front bumper is not included though, probably in an effort to keep the price down, but it is something we would like to see as standard. However this is one of the additional options available and you can easily upgrade your mower in steps over time rather than trying to build the perfect machine at the start.
Additional accessories such as a Rear Bagger, Mulcher Kit, headlights, and front bumper need to be purchased separately.
After-sales and support is among the best
Product manuals are available online on the manufacturer's site. Click here to access the Swisher information portal.
Product manuals for the Briggs and Stratton engine can be found here, simply enter your model number to find the manual. They also have a dedicated section for replacement parts, maintenance products and accessories.
What owners say about the Swisher zero turn ZTR2766BS
We believe that it is always a good idea to refer to reviews for objective information about products you are about to purchase. It is especially important to conduct more comprehensive research if the product is expensive.
In the case of commercial riding mowers not only is the product expensive but is also a long-term business investment.
We know that it is sensible and practical to get all the information you can before making a decision on such a big purchase so we have scoured the internet for buyer and seller comments in a bid to determine what long-term users think of this machine.
Reputable brands usually don't post fake reviews. This is why Amazon is one of the best places to source good information from real people as they post verified buyer beside the comments left thus letting you know that commenter has actually purchased the product from Amazon (almost always cheaper than official dealers).

However if you want to be extra sure about the review then keep these things in mind:
(This list focuses specifically on Amazon reviews)
Give a little more weight to the ones with a "Verified Purchase" tag.
The "X people found this helpful" number under a review is a helpful factor as well.
Also look for reviewers who have used actual names instead of online avatars or nicknames.
All that being said we have found that the Swisher Zero Turn ZTR2766BS is highly rated on all major online retailer websites. Amazon reviewers in particular have given it either a 5-star or 4-star rating. The reviews by "Verified Purchasers" state highly positive opinions about the product.
One reviewer stated that they were very happy with the performance and speed of the Swisher Zero Turn ZTR2766BS compared with previous mowers they have used.
It seems that the productivity of the machine is the main quality which reviewers emphasized. One specific reviewer claimed that they were able to mow 3 acres of land in 1.7 hours.
Another reviewer said that the Swisher zero-turn ZTR2766BS handles rough terrain and hilly areas quite well and much better than he expected.
Another reviewer was pleased with the cost-effectiveness and overall quality of the mower.
Upon reading a variety of reviews the most prominent facts which stand out are the:
Superb performance of the Swisher Zero Turn ZTR2766BS.
Speed and quality of the cut.
Value for money.
Final Word and Some Advice -why the Swisher  is the best commercial zero turn mower
The Swisher ZTR2766BS is one of the best commercial zero turns out there. As with most products it's cheaper online and is competitively priced at $5581 on Amazon (now reduced to $5199 with free delivery).
A look at the specifications of power and the online reviews are enough to convince anyone considering purchasing a commercial zero turn riding mower.
There is a CARB compliant version of the same model available as well for only an additional $100.
The 27HP Briggs & Stratton commercial engine powering the Swisher ZTR2766BS comes with a consumer warranty of 2 years in addition to the Swisher warranty. The Swisher Zero Turn ZTR2766BS itself comes with a consumer warranty of 3 years.
In spite of its size, the mower handles remarkably well. The controls respond immediately and this makes the mower extremely easy to use – a much needed feature if it is being used for commercial/regular use.
The mower responds in a split-second to the twists and turns and the braking and throttle controls are also highly responsive.

Summary: The Best Commercial Zero Turn Mower
The Swisher ZTR2766BS is an excellent option for any professional looking to purchase a commercial riding mower or anyone who simply wants to upgrade from a less-powerful machine.
The 27 HP engine coupled with the 66-inch wide cutting width provides you with the speed and efficiency needed to mow large areas of land in a few hours. The powerful engine can also handle regular usage while maintaining a high quality finish.
The Swisher ZTR2766BS reaches a top speed of 8 mph and also has the same speed in reverse. The ZTR allows you to move 360 degrees with ease. This machine is also extremely comfortable when used for long periods of time. If you are going to use your machine for commercial mowing you may not realise just how much you need the armrests until you try using an alternative machine that doesn't have any!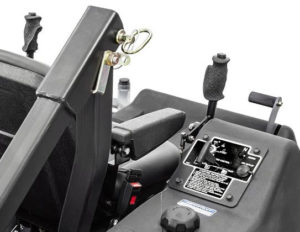 The controls are ergonomic and allow the driver to effortlessly move across hilly terrain in complete comfort assured of a professional finish. The throttle, brakes and steering respond rapidly, making it easy to maneuver.
Though the mower is easy to operate and get use to just be careful on first use (think of how responsive a power-steering automobile was when you first tried it). A quick test run or two without engaging the blades is usually enough to master the controls.
The manufacturer provides a warranty of 3 years and the engine manufacturer warranty period is up to 2 years. This mower gives the buyer more value for the money.
Swisher also has a lot of options when it comes to accessories and additional parts for your riding mowers. You can customize the mower according to your requirements.
Online reviews give this machine a highly positive rating and for good reason; it's one of the best machines out there. The factors most reviews highlight are the speed, performance and durability making this the best commercial zero turn mower on the market. The best deal available at the moment is only available online.