Ariens Ikon Riding Mower Review
If you're looking for an Ariens mower whose durability and strength has no comparison then turning to Ariens Ikon 60″ is your best bet. That's not all, this one also comes with a few upgraded features which you won't find in the previous Ariens models.
Most of the Ariens Mowers are designed in a multi-pieced framed body but not the Ikon 60. The manufacturers decided to up their game and enhance the durability of the mower, hence, they welded the entire body from joint to joint and crafted a one-piece body, called the Ariens Ikon 60.
With a cutting width of 60″, this beauty leaves no grass behind and provides a smooth experience to the users.
The cutting deck is 4.5 inch deep and lets the air flow properly to tackle challenging conditions while mowing the lawn and offering the best quality cut.
There's also a wide opening that discharges the clippings while you mow. It also has the belt technology which is found in Apex and Ikon mowers to make sure that the stress exerted on the engine is minimum.
The features that distinguish it from previous models are storage compartments and cup holders. You can choose from 13 various cutting heights suitable for the type of grass in your lawn.
This mower is especially designed to take care of larger lawns and has proven to be an efficient solution for mowing rough and bigger lawns.

Main Features Of Ikon 60″
Engine
With 25 horsepower, you can rest assured that this mower will easily take care of any lawn that is 4 acres or bigger.
The Kohler 7000 engine enhances its cutting tendency and provides fine cutting.
Handling
The mower is operated via two lap bars, like most zero turn mowers, and handles well.
With forward speeds of up to 7 mph and reverse speeds of up to 3 mph the Ikon XL 60″ can blast through yard work quickly and the cut is excellent even at top speeds.
The triple blades mean one pass is usually all that's needed to get the exact cut you want every time.
 
Bagger
The Ikon XL 60″ can run a powered bagger that includes 2 mesh bags. The bagger has an impressive 4.6 cu. ft. (3.7 bushel) capacity.
so that you can gather the grass clippings by attaching the bag at the rear end and avoid messing up your lawn with leftover grass.
Unlike the Apex mowers, the bagger of this mower runs on a grass pump and has improved speed.
The bagger is very easy to attach to the mower as shown in the video below.
Mulcher
The mulch kit helps you return nutrients to your lawn while keeping your yard looking professionally manicured time after time.
 
48″ Dethatcher
Like the Apex mowers, the Ikon XL 60″ ca be used with a dethatcher to allow fertilizer and water to reach into the ground.
It also has aerator plugs which improves the passing of air, water and nutrients into the grass roots of your lawn through air plugs that reach 3 inches deep.
The poly roller makes sure that the ground is pressed and kept smooth and of course there's the ability to attach a utility or dump cart which you can choose whether to pull or push.

Customer Reviews
This seems to be one of Ariens' most successful products with a huge number of satisfied clients. Let's check out reviews:
"I always wanted to have a big lawn outside my house and when I did, I had no clue that lawns require such maintenance on regular basis. I was fed up with grass growing so tall as I couldn't cut the grass manually or afford a gardener. A friend then suggested me to get a lawn mower which reduces physical effort such as riding mower. After searching on the internet for several hours, I came across the Ariens Ikon 60" which looked like the perfect fit for the my lawn which is 3.5 acres. It is a bit pricey but has solved all my problems and concerns as all I have to do is turn on the mower, sit on it and cut the grass like a pro. I love it!"
 
Final Verdict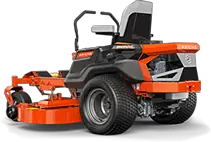 If you need a commercial zero turn mower for lawns of 4 acres or more and you want a riding mower that requires less maintenance, is less noisy and cuts the grass well, then Ariens Ikon XL 60″ is a great fit for your needs.
The perfectly designed body is ideal for larger lawns and even cuts the grass in unfavorable conditions.
It can mulch and bag exceptionally well.
If you happen to have back problems, then Ikon 60″ will serve you well thanks to its high-end comfortable seat designed to support the back of the operator.
Summary
Zero turn lawn mowers are a necessity when you own a commercial landscaping company and are indispensable to residential owners with large lawns or lawns with lost of typical lawn obstacles such as trees, flower beds etc.
There are many kinds of zero turn mowers, as well as push mowers, available on the market today. Ariens have made a place for themselves within this crowded and competitive market by designed and building some really great zero turn mowers for both residential and commercial use.
Ariens is considered to be the pioneer when it comes to riding lawn mowers because their mowers are designed keeping the performance as well as the comfort of the user in mind.
In this review, we discussed 4 of the top rated Ariens zero turn riding mowers.
For lawns up to 2 acres, we recommend you to go for Ariens Zoom Mowers 34″ or 42″ residential riding mowers. These two mowing beauties are much like twins when it comes to features with only minor differences. A difference of 1 horsepower between them (20 hp and 19 hp) and obviously their deck sizes differ. But, both can cut grass as well as any commercial machine.
Keep in mind that these mowers aren't the best fit for lawns bigger than 2 acres. If budget is your issue and you happen to have a lawn not bigger than 2 acres, then go for either of these mowers as there's usually only a $100 difference in their price.
The Ariens Apex mowers are specially designed for lawns that are larger than 2 acres but no bigger than 4 acres.
If you have a lawn as big as 4 acres, then the Ariens Apex 60″ is the mower to go for, hands down. It has horsepower of 25 and most importantly, you can store gas up to 5 gallons and blast through a large lawn with the triple bladed 60″ cutting deck.
If your lawn is between 3 to 4 acres then we will suggest you Ariens Apex 48″ or 52″. They are best suited for lawns up to 3.2 acres and 3.5 respectively. With not much difference in the features and price, you can go for the one that is the best fit for your garden.
Last but not least, if you are looking for the type of Ariens riding mower which beats every other product in endurance, then the Ariens Ikon 60″ XL is a good choice (though we much prefer the Apex 60″).
It can mow at a good speed in both forward and reverse directions, 7 mph and 3 mph respectively, and can cover a 4 acre lawn easily. However, gas capacity is only 2.8 gallons but it is usually $500 less than Apex mowers. So choose wisely after keeping the lawn size and budget in mind.
 
Ariens Comparison Chart