A lean-to greenhouse, also known as a wall greenhouse, is designed to use a wall of an existing building as part of its construction. The greenhouse extends out from the building with the building wall acting as one of its sides (or more accurately it's back). A lean-to greenhouse is usually built on the east or south side of a house to get as much sun as it can.
A lean-to greenhouse is a great choice if you have limited space for a full greenhouse and want to extend your growing season despite the outdoor weather conditions. In this article, I will be reviewing 3 of the best lean-to greenhouses on the market.
First things first…
=====>>> In a hurry? Here are the best lean-to greenhouse kits that we found:
The compact Palram Hybrid lean-to greenhouse
The versatile Rion Lean-to greenhouse
The Ogrow lean-to greenhouse with sliding door
Palram Hybrid Lean-To Greenhouse
The Palram Hybrid lean-to greenhouse is a 4′ by 8′ unit that is great for people with limited space.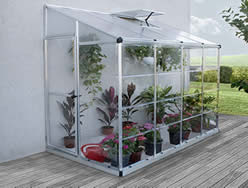 Its great features, roomy interior and compact design means it will fit nicely onto any wall and makes it great for vegetable and herb growing.
Construction/Size
The Palram Hybrid lean-to greenhouse kit is made of a strong aluminum frame. This means that it can withstand harsh outdoor weather and temperatures without experiencing corrosion or rust.
The side and roof material are made from durable polycarbonate.
The Palram Hybrid greenhouse kit measures 96″ by 49″ by 88″ and comes in at 61 lbs.
The aluminum frame adds to its overall weight, which also helps to boost its stability on the ground.
Inside the greenhouse the headroom is around 7.1 feet. This offers enough room for you to attend to your crops without the need for bending.
There is more than enough room to install hangers and shelves
on the building wall for additional plants as the greenhouse is roomy enough to still move around in it.
Ventilation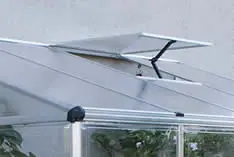 Ventilation comes in the form of an easy to reach roof vent that is fully adjustable.
This way, you can open it when you wish to control the humidity and heat levels inside.
Insulation/UV-Protection
The greenhouse comes with a 4 mm twin wall polycarbonate roof, which helps to minimize the UV rays by up to 99%.
This way, you can be sure of a safe space that lets your plants and crops grow without being exposed to the harsh UV rays.
The side walls are made of a clear polycarbonate, which is strong enough to protect your plants from harsh winds and cold.
Another thing about the polycarbonate wall is that it is relatively unbreakable. If the kids hit it with a ball or a stone the unit should remain intact even when hit with very hard impacts.
User Experience/Accessibility
With the Palram Lean-To Greenhouse Kit it can be a challenge to install it. But in truth all greenhouse kits are the same.
You get a wall-mounting kit that helps the unit stay secured to the wall. Some people skip the installation step – don't be one of them!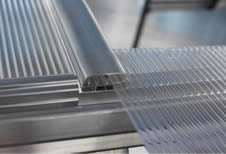 If you don't use the wall-mounting attachments the entire unit can come down.
The user manual is easy enough to understand and guides you through the installation.
You gain access to lean-to greenhouse via a hinged door. Since it comes with a swing-door, you must ensure that you install it in the right place.
Some people have not thought through there installation before starting and have found that once the kit was installed the swinging door could not open correctly due to natural obstructions in the area.
Pros
The unit comes with a thick roof for UV-rays protection
It has a sturdy, rust and corrosion resistant aluminum frame
Fits on almost any wall
More than enough room to install hangers and shelves
Roomy enough for a plant stand
There is a rain gutter that lets you collect water
The roof vent is adjustable to let you control the humidity and heat levels inside the greenhouse
It comes with a modern design
The greenhouse has a 5 year limited warranty
Cons
The installation process can be long
The floor space is limited
Check the Palram Hybrid lean-to greenhouse on Amazon
Rion Sunroom Greenhouse
The Rion Sunroom Greenhouse is marketed more as a small conservatory/sunroom than as a greenhouse. However, this is very much a marketing ploy in my opinion as this unit is clearly a simple lean-to greenhouse.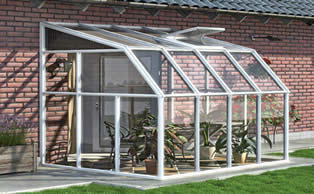 Rion claim this is one of the simplest options if you want a quick sunroom for your patio or they say you can turn it into a greenhouse.
The design is quite clearly that of a lean-to greenhouse so don't let the name "sunroom" put you off.
The unit also comes in a variety of different sizes from small and compact to very large.
Construction/Size
First off, this greenhouse kit is made of a strong resin frame that is durable enough to withstand harsh conditions and serve you for many years to come. One good thing about the resin material is that it is typically maintenance-free.
It comes with very durable acrylic walls and a water-proof polycarbonate roof.
Our choice of Rion greenhouse/sunroom is bigger than the Palram lean-to greenhouse though there is a 6′ x 6′ version
.
This one measures 103.2″ by 78.9″ by 97.2″ (6′ x 8′) and comes in at 205 lbs.
There are several different sizes in this greenhouse from the compact 6′ x 6′ to the very large and roomy 8′ x 20′. You can
view them here
.
The heavy weight of this unit greatly enhances its stability.
Ventilation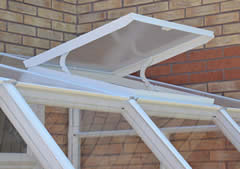 The Rion comes with a large vented roof that you can adjust via the handle that is within easy reach.
The vent lets you control the heat and humidity in the greenhouse.
Insulation/UV-Protection
The UV protection of this unit is 100%.
It comes with 4 mm twin wall polycarbonate roof panel that blocks the harmful UV rays that comes from direct sunlight.
This feature will protect your skin if you are using this unit as a sunroom or protect your plants if you use it as a greenhouse.
Also, there are 3 mm translucent acrylic wall panels that also block the UV rays. The walls allow 90% of light to get into the sunroom while blocking UV rays.
User Experience/Accessibility
In terms of the installation or how to get started with this greenhouse, you might need help from some friends. Its component parts are heavy.
The larger units will require at least two people for installation and it will probably take about two days to complete. The smaller units are easier and quicker to install.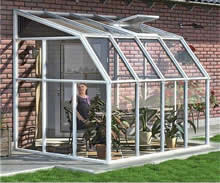 This one comes with a hinged side door, which you should ensure has enough swing space to open correctly before you install it.
Pros
It has a sturdy, rust and corrosion resistant aluminum frame
Fits on almost any wall
More than enough room to install hangers and shelves
Roomy enough for a plant stand
The heavy-duty construction gives it more stability
You get a roof vent to let you control humidity and heat in the sunroof
The Rion can be used as a sunroom/conservatory or a greenhouse
The acrylic side walls are strong and they offer 100% protection from UV rays
Cons
You will need patience when installing this unit since it is time-consuming
The customer support could be better
Check the Rion lean-to greenhouse on Amazon
Ogrow 25-sq-ft Lean-to Greenhouse
The Outgrow is the only lean-to greenhouse kit on our list that has a convenient sliding door.
However, it comes with a low roof height compared to the other two lean-top greenhouses on our list being a full foot lower.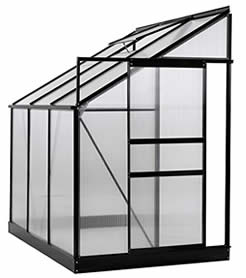 It is perfect for small plant growing projects and as a starter greenhouse.
Size/Construction
The unit is made of multiple materials that are sturdy enough to enhance its stability and durability.
It comes with a strong aluminum frame of 0.8 mm thick, polycarbonate walls, and a steel base plinth. This means that you will have a unit that is strong enough to withstand the outdoor weather while keeping your plants fresh and safe.
The frame comes with a green coating that doesn't only enhances the aesthetic look of the unit but also prevents rusting and corrosion.
The Ogrow greenhouse measures 72″ by 48″ by 86″ – 6′ (length) 4′ (width) by 7′ (height) – and weighs only 59 lbs.
This greenhouse kit is the smallest and also the lightest on our list.
It is an ideal space for growing a variety of crops and it will give you a relatively easier time with the initial installation compared to the other two kits.
Ventilation
Just like the other kits, this one also comes with a roof vent that is adjustable and easy to reach.
Insulation/UV Protection
The side walls and roof of this greenhouse kit are made of polycarbonate that is UV ray-resistant.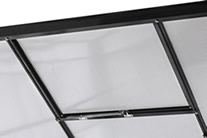 The 4 mm side walls are also strong enough to endure accidental hard impacts.
It is approximated that the greenhouse can maintain a temperature range of around -13 and 140 degrees Fahrenheit.
User Experience/Accessibility
Since this unit is lightweight and relatively smaller than the other two kits on our list, it tends to be easier to install.
Nevertheless, it might still take you some time and you may need an extra pair of hands to set it up.
The floor growing area is 25 sq. ft, which is decent enough for plant growing and there is enough space to erect shelves.
A great feature of this greenhouse is the sliding door.
This helps you to save space and prevent accidental bumps/impacts on the door.
The sliding door can also offer additional ventilation if needed by simply opening it an inch or two.
Pros
It is lightweight
The greenhouse has a sturdy frame
The frame is green-coated to prevent rust, corrosion or fading
Fits on almost any wall
More than enough room to install hangers and shelves
It has a rain gutter for water harvesting
The sliding door saves space and promotes ventilation
The kit comes with a stable steel base
The 4 mm polycarbonate twin-wall is shockproof and virtually unbreakable
Cons
It might not be as sturdy and stable as other units
It only comes with a 6-month warranty on the frame which is ridiculous
Check the Ogrow lean-to greenhouse on Amazon