Snow blowers were a God-send to people who traditionally had to clear snow with shovels and a lot of hard work. But soon it became obvious that these single-stage machines where just not powerful enough to deal with very heavy snowfall and compacted snow. So two-stage machines were designed. But soon they too feel short in certain snow clearing duties.
Why You Need A Three Stage Snow Blower To Shift Wet Snow
The best snow blowers for wet snow are three-stage machines.
Three-stage snow blowers were designed for users who have to regularly deal with heavy snow snowfall that also becomes wet.
If you currently own a single-stage, or even a two-stage snow blower then you know that they are not equipped to handle heavy wet.
Even the most powerful two-stage snow blowers can't handle wet snow and slush.
However, even a less powerful three-stage snow blower can easily move wet snow due to its unique design.
The key differences between two-stage and three-stage snow blowers is the way they shift snow.
If you have to regularly deal with wet snow then you need a three-stage machine.
Don't worry this powerful workhorses have all the same functionality as a two-stage machine but also have the ability to clear heavy wet snow.
In this article, we'll be discussing two of the best three-stage snow blowers for wet snow.
Troy Bilt Vortex 26″ Snow Blower Review
The first three-stage snow blower on our list is the Troy Bilt Vortex.
Now, this is one heavy-duty beast and is excellent if you have to shift large amounts of wet and heavy snow.
It is also big enough to get through the heavy snow without getting stuck.
It can also deal with deep snowfall and hard compacted snow.
Toughness & durability come as standard
A key feature that qualifies this unit as a heavy-duty snow blower is its sturdy construction.
It is made of a reinforced steel housing, meaning less corrosion and rust.
It has an aluminum gear case that maintains the sturdiness and delivery of the machine even with heavy usage.
The snow blower performs well even in extreme subzero conditions.
The 375cc motor offers serious power
The engine is also a top feature to consider if you are looking for a machine that can go through the wet and heavy snow without any problem.
The engine is the powerhouse of any snow blower and to be able to scoop wet snow and throw it far distances takes a lot of power.
The Vortex rises to the challenge with a 375 cc OHV 4-cycle electric start gas engine.
The 26″ wide & 21″ deep single sweep throws snow a distance of 40 feet
In addition to the heavy-duty construction and the equally powerful engine, the Vortex 2690 comes with a 4-way pitch and chute control.
This means you can throw the snow in any direction you prefer.
The easy-access four-way joystick offers you total control of the direction and distance of your snow blowing.
This snow blower can go through snow at a depth of 21″ in a 26″ wide sweep in a single pass.
This is a perfect choice if you have a large driveway, path or you need a commercial grade machine for large areas.
The machine is capable of cutting through ice and wet snow without a problem.
What about the throw distance?
Well along with its powerful engine the snow blower also has a 12″ accelerator that can crunch snow 10 times faster than a two-stage blower.
Typically, it can throw snow up to 40 feet away.
The Troy Bilt snow blower has power steering & is self-propelled for effortless operation
The engine not only powers the auger and accelerator but also allows for easy operation via the Touch 'N Turn Power Steering and also powers the self-propelled action so you don't have to push.
While this machine might be a heavy-duty, you will have an easy time cruising it through the snow.
It is self-propelled for easy operation and has 15″ x 5″ X-Trac tires.
You can easily maneuver the machine with just one-hand while you operate the controls.
Great to use in low light with a host of additional features
A beginner might be coy about using this machine. It looks delicate, but it is very user-friendly.
This is a one-hand operation blower that gives you an easy time with the control.
There's no any challenge in starting the machine, changing the snow discharge direction, or even pushing it.
Another useful feature is the in-dash headlight.
This one helps to keep you safe and let you use it in low-light conditions.
The Vortex features six forward speeds and two reverse speeds.
The manufacturer customized the snow blower to let the user lock the ideal speed they prefer for better convenience.
Who would have thought they'd put cruise-control on a snow blower?!
The Vortex 2690 pros
Clears snow 26″ wide by 21″ deep
Easily handles wet snow
Self-propelled
Power steering
One-hand operation
It has a powerful engine with an electric start
The 4-way chute lets you throw snow in any direction
The machine can throw snow 40 feet away
It comes with a self-propelled drive for effortless control
The Touch-N-Turn feature lets you change direction with ease
You can lock-in your speed
It has heated hand-grips that keep your hands warm in the subzero environment
The headlight allows you to use the blower in low-light
It comes with a 4-year warranty on the gearbox and 2 years for the parts
The Vortex 2690 cons
It is not ideal for small driveways/sidewalks
The unit doesn't come cheap
The chute control can be a little stiff
The Troy Bilt Vortex Specs (video)
The Troy Bilt Vortex in action (video)


Cub Cadet 3x 26″ Snow Blower Review
This three-stage blower from Cub Cadet comes with a heavy-duty engine that is able to work efficiently at eliminating the wet and heavy snow.
It's durable & rust-resistant as you'd expect from a Cub Cadet
This unit comes with an all-metal construction that makes it sturdy enough to withstand extremely low temperatures.
The steel chute is rust and corrosion resistant, which also boosts its durability a life.
The gear case is made of a strong aluminum that is also weather-resistant.
The 357cc 4 cylinder motor offers real snow throwing power
The snow blower runs on a 357 cc Cub Cadet OHV 4-cycle engine that comes with an electric start.
The engine starts with the push of a button.
A single push will switch the machine on even in subzero temperatures. As you would expect from a Cub Cadet machine even in the coldest winter days, the engine will start without any difficulty.
The 3X throws snow a distance of 40 feet with a 26″ wide & 21″ depth single pass
Just like Troy Bilt have equipped the Vortex to be able to clear large areas so too have Cub Cadet designed their 3X to clear snow at a width of 26″ and a depth of 21″.
The Cub Cadet can throw snow up to 40 feet away.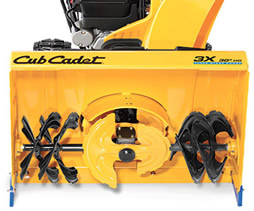 The chute control is adjustable to 200 degrees, and you can direct it using the handy lever on the dash.
Another thing to love about this unit is that it is loaded with a high-performance impeller that uses Cub Cadet 3x technology.
The 3x tech helps to throw out snow through the chute 50% faster than two-stage units.
You get easy operation via the power steering & self-propelled motion
With a machine that weighs 270lbs, you would want to make sure its easy to push. With the Cud Cadet 2x snow blower there is no pushing due to its self-propelled feature.
The self-propelled motion acts in the same way as a self-propelled lawn mower but the bigger engine means you have to put in minimum effort to move the blower – just one hand is enough.
The power steering is another feature that guarantees you an easy time while operating this machine.
It has handle mounted triggers, where you use the fingertip trigger control to let you make turns with just one hand.
Heated hand grips & extra traction make this excellent for wet snow use
This machine might seem advanced and feature-rich, but it is quite easy to use.
In addition to that, you will enjoy heated hand-grips that keep your hands warm as you work in the subzero environment.
There is a single-hand joystick deflector control that lets you operate the machine with one hand.
The 16″ by 5″ no maintenance X-Trac tires let you enjoy ultimate traction.
The snow blower comes with 6 forward speeds and 2 reverse speeds for better performance on the wet snow.
The Cub Cadet 3X pros
Clears snow 26″ wide by 21″ deep
Easily handles wet snow
Self-propelled
Power steering
One-hand operation
It is strong and sturdy
It features Cool Blue skid shoes
The chute control is easily adjustable up to 200 degrees
It has large tires for cruising across the wet snow
It can eliminate a lot of snow in a single pass
There is an LED headlight to let you use it even when it starts getting dark or on misty days
It comes with heated hand grips
The Cub Cadet 3X cons
The auger design could be better
You may have to change the shear pins after regular use
The handle height is not adjustable
Cub Cadet 3x specs (video)
Cub Cadet 3x in action (video)