Do you have a large lawn that needs constant irrigation? If you do, you should consider investing in a decent sprinkler system.
The best sprinklers for large area will offer the widest spread of water and greatest range. Most times you will need a sprinkler system rather than one stand-alone sprinkler. There are good sprinkler systems available. However, sometimes it is cheaper to but a few stand-alone sprinklers and set them up as your own system. Let's look at both approaches to see which is the best fit for your garden.
In this article, we will be reviewing the best sprinklers for large areas. Such sprinklers minimize the time and effort needed to water large areas and the really good ones can deliver just rthe right amount of water across large distances evenly to do an amazing job of irrigating your lawn.
Let's have a look at a few of them.
Orbit H2O 6 Gear Driven Sprinkler
The Orbit H2O 6 gear driven sprinkler comes as an individual sprinkler or can be combined with 2 or more to create a sprinkler system that comes with 6 gears for maximum even spread of water. It is fully adjustable to suit a range of different sized lawns from medium to very large.
The six gears give you the option to choose from six different spray patterns. This is very handy as sometimes it can be difficult to pick the correct sprinkler head for your garden and climate.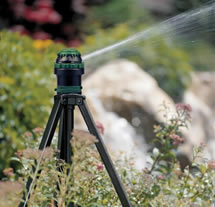 So, with the option of selecting different patterns (which equates to different heads) you can be assured that you can get the optimum coverage for your lawn depending on its water needs at any given time.
Design
One thing that makes H20-6 Gear Driven Sprinkler system unique is its design.
The head is jungle green and black in color, and it also features a gear dial that rotates to adjust the spray patterns.
It sits on a metal tripod that is equally strong and sturdy.
The tripod features a black knob for regulating the pressure/sprinkling range.
Range
This sprinkler sits on a tripod that has adjustable heights.
You can set it from around 25″ to 48″ off the ground. It then delivers an operating pressure of about 15 to 65 PSI.

Each sprinkler on its tripod has a spray radius of 15 ft. to 30 ft.
Sprinkling Experience
There are six different spray patterns so you can select the best water spread for each individual usage.
The spray patterns range up to 360 degrees to give you a complete sprinkling of the lawn.
There is also a diffuser that has four different positions to give you enough spray control.
It features 5 watering patterns:
small stream
medium stream
large stream
vertical fan and flat fan
1 stationary misting pattern
Each sprinkler in the system can be set to its own individual spray pattern independently of the other ones.
The Good
It has an elegant design
The head rotates up to 360 degrees
It has 6 different watering patterns
It is made of a high-quality stand that is impact-resistant
It is easy to control the coverage and spray patterns
The sprinkler delivers a noiseless operation
The Not So Good
It is expensive compared to cheap sprinklers
The head is made of plastic and can break if it falls on a hard surface
It can leak when you set it at a high pressure
Check Price and User Reviews of The Orbit H2O Six Gear Drive Lawn Sprinkler on Tripod on Amazon
Orbit Voyager II Gear Drive Lawn Sprinkler
This is yet another sprinkler from Orbit, which comes with a nice design and great coverage.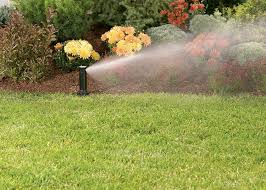 It also has several nozzles that offer variable sprinkling options. The height is also adjustable for more efficiency.
Design
The sprinkler comes with a plastic head that is crafted to rotate smoothly and quietly.
The head has a a pop-up design which really helps to improve its coverage. The head is compatible with most gear drive rotors.
You embed the sprinkler into the ground were it remains unnoticed until the water pressure forces the head up.
This is a really great design that means you don't have to continually put up and take down your sprinkler system (though it is a good idea to remove your sprinklers when not in seasonal use).
With many sprinkler systems you must either place them on the lawn or garden before you irritate and then remove them after or leave the sprinklers on the lawn which can look unsightly and spoil the atheistic look.
There is a removable filter to easily deal with any clogging issues.

Range
The 4″ pop-up head design doesn't just help camouflage the sprinkler in the ground but it can actually boost the coverage of the sprinkler.
The sprinkler covers a radius of between 20 feet to 40 feet and it has a 360-degree rotation for complete coverage.
You should know that the sprinkler comes with an adjustment key to set the coverage between 40 degrees to 360 degrees.
Adjusting distance is simple and can be on the top of the head to allow for part- or full-circle watering.
Sprinkling Experience
This sprinkler can handle a 3 gallon per minute output. It comes with a pre-installed nozzle but you get 11 additional nozzles with it.
You can also adjust the spray patterns, as well as the coverage.
The best part is that this sprinkler comes with a filter that will reduce the clogging and offer a swift sprinkling experience.
The Good
Can be easily camouflaged in any garden or  lawn
The head pops up four inches high to offer more coverage
It has a filter that minimizes clogging
The rotation is adjustable and complete (360 degrees)
There are plenty of nozzles for varied usability
It is compatible with most major rotors
The sprinkler offers great coverage and a long spray distance
It runs quietly
The Not So Good
The plastic head might break when it falls on a hard surface
The impact head may not work that well with low water pressure
Check the Price of the Orbit Voyager II Gear Drive Lawn Sprinkler & User Reviews on Amazon

Gardena 8133 Aquacontour Sprinkler
The Gardena 8133 Aquacontour is stand-alone large are sprinkler that comes with a unique construction, and it has an adjustable coverage as well.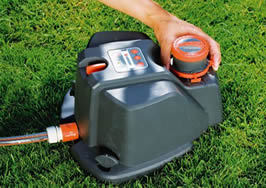 It has been designed to cover individual sprinkling for each lawn, regardless of the shape. This is one of the most advanced and innovative sprinklers on the market.
Design
The sprinkler head is made of a sturdy plastic of a nice orange-black color.
It is sold alone, meaning that you will have to purchase the base separately.
The head features a dirt-resistant membrane keyboard that is also easy to use. The nozzles are made of soft plastic for easy and even sprinkling and water coverage.
Two different garden shapes can be programmed into the Gardena 8133 Aquacontour and recalled by the machine at any time so you get the best coverage of both front and back gardens without any set-up hassles. Just set the sprinkler in the same spot every time and you will get the same results every time without having to adjust anything manually.
The neat thing about this sprinkler is that it can adjust its spread depending on the contours of the area it is watering.
For instance, if you have an odd shaped lawn or garden area the Gardena 8133 Aquacontour can be programmed to cover that area exactly. Is your garden 11 feet long in one area but only 3 feet long in another – no problem! Just program the sprinkler to change its spread in those parts of the lawn.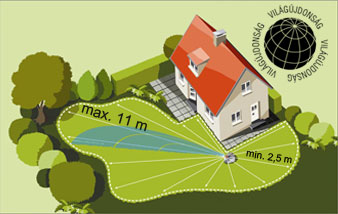 Range
This 16 lb sprinkler head features different programs to cover from an 8.2 feet to 36 feet spray range.
Additionally, it can cover an area of up to 4,100 sq. ft.
Sprinkling Experience
One unique feature of this sprinkler is its automation as mentioned above.
The 8133 Aquacontour features programs of up to 50 contour points, and it can memorize two lawn sizes. Typically, you can use it in front or behind your house effortlessly.
It comes with two ground markers that let you position it precisely when programming it.
The Good
Fully automated irrigation system
It can memorize two lawn sizes
The sprinkler features up to 50 contour points
It sprays up to 4,100 sq. ft.
You can even use it to irrigate specific dry spots on your lawn
The Not So Good
You may have to reprogram it if you are sprinkling specific spots
The pressure adjustment can be tricky to get used to
Check Price and User Reviews of The Gardena 8133 Aquacontour Sprinkler on Amazon

Gilmour Metal Head Impulse Sprinkler 

on Metal Sled Base 
The Gilmour Metal Head Impulse Sprinkler is a heavy-duty sprinkler that is built to withstand the outdoor environment.
Its coverage is also reliable and it comes with multiple spray options.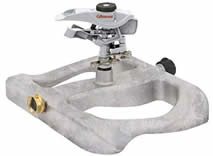 This is the only all-metal sprinkler on our list. Many people swear by sprinklers that have metal heads and will not even consider the plastic alternative.
Keep in mind that although metal heads are better they are also prone to rust.
Design
The sprinkler is made of a zinc head, which sits on a heavy-duty cast metal sled base.
There is a distance control dial on top of the head, and an adjustable collar to control the sprinkler's rotation.
The diffuser screw on the base allows you to adjust the water inflow.
Range
The collar is adjustable to let you set the head either to partial coverage or full (360-degree) coverage.
The sprinkler has an 86 foot diameter range, thanks to the adjustable dial.
Furthermore, it delivers up to 5,800 sq. ft. of coverage.
Sprinkling Experience
This sprinkler is very easy to use, especially when adjusting the spray distance.
The dial on the neck is easy to turn, so is the diffuser spray.
With the diffuser pin, you can customize spray from a gentle mist to a powerful jet.
The Good
It is made of a heavy-duty cast metal sled base and a sturdy zinc head
The distance, rotation, and spray are all easily adjustable
It covers up to 5,800 sq. ft.
It is the cheapest among most sprinklers
The Not So Good
It might not deliver well in a rectangular lawn
The sprinkling can be uneven
You'll have to be careful when handling it, lest it gets damaged/dented
Check Price and User Reviews of The Gilmour Metal Head Impulse Sprinkler on Amazon

Conclusion
As you are shopping for the best sprinklers for large areas, ensure that you consider all the necessary factors. For instance, consider the coverage, ease of use, durability of the sprinkler, the pressure needed, and adjustability.
If you have a large lawn with difficult contours you really should consider using the most modern watering methods. If you have a standard sized lawn that has fairly even dimensions then a cheaper option will serve you just as well.
Typically, always go for a sprinkler based on the size of your lawn.