Buying a separate smoker and separate grill is not only costly but totally unnecessary. Modern grill and smoker combos combine the best of both worlds and the best ones are just as good, if not better, than products that focus on just one cooking option.
However, with so many grill and smoker combos on the market it can be difficult to find the right one. We've taken the heat out of your search by finding the 3 best grill and smoker combos at the best prices out there.
Camp Chef SmokePro DLX PG24S Pellet Grill With Sear Box – Bundle
The Camp Chef SmokePro DLX pellet grill combo offers great value for your money.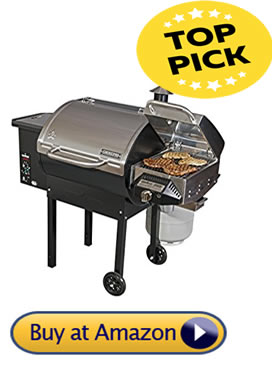 Compared to other combos in the same price category the SmokePro DLX includes more features. The SmokePro DLX PG24S has a patented ash clean-out cup that sets it apart from almost every other pellet grill in the industry.
It is ideal for camping trips or BBQs in the yard.
Large cooking area
The SmokePro has a 570 square-inch cooking area with a 141 square-inch second rack as standard.
This beats out most competition as industry standard at this price point is usually 418 square-inch space + 149 that you need to buy separately!
There is an included side shelf as well.
Cooking
Camp Chef SmokePro DLX PG24S has cooking temperatures of 160 degrees right up to 500 degrees.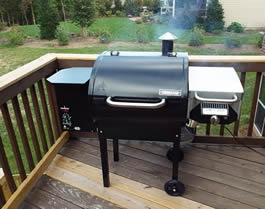 Competitive combos usually only reach 400 degrees.
In addition the SmokePro gives 25,000 BTU/hr, vs. 20,000 BTU/hr from the closest competitors.
There is also an added internal meat temperature probe as standard.
A built-in Shutdown capability, which is almost always offered as a additional extra with smokers, comes as standard with SmokePro.
Innovative Cleaning System
Camp Cherf have developed the Pellet Purge, Patented Ash Clean-out, and Grease Management Systems for easy cleaning of the SmokePro.
The ash cleanout cup offers extremely easy cleaning and unlike most smokers and grills there's no need for vacuuming out ash and debris with the Hopper cleanout system.
Comes With Full Bundle
Camp Chef SmokePro DLX PG24S Pellet Grill comes with the Sear Box Bundle on Amazon.
It has everything you need to smoke or grill. All you need to do is add the wood pellets!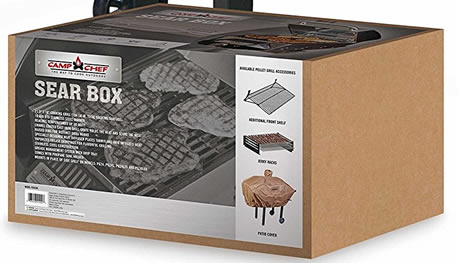 Quick Overview:
Camp Chef SmokePro DLX PG24S comes with Sear Box bundle.

Our choice for best grill and smoker combo.

Offers Pellet Purge.

Includes patented ash cleanout system along with a grease management system.

High 500 Degree Cooking Temp and 25,000 BTU/h

Large 570 Sq Inch Cooking Area with auto-ignite, free meat temp probe, and the EZ hopper release.
Smoke Hollow 4-in-1 LP Gas Charcoal Smoker Searing BBQ Grill Model PS9900
The Smoke Hollow 4-in-1 is another combo that offers exceptional value for money.
It is fueled by propane gas but the grill can be used with charcoal for a more smokey flavor.
The Firebox can be used for indirect cooking and to get that authentic BBQ smoked flavor. The infrared searing burner is great for searing meats.
That's 4 different grilling options in just 1 grill and smoker combo!
Cooking Options
The Smoke Hollow is Gas and charcoal burner with 4 different grilling options:
Propane Grill
Charcoal Grill
Smoker
Infrared Searing
You can use liquid propane as your main fuel source or swap to charcoal for the grill depending on your tastes and cooking style.
Cooking Area
The assembled size of the Smoke Hollow is 82″ L x 23″ D x 53.5″ H. It now has a 80% larger infrared side sear burner with a porcelain-coated cast iron cooking grid that ensures you can quickly seal in the flavour of you your favorite food.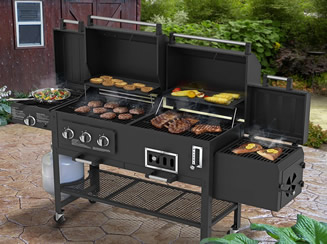 The grids are also 20% heavier than previous versions.
The Smoker Firebox is excellent for BBQ cooking.
Smoke Hollow 4-in-1 LP Gas Charcoal Smoker now has an 80% larger infrared side sear burner that comes with porcelain-coated cast iron cooking grid designed to quickly seal in flavor.
The gas grill has porcelain-coated cast iron cooking grids that are 20% heavier than previous versions and the 3 burners, that are independently controlled for greater cooking versatility, light easily via an electronic ignition system.
The porcelain-coated warming rack is great for cooking delicate foods and vegetables. Or you may prefer to char-grill your veg on the porcelain-coated cast iron cooking grids that are 20% heavier than previous versions of the Smoke Hollow.
The adjustable charcoal tray and the dampers provide much better temperature control.
The offset side smoker firebox is great for indirect cooking and for achieving that authentic BBQ smoking flavor.
Cleaning & Storage
The removable grease and ash pans mean that cleaning is much less messy than with traditional grills and smokers.
There are two lower shelves and 2 condiment racks for extra storage.

Quick Overview:
4 in 1 cooking options:

Liquid Propane Gas Grill

Charcoal Grill

Smoker

Infrared Searing Burner

Ceramic infrared side burner.
Independently controlled three-burner LP (Liquid Propane) Gas Grill.

Charcoal grill with an adjustable charcoal pan for easier temperature control.

Offset side smoker firebox that can be used with flavored wood chunks and charcoal for indirect cooking and authentic BBQ smoke flavor.
Older version of the Smoke Hollow 4 Year Usage Review
Please be aware that the newer version of the Smoke Hollow has addressed many of the issues highlighted in the above video. For example you now get 20% heavier porcelain-coated cast iron cooking grids and an 80% larger infrared.
You should also invest in a cover regardless of what grill and smoker you are using as anything made of metal will eventually rust. Taking a few moments to cover your grill when it isn't in use will add years or even decades on to its life!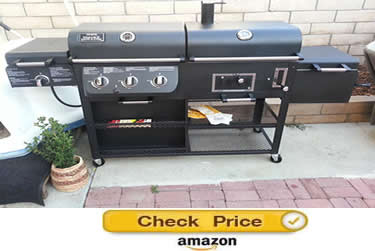 Z Grills Wood Pellet Grill & Smoker 8-in-1 Combo
The Z Grills grill and smoker combo is a wood pellet burner that is a great option for those of us who love those smokey barbecue flavors.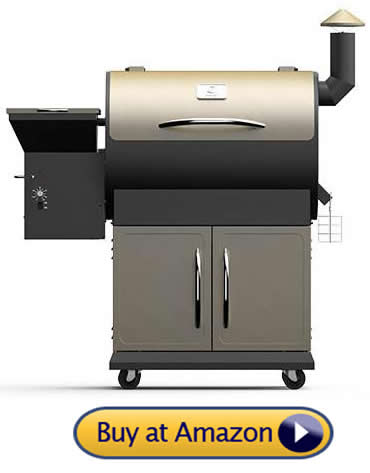 Although this is a pellet burner the Smart Smoke Technology means you don't have to keep returning to the smoker to refill it. An automatic feeder system can maintain the cooking the temperature anywhere from 180ºF to 450ºF for perfect cooking results every time.
Cooking Area
This grill and smoker offers a very generous grilling and hopper area with 513 sq in of main rack and 187 sq in of warm rack.
It has a 20lb hopper capacity.
The unit is kept securing in place with locking caster wheels.
Cooking
The Z Grills Wood Pellet Grill has Smart Smoke Technology ™ that is an automated electric feed system that maintains the cooking temperature from 180ºF to 450ºF with 25,000 BTU/hr.
The fan-forced convection cooking eliminates the need for a rotisserie.
So you get the convenience usually reserved for gas cookers with the authenticity and taste only pellet burners can provide.
The Z Grills offers 8 different cooking options:
Grill
Smoke
Bake
Roast
Sear
Braise
BBQ
Char-grill
This combo really does offer great smoke and BBQ flavor. As it is fueled by 100% hardwood pellets, that generate both the heat and the smoke, your food is infused with a savory wood-fire taste that gives a truly authentic feel to any barbecue.
Flavors can be enhanced even further with different flavored wood pellets from Natural Apple wood pellets to Hickory flavor wood pellets and others.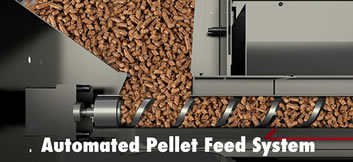 Cleaning
This Z Grills combo has a pellet purge system.
Like the automated feel the purge system automatically pushes out debris for easy cleaning.
Overview
513 square inch cooking area.
187 square inch second cooking rack.
Cooking temperatures of 160°F to 450°F.
25,000 BTU/hr.
20 lb hopper capacity.
Internal temperature sensor.
Pellet purge system.
Electronic auto ignition.
Shutdown recycle mode.
Free weather resistant cover