During those really hot summer days when it can be difficult to get relief either dry heat or hot humidity nothing cools quite as well as a good misting fan. Fans that spray water mist will blow a layer of water into the air and disperse over the nearby area to give you the double effect of cool air and water mist for relief from excess heat.
If the air is dry we also often lose moisture in the skin with the surrounding heat and misting the environment lightly with water can keep our skin hydrated.
In this article, we will be discussing the top fans that spray water mist. We have included the best standing, wall-mounted, and handheld water-misting fans.
Let's have a look at them.
Dynamic Collections Outdoor Standing Misting Fan
If you want a misting fan that is reliable for an outdoor environment, this oscillating fan from Dynamic Collections does a great job.
It is compact but powerful and has variable speeds to suit the specific temperature outside.
Fantastic for use in patios, garden areas or even swimming pools.
Design
The fan comes with an 18″ head that tilts and oscillates in the same way a standard fan does.
It also has adjustable height functionality through a telescopic neck, to help you cover more area. The height ranges from around 40″ to 51″.
There is a faux rope design in a gorgeous deep bronze color located at the bottom of the fan which gives the fan a really old-school authentic look.
It weighs 31 pounds, which might seem heavy, but the extra weight helps to stabilize the fan base for use in an outdoor environment where the wind would cause a problem for lighter units.
Cooling Speed/Misting Coverage
This Dynamic Collections misting fan comes with three cooling speeds. You can set it at low (900 rpm), medium (110 rpm) or high (1280 rpm) depending on the temperature or your personal preferences.
The low setting is for a gentle breeze, whereas the high setting is for maximum coolness.
The coverage of the fan will depend on the wind outside, the height you set the neck (and the angle you point it) and the speed setting.
Typically, even the lowest speed has great range being able to blow up to 10 feet away.
Water misting is provided with a misting kit that is very easy to attach.
Usage/Convenience
There is no complicated assembly with this fan. Just an easy set-it up and then you turn it on.
It is strong and has great coverage but it can be noisy.
It has a wet-listed safety rating, which means you can easily use it outdoors or in any wet environment such as near a swimming pool where water tends to get splashed around.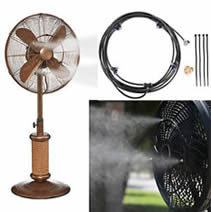 Some people have complained that the misting function is too heavy and they get wet when using it. However, it seems this fan is best loved in very hot arid areas of the country.
The Good
It is strong and sturdy
Looks great
The height and head are adjustable
It has three-speed settings
Bronze-coated to withstand the outdoor environment
It is easy to assemble and use
Coverage is great
Mist is very cooling on very hot
The Not So Good
It is somewhat noisy
The mister can leak (though it doesn't affect the misting capability)
The mist can be too much for some people in less warm areas
Check Latest Price on Dynamic Collections Standing Misting Fan
NewAir Oscillating Outdoor Misting Fan
The NewAir AF-5208 Oscillating Outdoor Misting Fan is another great pick to use on your patio, deck, or swimming pool.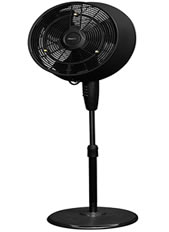 It has been designed to withstand the outdoor weather and environment. This one will offer a widespread cooling and misting experience.
Design
The fan comes with an 18″ head for great wide coverage and is offered in a deep-black color.
The head tilts and turns and you can also adjust the height from 45″ to 54″.
It only weighs 21 pounds, making it light enough for easy moving. The base is wide and heavy enough to prevent it falling over on a windy day.
Cooling Speed/Misting Coverage
This fan also comes with three speed settings low, medium, and high.
It is strong enough to deliver almost 500 sq. ft. cooling/misting of your space though there is also a 600 fosq. ft. model
.
The misting function can work when on high speeds for total cooling and also offers a gentle breeze that will keep you refreshed on the hot summer afternoons after the temperature begins to drop.
The fan is compatible with a regular garden hose of 0.75″. This is a great feature that eliminates the need for a cooling/watering system.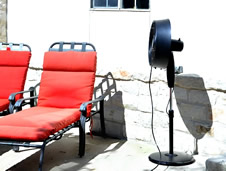 You can turn off the misting feature if you don't need it.
Usage/Convenience
This fan is simple to assemble and operate.
The easy push buttons assure you of a user-friendly experience.
As mentioned above one of the great things about this fan is that it is compatible with your regular garden hose.
The Good
500 sq ft coverage
Adjustable height/head
Easy to install/use
Flexible speed settings
It covers a wide area
A stable base perfect for the outdoor environment
Compatible with standard garden hose
The Not So Good
It doesn't have an adjustable nozzle pressure setting for the mist (the mist can sometimes feel too much)
The tubing line (hose) can break-free too easily
Check Latest Price on NewAir AF-5208 Standing Misting Fan
Wall Mounted 18″ Misting Fan
This wall mounted misting fan from iLivingfan would serve well in any loading dock, warehouse, garage, or a large patio area or on a nearby wall of a deck.
It would also be a great choice if you don't have enough floor space for a large standing fan.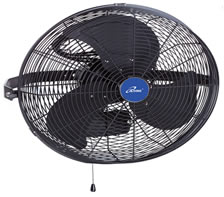 Many restaurants and bars now opt for mounted units like this as they are far enough away from customers to avoid damage and accidents while still being able to cover the area.
This wall-mounted fan is also waterproof, so you can comfortably use it in an outdoor or wet environment.
Design
The iLiving ILG8E18-15 fan measures around 8″ by 23″ by 22″.
The fan blades are curved and measure 18″ long. The blades are also aluminum and powder-coated, which limits the chances rusting.
The entire unit weighs just 20 pounds to limit strain on walls. It needs to be secured strongly though using the attachments provided.
Cooling Speed/Misting Coverage
The fan offers three adjustable speed settings that let you set it according to the environment.
The fan has a powerful motor to blow air and/or mist in a wide area, but it can be somewhat noisy.
It is deigned to be to use with the ILG misting kit. However, you will have to buy the ILG misting kit separately though cheaper misting systems do the job just as well – this misting kit is fairly inexpensive currently running at about 15 bucks.
Usage/Convenience
The setup is not complicated at all. However, you will need to be careful when mounting it to the wall.
Caution and attention to detail is needed to prevent the unit from falling off the wall.
The fan has a pull cord for easy regulation of the speed settings so it needs to be within arm's reach to operate it.
The Good
Great coverage when mounted high on a wall
It has strong aluminum blades
The fan is waterproof
Adjustable speed settings
The wall bracket is adjustable
Great for bars & restaurants
The Not So Good
This fan doesn't come with the ILG misting kit – though cheaper misting systems work just fine with it
It can be quite noisy
Check Latest Price on iLIVING Wall Mount Outdoor Waterproof Misting Fan
Handheld Misting Fans for Kids (& Big Kids)
Though there is a great adult handheld misting fan available (see link below) these kids misting fans are more of a fun item. Although they could have better functionality they are really great if you have kids who complain on hot days.
There are two different types available – one for girls and one for boys.
Although there are multiple designs in the O2Cool range there is also a unique Minnie Mouse pink colored personal misting fan (pictured right) that is actually a great little fan.
This neat Disney handheld fan will help make any little girl smile while keeping her cool at the same time.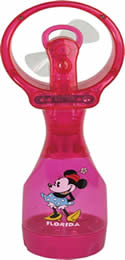 There are other licensed misting fans from O2Cool that are not as good from a functionality point of view but that look great. These fans feature Marvel, the Hulk, Superman and more for the boys while the girls can choose from Frozen, Avengers girls, princesses and others.
Design
These fans come in really nice designs that kids love.
The Minnie Mouse fan (featured right) is more curved that other licensed product and is actually a better fan. It is curved around the neck area to let a child handle it with ease.
It measures around 5″ by 1″ by 5″ and weighs just 3 ounces, so it's super lightweight.
The fan is made of a high-quality hard plastic that is strong enough to match the outdoor conditions and it should survive a fall or two.
The other fans are not as good as the stand-alone Minnie Mouse fan (and are cheaper) but they look great and the mister works well.
They are also able to handle knocks and drops though the exposed blades could get damaged much more easily from a drop to the ground.
Cooling Speeds/Misting Coverage
Unfortunately, these O2Cool personal misting fans come with only one speed.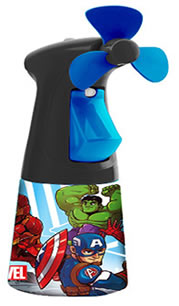 On the Minnie Mouse fan this is more than enough to create a nice little breeze but the other struggle. However the mister works great on both unit types.
It has a water tank capacity of 500ml, which isn't that bad for such a small fan. It can only cover around 1 meter or so when spraying the water mist but this is more than enough for child.
Usage/Convenience
These fans are very easy to use. They come ready-to-use and all you have to do is fill the water tank with water.
You'll also need to buy the 2 AA batteries though, so ensure that you get long-lasting batteries though the batter life in both fans is very good.
The fan switch is located just below the blade for easy accessibility.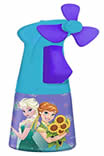 It is hand-operated and very easy for a child to use.
The Good
Fantastic for kids
Minnie Mouse fan works great
Small, light, and easily portable
Very easy to use
Made from hard plastic to be knock-resistant
Super affordable
Very useful for traveling
Has a decent tank capacity for a kid's handheld fan
Minnie Mouse has a carrying strap
Large range of characters to choose from
Long battery life
The Not So Good
Apart from the Minnie Mouse stand-alone fan the fans are not great for blowing air (the mist works fine on all of them though)
You will have to buy your own batteries
The open fan blades can break if the fan is dropped (Minnie Mouse blades are protected).
On very hot days it will need constant filling
Check Latest Price on Disney Minnie Mouse Personal Misting Fan
See the Full Range of Kids Personal Fans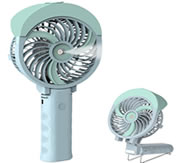 Check Best Rechargeable Adult Personal Misting Fan

Conclusion
When you decide to pick the fans that spray water mist, always ensure that you choose the one that suits you accordingly.
Typically, consider the power of the fan, mist coverage, reliability, durability, and efficiency.
The adult personal misting fan
featured to the right is fantastic for use on hot days and is fully rechargeable.