In most of the circumstances, when you're looking for a chainsaw, one of the criteria for selecting one is that it should be easy to operate. At the same point in time, ease of operation should not mean that it does not constitute proper power. That is why you have to look into multiple factors when you are choosing the chainsaw. Not all chainsaws are created equal!
You need to keep in mind that if you want the best chainsaw with easy operation, you should opt for a cordless battery operated one rather than a traditional bulky gas-powered machine. When you opt for a battery operated one you will have several choices so why should you choose a Dewalt?
Dewalt Battery Operated Cordless Chainsaw
Obviously being battery operated the cordless Dewalt chainsaw means you will not have to worry about a cord. Corded power tools carry dangers that are simply not present on the cordless alternatives.
The Dewalt chainsaw is superior to many of its competitors in part due to the power offered by it 20 V battery.
One Battery Fits All
The power source of the Dewalt cordless chainsaw is such an important component that it is worth mentioning.
The Dewalt 20V battery that powers the Dewalt cordless chainsaw will also power all other tools within the Dewalt Max range.
Unlike most traditional garden power tools that come with their own power source the 20V Dewalt battery is a cordless power source that can be removed from one tool and attached to another within the Dewalt Max Tool range.
This features means you can save a lot of money as you can buy all tools within the Dewalt Max range with or without batteries. So, simply by purchasing one (or better 2 so you always have a charged battery) you can quickly build up your arsenal of garden tools at a lower cost.
The battery has a long running time and Dewalt has even provided some simple guidelines to get even more running time and life from the battery.
Features:
Compatible with DEWALT 20V MAX tools

Compact, light weight design

Premium XR 5.0Ah Lithium Ion battery

12″ bar and chain
C

hain speed of 25.2 feet/second

3 year limited warranty

Features of the Dewalt Battery Operated Chainsaw:
12 inches of bar and chain:
You need to always keep in mind that when you look at the chainsaw, the size of the bar and chain and the size of the blade is very important.
With 12 inches of bar and chain, you will not have any complaints from this particular chainsaw.
It is suitable for construction applications as well as every day residential use.
The heavy-duty power and chain also makes it suitable for all outdoor cutting applications regardless of weather.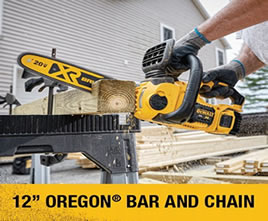 Efficient motor:
In any chainsaw, the efficiency of the motor matters a lot. You need to keep in mind that if the efficiency is less in a battery-operated chainsaw, the battery will not last for a longer period of time.
That is why it becomes even more important to look into the efficiency when it comes to a battery operated chainsaw.
You will have no complaints from this particular chainsaw as it consists of a brushless motor which increases the efficiency. Also, the runtime is significantly increased.
Owing to the brushless operation, the motor life is increased significantly as well as this maximizes run time and overall motor life.
The powerful motor outs a chain speed of 25.2 feet/second.
Easy to change the tensioning of the chain:
When using a chainsaw for different applications, it is very often necessary to change the tensioning of the chain. Failure to change the chain tension is not only detrimental to getting good results from your chainsaw but it can be dangerous if it isn't done correctly.
Most commercial chainsaws require specific chain tensioning tools. For this reason and for safety concerns most commercial chainsaw operators receive training in the use of this powerful power tool.
With the Dewalt battery operated chainsaw no training nor special tools are required to change the tension of the chain as it offers tool free chain tensioning.
There is also a bar tightening knob for proper bar clamping force.
Compact form factor:
When you look at the form factor of this chainsaw, you will realize that it is compact as compared to many others. Many commercial grade chainsaws are incredibly bulky and difficult to control.
As a result of the compact design of the Dewalt battery operated chainsaw it it is easy to use and for this reason is popular among women as well as men.
In addition to to the compact design this chainsaw is lightweight weighing in at only 8.8 lbs.
The lightweight compact design ensures that you are able to control the direction of cutting quite easily.
It also means that you will avoid muscle fatigue and thus be able to use it comfortably over longer periods of time.
The learning curve of the chainsaw is also significantly reduced owing to the compact form factor and no-tool adjustment features.
 Summary of the Dewalt Battery Operated Chainsaw
As you can see, the number of features which are available in this chainsaw outweigh most of its competitors.
This is the reason we feel this chainsaw is the best option compared to the closest competitors
The numerous features which are on offer make it much more versatile when compared to some of other chainsaws on the market.
When we look at an essential must-have list of tools used in gardening many people feel that power tools should be included like a cordless edger with blade, chainsaw and not just the obligatory lawn mower.
Although there is a great alternative to the Dewalt cordless chainsaw, namely the chicago electric chainsaw, the other Dewalt products in the Max range that can be powered by the same battery makes this our top choice.