Not all dirt is created equal. Some dirt is resistant to ordinary cleaning methods and a standard water hose just won't cut it. Some dirt needs power cleaning. Below we have chosen the very best pressure washers. We selected 3 separate power washers based on PSI and energy source – we have included both gas powered models and electric models.
SIMPSON MSH3125-S 3200 PSI Gas Powered Pressure Washer
This product is powered by gas so it can be moved around freely without worrying about having access to electrical sockets.
Some of its wonderful features include:
Gas Power & High Water Pressure
Unlike many electrical alternatives the Simpson MSH3125-s pressure washer packs a real punch due to its Honda gas engine which gives you access to 3200 PSI at 2.5 GPM.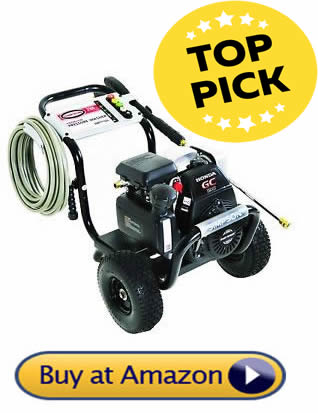 The powerful Honda built GC190 engine offers more than enough power to quickly eliminate mess and ground in dirt on any cleaning surface.
This pressure washer is perfect for all floor types whether they be wooden, tiled or marble.
It is also safe to use on windows, garden fences, decks, outdoor furniture and patios. A popular usage of this type of high powered washer is for prepping home exteriors for painting cleaning rooftops and other jobs that usually require commercial services.
Dirt just doesn't stand a chance against this type of pressure wash.
Faster Cleaning with Minimal Investment
Honda's Simpson MSH3125-S is designed to help you easily handle even the most demanding cleaning task. From cleaning swimming pools and decks to blasting dirt from car wheels and floors this machine gets the job fast.
This result in a saving of time while achieving the task of keeping your home clean. It is able to achieve this because of its ability to generate high pressure combined with a good flow rate.
With a very generous 3200 PSI at 2.5 GPM, the Simpson MSH3125-S eliminates all dirt, grime or even mildew from any hard to remove spot or area with ease.
Kink & Abrasion Resistant Hose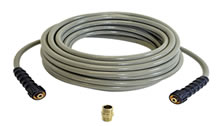 What greatly helps set the Simpson MSH3125-S stand apart from the competition is the flexible, lightweight, 1/4-Inch x 25-Foot MorFlex high pressure hose.
This hose is abrasion resistant and kink resistant ensuring water pressure remains constant and also adding to the life-span of the hose.
It is fitted with M22 connectors for a very secure fit.
Versatility
From washing the exterior of your home to cleaning decks, the Honda Simpson MSH3125-S is able to take on just about any outdoor cleaning job.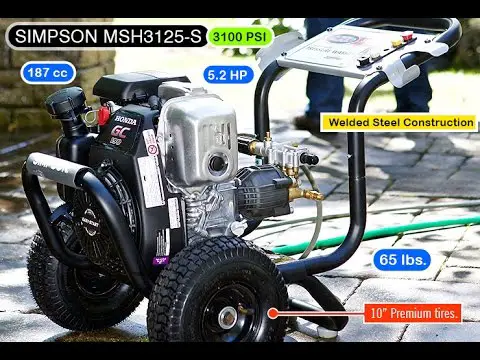 No matter the residential application you want to apply it to, this product is powerful enough to remove even ground in dirt.
Its mobility makes it convenient and as long as you have spare gas you can run it indefinitely.
Nozzle
The Simpson MSH3125-S gives you the choice of 5 different quick-connect nozzle tips designed for various surfaces.
Nozzle tips:
0°
15°
25°
40°
Soap
Commercial Specs for Home Use
Although the MSH3125-S is most popular among home users Honda have ensured the pressure washer comes with commercial specifications. This includes level safety protocols.
The professional spray gun has a safety lock-out.
This high pressure washer may be designed for home use but it is made from heavy gauge frame components has a welded steel construction and comes with generous 10" wheels.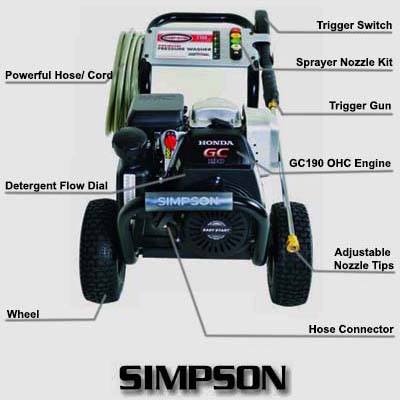 Comes with a Generous Warranty
Warranty Details:
ENGINE – 2 Year Limited Consumer Warranty
PUMP – 1 Year Limited Warranty
FRAME – 5 Year Limited Warranty
You should note that Honda tests their equipment before it is shipped. Therefore sometimes your machine may contain minimum residual fuel or fuel odor. This does not mean the machine was pre-owned or a demonstration model.
Even though all the oil and the gas is removed from the engine after it is tested it is normal for a small amount of residual oil and/or gas odor to be left in the engine.

Generac 6922 2,800 PSI, 2.4 GPM, Gas Powered Pressure Washer
This electric pressure washer helps you out with your basic cleaning needs in the home.
It is appropriate for cleaning a sidewalk, clearing gutters, and so on.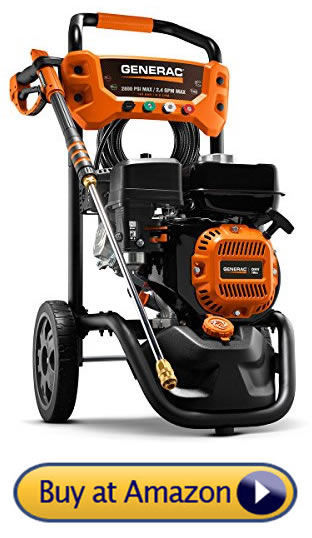 The following are some of its features which make it a great product to own:
Power and Water Pressure
The Generac 6922 was designed with its user in mind. The lightweight nature of this pressure washer along with its gas powered engines means you can move it around without breaking a sweat.
The 6922 houses a Generac OHV horizontal-shaft engine that allows the power washer to offer 2,800 PSI, 2.4 GPM.
The pump is well above ground level ad sits at the same level as the engine making the hose connections convenient and easy.
Ergonomics
The Generac 6922 is designed with ergonomics in mind. Starting this pressure washer is as easy as squeezing the easy-to-pull spray trigger trigger on the cushion grip handle specially designed to improve comfort during cleaning.
The trigger and grip design greatly reduces fatigue making this pressure washer ideal for anyone who has challenges gripping items due to arthritis or muscle problems.
This means its response is in real-time which makes it a great convenience for users who do not have to worry about start issues. As easy as it is to start this product, getting it to stop is also easy. Just let go and this wonderful electric power washer shuts down automatically.
Integrated Detergent Tank
The Generac 6922 comes with an integrated ½-inch gallon detergent tank which provides convenient on-board storage for cleaning detergents.
Versatility
Although the Generac 6922 does not offer as much power as the Simpson MSH3125-s it is just as versatile. This pressure washer can handle all household power washer applications.
It is designed with 10″ never-flat wheels to make maneuverability easy regardless of the terrain.
Nozzle
The Generac 6922 gives you the choice of 4 different quick-connect nozzle tips designed for various surfaces.
Nozzle tips:
0°
25°
40°
Soap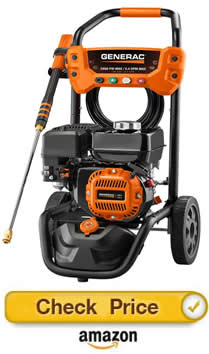 Karcher K5 Premium Electric Power Pressure Washer, 2000 PSI, 1.4 GPM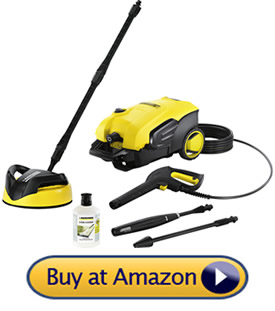 The Karcher K5 is our last choice for best pressure washer for home use and is the only electrically powered washer on our list.
Clean Energy Without Compromising on PSI
The Karcher K5 is electrically powered making it an ideal choice for environmentally-friendly users.
Although the 1.4 GPM is lower than the gas models reviewed in this post the K5 still offers 2000 PSI. In fact there is even a 3000 PSI version available from Amazon
Cleaner. Quicker.™
According to the manufacturers the Karcher K5 can clean up to 50% faster than its competitors.
They call this technology Cleaner. Quicker.™
Spray Wand & Hose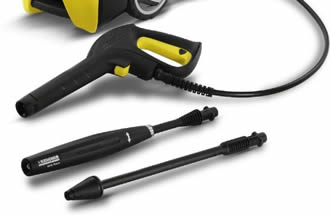 The pressure hose reel is fully integrated for easy storage and has 25 ft length allowing for access to large areas without having to drag around the washer.
The Vario Power Spray wand can be easily adjusted for a variety of sprays right from the Dirtblaster® spray wand.
The wand is part of the technology that helps the K5 tackle jobs in half the time of its closet competitors.
Summary
The pressure washers listed above are able to get rid of deep-seated dirt and can tackle most outdoor cleaning jobs.
The one that is the best fit for you will depend on several factors. is not better than the other as it all depends on what your requirements are. The things you need to consider are:
1. Type of Jobs:
Some cleaning jobs are much heavier than the others.
While a pressure washer with 1800 PSI is more than good enough for standard household cleaning jobs it will not be sufficient for those jobs that would require a more commercially capable machine.
2. The Area to Cover:
Consider the distance you need to cover with pressure washer.
How long is the hose? Can you easily move the washer? Will the power source last long enough to finish your job?
3. Indoor/Outdoor Use:
As a safety precaution, it is not wise to make use of pressure washer inside a home. However, it is possible to use a power washer in an indoor court area to clean heavily used tiles and concrete floors.