There is no disputing the fact that there are lots of hot tub gazebos for sale at different price points on the market today. However, just like indoor saunas, and hot tubs, there are some hot tub gazebos that stand head and shoulders above the others.
Below are our 5 best picks based on quality, size and price point.
Naramata Spa Gazebo
The Cedar roof of the gazebo comfortably accommodates a standard spa to create an exotic backyard hang out that has a distinct beach feel about it.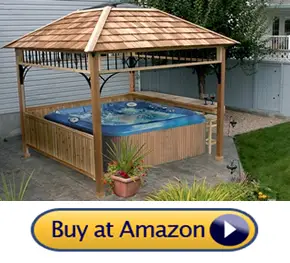 The gazebo spa is designed to stand on its own without the need for fastening it or having it secured to the ground.
The Naramata spa gazebo create that luxurious spa resort feeling which is heightened by the skylight that allows in generous amounts of light.
The 9×9 Naramata Spa Gazebo is well-designed using black aluminum balusters and corner brackets.
Sunset Boulevard Pergola
This large high-quality spa gazebo measures 11 feet by 9 feet and comes pre-drilled.
Enjoy sipping your favorite drink from the attached bar as you relax with members of your family.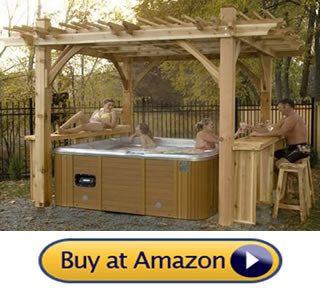 Assembling the Sunset Boulevard Pergola is a breeze once you follow its step-by-step detailed assembly manual because it comes with notched and pre-drilled girders, notched and pre-marked joists, in addition to 4 posts of 5-3/8″ x 5-3/8″ with tight knot construction.
Provision is also made for nails, screws, and lag bolts to enable a seamless installation.
When fitted in your yard you get a sturdy shade canopy with a bar included that matches anything you would see in a Caribbean luxury beach resort.
The interesting thing about hot tub gazebos list is that they can be gotten much cheaper when the hot tub and gazebos are bought separately. Here are some options to choose from:
Westview Aspen 12 x 16 Ultrawood Luxury Spa Gazebo
If you have the money to spend then this luxury large hot tub gazebo is among the most highly rated on the market.
It is a great home product constructed of ultrawood, which is heavy duty composite material that looks and feels like wood but that last much longer, for durability and is very low maintenance.
The Aspen is a 12 x 16 large hot tub gazebo that provides room for an 8 foot square spa and comes with a Duraflex PC roof with dimensions of 159 1/4″ x 203 3/4″.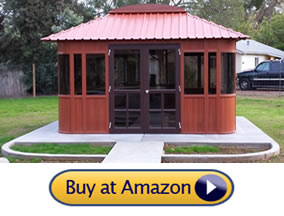 It has ample room for chairs or even a sofa for relaxing around the hot tub.
The entrance has 2 large lockable sliding patio doors that are made of heavy duty aluminum with tempered glass. You can customize its entrance doors to be on any side of the gazebo.
The entrance of this gazebo consists of 2 large lockable sliding patio style doors constructed with heavy duty aluminum and tempered glass.
Other notable features of the Aspen include 2 large 6-sliding tempered glass lockable windows, an exterior wall to wall with dimensions of 137 3/8″ x 184 5/8″, and an interior wall to wall with dimensions of 132 5/8″ x 179 7/8″.
Chatham Steel Hardtop Gazebo
Although the Chatham Steel Hardtop Gazebo by Sunjoy has been specifically designed as a hot tub gazebo it works exceptionally well in this role.
The 10 x 12 feet measurement of this beautiful gazebo makes it an ideal choice for housing a hot tub and its elegant style will enhance the beauty of any yard.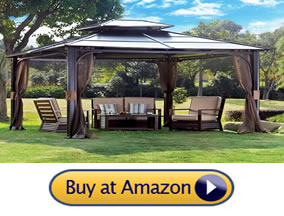 Its hard top metal roof is vented and promotes the free flow of air that also makes it perfect for hot tun use.
The roof is powder-coated to resist rust and last longer than gazebos made from other materials.
Other features which include its resistance to corrosion and anti-chipping roof makes it a durable product.
This product which can be secured with bolts or stakes is large enough to accommodate even a very large hot tub.
It has a peak height of 120″ and a clearance height of 79″.
Great Deal Sonoma Gazebo
The Sonoma is a great low cost gazebo that offers the same style and feel as the Chatham but at a greatly reduced cost.
Its dimension are 118.00″L x 118.00″W x 107.25″H.
You will have lots of fun in your hot tub under the protection of this gorgeous steel and fabric gazebo.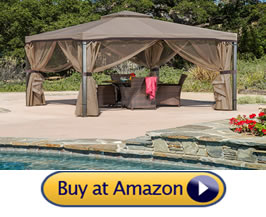 The polyester fabric coverings and steel frame give this a gazebo a luxury rich feel without the cost of a luxury product.
The Sonoma will fit into your garden and bring out its beauty. We've seen a Sonoma in use in a garden that was adorned with metal sculptures so it acted purely as a decorate item – yes it looks that good.
However, with its large area, durable steel frame and polyester fabric that offers the perfect shade solution this gazebo is an excellent candidate for a hot tub enclosure.
The Sonoma gazebo is available in beautiful Beige or light brown and is incredibly easy to assemble.
This gazebo comes with a durable steel framework and an adjustable netting to protect you and your guests from the elements.
The installation of this product is seamless plus you get all the tools required and a detailed instruction manual as well.
Need a Hot Tub to Go With Your Gazebo?
Essential Hot Tub SS215377403 Polara
You may already have a hot tub but if you don't you should consider the Polara.
This hot tub not only offers top of the range spa-like features but looks so good it will enhance the beauty of any gazebo.
The tub offers up to 6 people an luxurious escape from the worries of life as the 50 stainless steel jets, including rollover neck and shoulder jets with a full-body lounger to relieve muscle tension and fully relax the body.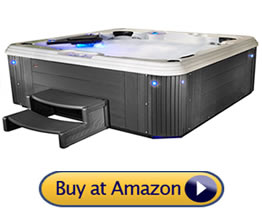 Its engineering is superb and comes with a complete heavy-duty tapered insulated cover which is one full inch thicker than industry standard covers and includes locking clips.
There is room for 5 to have spacious room and it is comfortable enough for 6 people in a sitting position.
Its 4kW Balboa stainless steel heater is perfect for all-year-round use and the provision of a full-body lounger combined with its rollover neck/shoulder jets ensures that you tension melts away while in the hot tub.
Nothing beats unwinding in a hot tub under the protection of a gazebo after having a stressful day.
Besides adding to the beauty of your yard it offers you an opportunity to take in some fresh air while experiencing the comfort and luxury of an indoor spa.
The aesthetics offered by hot tubs and gazebos is something which will draw the admiration of your home guests. Give your outdoor space the touch it deserves today by treating yourself and taking advantage of the lower rates offered by hot tub gazebos for sale online.