Screened gazebos are a must-have garden item if you love the outdoors but live in a warm climate where mosquitoes and other biting insects thrive. Gazebos can be great for a variety of uses from eating outdoors to dips in the hot tub but how do you know which ones offer the best value and usability? Let us help.
Here we review the top 4 screened gazebos for sale online based on size, quality and price point.
Clam Corporation 9879 Quick-Set Escape Shelter
The Clam Corporations screened gazebo is our first pick for an easy-mobile gazebo. It measures in at an impressive hub to hub of 140″ x 140″ and is great, not just for the garden but also, for traveling.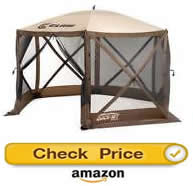 A big selling point of the 9879 quick-set-up screened gazebo is that it requires no assembly. The gazebo is ready to use the moment you get it because of its ability to be set-up in a mere 45 seconds.
The quick set-up time is impressive considering this is not a small gazebo. Up to 8 people can comfortably fit into its 94 square-foot of interior space with more than enough room for chairs and table.
With a center height clearance of 7 feet 7 " (90″) the gazebo feels roomy and the height clearance also means you can easily cook a meal in it.
There is no need to worry about bugs getting into the shelter due to its mesh screens and Quick-Set escape screen.
Wind panels add extra protection while the built-in roof flaps detour any rainwater down over the wind panels and away from the enclosure.
The roof is fully water-resistant and has taped seams with triple layer corner pole pockets for greatly reduced wear-and-tear.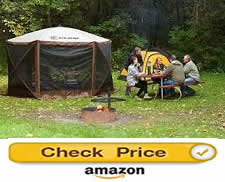 Features:
94 sq-ft space.
7 feet 6″ (90″) head clearance.
Mess screens.
Quick-Set escape screen.
45 second set-up.
210 denier poly-oxford fabric that comes with 600 denier in the center section of its roof.
50+ UV guard protection.
Extra-large, flex-test 11mm fiberglass support poles which connect via easy hub-style assemblies.
An over-sized carry bag for easier storage (no trying to squeeze the gazebo into a small bag).
6 deluxe tent stakes & tie down ropes.
The pack size measures 72″ x 8″ x 8″.
Available in beige or brown this roomy, easy to set-up screened gazebo looks great.
Set Up of Clam Corp Screened Gazebo (video)

Available from Amazon
Coleman Back Home Instant Screenhouse
This attractive brown and white screened gazebo does not only look good on the eye but its a fully portable screened shelter that offers all the protection you need against the elements and bugs.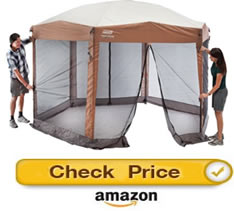 Setting it up is a breeze as it takes about 3 minutes via 3 simple steps.
Also included is an easy-pull wheeled carry bag designed to fit inside most cars.
You can gain access to the gazebo via the front or the back using any of the two large entrances.
Designed using durable polyguard 2X double-thick fabric the Coleman is made to last.
It also comes with UPF Sun protection and a UVGuard 50.
Features:
90 sq-ft space.
12 x 10 feet.
Mess screens.
2 entrances at front and rear.
Easy 3 set-up.
Set-ups in less than 3 minutes.
Polyguard 2X double-thick fabric.
UPF Sun protection.
50+ UV guard protection.
An easy-pull wheeled carry bag.
The pack size measures 72″ x 8″ x 8″.
Coleman Instant Screenhouse Set-up (video)
Coleman Instant Screenhouse End of Season Review (video)

Available from Amazon
Luxury Sunjoy 10 x 12 Chatham Steel Hardtop Screened Gazebo
For those of you who love a little luxury we have included the Sunjoy Chatham. This steel hardtop screened gazebo may not fit into everyone's budget but if you do have over a grand to spend then this is the one to go for.
This gazebo is very spacious offering 10 feet by 12 feet of room which is more than enough to include a variety of furniture and more than a few friends.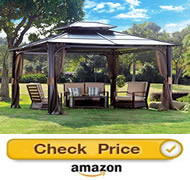 Apart from the obvious luxury aspect to this gazebo you also get a long lasting and very durable product that justifies its price point.
Its aluminum and steel frame comes powder-coated as a measure to prevent rust, corrosion and chipping.
It can be left up year-round, though if you live in an area that gets heavy snowfall we recommend you clear the snow from the roof to avoid damage from the excess weight.
The vented roof enables the free flow of air in and out of the gazebo while still keeping out rain. This also means you can burn a propane or similar heater within the gazebo when you are using it. We don't recommend you burn any heater when the gazebo is not in use as it would pose a fire-hazard.
The gazebo is resistant to collapse and weather since it can be permanently secured to the ground via bolts or stakes.
This stylish product, which is capable of enhancing the beauty of any garden or decking area, has a clearance height of 6 feet 6″ (79″) and peaks at a height of 10 feet (120″) to give a feeling of expansion and space.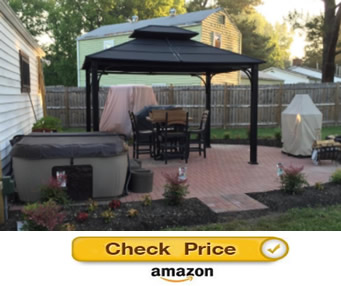 The beautiful brown screens complete the look of this luxurious screened gazebo.
Features:
Large 10 x 12 foot space.

Clearance height 6 feet 6″ (79″).

Peak height 10 feet (120″).

Steel hard-top roof is very long lasting and extremely durable.

Aluminum & Steel rust resistant frame.

Frame is powder coated to resist rust, corrosion and chipping.

Vented roof for optimum airflow means you can use propane heater.

Can be bolted down to make a permanent.
Sunjoy Luxury Screened Gazebo (video)

Available from Amazon
Gazebo Penguin 41215 Permanent Screened Gazebo
The Gazebo Penguin is a large permanent screened gazebo with dimensions measuring 12 by 15 feet.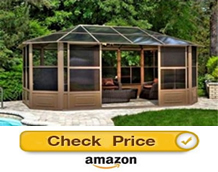 This gazebo has a baked enamel finish which means that the heavy duty aluminum which it is constructed of is 100% rust-proof and capable of withstanding the elements.
The aluminum frame is powder-coated and the poly-carbonate roof is UV treated for optimum protection from harmful UV sun-rays. The roof is also reinforced to offer protection against strong winds, heavy rain and snow.
The 2 sliding doors are capable of opening either to the right or to the left and there are 5-position wind panels. There is provision made to place its sliding doors on either side of the gazebo.
The screens of this product are made of durable and attractive fiberglass.
A great feature is the inclusion of internal hooks designed for hanging light fixtures so you can use this gazebo at dusk and at night.
By allowing homeowners and their loved ones protection all-year-round and the capability of use day and night this permanent gazebo earns the right to be named an "all season solarium".
It is also an excellent option if you are looking for a hot tub gazebo.
41215 Penguin Gazebo Specs (video)

Available from Amazon