Residential flag poles are usually different from commercial flag poles only in price and size and afford homeowners the chance to display their patriotism and love of their country for a reasonable investment. With lots of them on the market though it can be difficult to know what offers the best quality and value for money.
So, we have listed the 4 best vertical residential flag poles and our choice for best outdoor wall hanging flag pole below based on quality, size and price point.
Luxury Life USA 25 Foot Flag Flag Pole Set
This sturdy residential flag pole is 25 foot high and guaranteed to never rust. Although it is designed for residential use, this product's pole looks every inch like a commercial grade product.
This anodized aluminum flag pole comes with a high quality 4' x 6' sewn nylon, USA made, American flag.
The flag, made by the US company Valley Forge, has beautiful embroidered stars and colors that really punch.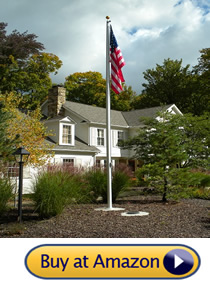 Installation of the flag pole, and attaching the flag, is a breeze with no need for expert assistance (if you've never done it before it can appear to be a daunting task) nor is a crane required.
Simply ensure that the ground sleeve is cemented into the ground in order to hold the pole in a vertical position for sturdy foundations. If installed correctly the pole will survive the worst of weather even if the flag doesn't.
River Styx Publishing, the sole provider of Luxury Life products, offers a lifetime guarantee for the pole – obviously this guarantee does not extend to the flag.
You will find all the accessories and fittings necessary for installing the kit in the package you receive.
The pole is constructed with 6 sections of sturdy anodized aluminum that fit seamlessly together and comes with standard good quality fittings.
At the top of the pole is an attractive 3″ diameter gold ball ornament, a heavy duty ground sleeve, and a cast aluminum truck with pulley.
Also included is a solid braided polypropylene rope (halyard) with 2 strong flag snaps and a cast nylon rope cleat with good quality mounting screws.

Annin 21 Foot

American Flag Pole Set
This very high quality 21 foot Liberty flag pole is USA made and uses the patented No-Drop Posi-Loc® which is a dual-locking system that prevents the pole from collapsing even in adverse conditions.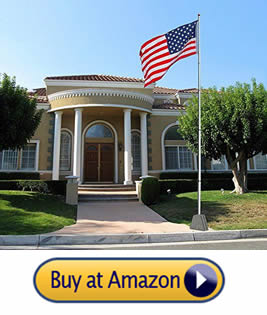 Its polished aluminum finish is fully rust-proof.
The flag pole has been constructed from four sections which graduate from 1.75 to 2.5 inches. Although this flag pole can telescope to 21 feet, it can easily be adjusted to just 9.5 feet.
The flag will wave freely 360 degrees due to the No Wrap Swivel System.
The flag manufactured by Annin Flagmakers, who are America's largest manufacturer and distributor of U.S. flags – they are also the oldest having been established in 1847. At the time of writing this review Annin currently employs 500 people in the US.
Its flag is expertly sewn and flies well even in a light breeze. The stripes are sewn with lockstitch stitching and the stars are embroidered with a vivid vibrant white. The brass grommets really help to highlight the flag's colors.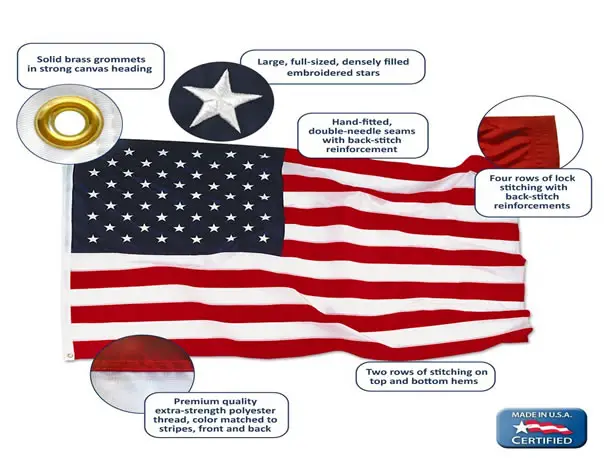 The flag also has the ability to block damaging UV rays so it keeps its punchy colors much longer than standard outdoor flags.
Each flag sold is an authentic hand crafted Annin Flagmakers flag and no a reproduction. Therefore you can be assured that your flag is shipped directly from either South Boston, VA or Coshocton, OH.

Luxury Life USA 20 Foot Flag Pole Set
This residential flag pole measures 20 feet high and, as it is also made by Luxury Life (like flag pole set 1), and is therefore guaranteed to never rust.
There are 5 silver anodized sections of this flag pole which fit seamlessly to provide a smooth appearance.
The wall thickness of this flag pole is a thick 16 gauge.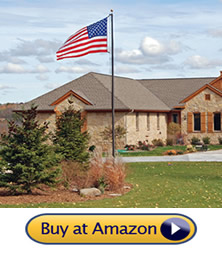 The installation of this product, which comes with good quality fittings and installation instructions, is hassle-free.
The fittings include a solid braided polypropylene halyard (rope) with 2 strong flag snaps, a cast nylon rope cleat with quality mounting screws.
A 3-inch diameter gold ball ornament adorns the top of the pole while a heavy duty ground sleeve, and a cast aluminum truck with pulley mean easy hoisting and lowering of the flag.
The flag, that comes with the flag pole as standard, is perfect match for the height of the flag pole measuring 3ft x 5ft and is sewn with Nylon material.
In order for the flag pole to hold solidly it is necessary for its ground sleeve to be cemented into the ground.
16 Foot Foot Flag Pole Set
Topeakmart heavy duty 16 foot aluminum flag pole is great for residential use.
This flag pole is much cheaper than the others listed above and does not offer the same degree of quality. For example the clips are made of plastic and therefore not as secure as metal ones but you can easily replace these with cheap metal alternatives bought at Walmart or Home Depot or similar store.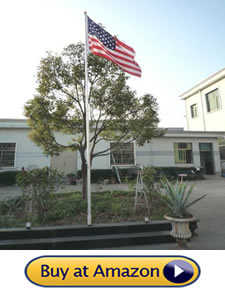 The pole is rust-proof and quite easy to install once you follow the instructions provided in its manual.
Provision is also made for 0.38″ nylon snap hooks and a 4.1″ die-cast aluminum cleat.
This beautiful flag pole can be secured more firmly when placed in a 48 inch hole.
Regardless of the weather condition, this flag pole is tough enough to withstand them all having withstood up to 60 mile per hour winds. But, again we suggest you replace the plastic fittings with alternative metal ones which are relatively cheap.
The flag is acceptable though not as high quality as the more expensive residential flag pole sets but that is to be expected considering this set usually sells for around half the price.
The Topemart flag pole set is a good cheap alternative if you don't mind sourcing the alternative fittings yourself.
Outdoor Black Label Wall Hanging Spinning Flag Pole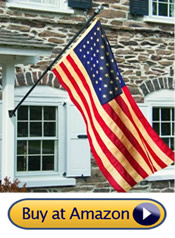 This beautiful 1″ diameter, 6 foot black label wall hanging pole really helps to bring out the colors of any flag.
You will have to buy your flag separately but the pole is so reasonably priced that such a purchase should not be a problem.
Though you can find reasonably priced and well manufactured flags that would look great with this pole with such a striking color you may want to invest the little bit extra to get a high quality commercial-grade USA made flag to go with it.
The design of the flag pole ensures the flag spins and stabilizes easily while remaining tangle-free.
The 6ft long wall hanging flag pole is both strong and durable being made from high quality aluminum.
Its black color is not only bold and striking in its own right but it helps to contrast and brighten the colors of the flag.
Comparing Flag Pole Sizes
Below is an image to help you compare the different sizes of flag poles.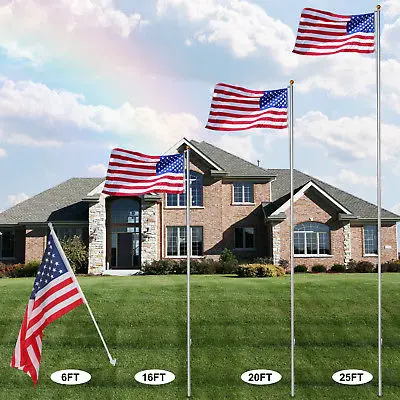 We hope you find something to fit your needs among these top 5 selections and that you get the very best residential flag for your needs.