The best outdoor fountains with led lights are designed to heighten the scenic views of your garden, entryway and patio. The best LED lit outdoor fountains will effortlessly bring out the beauty of your space, especially at night, when its LED lights come to life. As a result, you cannot help but feel relaxed in the beautiful environment such a feature creates following the setting of the sun.
While homeowners can enjoy an array of water features with soothing sounds of water and different light features to highlight the beauty of their landscapes there is so a vast array of fountains available that it could take days to browse them all. Therefore, with so many of them to choose from we thought we would save you some time by including the most popular outdoor water fountains with LED lighting in this post.
Lighted Cascade Waterfall by Pure Garden
You would find so much peace when seated around this outdoor water fountain that has the capacity to illuminate its waters. It finely blends rustic charm with the beauty of a modern design and it will blend easily into any garden type due to its rock style design.
Some of its features include: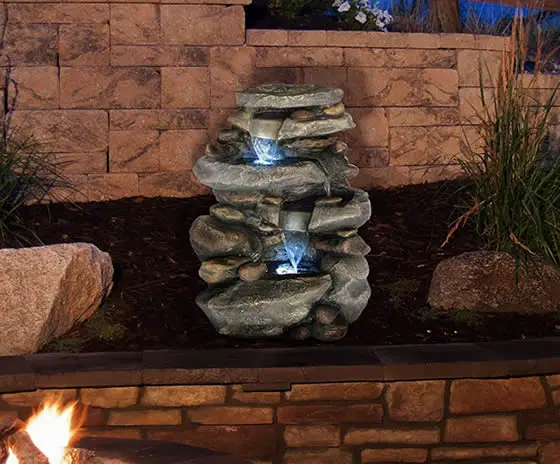 Superior Finish
Despite anything else we could say the finish of this product just looks great.
Just like or any other residential application or garden feature, from saunas to Gazebos, the overall build quality is an essential element to consider.
This particular water fountain is designed to blend into any type of environment from the lush green lawns of Main to the arid beauty of Arizona.
With a look that resembles real quality stone and LED lights to illuminate it at night the Lighted Cascade Waterfall by Pure Garden can help create a calming space in any garden.
Low Maintenance
The challenge of outdoor fountains for many home owners lies mainly in the assembly and product maintenance. This is largely eliminated with this fountain as assembly is straightforward and easy even for the novice.
Once assembled, this cascade waterfall fountain has no need for additional plumbing. Once it is filled with the right amount of water and plugged into a working electrical outlet, you can rest in the knowledge that no further upkeep is required.
There is one drawback to this fountain: as it does not connect to a water supply and uses its own reservoir (which you fill) if you live in a very warm climate zone the water can evaporate quickly especially if the fountain is situated in a very sunny spot.
Durability
The material of this product is of high-quality and able to withstand any type of climate and even harsh changing seasons because it is weatherproof.
Although it is lightweight, dirt can be washed off it using a standard hose or even a pressure washer.
Easy Setup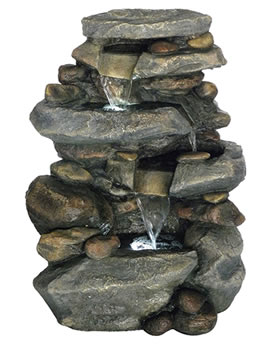 There is no need hiring the services of a handyman to help you install this product. Installation is easy and requires no knowledge of plumbing or electrics. It comes in separate pieces and these pieces are very easy to put together because its pieces fit easily.
Beautiful LED Lighting
The way the waters of this fountain are illuminated at night by the inbuilt LED lights is calming.
The LED lights of this outdoor water fountain offer a lovely nighttime which is one of the reasons people find this fountain beautiful and charming.
Product Details
Overall Product Dimensions: 23″ H x 18″ W x 18″ D
Overall Product Weight: 13lbs

Alpine WIN258 41″ Rain Forest Waterfall Fountain with LED Lights
The Alpine WIN258 is regarded among the best outdoor water feature when considering outdoor water fountains with LED lights.
Some of its features are:
Soothing Sound
Although this fountains looks great the most common positive theme found in user reviews of this fountain is the soothing sound of the running water.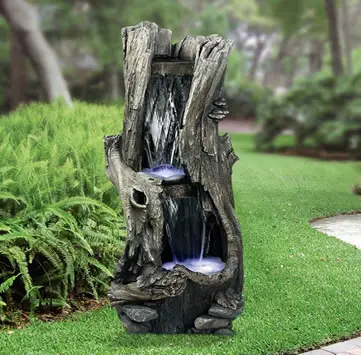 It is peaceful and combined with the blue LED lights that illuminate the water pools this outdoor fountain offers both beauty and the relaxing sound of nature.
Improves The Aesthetics of Any Environment
Regardless of where you place this product, it is able to enhance the beauty of the environment.
Like the Lighted Cascade Waterfall this garden fountain has been designed to blend in with any environment.
However, although the Lighted Cascade Waterfall has been designed to resemble a natural rock formation the WIN 258 is designed to look like a tree stump.
Whether your preference is the patio, garden or the entrance-way to your home, rest assured that the fountain will improve the aesthetics of any are in which it is placed.
Durable
The Win 258 tree stump water fountain with LED lights is constructed with weatherproof materials that offer both beauty and durability.
This helps it stand the test of time against varying weather conditions. Being a product which you would leave in the outdoors, whatever concerns you may have regarding its durability is easily addressed.

Easy To Assemble
There is no learning curve required for you to be able to assemble this product. In a matter of minutes, you can easily set up the WIN 258 and begin enjoying the peace and elegance it brings.
The LED lights are set to illuminate the water pools with a beautiful soothing blue.
Lightweight Construction
The WIn 258 is built with lightweight construction. This means you can easily move it to various positions without difficulty.
Bring your garden to life with its beautiful LED lights and astonishing design.
TOP PICK: Stoneware Bowl and Jar Indoor-Outdoor 46″ High Fountain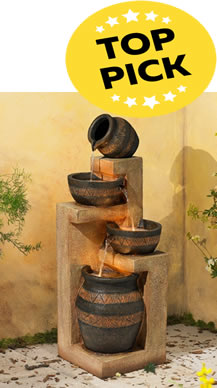 This is by far our favorite water fountain. It has a style reminiscent of Ancient Rome or Greece.
Although the sandy hues of the stoneware bowls would beautifully highlighted by New Mexico sunset this outdoor fountain looks just as attractive and stunning in a lush lawn.
Lighting
Although the illumination is supplied by built-in halogen lights (and not LED) it makes little difference to the user experience and the overall effect is nothing short of stunning.
This is also the largest/tallest of our 3 fountains and just as easy to install as the other two.
Indoor and Outdoor
The lightweight nature of this fountain means that it can easily be moved indoors during winter months.
Weighting in at only 35lbs it is very easy to move.
The resin construction is finished off with a stoneware look that looks just as good indoors as outdoors.
Product Specs
46″ high x 16 1/2″ wide x 15″ deep. Weighs 35 lbs.

Indoor-outdoor illuminated water fountain with 4 levels of water.

Stoneware finish; lightweight cast resin construction, easy to move and position.

Plug-in design, comes with water pump; easy to set-up and use.

Built-in halogen lights in the lower two water basins illuminates the design at night.
Installation
This fountain looks very impressive but it is extremely easy to install.
The video below is an installation guide for a slightly different fountain but the setup is exactly the same for the Stoneware Bowl.

The reason why most homeowners want an outdoor water fountain is to improve the looks of their outdoors.
These products easily add beauty to your garden, patio, or the entrance-way to your home.
They are durable, easy to set up, and require little or no maintenance. You will appreciate them more at night when the beautiful LED lights come up to illuminate the waters.