Sheds don't have to be boring!
Whether you need a utility shed that looks a little bit different or you want to build a she shed or man cave shed then we have 20 great ideas for you.
There are many different shed designs, shapes and sizes that cater to every garden owners needs.
However, many standard sheds are just plain boring. so here are 20 great unique shed designs to spark your imagination and help you make your garden storage unit unique and the envy of the neighborhood.
A shed is a roofed structure that not only compliments your property but also helps in storing a lot of stuff that takes up a lot of room elsewhere.
It can also serve as a shelter for animals as well and even act as somewhere to go to get a little "me time" or for entertaining friends.
Here are some amazing eye-opening shed ideas that you can implement and create an attractive looking shed.
The cowboy's inn shed
Do you love the Old West and yearn for the old cowboy days?
Perhaps you love Westworld or you are a fan of the Read Dead Redemption franchise.
If you are, then it may be time to let the cowboy or cowgirl in you out, or at least bring it into your backyard.
This shed is perfect for socializing
An old western style cabin-type shed can really add a bit of uniqueness to your garden. But it can go well beyond the normal confines of a storage unit.
Its unique design means you could use this cowboy shack styled shed for anything from a barbecue spot, or a bar to a man cave or she shed and of course you can use it to just store garden equipment.
The tool saver utility shed
Although garden sheds are usually used to store outdoor equipment such as lawn mowers, axes, chainsaws, and similar garden equipment most smaller tools are stored in the garage or the main building of your home and they can take up a lot of space.

What if there was a way to free up that space?
Well, there is.
This is the perfect storage shed
You can store your lawn mower, garden tools, ladder, hose, detergents, and even a small lawn tractor in this shed.
You can install shelves to hold smaller items and leave the floor space for bigger ones.
To take it up a notch and complement your garden, use white cedar wood.
Mr. Tiny shed
Bigger isn't always better.
If you are lacking a space in the garden area as well as in your home then it's time to get creative.
This shed is small but aesthetically pleasing
When lack of space is an issue go for a narrow and sleek, grey-white single door shed.
You can create the illusion of a small window on one side with a simple transfer painting and have the shed painted in twin colors (preferably grey and white) for aesthetic purposes.
Although it is small you can still store a good amount of items in it such as a shovel, ladder, hose and other garden tools.
The chill-out shed that works as a man cave or she shed
A shed does not have to be for storage!
If there's too much disturbance at home and you aren't able to watch your favorite show or concentrate on your work then create a soundproof shed where you can chill, work, watch TV, or relax.
Use as a man cave or she shed
You can easily add all that you need, from a TV to a small refrigerator as long as the shed is connected to electrical utilities or has an external power source.
You can then use your newly created man cave shed or she shed to enjoy your favorite TV show with a chilled beer in your hand.
If you want to take it up a notch, decorate it with small tables with lamps on top to create a better "indoor" feeling.
This shed works great as a home office
You can just as easily use it to work in or even to study in. Or, you could just to relax and read a book in peace and comfort.
Use wood in the construction as it is known to absorb sound and install soundproof doors and windows. It is a little expensive but can serve as your personal room.
The workaholic shed
If you have to work from home but find it difficult to concentrate due to the noise made by your kids, other-half or even the pets then consider creating a separate work shed in the garden area.
This shed will serve as a working and studying space just like our option #4 but with a slightly different purpose.
Tables, chairs, and office work
The shed doesn't need to be very large just as long as it can accommodate a desk and a chair it will be bog enough. Obviously it will need an electric connection for lights, computer and other office equipment.
You can get an aluminum shelf cemented in the wall to serve as a table and place a chair under it.
Install a fan and a heater and you're good to go.
This will be your sanctuary where you can have peace and quiet to work in without any distractions.
The gardener's den
Plants and flowers not only enhance our health but also provide an aesthetic appeal.
You can build up a shed covered with various plants both inside and outside to give a truly country, or even tropical, feel.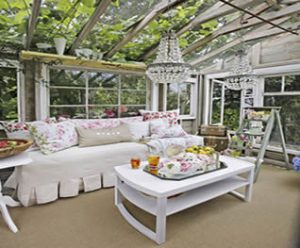 The roof can be made to work for you
Cover up the roof of the shade using bushes, flowers, and plants. It will not only blanket in heat in the winter but will also block sunlight to protect you from excess heat in the summer.
To enhance the look of the shed place multiple windows of various sizes all over the shed's wall.
If you prefer privacy then tinted glass can also be an option.
Sunkissed shed
You can have a fully wooden shed to enjoy summers.
Plus, if your budget allows then also get a porch.
While it adds to the budget, it does look quite good.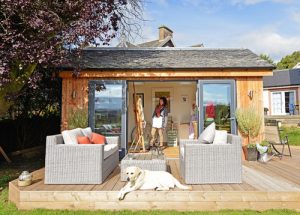 The cabana door makes this shed aewsome
You can enhance the look of your shed by installing a wide mirror door.
This door will let you see what's going outside while protecting your privacy on the inside.
You can place chairs, TV, and also get an AC installed inside to remain cool in the summers.
Some people have even put a bed inside so they can use it as a guest room.
The dog shed
A dog is a man's best friend and many of us are so proud of this relationship that we create a home for him/her.
But why should your dog have all the fun?
Why not build yourself a your very own dog house?!
You're in the dog house now

Prepare a wooden medium-sized shed and have the door divided into two from the middle.
Double doors, one on top of the other, with separate hinges that open independently from one and other help create the dog house look.
Keep all the necessary garden items in your shed or turn it into a man cave.
This shed will serve as a personal home to your pet and he can retire here to sleep without disturbing anyone at home.
The vintage shed
A vintage vibe and detailed old-school finish on a shed can make it look visually alluring and give it an old authentic look.

As we have seen a  shed does not have to be a storage space only and this type of shed works perfectly for an extra outdoor room.
Long windows
Long  windows on the front will help give off a vintage character to your shed.
Placing one each side of the door will help create that quint cottage look.
Adding a cupola perched roof
A wooden door along with a cupola perched roof will be icing on the cake as they will make the shed stand out even more.
The glass shed
If you are a garden enthusiast and have been facing a huge problem with your plants and vegetables in the winter months then you should consider creating your own personal glass shed that can also double as a greenhouse.

Glass it up
The idea is to install polycarbonate panels as windows from top to bottom including the roof as well.
It will help transmit light.
Slick Brick
Shed do not have to be made of wood or corrugated galvanized iron or aluminum.
Brick sheds may be a little more expensive but they offer better protection from the elements and when decorated well they can look absolutely stunning.
Brick walls create a more rustic look
While sheds are mostly created from wood or aluminum, why not try something different this time?
Use red bricks to make the walls of your shed.
They will provide you with an attractive look but without compromising on durability.
The wooden door adds to the rustic effect
Install a wooden door and color it to create a contrast.
You can also use slate on the roof to add to the overall look.
The Getaway Fairway Shed
Being in the great outdoors is said to help reduce stress which is why surrounding your shed with a flowers and plants and grass can be beneficial to mind and body.
Walk this way
Grace the walkway that leads to your shed with lush green grass to mimic a golf-fairway.
Plant flowers around the shed or use creeping ivy or other creeping plants and train them up the sides of the shed. But, be sure to choose plants that are easy to maintain and can survive outdoors without any trouble.
The shed continues outside
You can arrange a sitting area just outside the shed and let the aroma of your garden help you relax.
However, make sure the door and windows can keep insects at bay.
The rusty cottage
This is one of my all time favorite shed designs.
Create a board and batten sided cottage-like shed to make it look rusty.
It will compliment your garden and your home as well.
The color scheme
Grey and cream color scheme can serve as icing on the cake.
Painting the door gray and the entire cottage with cream color can enhance the visual appeal. Keeping it all grey also looks great.
The artsy shed
Decorating your shed with artwork or just mixing up colors on it can really make your shed stand out.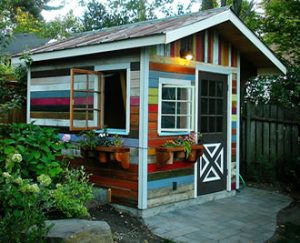 Why restrict yourself inside when you can also sit outside and enjoy the colors? If the shed is used for storage place a multi-colored bench just outside it.
Windows and curtains create a homely feel
Consider placing half-length curtains on the glass windows for aesthetic reasons.
If your shed is very small consider placing sash windows in it.
Artwork makes the space work
Flower patterns on the shed walls, small pots on the boundary, and a soft color scheme will take your shed up a notch.
The step (it) up shed
Make your shed more prominent by installing stone steps on the entrance.
To blend well use the same stones to prepare the walls of the shed if you are building a brick shed.
You can also use the brick to create a facade on the walls though you may need professional help to get the job done.
The shingle roof looks amazing
Create a dark, shingle roof that compliments the rest of the structure.
The gardener's escape shed
A lattice can be a good choice if you like to grow plants.
A lattice can be used to train specific climbing plants and foliage around the shed to create a great outdoors look.
Lattice can also be used when you don't have enough space in the garden for cultivating plants or flowers.
The jacuzzi or sauna shed
Not enough room indoors for a jacuzzi and too hot or cold outside for one?
Then create a shed with plant-covered roof and walls for your jacuzzi or sauna instead.
However, before you go erecting a Jacuzzi or sauna shed beware that such sheds require a lot of maintenance.
The shed doesn't need to be too big, just large enough to offer the jacuzzi protection.
Consider the available space and prepare one with lots of windows that open to let the air flow in.
You may want to read our sauna buyer's guide before you proceed with this.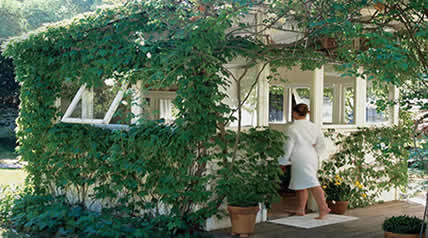 Kids' shed
Kids love to have stuff that looks "adult". This includes your house and your shed.
You can prepare a separate shed for them that looks like a small house.
You can stick signs on the shed walls or paint it in a multi-color scheme to make it look colorful.
Leave most of the space inside the shed empty so that kids can play or fill it with kid's furniture.
Booth style shed
If you do not have a big garage or room for a large shed then a booth styled shed can be a good compromise.
You can use it to keep most small and medium sized garden items in but you will struggle to fit in larger items like a lawn mower.
To maximize the space make sure you build wall shelves and hanging points so that you can hang shovels and ladders etc.
A glass door can be a good choice as it will not only help you see inside but also add to the look.
Many people will paint the booth a color that compliments their home but that is the boring option.
Dr Who
A really neat way to make your booth shed unique is to turn it into a phone box or even a Tardis.
If you are creative with paint you can turn your ordinary booth into a space traveling time machine (or at least make it look like one).
Another neat thing that your booth shed can mimic is a British telephone box.
The cabinet shed
Lest we forget – the main purpose of a shed is to provide you with a storage area that is separate from the main building of your home.
Even if you have very little space in your garden and can't afford to build a bigger shed, with a bit of creativity, you can keep a lot of stuff in a smaller shed.
Build a small shed and install cabinets on the entire upper line. You can place a lot of small items inside these cabinets.
For the lower part, put a long shelf into the wall and build more cabinets underneath to store more stuff.
However, leave some open space too for bigger items or build some big cabinets.
Hopefully these 20 unique shed ideas have sparked your imagination and stirred your creative juices.