When it comes to romance, nothing can stir the heart and soul more than a leisurely stroll through a fragrant colourful romantic garden.
The more adventurous (and wealthy) couples often create a romantic garden, also called a "romance garden", that incorporates elaborate features such as re-circulating fountains, a water pool, custom-built personalized benches, a pathway trellises, statuary, bird- baths, stepping stones and soft lightening. However, for the less flamboyant, and more frugal among you, a beautiful romantic place can be created just by using the right plants and shrubs. If you have available space trees are also a great addition and you can even place a bench beneath its shade.
The best romance gardens are not the biggest, most expensive or most elaborate; creating the perfect romantic spot n your garden involves the correct mixture of plants for fragrance and colour.
Trees
If you have enough space trees are a great addition to any garden. You can use a mixture of trees; the fruiting and the non-fruiting kind.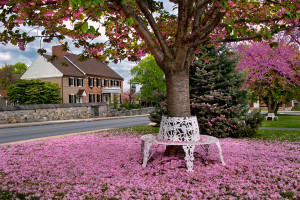 Just with flowers certain trees produce blossoms that are pleasing to the eye while others produce flowers that are pleasing to the nose.
There are spevfic trees that can give your garden the scent of romance. Examples of these trees are the Montmorency cherry, Van Cherry, Sand Cherry, Damsom Plum and Spalta Plum, though there are many more.
Shrubs
Your romantic garden would not be complete without shrubs.
Shrubs serve a wide range of purposes; they are a low maintenance way to create private areas in large gardens, and to add extra colour to the surroundings.
To make the garden really attractive and to give it a royal feel consider planting both red and purple foliage together.
Planting some Froebel's spirea with Purple Gem Rhododenron would work well.
Adding Colour
Obviously the flowers in your garden will serve 2 purposes; to create a visually appealing romantic scene and also to scent the area.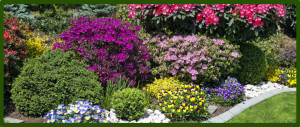 For colour and contrast consider planting red rose of Sharon and the heart rose of sharon, white purple hollyhock, red stem dogwood, and the bluish fruit.
Other options you may want to consider include the yellow bell shaped Sandersonia and Thunbergia Orange for vibrancy. You can also include Bechtel flowers for a softer pink. However, be careful when choosing the flowers you will use for your garden.
Many colorful plants require good space, plenty of light and rich soil. There are plants of all varieties to suit almost every garden and soil type so be sure to pick the correct plants for your soil type.
Easy to use accurate professional soil testing kits from Amazon are available for this purpose which include pH preferences for over 450 plants and how to adjust soil pH along with a booklet that has fertilizer guidelines based on nitrogen, phosphorus and potash test results. Using one of these before you plant your garden will save you time and heartache later down the line.
Scented Flowers
Fragrance is just as important a feature in a romance garden as appearance so be sure to visit garden centers to find scents that appeal most to you and your partner.
For a nice fragrance consider adding some flowering vines such as white roses, fragrant trellises and the fast growing clematis Montana rubens for a vanilla scent. Adding red and pink roses will give extra colour as well as added fragrance.
In fact, roses should form the main focus of your romantic garden automatically drawing the gaze and capturing the olfactory senses.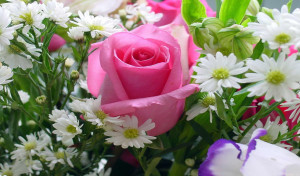 Red and the white roses have for many years been used to symbolize love and signify unity but don't overlook the other colours such as the more classic pink that were originally used as a sign of true love and the yellow rose that symbolizes friendship.
Although not connected to scent while we are on the topic of flower colour meanings be sure to plant purple, white and bluish flowers as they are said to signify faithfulness within a relationship.
Also plant some lavender as the refreshing scent will blend perfectly with the roses giving an uplifting yet calming feel to the garden. In our opinion lavender is a must for any garden!
Adding flowering vines such as the creamy white arbors and trellises is necessary to calm the colour down and give that "wedding" look to your garden. Mr. Lincoln is a specific type of hybrid red rose that is a preferable choice for your garden as it has been cultivated specifically for a strong fragrance and deep hue.
Heliotrope is great for creating a romantic vanilla scent that can sometimes even resemble the smell of fresh honey.
Also, the Irises must be included in the romantic garden. They are clean, beautiful and their smell adds mood in the garden. When grown in clumps along the boarders, they help to maximize their impact.
Specific Plants
Here are some spefic flower types that are very popular in romance gardens.
Peonies
These are heirloom plants that find their way into many people's hearts. They are not only extremely beautiful but they are extremely hardy and can remain in a garden for over 30 years before needing replaced. This means that they can serve you for a life-time.
When left undisturbed they can grow rapidly so they do need some pruning.
They come in a range of colours from red to cream.
They can cover a radius of 10 inches and have fragrances similar to those of the rose. So offering both beautify and fragrance it is no surprise the peonie has become an all time favourite with garden enthusiasts.
Lavender
As mentioned above lavender is a must for any garden.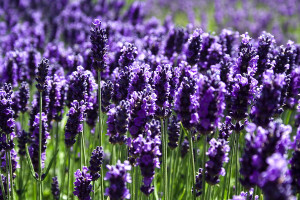 The plant is prized not just for its fragrance but also for its striking purple flowers.
When grown in a romantic garden, it gives the garden an exotic look and scent that attracts butterflies and bees (which need all the help we an give them).
When combined with Asiatic lilies, they give the garden stunning pink, deep orange, dark yellow and purple colors that reflect passion and evoke feelings of romance.
The Bleeding Heart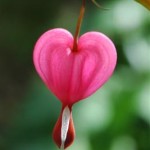 This is an old plant that is associated with love for obvious reasons. Its deep red heart-shaped flower extends to a point giving the impression of a droplet of blood falling.
This beautiful flowering plan can reach a height of 8 feet and comes in a wide variety of hues with colors ranging from red to dark clear with beautiful varies in blue, purple and pink. This plant is often combined with pansies and hostas to give a garden a distinctive beauty not often seen.
Dancing in the Moonlight
In addition to choosing plants for their look and smell it is also a good idea to plant that provide a reflective surface. Consider incorporating plants with a silver foliage or plants that produce white flowers. This ensures that the garden can be used at night to take advantage of the moonlight.
Here is a short list of plants that work quite well for this purpose:
Delphinium
Roses
Irises
Lilies
Foxglove
Petunias
Nicotiana
Shasta daisies
For a "cooler" feel that bring balance to your gharden during summer days and also enhance thos emoonlit nights consider planting some of the following:
Dusty miller
Snow in summer
Artemesia
Russian sage.
This ensures that you enjoy the mood of your garden whether you visit it during the night or during the day.
Romantic Garden Upkeep
Keeping your garden in good shape in the winter months as well as the summer is essential if you want to continuing enjoying throughout the year.
Weed Regularly
Manually removing weeds as they appear is much better than using pesticide. Although must commercial sprays and formulations are marked safe they do have an impact on your garden's overall health. By simply taking an hour or 2 each week (or a few minutes each day) you can keep your garden de-weeded by simply pulling them up manually, ensuring you get the root. A small hand held garden fork or weeder can help.
Edge the Garden
Edging your lawn and garden beds helps to create a break between the garden area and the grass. It also gives a very professional feel to the garden as though
a professional gardener has taken care of it.
A shovel can be used for this purpose as long as you have a steady hand and good eye for detail. It should be used to straighten the edge but may require some creativity if you want to get gentle curves.
It is much better to get an edger. They range in price from the very affordable manual edgers on Amazon to the more expensive professional electric edger & trimmers on Amazon.
If the garden is overcrowded, ensure that you remove the excess foliage.
Mulch It
You can help maintain the health and look of your garden by mulching it. Mulching helps the soil to retain much needed moisture and nutrients but also helps to suppress weeds without needing liquid weed killers.
The mulch should be less than 4 inches in depth and should leave some room at the base of the plant.
Sunlight
Check the amount of light each area of your garden receives before planting.
Plant flowers in areas that are appropriate for that plant as some plants need plenty of sunlight while others thrive in shade.
Lighting the Garden at Night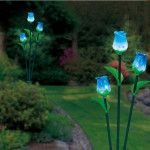 Make sure that you can enjoy the beauty of your garden both day and night.
There are numerous varieties and styles of solar garden lights on Amazon
available that generate charge during the day from sunlight and then become illuminated at night.
Be sure to share your romantic garden with friends and family as well as that special person in your life – share the love.