Whether you want to plant flowers in pots on the porch or decking area you need to be careful about which varieties you choose. Not all flowers will fair well in this environment.
A porch area of a house is often very shaded and therefore some pot plants will not fair well. This also applies to decking areas outside where walls and other obstructions can cast a permanent or semi-permanent shade on the area. For this reason shade-loving plants are much more desirable for porch and deck areas. Let's take a look at some varieties that thrive in shaded areas.
Potted Plants for the Porch
The front of your house is often the feature that people first see when they come to visit you.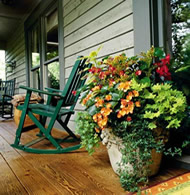 Along with your front lawn it is your porch that gives the first impression.
Potted plants not only look beautiful and can offer a fragrant aesthetic appeal to your home but they can give a fantastic impression to people visiting.
But of course some plants are unsuited to pots while others will whither and even die in shaded areas such as a porch. So you need to know which flowering and non flowering varieties are best to use.
Follow our guide below for picking the most appropriate flowers to plant in pots on your porch or deck and add some extra beauty to the front or back of your home.
Flowers That Thrive in Shade
The first step to arranging your potted plants on your porch is to seek those types that enjoy life in a pot and that thrive in the shade.
You should also consider if you want flowers based on scent, sight or both.
For example you can add some nice smelling herbs that will not add much to the look of your porch but will definately help fragrant it or you can go for unscented colorful Hosta that will make your porch burst to life with vibrant color.
Or, perhaps you want both fragrance and beauty.
List of Shade Loving Flowers Perfect for the Porch
Trailing Fuchsia (great for baskets & pots)
The first porch flower on our list is Fuchsia.
It works really well as a hanging basket flower and you will have seen many hanging in porches around the country, or as a stand upright pot flower.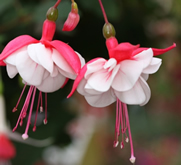 Fuchsia is a plant that comes in a variety of flower colors.
You can re-pot from plants bought at a nursery/garden center and they are also fairly easy to grow from seed
.
The fuchsia has rather unique flowers and the most popular type is trailing fuchsia that has flowers which spill over the sides of pots or baskets.
So, you can also put some in hanging baskets under the porch or allow it to spill over standard or tall planter pots
.
Fuchsia are perennials that are perfect for planting in pots in shaded areas of your porch and will add a sparkle of color to any environment.
Just be sure to plant them in fairly large decorative porch pots
 to get the best from them.
Types of Fuchsia
Blush of Dawn
Blush of Dawn Fuchsia bloom with pink and white or light purple double flowers.
They can trail down to a foot and a half so are perfect for hanging baskets or large pots.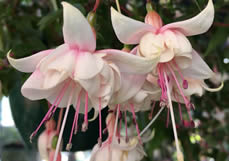 Harry Gray
Harry Gray is a Fuchsia plant that has double flowers that are mostly white but that have a slight pink tinge to them.
Harry Gray flowers can trail down to as much as two feet.
Trailblazer
Trailblazer Fuchsias have vivid pink double flowers.
They can trail down as much as two feet.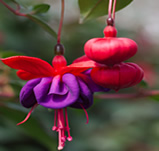 Dark Eyes
These beautiful trailing Fuchsia have deep purple and vivid red double flowers.
The flowers can also trail down by as much as two feet.
Indian Maid
The Indian Maid Fuchsia also has purple and red double flowers and differs only slightly from the Dark Eyes variety though enough to be a flower in its own right.
Unlike the Dark Eyes Fuchsia it only trails down to a foot and a half.
Upright Fuchsia (better for pots)
Although trailing Fuchsia are excellent as hanging basket
plants they do grow well in pots on porches and offer a different type of look. However, some people do not want to hang baskets nor do they want trailing flowers growing in pots (though that can look stunning).
So, here are some very popular upright fuchsia plants without trailing flowers that grow very well in pots.
Anabel
Anabel Fushsia looks stunning when grown in a pot.
It has white flowers that are merely brushed by slight touches of pink and each flower has a pink rim.
It can grow up to 1 and half feet when fully matured.
Baby Blue Eyes
Baby Blue Eyes is a slightly misleading name for this beautiful Fuchsia as its flowers are violet rather than blue and have a splash of red.
It grows upright to about a foot and a half high.
Cardinal Farges
Cardinal Farges plants have bright red and white single flowers.
It grows up to two feet high when planted in a large pot.
Beacon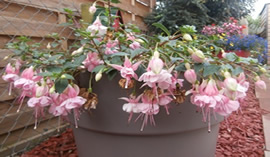 Beacon has deep pink and purple flowers.
It will grow up to two feet high in a pot.
Other Varieties
There are other Fuchsia types that you can see here and they all make stunning porch displays.
Coral Bells
Coral Bells are perennials that also thrive in shaded areas.
They make perfect potted plants and can add a splash of color to any porch.
These perennial plants are hardy and grow best in USDA plant hardiness zone 3.
Coral Bells are listed as evergreens – meaning they keep their leaves all year round.
They come in several different foliage colors from bronze to purple.
The plant derives its name from the shape of its blooms. It grows long spikes with coral shaped flowers that really highlight its foliage.
It usually blooms in late spring or early summer though there are late-blooming types.
Like the foliage the flowers come in a variety of different colors from pink and white to a vibrant red.
Heucheras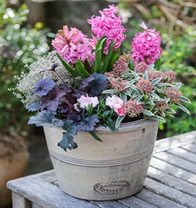 Heucheras are usually found growing in borders.
They make excellent bed companions for shade-loving perennials.
However, there is a growing trend to use them on their own in containers both in the garden and on the porch and decking areas.
They also look amazing when planting around the edges of a pot with with other perennials planted in the middle.
Begonia
When Begonias are used in pots and hanging baskets they can provide continuous color over the summer and look absolutely stunning on a porch.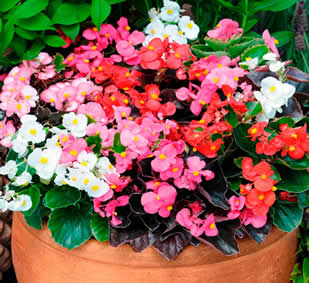 An added advantage of using these flowering plants in porch pots is that they are easy to care for.
They grow very well in partial shade and will tolerate full shade.
If you use Begonias with other trailing plants, such as trailing fuchsia, in a honeysuckle pot
it will add amazing color and texture to any setting.
The great thing about begonias is that you can mix and match. With different varieties growing in the same pot you can create a truly gorgeous display.
Types of Begonia
Double Begonias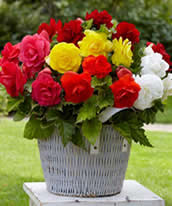 Double Begonias are a bushy compact type of plant that blooms with large flowers that are quite reminiscent of roses.
As these plants and their flowers like to grow upright they work exceptionally well as potted porch plants.
They grow well in shaded areas and are used by many gardeners in spots that don't get direct sun or that are in constant shade.
So, these beautiful flowers thrive on enclosed porches.
Fimbriata Begonias
Fimbriata Begonias flowers have fringed/serrated edges on their petals and look very similar to carnations.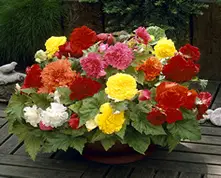 As these type of begonias are extremely sturdy and love to grow straight and upright they are very popular for garden beds and lawn borders.
However, they also make an excellent pot plant and will grow quite happily in the shade of a porch.
Their flowers are both large and vibrant blooms and grow on on a bed of generous foliage.
They bloom throughout summer.
You can get them in shades of orange, red, pink, white or yellow.
Double Picotee Begonias

Double Picotee Begonias have large two-toned petals that resemble those of roses.
They grow upright and come in a variety of colors but my favorite is sunburst although the red & white, yellow & red and white & pink are all breathtaking.
Picotee begonias grow best in large planters and they thrive in shade.
They can even tolerate hot and humid weather as long as they are protected from direct sunlight.
Non-Stop Begonias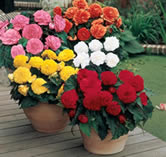 Non-stop begonias are much more compact in nature than other begonia types which makes them ideal for pots.
They look very neat in a pot with lush green foliage and double flowers.
There are many bright colored flowers. There are non-stop begonia plant types available that have blooming flowers in colors from white to red, yellow, orange and pink.
They too love the shade and bloom throughout the entire summer season.

Deadnettle
Deadnettle (Lamium) is a plant with sprawling nettle-like foliage.

It has small pink or purple flowers that resemble small snapdragons.
Deadnettle thrives in shade but will grow in direct sun as long as it is provided with moist soil.
There are different varieties with flower colors in white, purple and pink and silver.
They tend to creep along along the ground or can be encouraged to grow on trellis.
Viola/Pansy
Violas, more commonly known as pansies, are small multi-colored flowering plants that are ideal for pots.

This type of flowering plant is actually a wildflower in Europe demonstrating that is is very resilient especially to frost and chilly weather.
The flowers come in a stunning range of colors from solid state to multi-color.
They are very easy to grow, even from seed
, and require very little tending.
English Ivy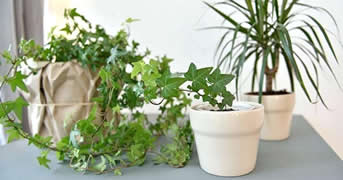 English ivy (Hedera helix) is a climbing plant that can often be seen climbing the stonework of large old country houses in England and other parts of Europe.
Ivy will climb on almost any surface by means of small roots that grow along the stems.
It will also creep along the ground and grow around just about anything.
Ivy is very easy to maintain and adds to the atheistic look of any porch.
Hosta
Hosta comes in different varieties and makes a lovely porch plant.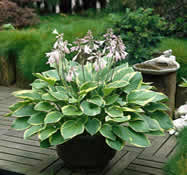 My favorite for enclosed shady areas is 'Aureomarginata' Hosta because of its look and how it reacts to shade.
This hosta has lovely, yellow trim on its evergreen foliage which bursts with beautiful lavender blooms in late summer.
Hosta thrives in pots and containers.
The Aureomarginata variety has flowers that open into a vase-like shape, allowing its wavy, heart-shaped leaves to arch downwards.
Hosta plants should be well watered and their soil should not be allowed to go dry.
Double Impatiens
Impatiens (Impatiens wallerana) are a flowering plant that comes in a different sizes, colors and flower styles.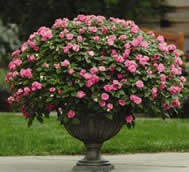 All Impatiens are shade-tolerant but my favorite is the double-petaled varieties such as Carousel
(I. wallerana "Carousel") and Rosette
(I. wallerana "Rosette") that strongly resemble roses but are much easier to care-for.
Double impatiens are annuals and they will grow and flower in almost all areas as they are very climate tolerant.
These plants will thrive in a shaded porch but they do need to be watered regularly and they will also require feed
.
As these plants require very little maintenance except watering using a simple spike feed
 will ensure the plant gets all the nutrients it needs year-long without you having to maintain its feed schedule.
You can get plants with different blooms that include white, red, pink and purple tones.
Carex 'Toffee Twist'
Toffee Twist is a bit of an acquired taste.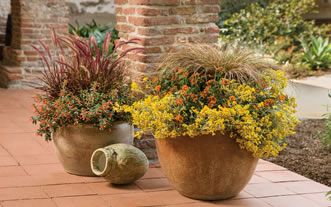 If you like the feel of "spaghetti westerns" or love the more arid parts of the country Carex Toffee Twist may just be up your alley.
With slender bronze and green foliage Toffee Twist is actually a cool-season grass rather than a plant.
Because it is a cool-season grass its active growth cycle is in early spring and fall.
Even though it gives the appearance of a dry weather plant it requires moist, but well drained, soil.
It is very easy to maintain.
Primula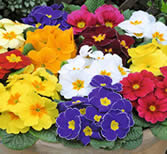 Primula is a semi-evergreen perennial that blooms upright in a variety of colors on long stems.
Its leaves grow in a natural basal rosette arrangement (a very popular arrangement that is replicated by florists) and its blooms fill the pot.
Primula grow well on the porch and are very easy to maintain.
They start to bloom as early as the beginning of spring.
Ferns
Ferns are a very popular plant to grow on porches because they adapt so well to the shaded environment and give an earthy feel to the surroundings.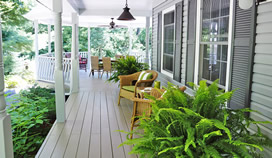 Just make sure that your porch area is not subjected to heavy wind and driving rain as ferns need to be protected – hence the reason they thrive in porch areas.
Make sure your ferns get just enough water to maintain a moist soil without it being soaked.
Many people use a few inches of organic potting mulch
on outdoor potted ferns to help keep them healthy and protect the roots and using it can make a big difference to the health of your plant.
Diamond Frost (Euphorbia)
There are numerous varieties of Euphorbia.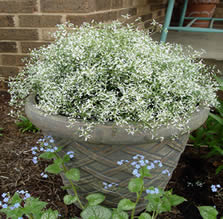 Diamond frost is popular for porches and is best known for its succulent foliage and beautiful white flowers.
Diamond Frost takes over the pot and will bloom non-stop from first planting right up to the first sign of cold frost.
This Euphorbia is usually planted in sunny spots, where it thrives. However, it will grow very well in partially shaded areas.
So you should aim to place it in areas of the porch that get at least a little bit of sun.
If you have to keep it in full shade then expect the bloom to be somewhat diminished but it will still flower – it just won't be as dramatic a display.
Cascading Lobelia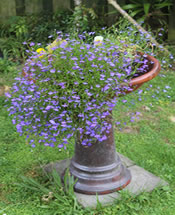 Lobelia is a trailing plant that blooms with a lot of tiny blue flowers from summer through to mid-fall.
Although these are popular garden plants the flowers will actually live longer if placed in partial or full shade.
Cascading lobelia will grow quite happily in a standard pot but if you use a Grecian-type container
then the effect will be much more appealing.
There is More
The above list is far from extensive but hopefully it has given you some great ideas for what to use as pot plants on your porch or deck.
Don't be afraid to mix and match plant varieties and even test a few that may not be traditionally grown in shaded areas.
Then, take a picture and post it in the comments below.