Building a vegetable garden at home is becoming a "must" for many people who want to avoid harmful GMOs, the effects of the dangerous pesticides corporate framers spray on their crops and the unknown effects of the many additives included in their veggie growth soil in order to lengthen the life of the crops.
Planting your own vegetable garden not only saves you money on food bills but also lets you enjoy organic and nutritious vegetables that are good for the health of your family and ultimately helps the environment – as long as you avoid the use of harmful pesticides.
Vegetable Gardening for Beginners
The initial outlay of creating your own vegetable garden will soon be recouped from your first 1 or 2 harvests. For example, spending as little as $2 on a tomato plant can serve you up to 10 pounds of the fruit (yes a tomato is a fruit), over the course of a season.
In general, gardening not only elevates the aesthetic value of your home but it also has numerous health benefits for those who engage in it; the therapeutic value alone is worth the effort but when you include the growth of your own organic vegetables into the mix you can expect to experience better vitamin and mineral consumption which can only be a good thing for your overall health.
Video:
The Benefits of Home Vegetable Production
Where to Start
The pleasure of savouring delicious, sun-warmed vegetables home-grown and picked right from your own garden is also a major incentive for many would-be vegetable gardeners. The flavour and texture of home-grown vegetables far exceeds those available at the local grocery store.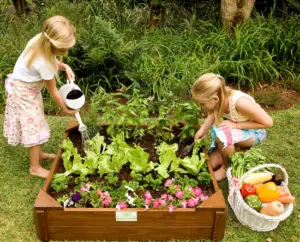 Plus, you always have a productive and worthwhile family activity to get involved in.
Vegetable gardening, or any type of gardening for that matter, is also a great way to spend quality time with your kids under the sun.
The initial preparation stage may seem somewhat complicated to people who are new to gardening in general but learning how to grow and harvest organic vegetables is much easier than you think.
To start you will need to plan your garden layout depending on whether you want fruit, vegetables or both.
Vegetables and flowers are natural companions. Planting flowers along with your vegetables can turn your garden into a soothing and attractive landscape as well as a food-producing environment.
Growing in Different Climatic Regions
Different plant grow optimally in different climatic conditions. Of course there are hardy plants that can thrive is a variety of environments and this types of plants are usually much easier to grow – thus they are often a great choice for people new to this type of gardening.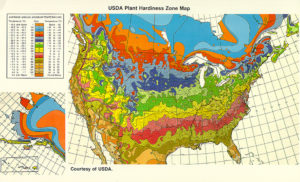 If you are unsure about your local regions climate you can refer to the heat zone map of American Horticultural Society which gives you information on 12 different climatic zones in the United States, based on the average annual maximum temperature.
The USDA Plant Hardiness Zone Map determines the average annual minimum temperature for North America, dividing it into 11 zones.
Using the zip code of your location, you can easily find your heat zone and start investigating which fruits & vegetables grow best in your specific climatic zone. This is also helpful because you can read the climatic zone numbers in seed catalogues in order to know whether or not the plant you want grow is a good "fit" for your specific region.
Growing Vegetable Plants
Whenever possible plant your vegetables in regions of your garden that get the most sun. To have the desired chemical reactions synthesized, cell stream plants or vegetables need at least 6 hours of direct sunlight each day. The more sunlight they get, the greater the growth and better the harvest. They will also taste better.
With either cuttings or seeds be sure to plant them in fertile soil.
Consider a nice loamy soil as the roots of replanted cuttings can penetrate soft soil more easily and seeds can break through easily also while thriving in this type of nutrient rich environment.
If you are using your standard garden soil be sure to enrich it with nutrient-rich compost to provide young plants with the nutrients they need for growth.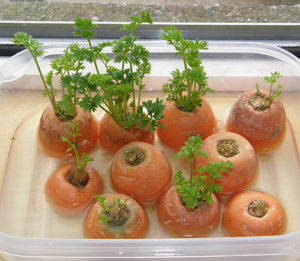 Ensure proper drainage so the water doesn't collect. This is an essential step that many new gardeners fail to take.
Making sure water drains away quickly but that leaves the soil damp enough to water the plants is essential.
This ensures your plants and seeds get the water they need but don't have to fight against a water-logged environment that would rot their roots.
Space properly – Clever positioning is important otherwise plants tend to compete for sunlight, water and nutrition.
For example, corn plants require a lot of space and if placed too closely, they can over shadow surrounding plants. As a result, your crops will fail to mature fully.
You can look for spacing guidance on plant tabs and seed packets.
Growing Vegetables from Seeds
If you plan to start your garden from seed then it's important to order your seeds well in advance before. Many new gardeners gather information about growing their desired vegetables & plants but fail to take into consideration the sowing period needed for seeds; they base their planting schedule on cuttings and thus seed to late in the season for a healthy crop.
Just keep in mind that the timing for the planting of seeds and the planting of cuttings is different even for the same plant.
Also be aware that it is much easier to determine spacing and aesthetics of your garden (should you chose to also plant flowers) when starting your garden from cuttings. As a new gardener it may be best to use a small ruler to mark out the tracks for your seeds ensuring they are spaced evenly and far enough apart to encourage healthy and speedy growth. With time this skill will become so developed that you will be able to do it from your own judgement.
Another thing to consider is that not all seeds are created equal. Sowing times may vary for plants that will be available to harvest at the same time.
Different seeds vary in their life expectancy. For instance, onion, rhubarb, leek, corn and parsnip are generally considered 'short-living' seeds and can only survive for a year or two. On the other side, 'long-living' seeds include beans, cabbage, asparagus, beets, eggplants, cucumbers, muskmelons and carrots.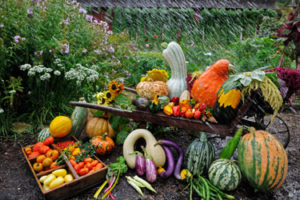 Vegetable seeds that come under the long-living category are usually good for more than five years.
Be sure to save the seeds from your own vegetables & check out the 13 vegetables that can grow from themselves.
Tip: While choosing seeds for planting, consider heirloom vegetables – open-pollinated vegetables that can survive for longer periods of time. They're juicy, full of diverse flavours and have a crunchy texture.
These old-fashioned vegetables have evolved to be highly competent in using all aspects of their surrounding environment for survival and have thus succeeded in every climatic condition nature has hurled at them.
Raised Vegetable Garden Beds
Planting vegetables in raised beds is the most successful and recommended gardening procedure for home vegetable gardens.
A raised bed can be constructed from any material, including stone, bricks, wood or even plastic containers.
In fact you can literally use any material as long as you're able to build a 12″ deep base.
You can grow almost every type of vegetable in a raised bed, as long as the plant gets direct sunlight for at least 6 hours a day and has enough depth for root development dependant on that specific plant.
There are a few exceptions though such as potatoes since these vegetables have roots that require a lot more room than the average plant and spread deep and widely underground.
You should also consider growing vegetables at home in pots or other containers.
Consider the following steps when planting a raised bed:
After preparing a 12″ deep container, fill it with high quality soil mixed with nutrient-rich compost.Rack the surface level and remove any rocks or debris.
You can place plants closer in a raised bed if needed because the soil is already concentrated in a small gardening area.The plants won't need to compete to nurture themselves properly in a raised bed.
Poke holes at 6″ intervals using your finger.Plant seeds into the holes as directed on the seed packet (some require sprinkling while others will require the planting of only one).
You may also sprinkle excess seeds over the surface of the raised bed.In case of carrots, add a layer of fine-textured potting soil over the seeds or grow them from the top-cuttings of a used carrot as shown in the picture in the 'Growing Vegetable Plants' section above.
If you're planting cucumbers, spread seeds along the edge of the raised bed.This will allow them to grow right to the top of the patio.
Water the soil generously right after planting ensuring the beds have sufficient drainage built in before hand.
Home Vegetable Garden Ideas
For beginners, these gardening ideas can help grow a nutritious and visually appealing vegetable garden:
Water is very important for plants when they're nurturing.During the dry season, they need extra water especially when they're fruiting.It's appropriate to water them an inch or more every week but be sure not to drench the soil as excess water will rot the roots.
To control weed and retain moisture in the soil, consider mulching between rows.The mulch will act as pathways, letting you easily access your plants.You can use black plastic, wood chips or garden debris to serve the purpose.
Deal with any bug problems early on.Get rid of them before they ruin your crops and your hard work. Consider environment-friendly pesticide solutions rather than corporate-designed industrial pesticide.For example a little washing liquid brushed lightly over leaves will stop many leaf eating parasites.
After the plant is harvested, put leftover plants and other vegetable matter into your compost pile. This way you can recycle leftovers to nurture plants and be even more environmentally-friendly in your gardening.
Hopefully this short guide to creating your first vegetable garden was helpful. Be sure to leave an comment and add something to the discussion.