Are you planning to plant some veggies in your large garden? Maybe you just want to have some colorful flowers in the lawn. What should you do in such a scenario? If you have a large area that needs tilled then the best option would be to get a good pull behind tiller for lawn mower.
The best pull behind tiller for your lawn mower is the one that that is the best fit for your particular needs. A tiller that may be a good choice for one person may be the wrong choice for another. Many have different features. For instance, some tillers have engines while others do not. However, there are a few basic things that a good pull behind tiller must have. It must have a universal hitch so it can hook up to your lawn mower regardless of the make or model and it should have the correct tines for your individual needs. Let's look at some examples.
Agri-Fab 45-0308 Multi-Fit Universal Pull-behind Tiller
The Agri-Fab 45-0308 has an independent engine.
It runs on a 206 cc engine, which makes it strong enough to dig through any soil type and even heavily compacted turf.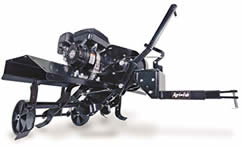 The Briggs and Stratton engine delivers 5 HP enabling the tiller to till soil in conditions ranging from loamy to sandy.
Construction
The tiller comes with 6 heavy duty tines that move swiftly behind the lawnmower.
The tines are double-edged and made of 7 gauge steel making them more resistant to rust.
When fully assembled, the tiller measures 56″ by 38″ by 32″.
It comes in at at a weight of 260 pounds so is incredibly easy for any lawn tractor or ATV to pull.
Compatibility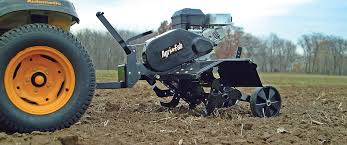 You can tow the Agri-Fab 45-0308 behind any lawnmower or other garden vehicle as it comes with a universal pin-type hitch
The hitch makes it easy to hook the tiller to any mower, tractor, UTV, or ATV.
Tilling Experience
The six tines come with an 11 inch diameter, and they deliver a total tilling width of 36″.
The height is adjustable, ranging from 1.5″ to 5.5″.
You'll have an easy time when using this product since the transport wheels do not require an expensive sleeve hitch on the pulling vehicle.
The controls are conveniently located – so you will also experience effortless tilling with this unit.
It will need a towing vehicle that has at least a 12 HP engine.
The Good
The controls are easily accessible
The tiller can be towed behind a UTV, riding mower, ATV, or any other garden tractor
It has a wide tilling width
It comes with a 3-year limited warranty
The tiller can work on any soil condition
The Not-So-Good
The assembly part seems challenging
The tiller doesn't come cheaply
Check best Price for the Agri-Fab 45-0308 Pull Behind Tiller on Amazon
Streamline Industrial Tine Tiller/Cultivator
This Streamline industrial tiller/cultivator has been made to perfectly handle even the toughest of grounds.
This tiller doesn't have an engine.
It can be pulled by most riding mowers and tractors, but not all.
Construction
It is made of a heavy duty tubular steel frame that is not only strong enough to withstand harsh conditions but also rust and scratch resistant.
The tiller weighs around 187 pounds.
The Streamline cultivator comes with 7 shovel-type steel disc blades for tilling.
Compatibility
The tiller comes with a pin-type hitch that lets you tow it on almost any garden vehicle.
For optimum results the tiller really needs a riding mower or tractor with at least a 500 cc engine.
Tilling Experience
The 7 tines deliver a combined large tilling width of 48″.
The bearings are sealed to give you a maintenance-free experience.
The tiller has an adjustable tilling height of  1″ to 6″.
The Good
It doesn't need gas/fuel to run
Industrial use
It has a wide tilling width – 48″
The steel construction is strong and rust-resistant
It has sealed bearings to eliminate the need for maintenance
Zero-maintenance wheels
The Not So Good
You'll need a strong vehicle with at least a 500 cc engine to get the most from this tiller
It might not fit on some tractors
Check best Price for the Streamline  Industrial Pull Behind Tiller on Amazon
Field Tuff Tow-Behind Cultivator
Here Field Tuff delivers a solid tiller that comes with a wide 48″ tilling width.
The pull behind tiller has a manual lever for better tilling.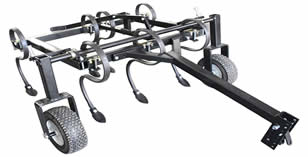 This one runs manually (no engine onboard), though it is very strong and heavy – so it will need a strong vehicle to pull it.
Construction
The tiller is made of a tubular steel that has a powder-coat finish. The powder coating means that the tiller remains safe from rust and scratches.
It measures 50.2″ by 11.5″ by 30.5″ and weighs 221 pounds.
Compatibility
The Field Tuff Tow-Behind Cultivator comes with a pin-style hitch that will adjust easily to the height of the mower, ATV or tractor.
This tiller is heavy, and it only works behind a riding mower, lawn tractor, ATV, UTV, or tractor that has a 500 cc engine or greater.
Tilling Experience
The tiller is loaded with 7 shanks, which have removable shovels.
The shanks deliver a large combined 48″ tilling width.
The Field Tuff tiller also has an adjustable depth control, along with a manual lever. This way, you can raise or lower the tiller as you need.
Furthermore, it sits on two 13″ pneumatic tires for easy movement and transportation across any type of terrain.
The pneumatic tires also ensures you get even tilling regardless of the terrain.
The Good
It is strong and powder-coated for durability
The tiller has a 48-inch tilling width for large coverage
It has wheels for easy movement
The 7 shanks have removable shovels
Pneumatic tires for great even tilling
The Not So Good
It might need a bigger turning radius than other models
The shovels may occasionally drop off, especially if you are working on exceptionally tough grounds
Check best Price for the Field Tuff Pull Behind Tiller on Amazon
Conclusion
Now you know the best pull behind tiller for lawn mower. Do you agree with our choices? Which one do you prefer?
Regardless of the product or model you choose, you must ensure that it will serve you (and your lawn) accordingly.
Keep in mind that each tiller requires a specific amount of power from the vehicle pulling it. For that, ensure that you pick the right tiller that goes well with your vehicle.