Anyone who has a few acres of land and wants to maintain it without the hassle of a push mower sooner or later considers purchasing a riding lawn mower. Entry-level machines are lighter and smaller than their commercial and mid-range counterparts but pack in enough speed and power for the average user.
Troy Bilt has been manufacturing farming equipment since 1937 and has used its technical expertise to produce a line of powerful mowers from high-powered commercial grade zero turn machines to entry-level mowers. Their mowers offer exemplary performance and durability. The smaller, more compact models are especially popular with residential users. The most highly rated, and in our opinion best riding lawn mower with a non-zero-turn capability, is the Troy-Bilt model is the TB30R. What's more we found it for an amazingly low price.
If you require a bigger machine with zero turn capacity or are in the market for a riding mower be sure to read our review of the best zero turn mower instead.

Troy-Bilt TB30R 382cc OHV 30-Inch Premium Neighborhood Riding Lawn Mower
The Troy-Bilt TB30R is a rear engine riding mower with a 30-inch wide cutting deck and a powerful 382cc engine. The mower is compact but quite powerful; it combines the benefits of a walk-behind mower with the convenience of a riding mower.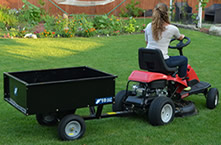 For homeowners with a medium-sized yard, the Troy Bilt TB30R is an ideal choice.
Unfortunately, the mower will not be able to handle uneven and rough terrain. If you want to maintain rough grounds you need to look for a more powerful (mid-grade or semi-pro) machine and must be prepared to pay a little more for it.
However, if you only require a small mower then the TB30R is perfect. It not only cuts well but fits through narrower gates and small spaces easily.
Even if you are a professional this machine can be a powerful addition to your commercial landscaping business freeing up your more powerful machines for bigger jobs.
The Troy Bilt TB30R offers clean performance and is built to last.
The fuel capacity is 1.3 gallons; the fuel level can be checked using a small window.
The single blade is powerful and can be adjusted to 5 different cutting heights.
The mower has a manual power take-off which allows for fast engagement of the blades and can reach speeds in the range of 1.5 – 4.25 mph which is very good for non-zero-turn mowers.
The TB30R can mow in both forward and reverse directions with a very respectable 18″ turning radius.
Riding mowers usually require the operator to remain seated for long hours at a time, therefore the seat and the controls have to be comfortable.
The TB30R has a soft padded steering wheel and an adjustable steering column.
The back of the seat can be adjusted as well to suit your individual needs.
It comes with a limited 2-year warranty from the manufacturer.

Troy Bilt TB30R review
A detailed look at the features and specifications will give you a better idea of the TB30R and what it can do.
TB30R quick specs
This is a great option for anyone looking for an entry-level riding mower. This mower is best if you have 1 acre or less to look after.
18-inch turning radius lets you make sharp controlled turns.
Blade engagement is fast due to manual power take-off.
Small deck size helps mow over narrower areas.
5 cutting height adjustments.
The compact size allows you to conveniently store the mower in a shed or your garage.
The wheels are built to last and are durable.
Front wheel size is 13 X 5 inches and the rear wheels are 16 X 16.5 inches.
TB30R technical specs
A Look at the Technical Specifications of the Troy-Bilt TB30R:
| | |
| --- | --- |
| Deck Width | 30 inches |
| Cutting Option | Side Discharge |
| Deck Construction | 14-gauge steel |
| Deck Height Options | 5 positions |
| Deck Engagement | Manual |
| Deck Pulleys | 14-gauge steel |
| Deck Spindles | Sealed ball bearings (maintenance-free) |
| Transmission | 6 -Speed |
| Turning Radius | 18 inches |
| Reverse Mowing System | Operator-Controlled Reverse System (OCR) |
| Fuel Tank Capacity | 1.3 gallon |
| Operator Entry/Exit | StepThru |
| Engine | 14.5 HP OHV MTD Powermore |
| Engine Electrical System | 3 Amp / 5 Amp |
| Front Axle | Steel |
| Engine Lubrication | Splash lubrication |
| Battery | 12V, 155 CCA |
| Speed Range | 0 – 4.25 mph |
| Wheel Dimensions | 13" x 5" front / 16" x 6.5" rear |
| Shipping Dimensions | 62"(L) x 34"(W) x 26"(H) |
| Shipping Weight | 340lbs. |
| Manufacturer Warranty | 2-year Limited |

Main features of the Troy Bilt TB30R
The 382cc/14.5 HP OHV MTD Powermore engine
Powermore engines are built of heavy-duty parts and can easily handle harsh conditions. Their clever design ensures the least amount of wear and tear over time. The TB30R houses a tough high-quality 420 cc OHV Powermore engine.
Here are some of the main features of the engine used on the mower:
The OHV (Overhead Valve Design) gives more power and has low emission rates.
Forged steel ball-bearings and crankshaft.
Mechanical compression release for a smoother pull start.
Tough cast-iron cylinder sleeves.
Quieter valve train.
Ergonomic throttle control.
Precise and smooth engine speed.
The engine comes with a 2-year warranty from the manufacturer. Powermore also has a network of service centers where you will be guaranteed to find qualified professionals.
Let's take a look at some on the engine specifications:

| | |
| --- | --- |
| Starting System | 12-Volt Key Start |
| Battery Included | Included |
| Battery Voltage | 12 Volts |
| Battery Type | Lead Acid |
| HP/CC | 420 cc |
| Torque | 11.5 ft-lbs Net Torque |
| Fuel Tank | Size 1.0 Gallon |
| Cycles | 4-Cycle |
| Cylinders | 1 Cylinder |
| Oil Filter | Yes |
| Consumer Warranty | 2 Years |
Shift-on-the-go 6-speed transmission
The Shift-on-the-go transmission makes the TB30R fast as well as efficient. This means the mower lets you choose the right pace for mowing; it can go from 1.5 mph to 4.25 mph.
The system is self-propelled and has 6 speeds. The rear wheels are the main drive wheels and the transmission is manually operated.
| | |
| --- | --- |
| Speeds | 6 Speeds |
| Drive Wheels | Rear Wheels |
| Maximum Speed | 4.25 Mph |
| Maximum Reverse Speed | 1.5 Mph |
| Transmission Type | Manual |

30-Inch single blade mower deck
| | |
| --- | --- |
| Material | 14-Gauge Steel |
| Construction | Stamped |
| Spindle Material | Die-Cast Aluminum |
| Blades | 1 Blade |
| Positions | 5 Positions |
| Cutting Height | 1.5-3.5 Inches |
| Deck Lift System | Manual |
| Engagement | Manual |
| Deck Drive | Belt |
| Cutting Options | Mulch/Side-Discharge/Bag |
Additional features of the TB30R
The smaller deck allows you to easily navigate around obstacles in your yard much more easily than a larger machine. What's more the Troy-Bilt TB30R can mow backwards as well as forwards giving even more manoeuvrability. The reverse mowing override is activated on the key switch.
Comfort is provided by a high-back ergonomic seat which allows the rider to operate the mower with ease and the least amount of physical effort.
Here are some miscellaneous features, specifications and accessory options.
| | |
| --- | --- |
| Tire type: | Pneumatic Wheels |
| Front tire size: | 13 x 5 inches |
| Rear tire size: | 16 x 6.5 inches |
| Front axle: | Stamped Steel |
| Seat: | Ergonomic high-backed (armrests are sold separately) |
Accessories such as a rear bagger, mulcher kit, headlights, hour meter, front bumper, engine guard and trailer hitch are sold separately but with a price tag below $1,500.00 you can't complain.

Troy Bilt after-aales and warranty options
The TB30R weighs 335 lbs. (151 kilograms) and stands at a height of 35 inches. It is a light and compact machine so you don't need any special equipment to unload or move it once it has been delivered. The compact size makes it easy to store and move.
Try to maintain a service journal which lists the service schedule, replacements, etc. This will help you keep track of the mower's performance and help with the resale value if you decide to upgrade to a zero turn machine.
The mower requires some minor assembly to set it up initially but it shouldn't take you more than an hour. Just make sure you have the required tools listed in the Operator's Manual.
The manufacturer recommends that you purchase genuine replacement parts on Amazon for your TB30R.
Additional attachments can be used to enhance your riding mower; the official Troy-Bilt website lists all the compatible parts for the TB03R. You will find accessories such as tire chains, mulching kits, front bumper kits, and more.
Of course you can usually get the same parts much cheaper on Amazon.

Maintenance and care of the Troy Bilt TB30R
The Troy Bilt website has an informative section which outlines the maintenance schedule in detail.
Follow the advice given and your mower will perform at its best for a long time.
They also have a troubleshooting guide to help you narrow down any issues.
Unless you are very unlucky you really should not need to perform and maintenance on this machine and as many owners find the TB30R continues to perform well without a hiccup even after years of use.
What makes the TB30R a great entry-level riding mower
It is the ideal product for homeowners who want a sturdy reliable mower for residential lawns. Residential lawns are relatively flat and usually no bigger than an acre; the TB30R is designed to meet these expectations.
The engine is powerful (382cc) yet the size is quite compact.
There are 5 different cutting height adjustments available for that customized cut. A professional well-maintained lawn is easy to achieve with the TB30R.
If you are looking for the best riding lawn mower under $1,500 and do not need zero turn capability, but want a similar quality of cut, then the TB30R is definitely worth buying.
What's more it is almost totally maintenance-free.
Two years maintenance-free comes as standard
Don't take our word for it! This is what owners say
The TB30R has the best reviews on most online review sites. 60% of the reviewers on Amazon have given this Troy-Bilt model a 5-Star rating and 26% have rated it 4-Stars. These rave reviews are the reason Amazon has included this mower on its #1 Best Seller list.
The main thing immediately clear from the reviews, is that the TB30R lives up to the customer's expectations when it comes to speed, quality and durability.
There are a large number of reviews; way too many to consider here individually, we will just reiterate some of the most helpful ones.
One reviewer praised the quality of the engine and claimed that the mower was able to easily cut through the coarsest Floratam grass and crabgrass.
The reviewer also said that the mower was god enough to be operated by tall people because the seat is comfortable and the steering wheel adjusts to a desired height.
Another 5-Star reviewer liked the mower's compact size and pointed out the fact that even though it's not a zero turn, the TB30R makes very sharp turns.
The reviewer pointed out an important safety feature which shuts off the engine if the operator stands up or vacates the seat.
Reviewers also said that it handles attachments such as a dump trailer, sweeper, and de-thatcher really well over relatively flat surfaces.
Extremely steep inclines however will pose problems. So, if you have a very challenging lawn then you may need something with a bit more power.
A lot of reviewers also said that assembly instructions were very clear so they didn't have any trouble with the set up. The manual gives detailed safety guidelines and operation instructions so the learning curve is not very steep. It took only 45 minutes to assemble the unit using the manufacturer recommended tools.
You will be able to drive the mower easily even if it is your first riding mower.
All in all, most if the reviews are extremely positive pointing out only minor problems usually related to personal preferences rather than the mower's capabilities. This is probably the best residential riding mowers you can purchase.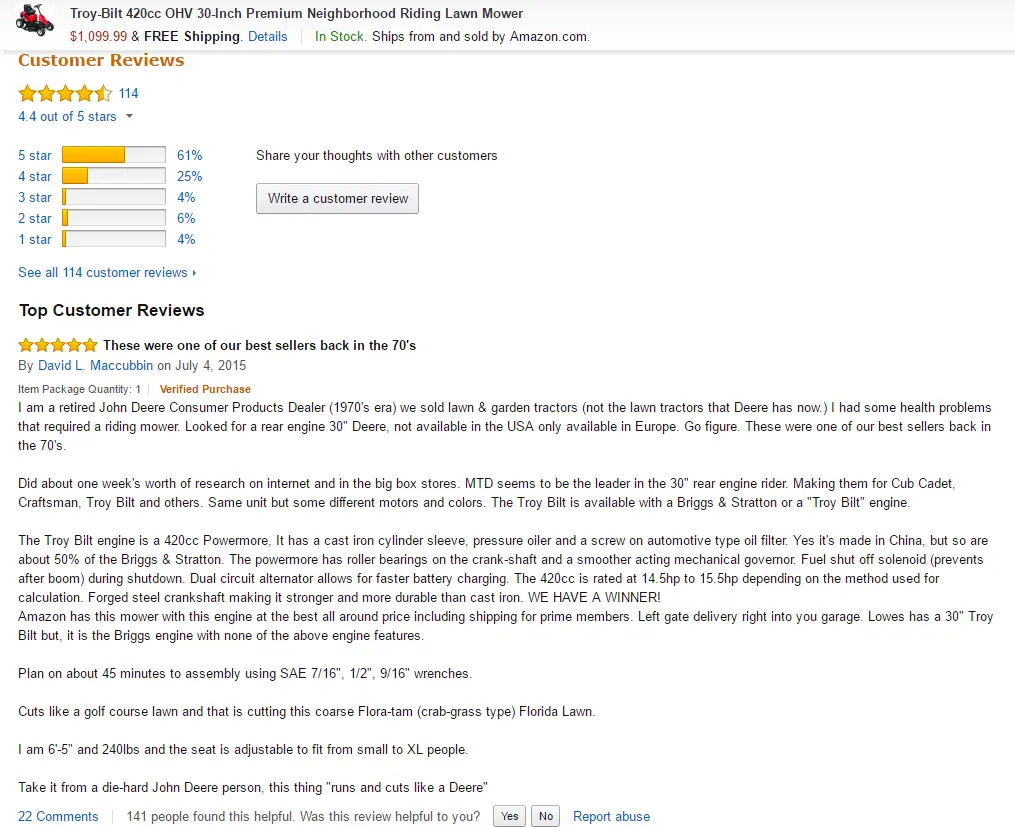 However, as with every product there were some of the minor issues. Issues reviewers pointed out included:
Low traction on the foot-rest area.
The seat only has one spring.
The gear shift placement is a little awkward.
Initially the brake/clutch is over-sensitive.
Comparison chart: TB30R vs  similar mowers
Troy-Bilt TB30R
Troy-Bilt Pony
Troy-Bilt Bronco
Power ( HP)
10.5
15.5
17
Engine Displacement (cc.)
344
500
597
Yard Size/Cutting Range (Acres)
<1
1 - 2
1 - 2
Ideal Operating Terrain
Flat with obstacles
Uneven
Uneven
Cutting Width (Inches)
30
42
42
Blades
1
2
2
Engine Brand
MTD Powermore
Briggs & Stratton
KOHLER
Engine Type
Single cylinder
Single cylinder
Single cylinder
Transmission Type
Manual/Gear
Manual/Gear
Foot pedal automatic
Blade Engagement Type (PTO)
Manual
Manual
Manual
Fuel Capacity (Gallons)
1.3
1.3
1.3
Front Wheel Size (inches)
13
15
15
Rear Wheel Size (inches)
16
20
20
Oil Filter Type Standard
N/A
Spin-on
Hour Meter Type
N/A
N/A
N/A
Front Axle
Steel
Steel
Steel
Seat Type
Mid-back
Low-back
Mid-back
Grease Fittings
Yes
Yes
Yes
Size of Deck Wheels
N/A
N/A
5-in
Anti-Scalp Wheels
0
0
2
Bagger Capable
Yes (2-bin bagger sold separately)
Yes (2-bin bagger sold separately)
Yes (2-bin bagger sold separately)
Mulching Capable
Yes
Yes (kit sold separately)
Yes (kit sold separately)
Engine Oil Included
Yes
Yes
Yes
Maximum Forward Speed (MPH)
4.0
5.5
5.5
Maximum Reverse Speed (MPH)
4.0
5.5
5.5
Operator-Controlled Mow-in-Reverse
Yes
No
Yes
Adjustable Seat
Yes
Yes
Yes
Cup Holder
Available
Available
Available
Deck Gauge
13
13
13
Discharge Location
Side
Side
Side
Headlights
Not Included
Available
Available
Length (Inches)
62
70.5
70.5
Width with Deck (Inches)
42
48
48
Recommended Engine Oil
SAE30
SAE30
SAE30
Engine Oil Capacity (oz.)
48
48
48
Weight (lbs.)
335
495
495
CARB Compliant
No
No
No
Series Name
TB30R
Pony
Bronco
Turning Radius (Inches)
18
18
18
Warranty
2-year limited
2-year limited
2-year limited
Price
Check Price on Amazon
$1,199.95
$1,199.99

Summary
The Troy-Bilt TB30R is an entry-level rear-engine riding mower. It works well over flat terrain and can easily handle medium-sized lawns. The cutting deck has a width of 30-inches which is perfect for navigating around obstacles.
This compact mower will help you mow areas where the larger mowers just don't fit.
The transmission is a 6 speed Shift-on-the-Go, which lets you customize the mowing pace. The seat is a medium-back and can be adjusted as required for a more comfortable mowing experience.
The frame is quite compact. The compact size of the mower (157.48 L x 86.36 W x 91.44 H cm) makes it easy to store and move. Despite it's size the mower has an 18 inch turning radius and is easily maneuverable.
The Troy-Bilt TB30R has a decent 382cc riding mower with a 30-inch deck, it is a compact and useful machine and is perfect for residential lawns.
Its small deck allows you to access narrow areas like a walk-behind mower yet it gives you the power and comfort associated with that of a riding mower. You can easily store it in a garden shed or garage. The features and specifications are designed for easy operation on a relatively flat landscape.
The fuel capacity of the tank is 1.3 gallons and the blade can be conveniently adjusted to 5 different cutting heights. The manufacturer provides a 2-year limited warranty for homeowners.
It is important to follow the operation guidelines given in the Owner's Manual. Troy Bilt has online versions available for download which you can refer to. You should also check out the Engine User Guide from Amazon.
Taking all the above features into account along with a great online price and the 114 positive reviews we figure that the Troy Bilt TB30R is the best entry level riding lawn mower in its class.