Anyone who uses a sprayer frequently knows that no two spraying jobs are exactly the same. For that reason it is important to have the best sprayer for multiple spraying needs especially when it comes to tow sprayers.
We have picked the top 3 pull behind yard sprayers for lawn tractor use and reviewed them below.
NorthStar 55 Gal. Best large pull behind yard sprayer
For those who need a large sprayer the Northstar pull behind lawn mower sprayer is a great option.
Fits most garden vehicles due to its adjustable tongue type hitch designed for different hitch heights.
Tank & Spray Coverage
With a large 55 gallon tank this Northstar sprayer is designed to cover a large area without requiring a refill.
The tank is UV-stabilized and comes with thick walls.
The thick walls prevents the tank from bulging or sagging if it is filled with chemicals that are known to attack the integrity of sprayer tanks.
Filling the tank is easy because of the large 6″ tank lid provided.
Designed with a special polymer, this tank is able to withstand different chemicals and has handy liter fill-gauge markings.
Boomless Nozzles
The boomless nozzles come with a generous 32 foot broadcast spray width.
There are no boom arms to store or break which is a great feature. The spray is directly ejected from the back of sprayer and gives are very even spread.
Spot Spray Hose
The hose provided is made of a clear reinforced poly vinyl chloride and measures 20 feet in length for easy manual use if required.
It has a spot spray distance of 30 feet.
This clear hose feature also makes it possible for the chemical flow to be monitored easily.
Engine
The Northstar is the only sprayer on our list that has its own power source for powering the pump.
This 55 gallon pull behind lawn mower yard sprayer has an impressive 160cc Honda engine that delivers the type of power and dependability you'd expect from Honda.
The engine is quiet and easy to maintain.
Despite its lightweight design it delivers real power and smooth, uninterrupted performance for very even spread of liquid.
4 Roller Pump
The pump has the capability of delivering 7 GPM.
The alloy housing stainless steel shaft comes with Viton seals and is corrosion resistant for durability and a long life.
Pneumatic Wheels
Pneumatic wheels are a big plus on any garden vehicle equipment.
You can easily cover any type of terrain with pneumatic tires, even on very rough uneven ground.
The 18″ pneumatic wheels of the Northstar are designed to provide maximum support over very challenging terrain to provide a smooth ride (and thus even spread) even with a full tank.
Some other features which you get are an adjustable pitch tongue capable of handling different hitch heights and a remote switch for turning the boom on and off directly from the driver's seat.
This is a great commercial grade pull yard behind sprayer that will fit any standard garden vehicle from a lawn tractor and zero turn mower to an ATV or tractor.
Quick Overview (video)
Available at Home Depot
Agri-Fab 45-0293 25 Gal. Best mid-range pull behind yard sprayer
If the Northstar sprayer is a bit more than you need then the Argi-fab 45-0293 pull behind yard sprayer is a great mid-level alternative option.
This is a great medium sized sprayer for herbicides, insecticides, liquid fertilizers or just water.
Tank & Spray Coverage
The 25 gallon pull behind lawn mower sprayer from Agri-fab provides a 1.8 gallon per minute output.
The boom has 4 spray tips that can cover a broadcast spread width of up to 7 feet when the boom is fully extended.
Spot Spray Hose
You can cover a lot of ground using the 15 foot spot spray.
It comes with a wand and is capable of spraying up to a distance of 30 feet.
Its flexibility allows a user to adjust the spray from a fine mist to reach up to 30 feet with a jet stream, which is great for trees and shrubs.
7 Amp Pump
This pump is designed to support the discharge of liquid lawn products at a rate of 1.8 gallons per minute.
It also allows for the pressure to be adjusted up to 70 psi.
The capacity of this sprayer is five times more than you could expect with a hand-held sprayer.
This durable product holds as much as 25 gallons of lawn products without the need for a clog spray nozzle.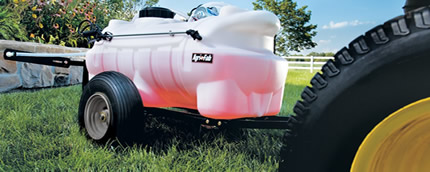 Pneumatic Wheels
The pneumatic rib-tread wheels of this pull behind lawn mowersprayer measure 14″ by 14″.
They allow for smooth movement across all types of terrain while maintaining an even spread even on very uneven or challenging ground.
The steel axle measures three-quarter of an inch while the pin-type universal hitch provided measures half an inch.
The hitch will connect to all types of lawn tractors, zero turn mowers, ATVs and tractors regardless of make.
Quick Overview (video)
Available at Home Depot

Agri-Fab 15 Gallon. Best small 

pull behind yard sprayer
This is the cheapest option of our 3 picks and the smallest pull behind lawn mower sprayer on our list.
This 15 gallon broadcast and spot sprayer is fantastic for residential users.
The Agri-Fab 45-0292 tow sprayer can be attached to any lawn tractor to spray weed killer, liquid fertilizers, liquid pest control or simply water.
It has a boom with 4 spray tips and a self coiling wand with hose for spot spraying.
Tank & Spray Coverage
The 15 gallon tank has a large fill opening and drain hole for easy emptying and cleaning.
The boom can broadcast spray to a width of 7 feet with an nice even spread.
The Poly tank is securely fitted over a steel frame that has been built to last.
The large screw cap makes it easy for filing and for the mixing of chemicals.
Spot Spray Hose
The spot sprayer can spray up to an impressive 30 feet.
The hose is 12 feet long.
Pump
This pull-behind sprayer comes with an electric pump that must be hooked up to the battery of the towing vehicle.
Wheels
The Agri-Fab 45-0292 has flat air-free ties for easy rolling and dependable performance.
The wheels are not pneumatic so this sprayer may struggle to perform if you have very challenging ground to treat.
The universal hitch means this sprayer will attach to most lawn tractors, zero-turn mowers and ATVs.
This is a great entry-level pull behind broadcast and spot sprayer.
Comparison chart for top 3 pull behind yard sprayers
Comparison Chart for Best Pull Behind Yard Lawn Mower Sprayers

| | NorthStar 55 Gal. | Agri-Fab 25 Gal | Agri-Fab 15 Gal. |
| --- | --- | --- | --- |
| Capacity | 55 Gal. | 25 Gal. | 15 Gal. |
| Nozzles/Boom | boomless nozzle | 7 ft wide boom arms | 7 ft wide  boom arms |
| Broadcast Width | 32 ft | 7 ft | 7 ft |
| Spot Spray Width | 30 ft | 30 ft | 30 ft |
| Hose length | 20 ft | 15 ft | 12 ft |
| Engine | 166 cc Honda | none | none |
| Pump | 4-roller | 7GPM needs attached to vehicle battery | needs attached to vehicle battery |
| Wheels | Pneumatic | Pneumatic | Flat |
| Ground type | Flat uneven steep | Flat uneven | Flat |
| Attachment Type | Universal hitch-pin | Universal hitch-pin | Universal hitch-pin |
| Price | Check Home Depot | Check Home Depot | Check Amazon |