Below we review the top Masterbuilt electric smokers on sale to bring you the best deals at the best prices.
Don't you just love some nicely-smoked food? Well, the secret to this is finding the right smoker. Gone are the days when people depended on propane and wood to smoke meat. Today, thanks to the ever-growing technology, you can enjoy efficient food smoking with an electric smoker.
w
Bluetooth 40″ Smart Digital Smoker
The Bluetooth Masterbuilt 200070115 40″ digital smoker is one-of-a-kind. One of the unique features that make it a top-choice is the integrated Bluetooth technology.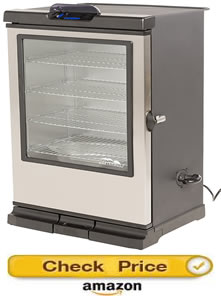 Typically, you can control this unit with your smartphone. How cool is that!
It offers 975 square inches of cooking space, which is large enough to smoke different foods at once.
There are also four smoking racks that are chrome-coated – so you won't worry about raw meat sticking to the racks.
The smoker features an inbuilt meat probe thermometer that monitors the internal meat temperature. This way, you will know if the meat is fully cooked.
We also loved the blue LED digital control panel that comes with a removable sun shade.
The smoker weighs around 73 pounds.
Front Controller 40″ Electric Smoker
Do you want an electric smoker that you control remotely, but you don't have a smart device for connection?
If your answer is yes then this, on-sale, Masterbuilt 200775315 electric smoker should be the perfect pick for you.
The Masterbuilt 200775315 is a 40″ electric smoker that offers you a RF remote control for ease of cooking.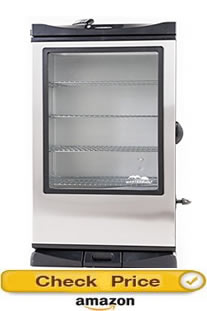 The smoker also offers 975 square inches of cooking space, which is a plus for a large family. And yes, the smoker has an external feeding chute for fuel and wood chips as well.
There are four racks, and each rack comes with a curved back end.
This lets you pull out the racks half-way for food turning or checking, and they will still be held strongly in place by the curved ends.
Oh, there's also an internal drip tray with an overflow that releases the excess liquid to an external drip tray at the back as well.
You don't have to use a flashlight to check the food since the smoker has an internal light.
The RF remote control lets you turn the smoker on or off, as well as control the light, time, and temperature.
This Masterbuilt smoker is on sale and weighs in at 73 lbs.
Black 30″ Analog Electric Smoker
This unit is the perfect choice for all you traditional cooks that love the convenience of electric cooking but are not so crazy about the futuristic designs associated with the digital age.
The Masterbuilt 20070210 is a 30″ electric smoker that comes with a traditional styled cabinet unit.
w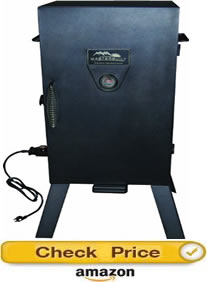 Coming with a 548 square inch cooking space and three chrome-coated racks, this unit would serve you well if you don't need to feed an army.
It is more than enough for an average family but may strain if you are throwing a barbecue for the neighborhood.
There is a removable drip pan that offers easy cleaning.
Unfortunately, you will lose some heat when adding smoke chips since you have to open the loading tray on the front side.
However, luckily the smoker has a dual-wall insulation to help maintain the temperature inside and give you proper smoking.
So if you don't leave the door open too long you should be fine; just be aware that this could cause you a problem if you are slow to refill the smoker.
Obviously these small inconveniences are offset by the greatly reduced price compared to the other smokers on our list.
There's a temperature gauge at the door, which will let you know the temperature range of the unit.
This one weighs around 50 pounds.
30″ Digital Electric Smoker
Now, this unit is a great choice for both pros and beginners.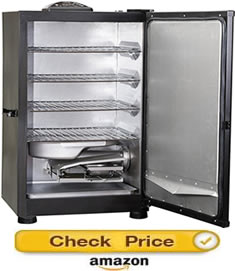 The Masterbuilt 20071117 is incredibly easy to use and comes with an adjustable air damper that controls the smoke.
The control panel lets you switch the unit on or off, adjust the time, and set your desired temperature.
That's pretty much all is needed to control this unit.
Though it is smaller than our other smokers on the list, coming in at a 30″, it comes with four smoking racks that are chrome-coated and give ample room for family cooking.
You won't need to open the smoker door when adding wood chips, thanks to the patented side loading system. This is a big advantage over the 30″ 20070210 (number 3 above) but even though its currently on sale its about twice price.
The body of this smoker is fully insulated, which maximizes the smoking process.
It weighs only 39.3 pounds, making it quite portable.
Portable Electric Smoker
The 20073716 is the best Masterbuilt electric smoker you would want to pick if you are looking for a portable unit.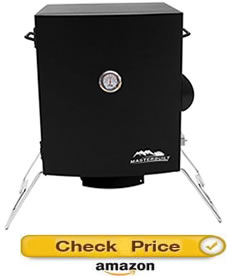 Maybe you want to go for camping and you need a unit that can smoke your fish and meat efficiently. This smoker should serve you right.
It comes with simple controls and offers enough cooking space for smoking a whole ham or turkey, along with some ribs.
The legs of this smoker can fold easily for easy transport and storage. If you will be sure of a reliable electric smoker on-the-go if you have this unit from Masterbuilt.
Furthermore, it only weighs 21.6 pounds, which is super-light.
Why Choose Masterbuilt Electric Smokers?
As the name suggests, Masterbuilt smokers have been constructed with some touch of mastery. Also, the name simply means that these smokers have been made by a Master.
Masterbuilt was established back in 1973 by Dawson McLemore who wanted to create quality products that delivered great results. And, they continued to make top-quality electric smokers ever since.
Masterbuilt are basically the most experienced electric smoker manufacturer on the market. This means that they have all the know-how that it takes to make smokers that meet the clients' needs and expectation.
You can find plenty of Masterbuilt electric smokers on sale in selected dealers though you are almost always going to get the best price online.
With a Masterbuilt electric smoker, you will be sure of a reliable unit that will help you smoke your food as you wish.
So does it mean that you should pick any Masterbuilt smoker you find out there?
Of course, not.
Rather, you should be sure to only choose a smoker that delivers according to your needs and tastes.
To help you narrow your search and give you an easy time, above are the top 5 Masterbuilt electric smokers on sale that you should consider before deciding on a final purchase.
Of course there are also great alternatives.
Verdict
There are a lot of factors you should consider when you are looking for a reliable electric smoker. For instance, you should consider the cooking space, usability, price, and quality of the smoker.
Nonetheless, the most important thing that wise shoppers often look for is the smoker's brand and Masterbuilt is one of the leading electric smoker makers on the market.
So, which is your ideal Masterbuilt electric smoker?
Well, it all depends on how you intend to use it.
If you camp a lot or you will be moving it around frequently, you should go for an easy-portable unit but if you only cook in the yard then you can get a bigger smoker with more features.
Also, consider how much food/meat you intend to smoke at once before you settle for one smoker.
To break it down, it all goes back to the reliability, usability, efficiency, and value for money.
Check best prices on Amazon