The original LawnBoy lawnmower, which was manufactured by the Evinrude Company and introduced in 1934, became the first one-handed reel power mower to enter the market.
In the beginning, when Lawn-Boy started its journey up the lawn mower ladder, Lawnboy had to compete with some big names.
Due to its innovative approach to the development of their mower technology Lawnboy is now considered one of the biggest names in the mowing industry and is recognized as an industry leader.
Here we review the Lawn-Boy 17734 21″ 149cc Kohler electric start XTX 149 cc OHV, 3-in-1 discharge self propelled gas lawn mower.
Lawnboy Electric Start Lawnmowers Are Among The Best On The Market
For the last few decades Lawn-Boy has poured a lot of investment into research and development to produce some of the best lawn mowers in the industry.
They are quiet and boast more power and efficiency over their predecessors and also over their competitors.
In fact, when it comes to self propelled gas mowers Lawn Boy have produced an electric start walk behind mower that is better in nearly every way to any other walk behind on the market.
Why this is our top pick for best walk behind electric start gas mower
With so many lawn mowers available on the market, it can be difficult to consider which one to choose.
However, by considering features and prices, you can get a better feel for which lawn mower best suits your specific and personal needs.
By comparing similar mowers on price, features and how they best serve your personal needs you can make a much more informed choice before you make a purchase decision.
Of course a problem arises in the fact that most modern mowers in the same range offer the same features even when made by different manufacturers.
This is why we look at customer reviews as a way to truly access a product's capabilities and to see just how closely its actual real-world performance matches the performance metrics offered by the manufacturer.
The Lawn-Boy 17734 mower was manufactured by engineers who looked closely at the needs and expectations of high-end mower users.
Their aim was to meet, and even exceed these expectations while also offering a great price to match.
Considering the low online price tag from Amazon, the Lawn-Boy 17734 engineers seem to have achieved their objectives.
This walk behind mower packs features that are usually only found in lawn mowers that cost upward of $900+.
Usually a product that has such a huge price difference from its comparable competitors offers inferior quality but the opposite is true with this Lawnboy Lawnmower.

You get better quality and more features for less than half the price of its nearest rival.
So, in this case at least, you don't always just get what you pay for!
Main Features Of Lawn-Boy 17734 Lawn Mower
One of the best features of this model is the Kohler® XTX OHV engine which not only gives a professional cut for standard lawns but is powerful enough to mow hill-like terrains easily also.
The tri-cut cutting system boasts excellent mulching and cutting abilities.
If you are looking for a walk-behind, self-propelled, electric start lawn mower that packs a powerful engine, getting the Lawn-Boy 17734 Lawn Mower can be one of the best investments you could make for your garden.
As the warranty is often a major factor considered when planning to buy a lawn mower Lawnboy offers a full 2-year warranty coverage and a 3-year Tru-start warranty, which makes this product even more purchase-worthy.
If you buy from Amazon you will not only get it at a greatly reduced price of £329.00 with free shipping but you will also have the option of taking out an additional 2-year protection for less than $30 or an additional 1-year for less than 20 bucks (this is on top of the standard warranty mentioned above).
There is no doubt the Lawn-Boy 17734 makes great promises. It offers power, affordability, and reliability but, what distinctive features make it a better choice compared to its competitors?
We have outlined all key features of Lawn-Boy's Electric 17734 Lawn Mower in detail so you can better understand why so many people prefer this specific mower over the myriad of others available.
Powered by the Kohler electric start XTX OHV engine
One Lawn-Boy product that has taken the internet by storm is a 21 inch, rear wheel drive, self-propelled lawn mower with an electric-start capability.
The Lawn-Boy 17734 Kohler Electric Start XTX is one of the highest rated products on Amazon, and is considered to be one of the best mowers on the market.
The Kohler Electric Start XTX 149cc OHV 17734 comes with features that you would expect from a much more expensive machine, such as the convenience of an electric start feature.
Other features include a rear wheel, self-propelling drive capability which provides superior traction and ultimate control in all kinds of mowing conditions and weather.
It packs a powerful and reliable Kohler® XTX 149cc OHV electric start engine which packs enough power to make even tough mowing challenges a breeze.
The tri-cut cutting system, powered by a 21 inch steel deep dome deck, gives you superior cutting quality and excellent mulching capabilities, which is one major reasons it has become the prime choice for customers across North America.
This powerful lawnmower also includes an easily adjustable 2-point height of cut which proves useful when you want to change cutting heights quickly.
The 2-bushel lawn-boy bag is yet another convenient feature that customers love. This bag has a bigger capacity and larger fill opening. This means you will be moving more lawn before needing to empty the bag thus leading to an increase in actual mowing time and reducing the time taken to mow.
The Lawn-Boy 10734 was is such a popular mower it ranked at #45 as the best selling product on Amazon and it's been updated to the 17734 so it's even better!
Note that this ranking is not #45 best selling lawn mower, is #45 best selling product across a range of over 200 million products; thus demonstrating just how good this mower really is.
The Kohler® XTX OHV engine packs a mean punch
Kohler® have been manufacturing quiet and durable engines for more than 90 years and this experience shows in the Kohler® XT series which is renowned for its professional-grade features.
The XTX series is considered to be superior to many other similar models, and an upgrade from the XTS series in the old super-popular 10734 model, because it comes ready with OHV (OverHead Valve) technology which provides higher fuel efficiency and the Theron cylinder liners makes this series of engines even more durable.
There are some great features on the New Kohler® XTX Series OHV engine
Features like OHV make this series tougher and help it last longer than similar displacement lawn mower engines available on the market.
The front tube outlet muffler reduces engine noise significantly.
The maintenance is user-friendly and allows for oil check ups easily.
With technologies like Accu-Fill™ and Consistent-Cut™, you get higher quality cut and easy-to-fill options.
It also sports a larger fuel tank so you don't have to top off gas frequently.
Despite having a bit of an obscure reputation, people who have used the Kohler® XTS OHV engines have never faced any problems to date and recommend the series without hesitation.
Electric start means starting first time every time
Turn the Key and Start Mowing!
The Lawn-Boy 17734 mower comes with an electric start feature and a guarantee from Lawn-Boy that if it doesn't start on the first or second attempt they will repair it for free!
You may not consider an electric start to be a vital component in mowers but who wants to own a recoil engine when you can buy an electric start mower at the same price?
In our very humble opinion, this is a great feature, particularly for the elderly who don't mind mowing the lawn themselves or for those who are challenged with muscle strains and sprains – especially those of us who suffer from arthritis.
Without doubt the 17734 is the best electric start lawn mower currently available in its price range (and even among machines twice the price).
The cutting system is both durable & efficient
A cutting deck is one of the most vital components that make lawn mower work efficiently.
The Lawn-Boy 17734 offers a tri-cut cutting technology which lets you mulch your lawn with incredible accuracy.
It is lightweight and durable due to the fact that it's made from steel, which means it will cut harsh terrains with ease.
When actual tests were performed by customers, it was verified that this new tri-cut system works very efficiently, and consumes less effort and time while mowing.
The 21" cutting width lets you cut more grass in less time compared to smaller width blade mowers and the results speak for themselves; the superior cut quality results in a lawn that looks perfectly manicured and can even match some zero turn riding mowers.
The two point cut of height system offers heights from 1.25″ – 3.75″
This system lets you quickly adjust cutting heights from one side of the mower and also allows you to adjust all the wheels at once.
This is also another convenient feature that makes mowing a lot easier and faster.
You have 6 height positions to choose from which range from 1.25" to 3.75".
Rear wheel self propel drive offers superior traction
With a Variable Speed RWD self-propelling system and adjustable two handle positions, mowing different kinds of terrains becomes more convenient than ever.
This, behind the wheel lawn mower is easy to handle and hard to beat when compared to similar mowers.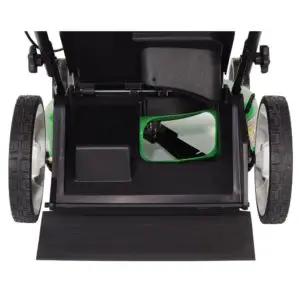 There is a push version, on Amazon the Lawn-Boy 10736 push mower, if you do not like the self-propel functionality.
The Lawn-Boy 17734 offers 3-in-1 ready rear discharge riding feature too.
This feature is optional however, but its installation doesn't require any additional tools.
Larger bagging system comes as standard
The Lawn-Boy 17734 lawn mower comes with a large 2-bushel bag.
This way, you won't have to empty the bag very often during your cutting.
The bag fill opening and capacity are also large which means you don't have to worry about loose clippings anymore.
You can enjoy the extensive Lawnboy warranty
When you buy this Lawn-Boy electric start lawn mower, you get a full 2-year warranty coverage. Should any mishap occur, your lawn mower is fixed right away.
The additional 3-year Tru-start warranty is another great offer. Lawn-Boy promises that its lawn mower takes only one or two pulls (or key turns) to start the engine.
If it takes more than one or two attempts, you can file a complaint and it will be fixed quickly.
The company has an excellent support team.
Comparison With Similar Lawnboy Mowers
To help you make the right decision, the mower is compared with other mowers that offer similar specifications.
This comparison will help you make the right purchase choice for your personal needs.
Even though the 17734 seems to be seriously underpriced compared to similar rival models retailing for over $900 do not make the mistake of thinking it is a cheap copy.
Lawnboy comparison chart
This mower offers some very exclusive features.
| | | | |
| --- | --- | --- | --- |
| Model | 21" 10732 Rear Wheel Variable Speed Self-Propel | 21" 17734 Rear Wheel Drive Self-Propelled with Electric Start System | 21" 10736 High Wheel Push with Honda® Engine |
| | | | |
| Engine Brand | Kohler® | Kohler® | Honda® |
| Engine Model | XT6 Series™ OHV | XTX Series™ OHV | GCV-160, OHC |
| Starter | Recoil | Electric Start | Recoil |
| Self-Propel System | Variable Speed RWD | Variable Speed RWD | Push |
| Tri-Cut System | Yes | Yes | Yes |
| Cutting Width | 21" | 21" | 21" |
| Deck Material | Steel | Steel | Steel |
| Height of Cut | 6 Position 3.1 – 9.5 cm (1.2" – 3.7") | 6 Position 3.1 – 9.5 cm (1.2" – 3.7") | 6 Position 3.1 – 9.5 cm (1.2" – 3.7") |
| Mulch,Rear Bag,Side Discharge | 3-in-1 Ready, Side Discharge Optional,No Tools Required | 3-in-1 Ready,Side Discharge Optional,No Tools Required | 3-in-1 Ready Side Discharge Optional,No Tools Required |
| Adjustable Two Position Handle | Yes | Yes | Yes |
| Two Point Height of Cut Adjustment | Yes | Yes | Yes |
| Wheel Height | 7" Front 8" Rear | 7" Front 8" Rear | 7" Front 1" Rear |
| Standard Bagging System | Yes | Yes | Yes |
| Weight | 30 KG | 34 KG | 28 KG |
| Warranty | 2 Years Full Coverage,3 Years Tru-start Warranty | 2 Years Full Coverage,3 Years Tru-start Warranty | 2 Years Full Coverage,3 Years Tru-start Warranty |
| Shipping Cost</strong | Free | Free | Free |
| Price | Check Price on Amazon | Check Price on Amazon | Check Price on Amazon |
Essential Maintenance Guidelines
When you buy any lawn mower, it is essential to know some safety guidelines and other precautions, in order to ensure that you are taking good care of it and that no harm comes to you or your family.
When any kind of maintenance, service or replacement parts are needed, it is recommended that you contact official dealers who offer maintenance and inspection services. Click here to find a dealer that provides products, parts and services near you.
Or, if you need just a simple fix, an easily replaced part or require upgrade parts, then for a cheaper option you can simply use Amazon.
Before using any type of mower for the first time you should always read up on the essential safety guidelines and other essential tips in your product's user manual.
The manual can be either purchased in hard copy form or downloaded directly for free from here.
Furthermore, you should also check out Warranty Information so that you know what's covered in the event your lawn mower should require replacement parts or repairs.
We recommend that you take care of your engine so your mower can last longer.
Even though the Kohler® XT OHV engine is powerful and durable enough to withstand nearly all mowing challenges, like all engines it will perform best if it gets regular maintenance.
Regular oil checkups will also ensure it runs smoothly and trouble-free.
Kohler engine maintenance (video)
You can watch a video on taking care of your engine below.
The optional service manual can be downloaded here
but it is recommended that you get a hold of the engine's user manual too. This ensures that you are taking correct care of your entire mower and protects you from liability if something goes wrong and you need to avail of the warranty.
What owners say about the 17734 Lawnboy electric start lawn mower
Lawn-Boy has been a major manufacturer of quality mowers since the 1930s. Their investment in so much experience, research and development since then is reflected in its product line.
Although there are always customers who have specialised requirements not met with every product purchase it is very rare to see an overtly negative review of a Lawnboy. The majority of customers seem to be extremely satisfied with their mowers and the 17734 is no exception. In fact this lawn mower receives highly positive, 5 star reviews on websites and online stores across the board.
In the cases where customers did run into problems with their Lawn-Boy they were taken care of quickly by the company as they appear to have a solid and quick acting customer support system in place.
This is something of huge importance since a number of companies take forever to respond to complaints and try every trick in the book to get out of their contractual commitments when repairs are needed.
No so with Lawn-boy, this is one company that takes its customers satisfaction very seriously and does not only reply quickly but also goes the extra mile to solve all problems quickly.
Most repeat Lawn-boy customers give them 5 star reviews.
Ryland F. Young IV who recently bought the Lawn-Boy 17734 lawn mower stated that he made the best purchase ever and loved everything about the Lawn-Boy 17734 mower.
Likewise there are thousands of others who bought this product that are very happy with their purchase pushing it to #45 most popular product on the whole of Amazon.
Summary: The 17734 Lawnboy electric start lawn mower
While the Lawn-Boy 17734 lawn mower may not be the most powerful mower on the market, and it may not be a real competitor to zero turn riding mowers there is a reason behind its popularity.
There is no denying that this mower is definitely one of the best self-propelled gas mowers out there, especially when you consider its price.
Compare it to any other mower within the same price range and much more expensive mowers retailing for over twice the price and you will see why it sells like hot cakes.
There have been no compromises on build quality either, which makes this Lawn-boy one of the most reliable mowers on the market. Most customers seem to be happy with everything from features to performance and support.
Even in the rare event that you run into a problem Lawn-boy act quickly to fix or replace your machine.
Considering all this, buying the Lawn-Boy 17734 is an absolute no-brainer.