Although John Deere have been manufacturing outdoor equipment have been around since 1837, they have not stayed stagnant in their machinery designs, constantly staying ahead of the competition. Along with Cub Cadet John Deere have rightfully gained a reputation for quality, reliability and innovation within the outdoor powered-equipment market. The John Deere D140 embodies this quality.
John Deere are at the forefront of innovation and quality when it comes to lawn tractors.
Their D110 entry-level machine is one of the best in its class but can lack the power needed for those of us with lawns over 2 acres but who do not need something as powerful as the D170. This is where the D140 is a perfect fit.
John Deere D140 Review – A Basic Overview
For anyone who has a larger than normal lawn area, especially those with hilly terrain and patches of obstacles, the need for a powerful engine can not be overemphasized.
For such users the John Deere D140 lawn tractor can be relied on because it offers more than sufficient power to handle most challenging terrains.
This makes it a favorite among not just residential users but commercial users as well.
The John Deere 140 mower is built with the same turning radius as the other machines in the 100 range (as it uses the same chassis design).
This 18″ turning radius may not be as good as the John Deere zero turn mower range but it is more than sufficient for about 80% of lawns.
Its ability to mow in reverse means even hard-to-reach areas or tight corners can be navigated and cut with relative ease.
The fact that the D140 offers speed without clogging is one of the reasons it stands shoulders above the competition.
As well as performing very well on steep inclines the mower works well on an uneven lawn with lots of obstacles as well.
This tractor which can cut in reverse ensures an even cut while offering a cruise control feature.
However, be aware that most of the mowers in the 100 range should not be used for mowing at top reverse speed as they have a tendency to scalp the lawn; when mowing in reverse stay below 2.5 mph to avoid scalping.
The 22 horsepower generated by a D140 John Deere tractor's V-twin cylinder engine has the capability to side discharge, mulch, and bag.
It also keeps a rider comfortable while mowing due to its high-back seat design and anti-vibration design.
There is a convenient washout port that allows you to connect any standard garden hose to the deck for automatic cleaning.
The automatic drive system gives smooth and trouble-free operation.
Basic Product Info:
Riding Mower
Lawn Tractor
22 HP, V-twin John Deere branded engine
Hydrostatic transmission
Bag, Mulch, Side-Discharge
Single-lever height adjustment
Features:
48″ dual blade cutting deck
18″ turning radius
Rear-wheel drive
Reverse mowing
Headlights
2-year warranty
John Deere D140
48″ cut
22 HP
John Deere Branded Engine
2 – 4 Acres
The OEM engine offers power from a v twin
D140 reviews on the different engine models help consumers to learn more about this tractor.
The D140 is powered by a 22 HP V-twin John Deere branded engine.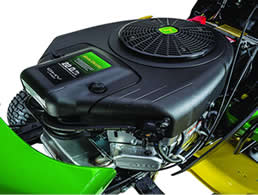 The V-twin cylinders of this engine are balanced and designed to last longer than traditional single cylinder ones.
The V-twin undoubtedly deliverers more productivity than the single cylinder D110 and the added horse power makes the D140 lawn tractor that little bit more powerful than the D125.
The fuel and oil consumption of this engine is great while it offers a high torque performance.
The 22 horse power output is enough for even the toughest of jobs
The performance of an engine is, arguably, the second concern of online lawn mower reviews after the quality of cut.
However, in the case of lawn tractors the engine size is often the most important selling point as a lawn tractor has many uses above and beyond lawn mowing.
The engine starts easily and despite its solid chunky construction is fairly quiet when it runs. It makes use of an edge cutting system to offer a superior performance.
The V-twin engine is dependable, durable, and generates enough torque to handle the toughest mowing jobs.
Starts first time, every time & has automatic transmission
The electronic spark ignition, initiated by a simply key-start, ensures that an engine is easy to start.
The engine starts first even in extremely cold weather weather – at least that's what we found.
The D140 offers its users hydrostatic transmission with automatic changing of gears during operation; the provision of an automotive-type accelerator (like all lawn tractors) makes the D140 just as convenient to use as any other automatic vehicle.
The 48″ cutting deck and dual blades are good enough for commercial use
The D140's deep-deck has the ability to cleanly lift grass so the dual blades can make clean even cuts continuously even on uneven terrain.
The cutting width is a large 48 inches which is protected by the deck's rolled outer edge incorporated to give additional strength and protection to both the blades and the operator.
The mower has a smooth underside for the prevention of a buildup of grass and the even dispersal of grass clippings.
The grass clippings and other debris that inevitably build-up on the underside can be easily removed by connecting a standard garden hose to the wash port and then blasting the underside with water.
The water will wash away the remaining debris to leave the cutting deck clean and ready for the mower's next use.
The John Deere D140 specifications at a glance
22 HP V-twin John Deere branded engine.
48″ cutting deck.
Electronic blade engagement.
Dual blades.
A cut height selection range that runs from 1″ to 4″ that increases in 1/4″ increments.
2-pedal foot control for mowing forward at speeds up to 5.5 mph.
Reverse mowing at speeds up to 3mph.
Wash port for convenience to clean the underside of the deck.
Fade-resistant hood made of a tough composite material that won't dent or rust.
Openings on side let in cooling air while keeping sound level low.
Comfortable easily adjustable high-back with 10 different positions.
Cruise control option allows the operator to relax and maintain a steady speed on large tracts of land.
White glove delivery within 7-14 days by a local John Deere dealer; at delivery you will be taught how to operate and maintain the mower.
The D140 also has the capacity to become an all-round powered garden tool with the addition of affordable baggers, carts, aerators, spreaders, front blades and snow blowers, among other accessories.
As expected you get top performance from a mower that's in the 100 range
As with all the lawn tractors in the John Deere 100 range the D140 offers a quality cut every time.
The D140 is a great choice for any homeowner with up 4 acres and many commercial users keep the D140 as part of their fleet do to its large area coverage (and its capacity to be turned into a variety of other machines such as a snow plough or seeder for example).
With the variable forward speed which it offers and an ability to cut in reverse, this tractor is designed for convenience and performance.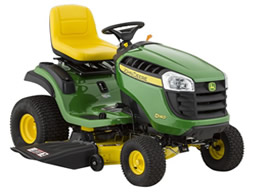 Decreasing reverse mowing speed will only rarely be an issue as the vast majority of owners will never need to mow at fast speeds anyway only using the reverse mow option when navigating lawn obstacles or tight areas.
Optional John Deere d140 attachments, such as the hydraulic lift, helps turn this machine into a garden workhorse.
This John Deere model tractor performs the functions of mulching, bagging, and side discharging quite effectively.
The provision of a cruise control feature ensures that the tractor can maintain a constant speed while the operator relaxes somewhat.
Thus there is a guarantee of an even cut while the rider is offered comfort.
The only warning we would offer users of any of the 100 John Deere lawn tractor range regards the reverse mowing feature.
Avoid reverse mowing at top speed as you will run the risk of scalping your lawn.
Although scalping is not guaranteed to occur if you mow in reverse at top speed it is enough of a risk to simply not do it.
Pros of the John Deere D140
Pros:
✔ Great entry-level tractor
✔ Easily handles 2 – 4 Acres
✔ Perfect cut even on hilly obstacled areas
✔ Almost as good as the D155
✔ Reverse mowing
✔ Free White Glove Service
Cons of the John Deere D140
x Only slightly more powerful than the D125
x Can scalp lawn if reverse mowed at top speed
x Parts can be expensive
Comparison Chart of The 100 Range John Deere Lawn Tractors
Comparison Chart for John Deere Lawn Tractors

| | D125 | D140 | D155 |
| --- | --- | --- | --- |
| Dimensions (D,H,W) | 54.9",68.75",44.5" | 54.9", 69.5", 60.8" | 73.5", 52, 52, |
| Wheels (front/back) | 15/20 | 15/20 | 15/20 |
| Cutting Width/blades | 42" | 48" | 48" |
| Blades | dual-blade | dual-blade | dual-blade |
| Cut Types | Bag,Mulch,Side-Discharge | Bag,Mulch,Side-Discharge | Bag,Mulch,Side-Discharge |
| Turn Radius | 18" | 18" | 18" |
| Engine | 656cc 20 HP V-Twin | 724cc 22 HP V-Twin | 724cc 24 HP V-Twin |
| Fuel Tank Capacity | 2.4 | 2.4 | 2.4 |
| Cruise Control | yes | yes | yes |
| Transmission | Hydrostatic | Hydrostatic | Hydrostatic |
| Drive | Rear-wheel | Rear-wheel | Rear-wheel |
| Forward Speed | 5.5 | 5.5 | 5.5 |
| Reverse Speed | 3.2 | 3.2 | 3.2 |
| Max Cutting Height | 4" | 4" | 4" |
| Lawn Size | 1/2 – 2 Acres | 2 – 4 Acres | 2 – 4 Acres |
| Extras | Cup Holder,Headlights,Hour Meter,Key start,Single-lever height adjustment,Deck wash port | Cup Holder,Headlights,Hour Meter,Key start,Single-lever height adjustment,Deck wash port | Cup Holder,Headlights,Hour Meter,Key start,Single-lever height adjustment,Deck wash port |
| Free White Glove Service | yes | yes | yes |
| Weight | 438lb | 479lb | 483lb |
| CA Compliant Model | yes | yes | no |
| Warranty | 2 year or 120 hours | 2 year or 120 hours | 2 year or 120 hours |
| Cheapest Price | Check Home Depot | Check Home Depot | Check Home Depot |
Summary: John Deere D140 Review
The V-twin cylinders of the John Deere 140 tractor help it to perform at the highest standard even on slopes and uneven terrain. The amount of torque it generates ensures the tractor operates at maximum efficiency to provide a clean cut in the shortest time possible over a variety of different terrains.
The availability of a wide range of accessories can turn the D140 into a garden workhorse.
One of the good things about buying a John Deere lawn tractor is the customer service which the company offers.
The lawn tractor comes with Free White Glove Service; a trained John Deere engineer will come to your home or place of business to give you one-on-one training in the D140's operation.
Being willing to go this extra mile sets John Deere apart from the competition by a long margin in the area of customer service.
With so many lawn tractors out there in the market, consumers are always keen to get the best quality available at the most cost effective price.
So, it's good to know that owner reviews of this garden tractor tend to be very positive with heavy emphasis being placed on not just the quality of the product but the customer service offered by the company who manufacture it.
The D140 is a great all-rounder and a terrific lawn workhorse as, with additional accessories (sold separately), it be turned into a machine that can do just about anything you would a lawn tractor to be able to do.
As far as its ability as a lawn mower it gives a superior cut on even, sloped, obstacle and uneven terrain. The dual cutting blades are of great quality.
On the negative side it is best to avoid mowing in reverse at top speed as this will run a significant risk of scalping the lawn.
However, if you maintain a steady speed lower than maximum you can expect the same quality cut in reverse mow than you can expect while mowing at forward speeds.
With wonderful features like cruise control and hydrostatic anti-vibration as standard the John Deere D140 provides comfortable ride while mowing.