Welcome to our John Deere D125 review. We put this garden tractor through its paces to see if it measured up and this is what we found.
The John Deere D125 lawn mower comes with a high-back seat that keeps a rider comfortable while in use. This tractor is one of the leaders in its category and worth investing in. It comes with a V-twin engine and the capability of reaching 5.5 mph.
One of the benefits you get from buying this mower is the service provided by John Deere. This company has continued to develop its excellent service to its customers since it was founded in 1837.
With a purchase of this lawn tractor John Deere offer to visit your home so a trained operator can walk you through some simple training steps that demonstrate how you can get the best out of this mower.
In truth, there is no learning curve with using a John Deere 125 lawn tractor, really. The controls are fairly intuitive in nature.
John Deere D125 Review
The V-twin engine of the John Deere 125 tractor easily generates up to 20 horse power. As a result, the tractor is able to side discharge, bag or mulch.
It offers its rider a cruise control feature for maintaining speed without putting stress on your accelerator foot.
Most importantly, this John Deere lawn tractor is capable of giving a clean, even cut while preventing grass from building up on its smooth underside.
The deck wash features makes it extremely easy to keep the cutting deck clean thus avoiding the build-up of debris and damage to the blades which are the main causes of bad cuts and lawn damage.
Product Info:
Riding Mower
Lawn Tractor
20 HP, V-twin John Deere branded engine
Hydrostatic transmission
CA Compliant availability
Bag, Mulch, Side-Discharge
Features:
42″ dual blade cutting deck
Cruise Control
18″ turning radius
Rear-wheel drive
Reverse mowing
2-year warranty
John Deere D125
Standard
42″ cut
20 HP
V-Twin Hydrostatic
John Deere D125 CA
California Compliant
42″ cut
20 HP
V-Twin Hydrostatic
The John Deere branded engine packs a punch
As you will probably have noticed in our extensive John Deere riding mower reviews that the D125 John Deere lawn tractor has a John Deere branded engine.
However this doesn't mean the every engine comes from the same manufacturer.
John Deere D125 models have engines that include:
Briggs and Stratton:
The twin-cylinder engines of this model generates the power needed to ride this mower and handle several landscapes. This enhances its ability to start consistently and cut the grass on a lawn perfectly. It is designed to last long while delivering high performance on a consistent basis.
Kawasaki:
This Kawasaki engine is considered by many people to be long-lasting and well-suited for towing or pushing. Its twin-cylinder engines come highly recommended because of its heavy-duty transmissions. They are also strong and reliable.
Kohler:
This model of engine is designed to be reliable and powerful enough to ensure that a D125 tractor handles any landscape. It offers quality, an electronic fuel injection, and a Kohler direct injection. The engine is designed to be reliable for lawn mowers.
Each of these engine models comes with a John Deere D125 manual which provides instructions on how personal injuries or damages can be prevented.
However, in most cases the engine will be John Deere branded.
As each engine is more than capable of providing the necessary power to run this mower at top performance levels it really makes no difference which manufacturer provided it; after all John Deere would not allow their brand name to be used on an inferior product.
So let's take a closer look at exactly what this engine offers.
The 20 Horse power v-twin makes slopes a breeze
One of the best features of the D125 lawn tractor's powerful V-twin engine is its full-pressure lubrication.
The 20 horsepower which it is able to generate offers the lawn tractor the power which it needs for side discharging, bagging, and mulching.
Its cast-iron sleeves ensures that the engine lasts a long time even after rigorous and regular usage (providing you look after it properly).
There is also the availability of overhead valves which enables it to consume less fuel without comprising on power or performance.
The D125 has an easy starting system and smooth transmission
The John Deere D125 comes with an electronic ignition system with a first-time start every time.
Users of this tractor model also get an infinite choice of speeds. The hydrostatic transmission of its engine makes this possible.
You can mow forward at speeds up to 5.5 mph. The D125 also has the ability to mow in reverse at speeds up to 3.2 mph.
All-in-all the JD D125's transmission matches the cutting performance of the lawn tractor and with a rear tire size to ensure good traction as well as an excellent performance.
The large cutting deck and blades offer a great cut even in reverse
The cutting deck and twin blades make it possible for grass to be cut evenly at a variety of heights.
This mower's cutting deck can be lowered or raised by the use of a simple lever within easy reach at the side of the machine by your foot.
It offers 13 cutting positions.
The mower offers side discharge as standard with the option for bagging and mulching.
The mower deck is made of steel with a large a cutting width of 42 inches.
The quality of cut is what you would expect from a John Deere mower.
However, the reverse mow at speed is not quite as good as the machine achieves when mowing at higher forward speeds.
Although the D125 performs excellent when mowing at top speed while going forward it does not achieve the same professional results whenever mowing at top speed.
If you plan to mow in reserve it is advisable to keep your speed below 2 mph to avoid scalping.
Lower speed reverse mowing will give you the same quality of cut that forward mowing does.
Additional specifications of the D125
The frame of the chassis is made of full-length welded steel.
It has a standard steering wheel and a turning radius of 18 inches. Be careful with your turns when cutting at higher speeds. It is best to reduce speed when turning especially when you are cutting in reverse, as we mentioned earlier.
Below are some of the best features available on the D125.
Gas Powered
Cruise Control
Cup Holder
Headlights
Hour Meter
Key Start
Mulching Lawn Mower
Single-lever Height Adjustment
Deck Wash
The deck wash is standard across the John Deere lawn tractor range and is very easy to use as demonstrated in the video below.
The D125 has great performance for its category
John Deere lawn tractor reviews prove that these lawn tractors perform at a high standard. Take the cruise control system as an instance.
The John Deere cruise control allows the operator to concentrate on mowing with less focus on driving.
The mower also moves in a reverse direction seamlessly though as we already mentioned be careful of scalping the lawn if you are cutting at top speed in reverse.
The D125 also offers a choice of side discharging, bagging, or mulching and gives excellent quality results in each of these areas.
Its weight does not stop it from reaching 5.5 mph quite easily at forward speeds and 3.2 mph in reverse.
The high back seat ensures that the operator is always comfortable regardless of terrain or length of operation.
Put simply, there are so many things which this lawn tractor does well we don't want to bore you with them; technical specifications can sound great but they rarely let you know what to expect from a machine.
We think the John Deere D125 is just about top of the pecking order for a machine in its class. For a 42″ lawn tractor is unequaled and only the Cub Cadet XT series comes close.
How the D125 Compares to Close Rivals
Below is a quick comparison of similar popular lawn tractors in the same class and category as the John Deere D125.
John Deere D110 vs John Deere D125 review
The D125 model is basically a small step up from the D110. The D125 offers more power than a D110 model.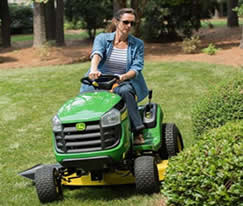 The small difference between the D125 and D110 is in Horse Power.
The D125 model generates 20hp compared to the 19.5hp of a D110 model. This equates to 540cc in the D110 engine and 656cc in the D125.
The reason the D110 generates fewer horsepower is that it operates on a single cylinder engine compared to the 2 cylinders on a D125 model.
The biggest difference between the D110 and the D125 is durability.
In our John Deere D110 review we found that this garden tractor is not a very durable machine. The D125 is the opposite.
In our John Deere D125 review process we found this to be an overall better machine and it is much, much more durable with less likelihood of it developing a fault.
One other notable difference is in the difference in weight between the two machines.
The D110 has a weight of 423lbs slightly lighter than the D125 model's weight of 436lbs.
There is also no California compliant E110 model while there is a California compliant D125 model.
Check Price of E110 at Home Depot
John Deere D140 vs John Deere D125 review
The next model closest to the D125 is the D140 model.
To begin with, a D140 John Deere lawn tractor is just a slight upgrade to the D125.
The D140 weighs more than its D125 counterpart. While a D125 weighs 436lbs, a D140 model weighs 479lb. And the differences do not end there.
The D125 model has a John Deere branded engine that produces 20hp, while the D140 model produces 22hp. This means that the engine of a D140 model is more powerful than that of a D125 model but not by much.
The biggest difference between the two mowers is the deck size.
The D125, like the D110, has a 42″ cutting deck while the E140 has a much bigger 48″. This means finishing your lawn work happens a lot quicker.
Be sure to check out our John Deere D140 review.
Check Price of D140 at Home Depot or if you are in California check the CA compliant D140 model.
Comparison Chart – D110, D125, D140
Comparison Chart for John Deere Lawn Tractors
D110
D125
D140
Dimensions (D,H,W)
68.75",42.5",54.9"
68.75",44.5", 54.9"
69.5", 60.8"
Wheels (front/back)
15/20&#44
15/20
15/20
Cutting Width/blades
42"
42"
48"
Blades
single
dual-blade
dual-blade
Cut Types
Bag,Mulch,Side-Discharge
Bag,Mulch,Side-Discharge
Bag,Mulch,Side-Discharge
Turn Radius
18"
18"
18"
Engine
540cc 19 HP Single Cylinder
656cc 20 HP V-Twin
724cc 22 HP V-Twin
Fuel Tank Capacity
2.4
2.4
2.4
Cruise Control
no
yes
yes
Transmission
Hydrostatic
Hydrostatic
Hydrostatic
Drive
Rear-wheel
Rear-wheel
Rear-wheel
Forward Speed
5.5
5.5
5.5
Reverse Speed
3.2
3.2
3.2
Max Cutting Height
4"
4"
4"
Lawn Size
1/2 – 2 Acres
1/2 – 2 Acres
2 – 4 Acres
Extras
Cup Holder,Headlights,Hour Meter,Key start,Single-lever height adjustment,Deck wash port
Cup Holder,Headlights,Hour Meter,Key start,Single-lever height adjustment,Deck wash port
Cup Holder,Headlights,Hour Meter,Key start,Single-lever height adjustment,Deck wash port
Free White Glove Service
yes
yes
yes
Weight
420.5lb
438lb
479lb
CA Compliant Model
no
yes
yes
Warranty
2 year or 120 hours
2 year or 120 hours
2 year or 120 hours
Cheapest Price
Check Home Depot
Check Home Depot
Check Home Depot
Summary: John Deere D125 Review
Our D125 review reveals the high level of performance and fantastic quality of cut offered by this John Deere lawn tractor.
The D125's ability to side discharge, bag and mulch makes it a great all round lawn tractor. Building on the already excellence offered from the D110 the D125 takes that excellence just a little bit further.
In truth there isn't much difference in these machines but the V-twin in the D125 makes it well worth the extra 100 bucks; a very small price difference for extra power and heightened performance.
Truly the D125 stands out from the competition – both within the John Deere range and among its closest manufacturing competitors.
John Deere continues to look after the interests of its consumer-base through, not only the constant improvement of their mowers but, by offering a Free White Glove Service with the purchase of their lawn tractor mowers.
The White Glove Service is just a fancy name for great free customer service add on; the company sends a trained member of staff to your home to bring them up to speed on how to use this mower and get the very best from it.
Even if you are a seasoned pro at using lawn tractors this service is well worth using as some of the people they send out are very competent and highly skilled and they know John Deere inside-out, so you may learn a few things you didn't know before.
Obviously if this is your first use of a lawn tractor we urge you to take advantage of this service.

Final Thoughts
The free White Glove Service clearly shows John Deere's willingness to go that extra mile in their drive to stand out as the leading manufacturer of powered lawn mowing equipment and demonstrates their commitment to their customers. Something that cannot be said of all manufactures!
As for the quality of cut, well it is exactly what you would expect from a John Deere lawn tractor.
The high-quality dual cutting blades, 42″ stamped deck, that offers a max 4″ cutting height, and its easily reached height lever gives excellent cut quality even on hilly or uneven terrain.
The only drawback to this machine that we can see is the quality of cut when mowing in reverse at top speed. Put simply, don't do it!
Cutting at higher range forward speeds is fine but when you mow in reverse over 2 mph you can expect some scalping to occur. Keep your reverse speed below 2 mp when the deck is engaged and you should be fine even on hilly or uneven terrain.
A great feature is the cruise control.
The operator can easily concentrate more on mowing with the option to use cruise control and with D125's custom comfort high back seat this feature does not mean you have to compromise on comfort.
A comparison with other models of John Deere's lawn mowers reveal that the D125 model has all the basic features of the popular D110 but with that little bit of extra power that makes a lot of difference in feel and time spent mowing.
With the added cruise control option coming as standard this makes the D125 a much better choice over the D110 as it costs just $100 more.
The customer service delivery of John Deere company is truly second to none! This combined with the capabilities of this lawn mower model makes it well worth the investment.
All-in-all this is one high-performing lawn tractor and possibly the best in its class (we also like the Cub Cadet XT LX42 but the D125 just beats it to the post due to its superior engine performance and John Deere's excellent customer service).
We highly recommend the John Deere D125 to anyone who has 1/2 acre to 2 acres of land especially if you have some uneven or steep terrain to deal with.