The John Deere D110 is one of the most popular entry-level lawn tractors available on the market today. The popularity of the D110 lies in its ease of operation, quality build and the exceptional cut if offers as well as its versatility as an outdoor workhorse.
With an array of optional extras that can turn this machine from a lawn mower into a snow plow, a broadcaster for fertilizer or ice melting products or even a 15-gal. (57-L) tractor-mounted sprayer for weed control or liquid fertilizer, it is no wonder the John Deere D110 is one of the most popular entry level lawn tractors on the market today.
About The John Deere D110
Since 1837 John Deere have molded for themselves a reputation for building outdoor power equipment that is durable, and dependable and that gives excellent results even after many years of use.
The typical commitment towards consumers of the company's products is what makes them one of the best manufacturer's of outdoor lawn equipment.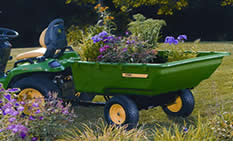 So it should come as no surprise that the D110 John Deere mower is another quality product from the John Deere Company.
Although there are better lawn tractors on the market their are very few that can compete with D110 in its category.
Even though this is an entry level machine the exceptional quality of this tractor is evident in its construction, which includes a cast-iron front axle and fully-welded steel frame.
The JD D110 offers great ground speed in both forward and reverse without compromising on cut quality and with quality headlights and the option of an array of attachments (the utility cart is a must) you can turn the humble D110 is a lawn-care powerhouse.
Operating it is a breeze.
Maintenance of this tractor which can generate up to 19 horsepower is a breeze. Its one-cylinder engine operates on gasoline.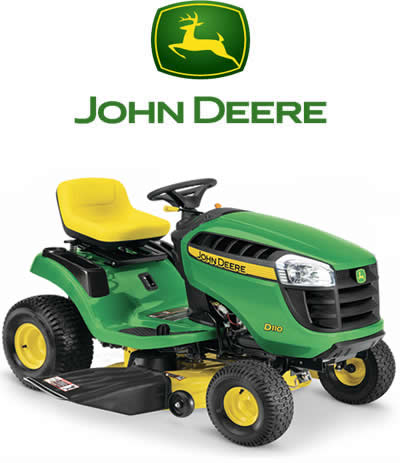 Product Info:
Riding Mower
Lawn Tractor
19 HP, V-twin John Deere branded engine
Hydrostatic transmission
Bag, Mulch, Side-Discharge
Single-lever height adjustment
Features:
42″ dual blade cutting deck
18″ turning radius
Rear-wheel drive
Reverse mowing
Headlights
2-year warranty
John Deere D110
42″ cut
19 HP
John Deere Branded Engine
1/2 – 2 Acres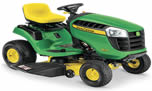 John Deere Branded Engine
The D110 comes with an OEM branded engine that packs quite a bit of power for an entry level lawn tractor.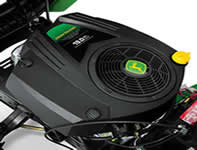 This 19 horsepower engine by Kawasaki has an electric start. So, you can easily start this engine by simply turning its key.
The John Deere engine has the ability to deflect, as well as eject, debris and grass while simultaneously offering its rider comfort from low vibrations for a smooth ride.
It is also quiet without compromising on efficiency; the engine supplies the D110 mower plenty of power.
The 19 Horse Power engine is designed to help the lawn tractor handle tough jobs and challenging terrains making it a great fit for both residential and commercial environments.
This engine owes its low-emissions to its clever canister air cleaners.
19 Horse Power with Anti-Vibration
The D110's one-cylinder engine comes with an anti-vibration system even though it packs a respectable 19 horse power.
This anti-vibration feature helps keep the engine quiet during operation but its real benefit lies in the increased comfort to the rider.
When you operate the D110 it often feels more like driving a conventional vehicle rather than a riding mower.
Starting System and Transmission
There is no need to flip through a John Deere D110 manual in order to learn how to start a John Deere engine.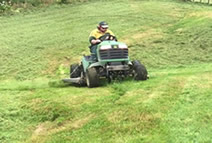 Starting it is a breeze, thanks to its electronic ignition. Turn the key and away you go.
The keyed electric start makes even cold weather starting easy.
The hydrostatic transmission ensures no lose of power (which usually occurs via the transmission of energy through the axle).
The hydrostatic transmission pumps power from the 19HP engine to D110 tractor's rear wheels.
The rear-wheel drive, large rear wheels and adequately threaded tires ensures you get great traction from the D110 even on sloped terrain.
&nbsp:


Cutting Deck and Blades
The cutting width of the D110 is a very respectable 42″.
The operator can adjust the cut height of this lawn tractor between 13 different positions allowing for cut height increments of 25 inches from a minimum cut height of 1″ up.
The 42″ stamped 13 gauge steel deck has 2 blades that offer exceptional even cuts even on very steep terrain.
This 42″ dual blade cutting deck along with a fuel capacity of 2.4 gallons makes the D110 ideal for lawns between 1/2 to 2 Acres in size.
Additional Specifications
The standard steering wheel of this tractor has a diameter of 12 inches and operation of the mower that gives the same feel as any standard automatic vehicle.
The turning radius of the lawn tractor is 18 inches which, although not as good as a zero turn mower, is more than sufficient for most lawns.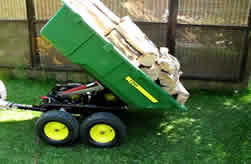 Obviously if you have very tight turns to make or a lot lawn obstacles, such as trees or ornaments, you need to mow around having an 18″ turning radius may prove to be somewhat challenging.
However, for most gardens and lawns the D110 is more than capable and the ability to mow in reverse means that most lawn obstacles do not pose too much of a problem nor do they slow you down much while mowing.
Its fender deck is made of stamped steel with two standard headlights provided and the meter hour gauge takes the guess work out of lawn mower maintenance schedules.
The mower also comes with Free White Glover Service. This service entails a trained John Deere operator visiting your home to show you how to operate and get the best from your machine – totally free! If you are new to lawn tractors, or just John Deere mowers, then this is worth availing of.
There are a ton of additional accessories and attachments you can buy for the D110 from a 42″ bagger to a sweeper, and of course an essential, cart which is easily fitted via the D110's tow bar; carts range from the 450lb 7cu.ft tow-behind poly utility cart to the larger 1,650lb 18cu. ft dump cat.
&nbsp:


Performance
As far as performance goes, a D110 tractor can hold its own on all different types of challenging terrains and offers the type of quality you'd expect from John Deere.
It is suitable for challenging environments with steep hills and obstacles. It is surprising versatile for an entry-level lawn tractor and can handle itself in tough conditions.
It can be relied upon to lift grass for an even cut even on uneven ground and hilly areas.
As you mow, it easily switches from mulching to rear bagging, or side discharging.
There is an assurance of extra safety and convenience through the provision of a unique mounting system made possible by the design of the blade to spindle.
To assist in the fine-tuning of the cutting height, its spring-assisted lever simplifies the process of mower cut height adjustment.

Pros & Cons
Pros:
✔ Great entry-level tractor
✔ Easily handles 1/2 – 2 Acres
✔ Perfect cut even on hilly obstacled areas
✔ Almost as good as the D125
✔ Reverse mowing
✔ Free White Glove Service
Cons:
x Only slighter more powerful than the D105
x Can scalp lawn if reverse mowed at top speed
x Parts can be expensive
JD Lawn Tractor Comparison Chart
Comparison Between D105, D110, and D125.
Comparison Chart for John Deere Lawn Tractors
D105
D110
D125
Engine
17.5hp
19hp
20hp
Cutting Deck:
42"
42"
42"
Drive System:
2 Wheel Drive
2 Wheel Drive
2 Wheel drive
Transmission:
Automatic
2 Pedal Hydrostatic
2 Pedal Hydrostatic
Edge Cutting Systems:
Available
Available
Available
Gas Powered:
No
Yes
Yes
Overhead Valve Engine:
Yes
Yes
Yes
Variable Speed:
Yes
Yes
Yes
Self-Propelled:
Yes
Yes
Yes
Electric Start:
Yes
Yes
Yes
Gas Powered:
Yes
Yes
Yes
Cutting Height Ratio:
4.1"
4.1"
4.1"
Mulching Feature:
Yes
Yes
Yes
Side Discharge:
Yes
Yes
Yes
Riding Lawn Tractor:
Yes
Yes
Yes
Rotary Mower:
No
Yes
Yes
Cylinders:
1
1
V-Twin
Steel Deck:
Yes
Yes
Yes
Headlights:
Yes
Yes
Yes
Engine Displacement:
500cc
540cc
656cc
Horse Power:
17.5
19
20
Transmission:
Automatic
Hydrostatic
Hydrostatic
Fuel Tank (gallons):
2.4
2.4
2.4
Size of Yard:
1/2 – 2 Acres
1/2 – 2 Acres
1/2 – 2 Acres
Easy Height Adjustment:
Yes
Yes
Yes
Speed (mph):
5
5
5
Reverse Speed (mph):
3
3
3
Weight:
200.49kg
191.87kg
197.77kg
Turn Radius:
17.72"
17.72"
17.99"
Cutting Width:
42.13"
42.13"
42.13"
Longer Maximum Cutting Height:
4.01"
4.01"
4.01"
Shorter Minimum Cutting Height:
0.91"
0.91"
0.91"
Greater Cutting Height Ratio:
4.1
4.1
4.1
Features:
Cup Holder
Deck Cleanout
Headlights
Hour Meter
Keyed start
Mulching Lawn Mower
Cup Holder
Deck Cleanout
Headlights
Hour Meter
Keyed start
Mulching Lawn Mower
Single-lever height adjustment
Cruise Control
Cup Holder
Deck Cleanout
Headlights
Hour Meter
Keyed start
Mulching Lawn Mower
Single-lever height adjustment
Price:
check online
check online
check online
Summary
John Deere has been providing quality tractors for their consumers since 1837 and they are constantly at the forefront of innovation.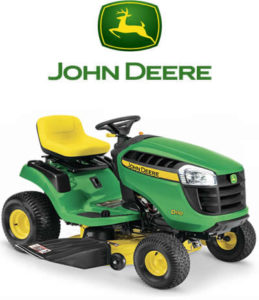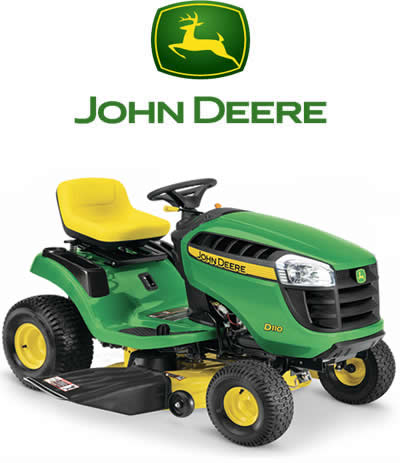 They have built the D110 lawn tractor with quality and durability in mind.
The D110's ability to give a great clean professional cut even under tough conditions and sloped areas makes it stand it out among the competition, with maybe the exception being the Cub Cadet XT range.
The John Deere D110 can generate as much as 19 horsepower to its rear wheels. It's 18″ turning radius allows for decent maneuverability which is further helped by its ability to mow in reverse.
There seems to be little problems with the keyed electric start even in cold weather or when the mower has been left sitting unused over the winter months.
Although you can certainly push the mower further it is ideally suited to any lawn areas up to 2 acres in size making it perfect for large residential lawns and as a part of any commercial lawn mowing fleet.