Most gardeners will experience aches and pains over the course of their lives as playing in the dirt requires excessive bending, kneeling and puts varying amounts of strain on a variety of muscle groups. In addition to the usual pains & strains though, it seems that mild and even sever arthritis is on the increase and this has restricted the outdoor enjoyment of even the hardest of gardeners – until now.
If you suffer from arthritis, a bad back, bad knees, have general wear & tear on the body or just want to make gardening a little easier and more fun then we have 10 great tools to help.
Although this article is not an exhaustive study of gardening aids it does highlight some of the more innovative tools available to make your gardening life a little easier.
Gardening For the Physically Challenged
Don't despair if your time in the garden has been impaired through pain or mobility issues in the past because even if you are suffering from backache, or the occasional debilitating pain associated with arthritis, there a wide range of tools available for use in the garden designed to alleviate some of the discomfort.
These "therapeutic tools" are designed to help ease pains and aches by making the mundane gardening tasks that require physical labour just a little easier on the bones.
Most of these tools are available in local garden centers and stores but can be ordered online easily.
Therapeutic Gardening
Just as many gardeners consider gardening itself to be a therapeutic practice it should come as no surprise that creative gardeners, with a knack for invention, have come up with some innovative therapeutic gardening tools designed to specifically help people who are experiencing physical challenges in the garden due to aches and pains.
Many of these specially crafted garden tools have been specifically designed to help persons combat the diminished strength often associated with painful physical conditions. By making certain gardening tasks easier people experiencing common aches and pains can more comfortably work in outdoor environments, with outdoor tools, that would normally be too challenging for them.
Tools for Arthritis Sufferers
ArthritisSupplies.com is a company that specialises is supplying everyday use equipment for arthritis sufferers so they can enjoy a better quality of life simply by being able to do those things non-sufferers take for granted.
They have a wide range of specialist gardening tools that can make even the most strenuous gardening tasks possible.
They state on their website:
With these specially designed arthritic garden tools, the ergonomic garden trowel, hoe, fork and cultivator, gardening is one hobby which arthritis sufferers can continue to enjoy.
The tools are designed with rubber grips and are ideal for persons with swollen hands or those with deteriorating hand joints.
Ergonomic Tools For the Garden
The following are tools that require less squatting, kneeling and crawling – a god-send for any avid gardener. They are designed to lessen pressure on key areas such as the back and neck by limiting the amount of bending you need to do.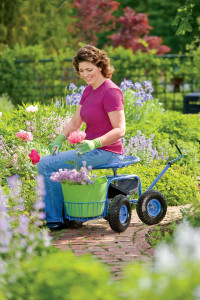 Although they have been designed with arthritis sufferers in mind they are ideal for anyone who wants to minimize the risk of injury and strain (an all too common problem with people new to gardening who do not realise the physical requirements involved).
Great examples of these helpful eronomic gardening tools can be found at Gardener's Supply Company who ship from Vermont to anywhere in the USA though if you live outside the lower 48 states you need to telephone them.
If you experience difficulty finding alternatives in the UK, Australia, Canada or elsewhere in the world a simple Amazon or eBay search is usually enough to give you some ideas.
These types of tools and accessories are super easy to use and maintain.
Many of them are designed with soft rubber grips meant to be used by arthritis patients and those suffering from bone ailments so they can carry out gardening activities with ease.
Senior Gardeners
Senior gardeners often find tools designed for people with physical challenges can help them greatly and lessen the risk of injury even if they are in the best of health and fairly fit.
Tools designed for gardeners with a physical "disability" are often employed by senior gardeners, and even their much younger counterparts, because they offer such an advantage over traditional physically demanding implements.
It is always wise to avoid putting too much stress on your back even if you have never suffered from back pain or back related issues. In this space-age we have extremely lightweight but sturdy tools such as aluminium spades that once required heavy, bulky iron or steel.
Top 10 Handy Garden Tools
Whether you need garden tools that have been specifically designed to help you minimize pain and discomfort or you just want the best tools available so you can enjoy your gardening more we have compiled a list of some innovative tools that would be great additions to any gardeners shed.
1. The Oscillating Hoe
The Oscillating hoe is a great example of some innovative thinking. Designed to make weeding almost effortless this amazing tool requires only small amounts of movements to de-weed your garden; a job that, until now, has always been strenuous, boring and time-consuming.
This amazing tool can be used either standing or in a crouching position.
2. Shovel, Rake, & Soil Sieve in One
The Golden Gark is a 3 in 1 garden tool that is indispensable for removing stones, weeds and cleaning up fallen leaves. Why buy three separate tools when you can have them all in one?!
Watch this pleasant Irish gardener in the video below as he explains how to use these tools.
3. Ratchet Pruners
Ratchet pruners come in all sizes and are tools designed for persons with a weak grip or mobility issues.
Each tool is made with a spring action that makes cutting effortless and makes even the toughest of branches easy to clip.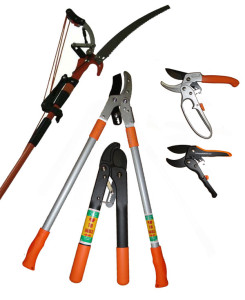 The ratcheting action of the pruner requires very little pressure even when used to cut thick branches. The tool magnifies the force applied to it through its spring action and is thus ideal for gardeners who suffer from a weak grip or want to avoid muscle fatigue in their forearms.
There are even pruners that are so powerful and sharp they can cut through branches easier than a pair of manual hedge clippers.
The more common short hand-held pruners are designed for the pruning of such things as rose bushes while the longer handled versions are used mostly to avoid bending and stretching.
These tools are a great aid for senior aged gardeners and those suffering from arthritis in the hands.
The long handled pruners, like the oscillating hoe, are ideal for persons who experience mobility impairment. The tool provides a good balance and gives the user a safe pruning experience while maintaining full control and accuracy.
The pruner can also be comfortably used by persons in a wheel chair.
Trigger-grip trowels and cultivator forks are also some gardening tools designed to help persons with limited capabilities or diminishing endurance.
4. Low Riders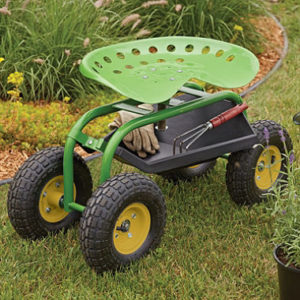 A rolling scoot with swiveling contoured seat that sits low to the ground can be invaluable for anyone with back or knee problems.
This simple, yet clever, little device lets you tend plants from a low, seated position, extending your reach and preventing strain in your shoulders, lower back and knees.
On most models the 360 degree turning swivel seat can be easily adjusted in height for differing plants and garden areas. With non-pneumatic wheels it needs no maintenance and being lightweight the handy carrying handle at the back makes it mobile even when you aren't sitting in it.
5. The Automatic Vent Opener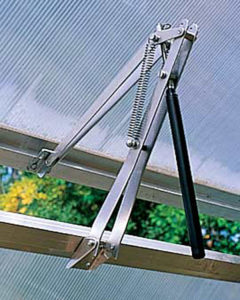 Ideal for gardeners with greenhouses this device opens and closes greenhouse vent panels for reliable climate control automatically.
This device is not electrically powered so requires no battery or mains connection.
Its fluid filled cylinders are designed to expand when temperatures rise and can be set by you via a twist of the temperature cylinder setting.
Although the vent opener was designed to automatically regulate temperature and humidity levels, especially when on holiday or away from your garden, it is deal for those who find it difficult to stretch.
5. A Plant Caddy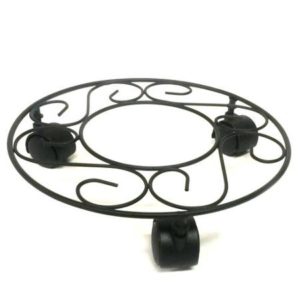 Sometimes called a plant dolly this helpful gardening accessory comes in different diameter sizes (or adjustable sizes) to make it a precise fit for any heavy plant pot for easy storage and movement.
Simply unlocking the wheels allows you to move the plant pot anywhere where you can then lock the wheels in place.
Mostly used outdoors to move heavy plants into sunshine or shade when needed this simple device removes almost all of the physical effort usually involved in such as task.
Although these caddies come in different sizes and use different materials the standard locking caster usually holds up to 175 lbs which should be more than enough for most gardeners.
6. Easy Grip Tools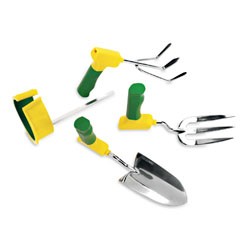 Gardeners suffering from arthritis, hand, wrist, arm, or shoulder injuries as well as those recovering from stroke can use these specially designed garden tools to gain more control over their gardening activities.
Due to their innovative shape and rubber handles it is easy to see why they are called "easy-grip" and they can really make gardening fun again for those with restricted movement, poor grip or who experience pain in the forearms.
They are designed to do the same job as their traditional counterparts but without the need to bend the wrist.
These tools are becoming very popular with those involved in therapeutic gardening.
7. Easy Grip Long Reach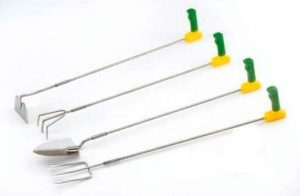 Like the standard easy-grip tools mentioned above these long-reach versions offer the same benefits.
Just as every gardener needs tools for the smaller jobs the larger jobs require their own implements. This is where the long reach easy-grip tools come into play.
With easy-grip spades, rakes, swivels etc., the heavier parts of gardening can also be taken care of.
Just like the smaller tools the long-reach versions are designed to do the same job as their traditional counterparts but without the need to bend the wrist or bend the back.
These tools are also becoming very popular with those involved in therapeutic gardening.
8. Garden Kneeler
The garden kneeler was designed and engineered to reduce back and knee strain. It is also invaluable when tending to raised beds or pots situated on concrete, tiling or other hard surfaces.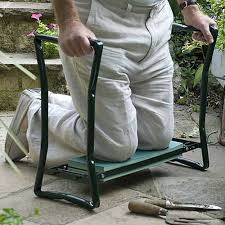 By using a kneeler gardeners can spend more time in physical positions that would usually create considerable discomfort.
Lowering yourself onto the padded kneel mat can be done easily and safely with the use of the sturdy grip handles.
Kneelers usually come in 2 types: those that rest at ground level for a greater reduction in back and shoulder strain, or ones that are slightly alleviated for reduced stretching.
9. Seed Sowing Hopper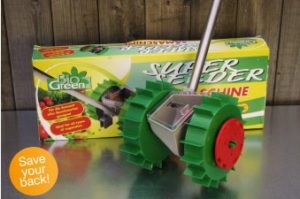 Sow vegetable and plant seeds without needing to bend, dig or cover.
You simply fill the hopper with seeds then select the correct sowing depth required and distance between each seed.
Then you simply push the hopper along the soil and it automatically plants the seeds for you.
Ingenious and fun!
10. The Bizarre 10-in-1 Gardening Tool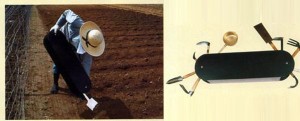 Based on the same concept as the Swiss army knife this Japanese invention looks as crazy as it sounds.
The 10-in-1 gardening tool offers exactly what the name implies; 10 gardening tools in one "handy" carrier case.
Although this is a fun and whacky tool it wouldn't be very practical to drag around the garden but would certainly make a great talking point at any garden party!