As we mentioned in our Cub Cadet lawn tractors review and our Cub Cadet zero turn mowers review, Cub Cadet was first established in Kentucky back in 1960 under the direction of International Harvester. The IH Cub Cadet was an entirely new line of heavy-duty small tractors using components from the previous Cub series tractors.
Then in 1981, International Harvester sold their Cub Cadet division to the outdoor equipment mega company MTD corporation.
MTD have continued innovating and building upon the Cub Cadet name to produce some of the most popular, and arguably the best, walk-behind mowers on the market today.
Below we have reviewed the 2 best Cub Cadet walk behind mowers available.
List of Cub Cadet Lawn Mowers Reviewed
The top Cub Cadet walk-behind lawn mowers:
Cub Cadet Walk-behind Mower Range
Cub Cadet has revolutionized the capabilities of walk-behind mowers.
The seven models in the brand's Signature Cut (SC) Series comprise of both push and self-propelled mowers that deliver exceptional power and strength with a cut quality that often outshines mowers priced twice as high.
With the innovative driving system, consumers are assured of optimum maneuverability for a non-zero turn mower, with almost effortless cutting around curved terrain and hard-to-reach areas.
SC100 21″ 3-in-1 Push Mower
Featuring a 159cc engine and 21-inch blade the Cub Cadet SC100 HW push walk-behind mower is more than sufficient for flat lawns covering up to 0.25 acres.
This is a well-made, low-cost, entry-level push mower model but with lots of practical features; a premium engine, easy handling, washout port for easier dome maintenance, cutting height adjustments, and more.
 

Superior Performance
The 159cc engine offers fairly quiet operation following an easy start with 1-2 pulls, thanks to the Cub Cadet's Sure Start guarantee.
The performance tuned OHV – overhead valve – engine is a great alternative to the cheaper side-valve engine.
Besides the guaranteed long-life of the OHV engine on your Cub Cadet SC-100 lawn mower, users also benefit from the more efficient design.
Due to the innovations introduced by Cub Cadet into their walk-behind range of mowers users can enjoy less gas consumption and as a positive byproduct also lower their personal carbon footprint.
Innovative Design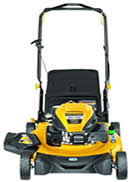 So what does this innovative design really offer?
Well, for a start the SC100's characteristic deep dome deck design optimizes airflow around the blade system to maximize its operation.
The adjustable 3-position ergonomic handles with soft-touch foam grip make mowing pleasant for all users regardless of personal height.
Moreover, you can easily transform any grass cuttings into mulch via the triple-cut blades, giving you great results and a healthier lawn.
Versatile Maneuverability
The SC100 comes with high rear wheels that help to deliver smooth operation over uneven landscapes.
As a push mower – not self-propelled – the SC100 is amazingly lightweight, owing to its largely plastic construction (which also keeps its price low).
The mower is easy to push forward or pull backward depending on your mowing needs.
With industrial-tread tires, you are assured of great traction so you can mow with the grass wet or dry.
Multiple Adjustments
The 21-inch blade can be adjusted to 6 different cutting height positions, between 1.25 inches and 3.75 inches (30mm to 94mm).
As grass should be cut to different heights depending on the time of the year or your personal preference the SC100 HW comes with adjustable cutting positions.
You can easily increase or decrease the cutting height.
The setting is also useful for navigating through varied terrain for maintaining an even cut.
3-in-1 Discharge options
You can choose from any one of the three discharge options available on the SC100. The mower can deal with grass clippings via rear-bagging, mulching, or side discharge.
The mower is highly efficient at all three options.
The SC-100 HW Cub Cadet lawn mower comes with a mulch plug that transform the the Cub cadet into a mulching mower.
It also has a 1.9 bu. rear dust-blocking bagger included should you wish to collect the grass cuttings for a different use or for disposal (though you are much better using the mulch capability than dumping the grass).
The mulch plug and kit helps you easily return organic matter to your lawn to keep looking lush year round.
The bag is designed to pick up the clippings neatly, while the side discharge ensures that the grass clippings on your turf are evenly dispersed. Whatever option you prefer, you can expect the SC-100 to leave your lawn looking neat and beautiful every time you mow.
Durability
The Cub Cadet push mower is built with lasting components.
Cub Cadet's SureStart™ guarantee means you will start you mower in one or two pulls – more times than not the mower will start first time.
And with the 3-year limited warranty, owners will have peace of mind as they enjoy a flawlessly mowed yard.
The Cub Cadet SC100 also comes with the patented Smartjet™ high-pressure deck washing system for easy and convenient cleaning and maintenance.
Main Features of the SC100
Push Drive
159cc Cub Cadet® OHV
Thermal Auto Choke W/Surestart guarantee
Deluxe Poly with handle front end
Soft Touch Grip Handle with 3-way adjustable/ergo
8″ front wheels
11″ high back wheels
Industrial tread tires
21″ steel cutting deck
Cub Cadet Signature Cut™ cutting system
Dual-lever, 6-position height adjustment
3-in-1 with rear bagger, mulch, and dies-discharge
Smartjet™ high pressure deck washing system via a washport
Estimated weight of 63lbs
3-year limited warranty
Summary of the SC100 HW Push Mower
The Cub Cadet SC100 push mower has a range of features that make it particularly attractive to homeowners and other property owners with a small yard measuring up to one-third of an acre.
A powerful engine, cut-height control, ergonomic handle and overall design, and multiple discharge options makes the SC100 an incredibly versatile walk-behind lawn mower.
The unique design, especially the larger rear wheels, make the Cub Cadet lawn mower suitable for mowing small yards with rough and bumpy terrain.
With 3 ergonomic handle positions, anyone can easily push it even in the absence of a self-propelling feature.
And with easy handling, mulching ability, washout port, premium engine, and low cost, the Cub Cadet SC100 is a "stand-out in its category".
If you have a problem with your SC100 it is returnable within 90-days, plus you have a 3-year limited manufacturer warranty for your peace of mind.
SC500Z 21″ 3-in-1 Self-Propelled Mower
For mowing areas larger than 4,000 sq. ft. it's always best to choose a self-propelled lawn mower.
For a yard occupying ¼ to 1 acre, the Cub Cadet SC500Z with a 159cc OHV gas engine, variable speed rear wheel drive, and 21-inch blade is a great option.
Unlike the SC100HW Cub Cadet push lawn mower, the self-propelled SC500Z comes with front caster wheels for easier maneuverability and is fully self-propelled.
Other great features include:
Auto choke low noise engine.
Cub Cadet Engines with auto choke are generally easy to start in 1 or 2 pulls.
Smooth to run.
Lower noise levels.
3-in-in operation for; rear bagging, mulching & side discharge.
They also offer fairly quiet operation with minimal noise and vibration, which makes them pleasurable for mowing and mulching operations in residential and office areas.
The SC500Z also comes with double ball bearings that reduce friction, allowing the lawn mower to glide easily around your turf when bagging.
 

Perfect Cut
The Cub Cadet SC500Z comes with a highly efficient 159cc OHV petrol engine that delivers enough power to ensure consistently high quality 21-inch cuts that are characteristic of the Cub Cadet range.
With the central cutting height adjustment, you can comfortably change the cutting height at the middle using a single lever.
The SC500Z provides 6 different deck height positions ranging from 1.25 to 3.75 inches.
Perfect bagging
The SC500Z comes with a large, easy-to-empty grass bag that reduces the frequency for emptying it.
By reducing the number of trips to the compost heap, you can mow quicker.
Moreover, the design requires the cloth bag to fit through the mowers handle to keep it in place, yet it can be quickly removed with one hand.
This provides a simple, quick, and efficient bagging system for mowing areas up to 1 an acre.
Mulching and side-discharge options
The Cub Cadet range of walk-behind lawn mowers gives the user a choice between discharging or bagging their clippings.
Collecting is usually recommended when you are not available to mow your lawn frequently, but you need a composter or garden waste bin to dispose of the clippings.
The energy requirement for bagging is usually less compared to mulching. This is because the cutting blade faces less resistance when cutting, as the mower cuts once and bags the clippings in one swift move.
When mulching, the cut grass swirls around the cutting deck as it gets cut multiple times until the clippings are small enough to fall through the blades to be discharged onto the ground.
The smaller the grass particles, the better groomed your lawn will appear as there'll be less debris on top of the grass. With all Cub Cadet 'mulchers' the the grass-mulch is almost undetectable on the lawn.
The standard side-discharge option, on the other hand, releases the clippings through an opening on the side of the cutting deck and spreads it back onto the lawn as much larger clippings and is easily seen on the lawn.
Discharge is recommended for tending natural meadows while mulching is much better for home lawns.
With normal side-discharge you risk spreading grass debris everywhere in your house, pool, patio, or walkways.
Exceptional control
The front caster wheels provide outstanding locking ability to keep the mower cutting in a straight line.
You only release them when turning.
With the engine pushing forward, the variable speed control feature helps you set the pace of your lawnmower, and achieve a manageable speed when turning.
Ergonomic design
As with other Cub Cadet walk-behind lawn mowers, the SC500Z comes with ergonomic handles that give you full control of the equipment with comfortable hand position.
You can adjust the height of the handle to suit your personal needs, and fold it for storage.
Easy Maintenance
The Cub Cadet SC500Z comes with a 1.9 bu. rear dust blocking hard top bag with a handy fill indicator.
The dust proof catcher keeps dust down when cutting during dry periods, while the fill indicator flap indicates when the grass bag is nearly full and needs emptying.
And for convenient cleaning, the Cub Cadet Classic Series features the patented smart jet high-pressure deck washing system.
Summary of the SC500Z
The Cub Cadet SC500Z self-propelled lawn mower is a great upgrade from the SC100HW push lawn mower.
Though they have the same 21″ blade and deck size, you can take advantage of the self-propelled pace control option and caster wheel locks to make the process of mowing almost effortless.
The SC500Z is very similar to the SC100 with the exception of the superior front caster wheels and its self-propelled motion.
28″ RWD Wide-Cut 3-in-1 Self-Propelled Mower
With the Cub Cadet RWD self-propelled wide-cut walk-behind lawn mower, you get a unique combination of expert engineering and rugged durability that delivers flawless performance for your mowing needs.
The self-propelled RWD is a step up from the SC100. While the SC100 is an excellent mower is requires the user to manually push the machine whereas the RWD's engine supplies power to the wheels, as well as the blades, so the mower pushes itself and only requires the user to steer it.
This heavy-duty self-propelled Cub Cadet walk-behind comes with a range of practical features that improve control, efficiency, comfort, and generally everything else you'd expect from a great walk-behind mower.
As well as high quality solid construction, you can expect consistent and flawless results, cut after cut, season after season.
 

Superior Engine Performance
The Cub Cadet RWD lawn mower comes with a powerful 195cc OHV Engine and a push button electric start for quick and easy starting. Thanks to the SureStart Guaranty the RWD will start with just one or two pushes of the start button.
The strong engine can easily handle the duo-load of wheel and blade power requirements.
It effortlessly drives the advanced dual-blade cutting system to leave you with a neat Signature Cut every time.
You don't have to worry about the battery running low as it recharges itself as you cut via the gas powered engine.
 
Best-in-Class Handling
The RWD Cub Cadet walk-behind lawn mower is a dream to use. Not only does it have ergonomic handles but it almost feels like the lawn mower is gliding over your lawn.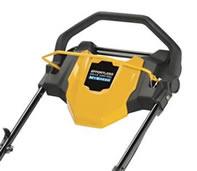 This self-propelled mower features the My Speed Premium Drive Control System that delivers superior performance and the best control in the industry.
The system ensures a pleasant cutting experience with greater speed variability, smoother engagement, and enhanced traction.
Moreover, the large, 10-inch semi-pneumatic rear wheels make it easier to maneuver on bumpy ground.
Advanced Control Features
The self-propelled 195cc Cub Cadet offers variable speed on its rear-wheel drive. The RWD high rear wheel offers superior traction compared to front-wheel drive models.
You simply walk behind it and steer as the drive-wheels propel it forward.
This is particularly effective for bagging since the extra weight placed on the high rear wheels, as the bag gets filled with clippings, increases traction.
The RWD Cub Cadet features separate drive controls, as well as a blade brake clutch that lets you disengage the blades while operating.
The clutch allows you to shut off the blade without switching off the engine.
It allows you to safely walk away from the mower should you need to move an obstacle from your path, or empty the bag.
When cutting long and flat stretches, you can take advantage of the caster wheels to lock the mower into a straight line for uniformity.
If you need to make quick 180-degree turns, when you reach the end of your mowing line, simply push down the handle to raise the front wheels of the ground and you can then turn the machine with relative ease.
Since the engine is still send power to the rear wheels they will keep driving, so make sure you throttle down before executing the turn.
3-in-1 Multi-Function as Standard
With double-blades incorporated in the 28″ sturdy steel deck this Cub Cadet offers exceptional mulching, bagging, and side discharging capabilities.
It can alternate between:
Rear Bagging
Side Discharge
Mulching (via a mulching plug)
Many users spend most of the time in the mulch-mode simply because it's so good.
The grass cuttings from mulch mode are so small and spread so evenly over the lawn that it is difficult to tell if they are there or not.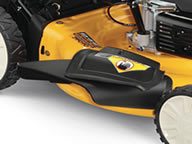 This is actually one of the key reasons why consumers choose to upgrade to a Cub Cadet lawn mower. The addition of the self-propelling capability makes the RWD a winner.
Of course not everyone wants to mulch and sometimes you may want to use your grass clippings in other areas of your garden so bagging is a great option.
For lawns with higher grass that don't require frequent mowing, releasing the clippings through the side opening and spreading them back onto your yard is another option available with the standard side discharge option.
Wide Cut for faster mowing
The Cub Cadet Wide Cut features a 28″ steel deck that covers more ground compared to the smaller 21″ Cub Cadet walk behind lawn mowers.
This means that you can get the job done 33 percent faster than with the smaller lawn mowers. This does make the RWD more expensive but for some time saved is worth that expense.
Alternatively, you can cut a much larger area in the same amount of time, which makes this lawn mower appropriate for larger areas of lawn than the SC100 as it can easily handle up to 1 acre.
Durability
The RWD walk-behind Cub Cadet mower has sturdy construction that can easily withstand hours of repeated use, season after season. This is one of the reasons commercial landscapers tend to gravitate towards the Cub Cadet brand when buying commercial yard equipment.
For easy and convenient cleaning, the mower comes with the patented smart jet deck wash system that delivers high pressure water to swiftly clean out grass and debris accumulated under the deck.
Summary of the 28″ RWD
The Cub Cadet wide-cut walk-behind mower with rear-wheel drive and high rear wheels is a great investment for property owners with a up to 1 acre yard.
No worries if you have uneven terrain or need to cut across a driveway or hump.
The 3-point feature lets you vary the cutting height adjustments up to 5 positions.
With large rear wheels and the weight positioned at the back, you can easily tip the mower back and propel it across the surface, with front wheels raised, to avoid damaging the blade or scalping your turf.
It gives an outstanding cut as well as easy maneuverability.
The wide cutting deck also means you can cut more lawn in less time.
Comparison Chart of Walk-behind Mowers
Comparison Chart for Cub Cadet Walk Behind Mowers

| | SC100HW 159cc | 28" RWD Self-Propelled Wide Cut 195cc | SC500Z RWD Self-Propelled 21" 159cc |
| --- | --- | --- | --- |
| Engine | 159cc Cub Cadet OHV | 195cc Cub Cadet OHV | 159cc Cub Cadet OHV |
| Engine Start | Recoil start with Auto Choke – SureStart Guarantee | Push button electric start with Auto Choke – SureStart Guarantee | Recoil start with Auto Choke – SureStart Guarantee |
| Walk-behind Drive type | Push | Rear-wheel Drive, MySpeed Drive System, blade break clutch | Rear-wheel Drive, MySpeed Drive System |
| Deck Size | 21-inch steel, single blade | 28-inch steel, twin blade | 21-inch steel, single blade |
| Cutting Options | 3-in-1 bag, mulch, side discharge | 3-in-1 bag, mulch, side discharge | 3-in-1 bag, mulch, side discharge |
| Height Adjustment | Dual-lever, 6 positions | 3 point, 5 positions | 3 point, 6 positions |
| Cutting Height | 1.25" to 3.75" | 1.25" to 3.75" | 1.25" to 3.75" |
| Dimensions – L x W x H | 73" x 21" x 42" | 49" x 32!"x 21" | 64" x 23" x 42" |
| Front/Rear wheels | 8"/11" | 7" ball bearing caster / 10" semi pneumatic rear | Full ball bearing 8" / caster 8" |
| Tires | Industrial tread | Industrial tread | Industrial tread |
| Fuel tank capacity | .25 gallons | .25 gallons | .5 gallons |
| Handles | Comfort grip, 3-way adjustable ergonomic | Soft touch grip, 3-way adjustable, fold for storage | Soft touch grip, 3-way adjustable ergonomic |
| Bagging | 1.9 bu. rear, dust blocking bag | 1.9 bu. rear, dust blocking bag | 1.9 bu. rear, dust blocking bag |
| Approximate Weight | 76 lbs | 165 lbs | 95 lbs |
| Size of yard | Up to ¼ acre | ½ to 1 acre | ¼ to ½ acre |
| Terrain Type | Flat with obstacles | Sloped with obstacles | Sloped with obstacles |
| Warranty | 3-year limited | 3-year limited | 3-year limited |
| Price | Check Price Home Depot | Check Price Online | Check Price Online |