The Craftsman brand has been around since 1927 and the manufacturer has been considered a benchmark of quality and durability for builders, DIY-ers and even other garden tool manufacturers. They have more than 6000 individual products spanning over 80 categories. Through the years, Craftsman has always been in tune with the times and the needs of their customers. It should come as no surprise to learn then that the Craftsman lawn mower range has some of the best mowing machines on the market.
Their current line-up of leading products include the zero-turn mower, leaf blower, riding tractors, hedge trimmers and walk behind mowers.
In this review we will focus on our choice for the title of the best craftsman push mower.

Check the Yard Machine model at Home Depot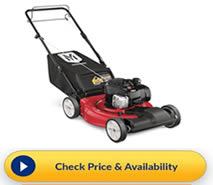 Craftsman Lawn Mower Review
The Craftsman 37430 is a powerful machine that sports a Briggs & Stratton® Silver Series 140cc OHV engine with 5.0 ft/lbs gross torque. This unrestricted power means it can cut through almost anything on your lawn.
Along with great power it is also very comfortable to handle because it's innovative features means it can move through even the toughest of obstacles like a warm knife cuts through butter.

A combination of the 7 inch front wheels and large 11 inch rear wheels gives this lawn mower a firm grip while moving over any kind of lawn. This wheel combination, which is missing on most competitor machines in the same range, lets the 37430 remain firmly grounded on smooth and uneven or even roughed terrain for an even cut.
The 21 inch innovative 3-in-1 deck has a much-sought-after side-discharge and a mulching bag for easy use as well as the ability to collect clippings in a rear bag.
With most mowers mulching and side-discharge are optional (and costly) extras so this aspect of the Craftsman 37430 alone puts it well ahead of its competitors. But the benefits of using the 37430 don't end there.
The deck also has a dual-point height adjuster with six (yes that's six!) different positions that gives you the control over the height of the cut for that perfectly manicured lawn that is suited to your individual and personal style.
The 6 setting cutting height ranges from 1.25 to 3.75 inches and is adjusted by way of an easy-reach dual lever.
The deck material itself is made of steel which helps to add precision to the cut while ensuring extra life and less chance of rust.
We chose the 37430 as our top Craftsman lawn mower not only due to the excellent 3-1 deck but also because of it's powerful axle, smart wheels, reinforced deck and the torque to overcome all lawn-related challenges.
Obviously it is these features that give the precision and neat cut that the 37430 offers and it is this cut that is it's main "selling" point.

Check the Yard Machine model at Home Depot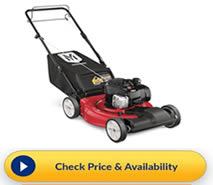 Pre-Purchase Lawnmower Checklist
To know if the Craftsman 37430 is the right lawn mower for you, and in fact to determine which mower is right for you, be sure to take some time to consider your personal requirements before making a purchase.
So before even entering the research phase, when you are in the market for buying a new mower, be sure you know exactly what you want and set some clear objectives that you wish your mower to be able to achieve.
Here is a quick checklist of things to consider before a mower purchase:
How big is your lawn or lawns?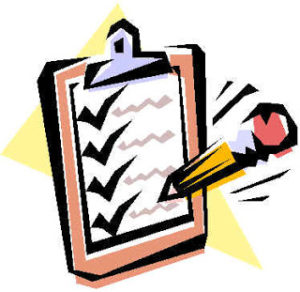 There are all kinds of lawn mowers with bigger engines and better cutting abilities available from local dealers and online, but be aware that bigger isn't always better.
Large lawn mowers can be a bit of an overkill at times. This is especially true if you are a residential or 1-site business owner.
For multiple properties, that will be mowed one after the other, you may need a commercial grade machine.
Ask yourself if you really need that extra power. If you're not going to ever use extra features or additional engine power, why throw money down the drain?
A machine that comes with a ton of extras, such as additional fittings & accessories, may be a great deal but only if you will use those extras.
Always take your own personal requirements into consideration before you buy a mower. By doing this you will be able to identify great deals as soon as you see them because you will only be looking at those type of mowers and won't get overwhelmed by the sheer number of offers or by deals on things you don't actually need, no matter how good they look.
Make sure to always buy your mower from a manufacturer certified and trusted source such as a local authorised dealer or from Amazon (which are almost always a lot cheaper).
We found that the Craftsman 37430 meets the needs of the average lawn owner and can even be used effectively by those of us who have a more challenging outdoor space. Only people with very large lawns or those who have a thriving commercial enterprise that involves multiple large lawns would want to upgrade to a heavier duty wide area machine or even a zero turn tractor.
So ,whether you have a small flat lawn or need to engage in more heavy duty lawn work, the Craftsman 37430 (on Amazon) is built to withstand any mowing or cutting challenge whatsoever.
The Craftsman 37430
The Craftsman 37430 is a big step up from the traditional lawn mower. In fact, this machine is marketed as a commercial-grade model due to its 3-in-1 deck.
However, in our opinion a commercial user would be much better off using a more powerful machine.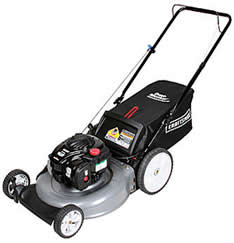 This doesn't mean the 37430 is any less effective than a commercial machine though; the commercial user just needs a more powerful engine or risks putting too much stress on his/her machine.
As we outlined above, one of the most important things to consider when buying a mower is the size of your lawn and the kind of terrain your garden has.
Different yard challenges arise depending on what part of the US you're from.
For instance, people living in hilly areas often find it tough maintaining a neat yard or lawn using a standard lawn mower.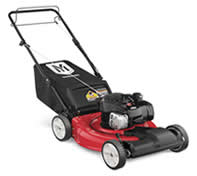 Hard tree roots, tall grass and wild weed are one of the many possible obstacles that a lawn mower may have to cut through.
If you face any these or other types of terrain challenges you need to make sure your lawn mower has an engine that packs a punch and uses a blade strong enough to cut effectively through any obstacle.
Well, regardless of your particular lawn size or the unevenness of it's terrain or the specific obstacles your lawn may throw up, you just can't go wrong with the Craftsman 37430. This machine was built to tackle any mowing environment with one clear goal in mind; cut clean and cut fast regardless of terrain.
As the 37430 can meet all the above mentioned lawn challenges it really is an excellent gas powered walk behind push mower and for most users it will perform exceptionally well.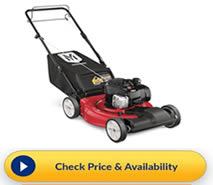 Features of the Craftsman 37430
Let's have a look at the distinctive features the Craftsman 37430 has to offer.
If you wish to go ahead and purchase this excellent mower be sure to take advantage of the low cost online option.
Also check out the Yard Machine, available at Home Depot, which is a very similar machine will all the same specs including the engine and cutting deck.
For those of you still interested in learning more let's start by having a look at the engine.
The Briggs & Stratton® Silver Series 140cc Powerhouse
The Craftsman 3730 sports a Briggs & Stratton® Silver Series engine. These engines are a revolutionary innovation of engineering and offer both reliability and power. They help to deliver incredible performance and along with the sturdy blade ensure a pristine cut that will be the envy of your neighbors.
The Silver Series 140cc OHV is certainly one of the best Briggs & Stratton® has ever made in its class as it generates very little noise, little vibration and low emissions, without ever compromising on power output.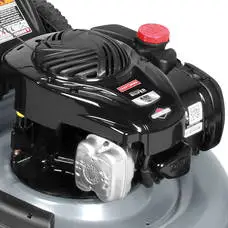 This 140cc engine is fuel efficient because of its precision camshaft design which offers efficient timing and perfect overlapping of the valves.
In addition the OHV design and high compression ratio lets the engine transfer maximum power while maintaining excellent fuel efficiency.
The reduced piston weight and balanced crankshaft precision, supported by ball bearings, makes it possible to run this engine virtually vibration-free. This is a major plus for comfort and handling – something that is mistakenly overlooked by the majority of people making a lawn mower purchase.
The reduced noise, which is also an often overlooked selling point, is due in large part to the aluminium push rods which not only help to reduce noise naturally but also give better valve clearance, reducing operational noise even further. This means you won't be that noisy neighbor everyone hates, at least when it comes to lawn management.
The almost vibration-free reduced noise means you won't be considered that noisy neighborhood lawn guy.
The entire mower is actually made from noise-reduction materials while retaining a rigid crankcase with a forged steel crankshaft to ensure the machine has a longer life.
The gears are helical cut and it has a very unique and sophisticated air intake system.
The carburetor chamber has a protective coating and filters that help reduce the introduction of impurities or debris making repairs seldom necessary.
Overall, the 37430 is an amazing machine; it has a powerful 140cc engine that is emission compliant and easy to maintain, yet powerful. Its low vibration and low noise levels are fantastic selling points along with the unique 3 – 1 cutting system that offers an excellent cut in varying lengths.

The Cutting Deck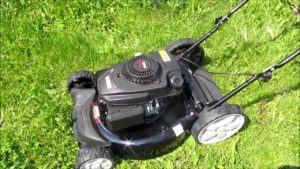 The cutting deck in any lawn mower is one of its most vital components.
It is the cutting deck's width which determines how much grass the mower can cut in one single pass. This is why the high-end lawn tractors have wide cutting decks like the big commercial machines.
The size of the blades and its adjustability plays a critical role in the cutting capabilities of the lawn mower; many lawn mowers offer several blades but they lack adjustment controls, which means you have to put in more time and effort.
There is no such problem with the Craftsman 37430 as the width of the blade is 21 inches and the blade type is Integral Lift – you can select your own ideal cutting height through a convenient easy-to-reach control: the dial goes from 1.5 to 4 inches and has 7 positions with an amazing precision of up to 0.35 inches.
The Transmission
The maneuverability of the Craftsman 37430 is nothing short of impressive.
It is a rear-wheel driven mower with a 5-speed adjustable disc drive transmission. This makes it possible for the lawn mower to go through large lawns in very little time, while keeping up efficiency, precision-cutting and while not overburdening the engine.
Craftsman Mowers Comparison Chart
| Model Name | Craftsman 37430 | Snapper CRP218520 | Snapper CP215520HV |
| --- | --- | --- | --- |
| Engine Brand | Briggs & Stratton | Briggs & Stratton | Honda |
| Engine Model | 500e Silver Series OHV™ | Professional Series™ OHV | GXV-160 OHV |
| Engine Torque | 5.0 ft-lbs | 8.50 ft-lbs* | 7.1 ft-lbs** |
| Engine Displacement (cc) | 140 | 190 | 190 |
| Transmission Drive System | Self-Propelled | Rear-Wheel Drive, Disc Drive Transmission | Rear-Wheel Drive, Disc Drive Transmission |
| Mower Deck Cutting Width (inches) | 21 | 21 | 21 |
| Blade Type | Alloy Steel | NINJA® Mulching | Integral Lift |
| Number of Height Positions | 6 | 7 | 7 |
| Height of Cut (inches) | 1.25 – 3.75 | 7 Position, 1.25 – 4 | 7 Position, 1.25 – 4 |
| Front Wheel Size (inches) | 7 | 8 | 8 |
| Rear Wheel Size (inches) | 11 | 10 | 10 |
| Fuel Tank Capacity | 0.2 Gallons | 0.2 Gallons | 0.4 Gallons |
| Side Discharge | Included | Optional | Optional |
| Mulching | Included | NINJA® | Optional |
| Bagging | 3-in-1 cutting methods – side discharge | mulch, or bag clippings into rear bag | Optional, HI VAC® |
| Minimum Price Found | Check Price on Amazon | Check Price on Amazon | Check Price on Amazon |
| Shipping | Free | Free | Free |
| Residential Use Warranty | 3 Years | 3 Years | 3 Years |
| Commercial Use Warranty | Limited | 1 Year | 1 Year |
Check the Yard Machine model at Home Depot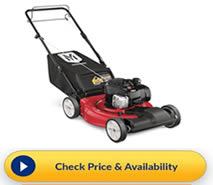 Taking Care of Your Craftsman 37430
The commercial and private usage years that are guaranteed by the company are calculated using general formulas.
As it is always better to avoid a situation where you need to take advantage of a warranty you need to take care of your Craftsman 37430 by following guidelines outlined in the user manual. This will also extend the mower's life giving you many years of faithful service and/or making the mower more resaleable if you chose to upgrade.
These care guidelines can also be found online under the 'Manuals Section' or downloaded from here.
Every engine needs regular maintenance, regardless of how good it is, so we urge you to change the engine oil according to schedule. As many people forgo oil changes in their vehicles, as it's usually messy, it is no wonder they forget about their lawn mowers.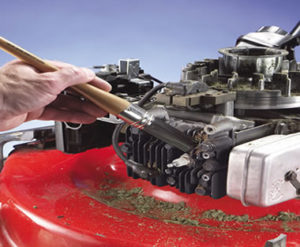 This is why Craftsman have made it a simple and quick process to change the oil and we therefore strongly advise you to keep on top of this maintenance task for the sake of your mower's health.
In the event that you need to go for repairs, make sure the work is carried out by a certified professional, otherwise your warranty might be voided.
If you're looking to get spare or replacement parts, we recommend you only get them from a certified dealer.
Check out the "where to buy" link on Craftsman's official site and enter your address, city or zip code to find a certified dealer near you.

Maintenance Video
Most Craftsman mowers are easy to maintain as can be seen in the video below.
Cutting
Before starting your grass-cutting session, we recommend you roll out the uneven spots in your lawn beforehand. Although this is not at all a necessary step it will help in producing an even and lavish cut regardless of what mower you are using.
Bag the clippings in summer because grass can grow at its tallest that time of year.
You can choose to mulch in the non-summer months.
Make sure that any add-ons you buy are compatible with your Craftsman 37430 and always use company-made products only. The safety guidelines are very important to follow also if you want to keep the mower in top shape and yourself safe.
Take extra care while you're fuelling up your Craftsman mower using clean gas can and funnel to avoid adding impurities to your machine; this ensures the engine's shelf life is increased and your mowing experience is not only safe but comfortable.
Check the Yard Machine model at Home Depot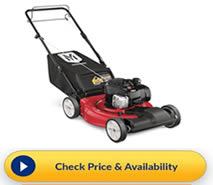 What do the Reviews Say?
There are overwhelmingly positive reviews for this product as the Craftsman 37430 is made by engineers who've invested into it decades worth of research based on customer feedback data.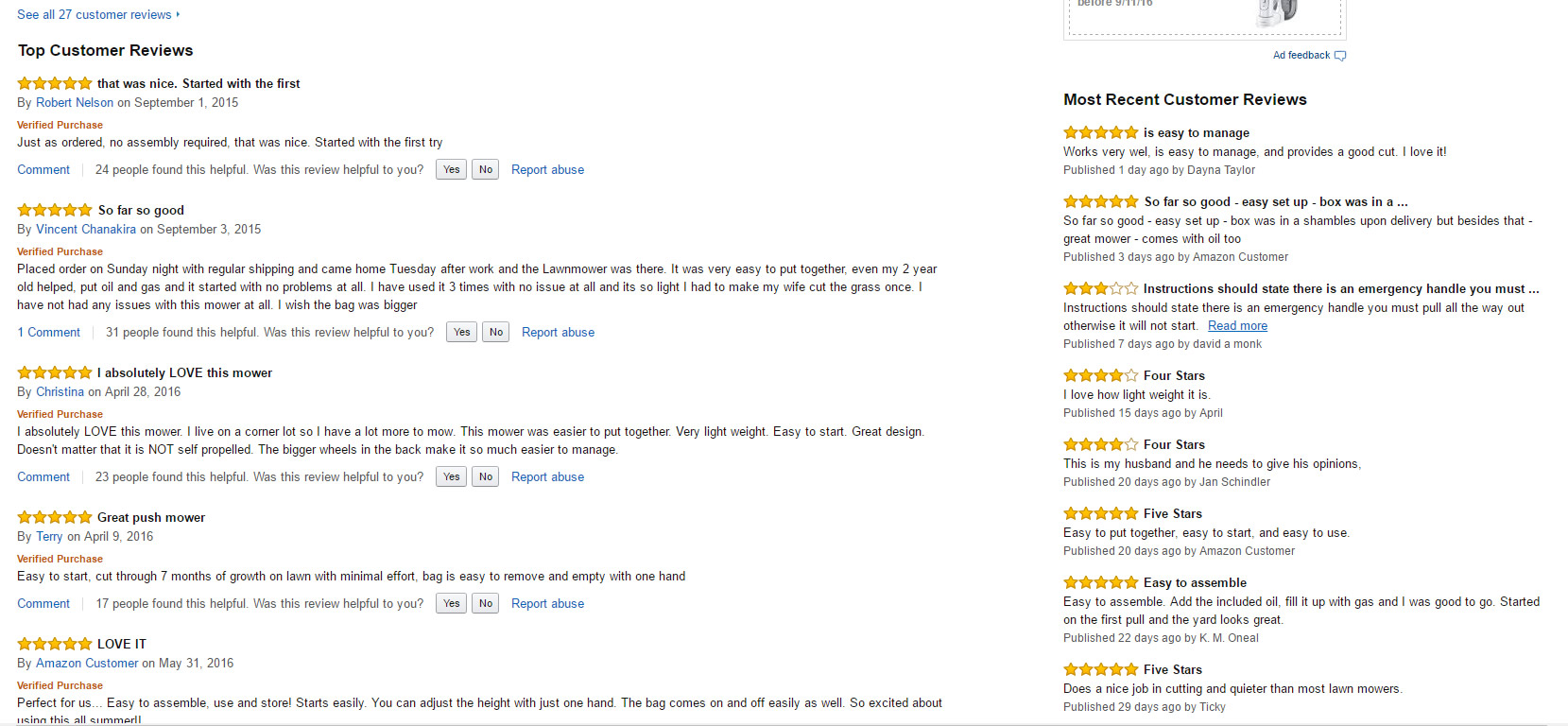 One person referred to the 37430 as a "rugged and efficient machine". He said this was his second Craftsman mower he has owned and that his previous one lasted him 20 years. He went to great lengths to highlight his satisfaction with the Briggs & Stratton® engine.
Another reviewer also referred to the simple design of the product and after complaining that other products on the market are slow and lack sturdiness mentioned how he is impressed with his new Craftsman.
">

There is a common thread in many reviews that mention how easy it is to put the 37430 mower together. This is an important point to consider as the machine is shipped (even from most local stores) needing some assembly.
Another person talks about his bad experience with a previous Craftsman model and while he vowed never to buy a lawn mower from the same manufacturer again, he found out that the Craftsman 37430 had a Briggs & Stratton® Silver engine which made him change his mind. Apparently he is now been recommending the 37430 to all of his friends. The simple design and American-built engine was the deal-sealer.
One individual left a big warning in the review saying that almost all companies do not live up to their marketing; however, he said that Craftsman have always delivered for him personally. He believes that buying the Craftsman 37430 has been an investment rather than a purchase. He also shared his past experience with the company saying that he never had to use the warranty because his previous machine lasted him ten years. It still works but he just wanted something new.
You can see from the above screenshot that this mower is a top-seller for some very good reasons.
So, What's The Final Verdict?
It isn't the biggest lawn mower out there, nor is it designed for show.
It doesn't have multiple blades nor a particularly big cutting deck.
So why is this lawn mower so good and so popular?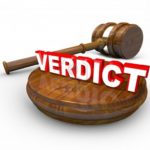 Well, the Craftsman 37430 comes with a powerful engine and an easy functioning mechanism which can be understood in a matter of hours.
The 3-1 system makes this unbelievably good value for money while the precision cut offered from the 6 height-position blade offers quality equal to machines three times the price.
You can currently pick up the 37430 online for a lower price than you would pay to a local dealer.
The reviews are great with satisfied and happy owners – no buyer-regret syndrome here.
What's more with the 3-1 cutting system no-one has ever complained about the Craftsman 37430 being overpriced. It is the most affordable fit-for-all-lawn-needs kind of lawn mower in the entire yard equipment market.
Buying it is an absolute no-brainer (unless you operate a commercial lawn maintenance business).
Summary
The Craftsman brand has been around since 1927 and since then they have been at the forefront of gardening equipment development.
With almost 100 years experience in the production and development of garden tools Craftsman build a great range of products that vary from simple hand tools to cutting edge lawn tractors.
Their continued success is due to their drive for improvements in their product range and in many cases they are seen as the benchmark for specific types of lawn, garden and yard tools.
As the Craftsman company has been producing excellent, top quality lawn and garden equipment since its conception we were not at all surprised that the Craftsman 37430 was such a good machine.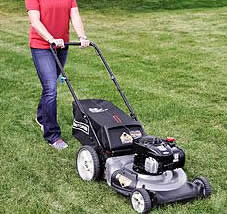 The Craftsman 37430 lawn mower is incredibly popular and one of the biggest selling machines in its class in part due to, not only its 3-in-1 cutting deck but also because of, Craftsman's collaboration with Briggs & Stratton®. Only the 21″ 10734 lawnboy lawnmower is more popular, though it is also considerably more expensive.
The 37430 Briggs & Stratton® OHV engine belongs to one of the most successful engine series that Briggs & Stratton® have manufactured. The 140cc engine packs an impressive 5.0 ft/lbs gross torque.
The mower has adjustable handles and blade settings, making it easy on your back because it makes the mowing experience almost effortless. The adjustable blade settings also make it easy to cut your grass at varying heights depending on your own personal taste or time of year.
It's rear wheel 5-speed transmission adds to the ease of movement helping reduce stress on both the back and the shoulders of the user.
The "smart wheels" are well designed and make for smooth movement, owing to top quality ball bearings.
The mower deck is in a class of its own, delivering steady suction power, making it possible for your grass to be bagged with very little mess while the 3-in-1 cutting system offers fantastic value for money; you have the advantage of choosing between side discharge, mulching, or collecting bag clippings into a rear bag.
A meaty and robust axle lets you deal a deadly blow to any kind of mowing challenge whatsoever. All-in-all the 37430 can handle all normal, and even challenging, garden environments.
As mentioned previously, although this mower is marketed as a commercial machine we feel that you really need a higher-end machine if you maintain lawns for a living – the 37430 is a great machine but we doubt it could handle long bouts of use on a daily basis.
Commercial users would be much better investing in either a wide area walk behind machine, a snapper commercial self-propelled 21″ or going all out and buying a commercial zero turn mower.
However, if you are not a commercial landscape gardener then this mower will more than meet any lawn you may have.
Click the button below to find which of the latest deals are best.

Check the Yard Machine model at Home Depot