In this article we review the Chicago electric chainsaw, highlighting its strengths and weaknesses. We also give you two alternative electric chainsaws with slightly different specs.
The Chicago Electric Chainsaw Review
When you're looking for the electric chainsaw, it is important to look into the specifications of the product and to find people who have actually used it.
Only once you are clear about the specifications, will it become easier for you to select the right product for. And only after you have read of the experiences of previous users can you be sure the chainsaw will perform.
You have to also look at the form factor of the electric saw in order to ensure that you are able to hold it easily.
The electric chainsaw which you can pick can actually make or break your operation. As a result, it is important to look at the applications for which you need the electric chainsaw.
Once you are clear about these, it will become easier for you to select the electric chainsaw.
Among the many different chainsaws which are available, such as gas powered machines, the electric powered chainsaw is becoming more and more popular partly due to its lower environmental impact and partly due to its ease of use.
Although the Chicago is not cordless, see our review of the Dewalt battery powered chainsaw if you are interested in a cordless chainsaw.
If you do not require a cordless chainsaw and want to avoid the environmentally damaging gas-powered chainsaws the one of the best options on the market is a chicago electric chainsaw.
Because the chainsaw is corded, and thus draws its power directly from an electrical outlet, it offers the same type of power as a gas chainsaw without the harmful emissions.
Main features of the the Chicago electric chainsaw
Let's look at the main features of this electric chainsaw.
The Chicago electric chainsaw has a large 14″ blade
The first thing which you will notice about this chainsaw is the 14 inch blade.
Although the chainsaw is fairly compact the 14 inch blade ensures that it is more than enough for cutting any particular material as required equal to most commercial alternatives.
The Oregon heavy duty 14-inch blade should last for a long period of time even if the chainsaw is worked hard and often.
Also, 14 inches of the blade is more than enough for any kind of heavy duty application – even for commercial purposes.
As it is made tough chainsaw can be used regularly on a consistent basis unlike some residential grade alternatives.
The chainsaw offers easy maintenance
One thing which you need to keep in mind about the electric chainsaw is that it can last for years together with minimal maintenance. As a result, you will not have to worry about buying another chainsaw again.
The grip which is provided is also pretty excellent. As a result, when you are working against a heavy-duty material, you can be sure that you will be able to cut it quite easily. This is one of the main advantages which you have got using the electric chainsaw.
Moreover, owing to the fact that the electric chainsaw is highly versatile, it will become easier for you to use it for a wide variety of functions quite easily.
The optional blade sharpener is well worth the investment
As a result, you will not have to worry about having to replace the blade if you take advantage of a great optional extra.
If you can get your hands on a Chicago blade sharpener this chainsaw should last you much longer than chainsaws sold by competitors as you will not have to replace the blade.

This sharpener is well worth the small investment it takes to purchase it.
The chainsaw may be electric but it's powerful
Rather than relying on the environmentally damaging gas alternatives the Chicago relies on just electric as its power source.
Owing to the electric power source, the engine is less prone to developing faults than a gas-powered machine as well as not needing the usual maintenance connected with gas engines.
The chainsaw runs via a cord that it attached to an electrical outlet. So, because the machine runs directly from the electrical power source meaning you have a continuous operation speed and no need to recharge the battery as is the case with cordless electrical chainsaws.
The Chicago is obviously a lot better from an environmental standpoint than a gas-powered alternative and if you are concerned about reducing your carbon footprint but don't want to compromise on power or results then this is a great choice.
Buying online may be cheaper
With the brilliant packaging of the chainsaw, you will have no worries at all getting is shipped it to your place. You will be able to unbox it quite easily. It comes along with the instructions to operate it.
You will not have to worry about the safety measures as well. The safety measures which you need to undertake in order to use the electric saw are mentioned in the instruction manual.
Pros of the Chicago electric chainsaw
The 14 inch blade
With 14 inches of blade, you can be sure that you will be able to use it on a consistent basis. Also, the 14 inches of blade ensures that you are able to use it for a wide variety of functions without any problems.
It is suitable for heavy duty cutting
Owing to the fact that it is powered by electricity and the blade is also made from heavy duty material, you can be sure that it is suitable for any kind of heavy-duty cutting. You will not be required to buy any other electric saw.
It has a razor-sharp edge
You will not have to worry about re-sharpening the chainsaw as well. The edge is razor sharp and does not need sharpening again and again. Thus, the maintenance of this particular electric chainsaw is also on the lower side.
The pros of having a power cord
This is actually a pro and a con.
Having a cord makes this chainsaw a little harder to use than a cordless chainsaw. However, it offers more power and avoids the need for charging.
Cons of the Chicago electric chainsaw
Not as Compact as other electric models
The Chicago electric chainsaw is somewhat bulky compared to other models in its class.
The power cord can also be a con
As mentioned in the "pro" section above this is actually a pro and a con.
A cord can be a pain when you are operating the chainsaw; it just tends to get in the way.
It also presents a hazard that is simply not present in cordless models; when you have a cord connected to something with a blade you run the risk of the two meeting!
2 Alternative Electric Chainsaws
There are some great alternatives to the Chicago. In fact some of these chainsaws offer even better operational features. Two of the best are the Worx 18″ corded chainsaw and the Homelite 16″ corded chainsaw.
They are available from both Home Depot.
Worx 18″
Automatic chain lubrication with oil lever indicator
Quick-stop chain brake to help prevent accidental cutting
Metal spike bumper that grips onto the wood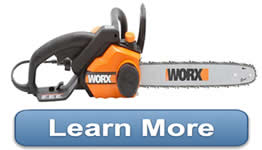 Homelite 16″
Tool-Free Chain Tensioner for User Convenience
Automatic Bar and Chain Oiler with Oil Level Window
Equipped with Safety Tip for Kickback Protection

Summary: Chicago electric chainsaw review
Being powered by a corded electrical engine this chainsaw offers almost as much power as a chainsaw that has a gas-powered engine.
The Chicago can tackle any type of cutting job that gas-powered machine can.
I have mentioned 2 alternatives that you may want to have a look at before you decide on the Chicago but which ever chainsaw you choose you really can't go wrong.
If you do decide on the Chicago then I urge you to get the blade sharpener as you will get much more from your chainsaw and add much more life onto your blade.
Although this chainsaw has many positive features it is not as compact as other chainsaws that offer similar usability – such as the Dewalt Battery Operated Chainsaw (which is also cordless).