Who's up for some fun outdoor cooking? If you are, you will be considering getting yourself a good-quality griddle. This article will compare two of the best griddles that are on the market today. Both are from a highly reputable brand, Blackstone.
We will be pitting the Blackstone griddle 28″ against its 36″ big brother. Let's look at the Blackstone griddle review.
The differences between the Blackstone 28″ and 36″ go beyond just size. There are design differences between the two units that you may wish to consider before you choose one.
For instance the 36″ has 4 burners with an additional side shelf while the 26″ only has 2 burners and no side shelf.
Let's look at all the ways these two griddles differ from each other to see if they warrant the difference in price.
Blackstone griddle review – The Blackstone 28 vs 36
Let the reviews begin!
Finding the better of the two – Blackstone 28 vs 36 battle of the griddles
If you don't have time to read this whole review then I can sum up my experiences with both griddles as follows:
Due to very notable differences in the two units I believe that the 36″ griddle is better than the 28″ griddle mostly because it is bigger. However, there are other differences that set it part from its little brother.
If you are in a hurry you can check the best prices on Amazon below:
Check the latest Amazon deals on the 36″ Blackstone Griddle
Check the latest Amazon deals on the 28″ Black stone Griddle
Blackstone 28 vs 36 design similarities
Before we look at the design of these two griddles, it is important to point out that they both run on liquid propane.
Both griddles look rugged and long-lasting.
They both rest on thick and solid steel frames that will remain strong in any outdoor environment.
These steel frames are powder-coated and the cooking surface is cold-rolled while the powder coating helps to protect the metal from scratches and rust.
The cold rolling helps to distribute heat as well as helping to retain heat for more even cooking. This means that your food will also remain warm for longer when left on the griddle with the burners off.
Blackstone 28 vs 36 design differences
The 28″ griddle is smaller than its counterpart, obviously. It measures about 44.5″ by 19.5″ by 33.5″ and weighs only 75 pounds.
On the other hand, the 36″ unit measures 40″ by 25″ by 14.5″ coming in at around 134 pounds.
Other than being smaller, the 28″ griddle also has fewer shelves than the 36″.
With the 28″, you get two shelves; one at the bottom, and one on the left side.
However, the 36″ version has three shelves; one at the bottom, and one on each side.
Thus the 36″ has much more space for cooking.
The best part is that the shelf on the right side has a removable cutting board and a garbage bag hook.
Furthermore, the 36″ also has a paper towel holder below conveniently placed under the side shelf.
Portability of both units Blackstone 28 vs 36
Both these units are portable.
However, their portability differs slightly.
The 28″ griddle comes with two caster wheels only on one side i.e. 2 of its 4 legs have wheels and 2 do not.
Its non-wheeled legs are foldable and there is a convenient handle on the right side for moving the unit.
So in the case of 28″ it can be folded up and you can then pull it along like a suitcase. This not only makes moving it very easy but it also makes it easy to store.
It also means the 28″ is fairly easy to transport for tailgating and camping.
Conversely, the 36″ unit has four caster wheels on its 4 legs.
Here, you simply push it wherever you want without the need for folding up the legs.
This means moving the unit about your property is very easy but if you want to transport it, for camping for example, then you will need to be aware that it takes up much more space than the 28″.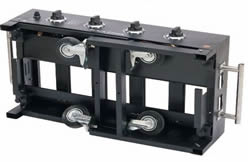 The 36″ may not be as travel-friendly as the 28″ but that doesn't mean it isn't travel-friendly. It might have wheels on all the four legs, but these legs are also foldable.
Therefore, you will have an option to either push the 36″ griddle when it is fully assembled or fold up the legs for easier transportation.
These foldable legs also make the bigger griddle easy to store as it doesn't occupy too much space when the legs are folded up.
Both griddles have a secure footing on their wheels. This keeps the unit very stable while you are cooking.
Burners on both units Blackstone 28 vs 36
The 36″ unit has an upper hand when it comes to cooking options/experience.
The 36″ griddle has four burners, compared to the two burners on the 28″ unit.
The 36″ has four stainless steel burners that are controlled individually. Each of these burners delivers 15,000 BTU. In general, the 36″ griddle will give a total of 60,000 BTU.
The two burners on the 28″ unit also deliver 15,000 BTU each. So overall the 28″ griddle has a total output of 30,000 BTU.
Since the 28″ griddle has two burners, it means that you will only have two different cooking zones which can be very limiting if you are planning to feed a group of people numbering more than 4.
On the other hand, the 36″ unit offers four cooking zones with the four burners. Here, you will have the opportunity to cook foods with variable heat and be able to cook much more of it.
Cooking experience Blackstone 28 vs 36
The cooking area of the 28″ unit is 28.5″ by 16.5″, whereas the 36″ griddle offers a much larger cooking area of 36″ by 20″.
Typically, the 36″ unit will allow you to cook lots of food at one go, while the 28″ griddle is somewhat limited due to restrictions in cooking space and only having 2 burners.
Although the 28″ is marketed as being able to cook for up to six people it is really only geared for 4 – unless you like standing over the griddle all day … or have some food hot while other food is cold … or are happy to feed 4 people first and the other 2 later … or you all just want to eat only beans and burgers – I think you get my point!
There is no such problem with the 36″ because of its more generous cooking area and double the amount of burners.
The 36″ griddle also has the upper hand on how it minimizes the grease on the cooking surface. There is no any complicated mechanism to this but it is very useful. The griddle has been designed with a rear grease management system.
There is a dedicated hole at the back side of the cooking surface that acts like a mini drainage system. This eliminates the excess grease from the cooking area.
This neat features means you don't have to worry as much about wiping off the excess grease from your griddle as you do with the 28″.
However, the 28″ griddle does have a grease management system, but it's just not as user-friendly. The grease management system on the 28″ is in front, and it directs the grease to an attached grease cup.
I know you might think that there is no real difference in the two grease management systems but when you cook on both of them you can really tell the difference.
The 28″ griddle's grease management systems just isn't as reliable. Typically, if you are not vigilant about cleaning the grease while using the 28″ then your cooking can become quite messy. In this case, you really need to clean the griddle frequently.
That is why the 36″ griddle performs better in terms of cooking experience.
Now that is not to say the 28″ isn't a good griddle because it is! It's just not as good as the 36″.
Is the Blackstone 28 or Blackstone 36 better value for money?
We have already mentioned a number of features of the griddles that are similar and pointed out their differences. But, are the differences between the two units enough to warrant a $100 difference in price?
Let's take a look by starting with the similarities.
Another similar feature between the two griddles is the the ease of initial assembly. You won't have a difficult time when setting either griddle up for the first time.
Both units have a quick and easy electric start button. Just the push of a button and a turn of the adjustment knobs and the griddle will be up and burning instantly.
The griddle top on each unit is removable but held securely by a stout steel frame.
Another similarity in all Blackstone griddles is that they are sold on a 90-day warranty. This warranty will normally cover all the parts, finishes, and workmanship.
Furthermore, the griddles from Blackstone are sold on a 30-day money back guarantee. If you are not pleased with the griddle, or it doesn't perform as advertised, you can always ask for a refund.
Typically, there's nothing to lose with either unit.
However, I believe that the larger cooking area, extra shelf and two extra burners along with the better grease management system makes the 36″ griddle better value for money but only if you regularly cook for more than 4 people.
Alternatively, if you cook for small groups and love tailgating then the 28″ would still be a great choice.
It really is all down to how you intend to use your griddle and how many people people you intend to use it for in one sitting.
Comparison chart Blackstone 28 vs 36. Blackstone griddle review
Comparison Chart for 28

| | Blackstone 28 | Blackstone 36 |
| --- | --- | --- |
| Size | 28" | 36" |
| Fuel | liquid propane | liquid propane |
| Measurements | 44.5" x 19.5" x 33.5 | 40" x 25" x 14.5" |
| Cooking Area | 28.5" x 16.5 " | 36" x 20" |
| Weight | 75 lbs | 134 lbs |
| Shelves | 2 | 3 |
| Burners | 2 | 4 |
| Grease Management System | yes | yes |
| Extras | none | removable cutting board,paper towel holder,garbage hook |
| Usability | tailgaiting, camping, BBQs | tailgaiting, camping, BBQs |
| Price | Check Amazon | Check Amazon |
Verdict: Blackstone griddle review – Blackstone 28 vs 36
So, from our Blackstone griddle 28 vs 36 comparison, which unit would you go for?
Well, both units are worth buying and offer terrific value for money.
However, The 36 inch Blackstone griddle
seems to be the better unit for those who regularly cook for bigger groups. If you will be cooking a lot of food at once, you should probably go for the 36″ griddle. It also has a more reliable grease management and more cooking surfaces and options.
The 28 inch Blackstone griddle
is a good choice if you won't be using it regularly and cook for 4 people or less. It is also an excellent unit for tailgating and camping.
The best part is that they both come with a 30-day money back guarantee.