Poulan Pro has been manufacturing motorized landscaping equipment since the early 1940s. The company has a reputation for creating robust riding mowers which out-perform and outlast those of their competitors so it's no surprise that the best zero turn mower, (compared like-for-like with competitors), we have tried is a Poulan.
However, what is best for one gardener may not meet the needs of another and so Poulan manufacture a wide variety of products to suit the wide variety of needs we consumers have. Their entry level riding mowers are some of the best available in the market.
In our opinion the best Poulan lawn mower on the market, for those to whom money is a consideration, is the Poulan Pro 960420174 PB24VA54. Although it is offered in a variety of national and local outlets it is always better to buy online online. This way you can take advantage of the low operating costs of online businesses as the best online vendors usually pass these substantial savings on the the customer.
Poulan Pro 960420174 PB24VA54 has a Kohler V-Twin engine which provides 24 HP. The cutting deck has a width of 54-inches and is made of reinforced steel. It delivers speed, performance and productivity in an easy-to-operate package. It has a 2.5-gallon fuel tank and a ready start engine. It will navigate through tough terrain to give you a smooth and well-manicured lawn.
A Few Things to Consider When Buying a Riding Mower
There are lots of riding mowers available these days. So before you consider the purchase of a riding mower it's a good idea to properly assess your needs if you wish to find the most suitable one. A riding mower will provide numerous advantages over traditional push mowers and you can maximize these advantages if you do a little research and understand your needs.
The first thing to do is to consider what kind of landscape you have, the size of your lawn, and which type of mower can help you achieve the perfect lawn you desire.
Every landscape has unique needs and your own will be no different. If you have large extensive grounds, you will have to find a mower which cuts large cut widths at higher speeds like this particular model.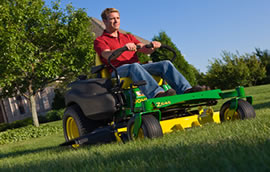 The kind of terrain your mower will be running over also matters. Hilly areas full of obstacles such as flower beds, tree roots or walls will require a more powerful engine and/or additional attachments. A terrain with obstacles requires a zero turn because it is much easier to navigate than the alternatives.
The turning radius is also an important factor to consider. This radius tells you how tightly the mower can turn. A smaller turning radius means the mower is capable of making sharper turns.
Since most zero turns on the market have significant forward speeds, they are the best choice for large lawns and/or lawns with lots of obstacles such as trees or plant beds.
A Detailed Look at the Features
Understanding the features of the mower you wish to purchase will allow you to make the right choice.
Taking care of your lawn would be a breeze if you manage to choose a mower which fits your needs properly. So here is a quick run-down of the features of this poulan lawn mower the Poulan Pro 960420174.
24 HP V-Twin Kohler Engine
The Kohler engine is a high performance engine which gives the mower enough speed to easily move through residential lawns.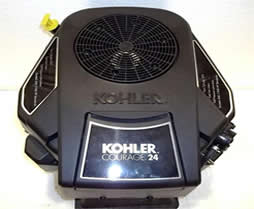 This mower has a V-Twin engine; this engine has been especially manufactured by Kohler for riding mowers.
It is more powerful than single cylinder engines and operates with minor vibrations.
The reduced vibrations make the engine less prone to wear and tear and also allows the rider to operate the mower in comfort.
The Cutting Deck
It is important to know the width of the cutting deck of any mower you are considering buying. The width of the cutting deck is a measurement of the width of the section of grass the mower can cut in a single pass.
The number of blades is also an important factor to consider. Smaller mowers only have one blade which provides limited productivity. Most of the larger lawn tractors have two to three blades for maximum cutting efficiency.
Another feature is the number of deck wheels. The deck wheels help maintain and even the cutting height when moving over uneven terrain. The Poulan Pro 960420174 has a 54-inch wide deck and houses 3 blades for maximum efficiency and nicely evenly cut lawns.
The Transmission
A pedal control fast auto-drive transmission enables the Poulan Pro 960420174 to move smoothly over rough terrain.
The mower responds very quickly when steered and the speed is impressive. The maximum forward speed is 5.5 mph and the backward/reverse speed is 1.7 mph.
The mower can move up steep hills easily if the grass is dry. An incline of 25-30 degrees is easily handled by the Poulan Pro 960420174.
On the downside, the mower does not handle wet conditions very well; the rear tires don't have enough traction and will skid over very wet grass. Obviously this is not a problem if you keep mowing to dry days only.
The tight turn radius allows the mower to navigate around obstacles with ease. It also has front caster wheels which help pivot the mower at sharp angles.
Since it has significant forward speeds, the mower will handle large open areas quite easily.
The Comfort Factor
An often overlooked but important factor to consider before purchasing a riding mower is the level of comfort it offers.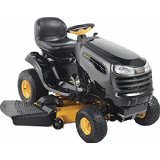 This is an especially important thing to consider if you use your mower often and for long stretches at a time. So before deciding on a particular machine always check the comfort factor.
Check if the mower comes with features such as lumbar support, high-back seat, rubber foot pads, extended leg room, armrests etc.
The Poulan Pro 960420174 wins in this area because it has comfortable seating where the seat has a 15-inch high back and includes armrests.
Additional Features of the Poulan Pro 960420174
Most garden tractors can be equipped with additional parts to provide more streamlined landscape care. After such a big purchase you would be selling yourself short not to take advantage of these very reasonably priced extras should you need them.
The Poulan Pro 960420174 is compatible with various mulching kits available from Poulan Pro. This mulching kit from Amazon is available on Amazon and will fit all 54-inch Poulan Pro riding mowers.
Comparison with Similar Poulan Pro Mowers
How does the Poulan Pro 960420174 to other Poulan models?
Poulan Pro 960420174 PB24VA54
Poulan Pro 960420167 PB20A46
Poulan Pro 967331001 P54ZX
Power (HP)
24
20
24
Cutting Width (inches)
54
46
54
Number of Blades
3
2
3
Cutting Methods
Mulch
Mulch
Mulch/Collect/Side Ejection
Cutting Height (inches)
1.5 – 4
1.5 – 4
1.5 – 4
Number of Cylinders
2
1
2
Engine Cooling
Air
Air
Air
Battery
12 V, 30 Ah
12 V, 28 Ah
12 V, 28 Ah
Generator
18 A
16 A
16 A
Start Method
Key Start
Key Start
Key Start
Fuel Tank Capacity (gallons)
2.5
2.5
3.5
Fuel Type
Gasoline
Gasoline
Gasoline
Cylinder Displacement
725
597
100
Front Tire Size (inches)
15 x 6
15 x 6
11 x 4-5
Rear Tire Size
20 x 8
20 x 8
18 x 9.5-8
Transmission Type
Automatic
Automatic
Manual
Speed Forward (mph)
5.5
5.5
6
Speed Reverse (mph)
1.7
1.7
3
Anti-Scalp Wheels
5
4
4
Product Dimensions (inches)
72.8 x 49.5 x 46
72.8 x 45 x 46
78 x 61.5 x 35.5
Taking Care of Your Poulan Pro 960420174
Taking care of your mower ensures that you get the maximum performance for the longest time.
The care of your Poulan Pro is easy if you follow the guidelines in your instructions manual. Keeping your mower well-maintained will help you operate the mower safely and at its highest performance level.
Try to stick to the recommended oil change schedule.
Any repairs should be done by a professional. Consult an expert if you are not sure about anything. Spare parts should be purchased from a licensed Poulan Pro vendor such as Amazon.
Here are a few things you should definitely keep in mind when you are maintaining your Poulan Pro mowers:
Roll out uneven spots if you can, this will allow your mower to operate smoothly and give a neater, more even cut. The grass grows taller in summer time so it's better if you bag the clippings during this season. The rest of the time you can opt for mulching. If you are mowing for long periods of time during the day, it is wise to invest in a shade canopy.
Make sure you check the compatibility of the attachments you purchase. Follow the instructions and safety guidelines for the additional parts as well.
Another aspect which requires extra attention is the fueling. Always be careful when fueling up your mower never allowing the tank to run so low that your mower may pick up and run the dirt at the bottom of the tank through the engine. This will ensure that the engine and the mower continue to run smoothly.
Always read the owner's manual and the engine manual that comes with your mower. It is also a good idea if you go through this safety guide provided by the Outdoor Power Equipment Institute.
What Do the Reviews Say?
This mower is a great choice for homeowners. It has a high star-rating on Amazon and other review websites. The overall consensus is that the mower offers great value for money and works to expectation. As with any purchase we did come across some minor complaints from purchasers but on each occasion these minor problems were easily resolved. All the buyers up the date of this publication were pleased with their purchase.
One reviewer commented that the deck is quite large compared to that of similarly priced mowers. Another reviewer said that the mower cut through 1 feet thick grass without any problems. Yet another reviewer liked the mower's smooth drive, good torque and high speed.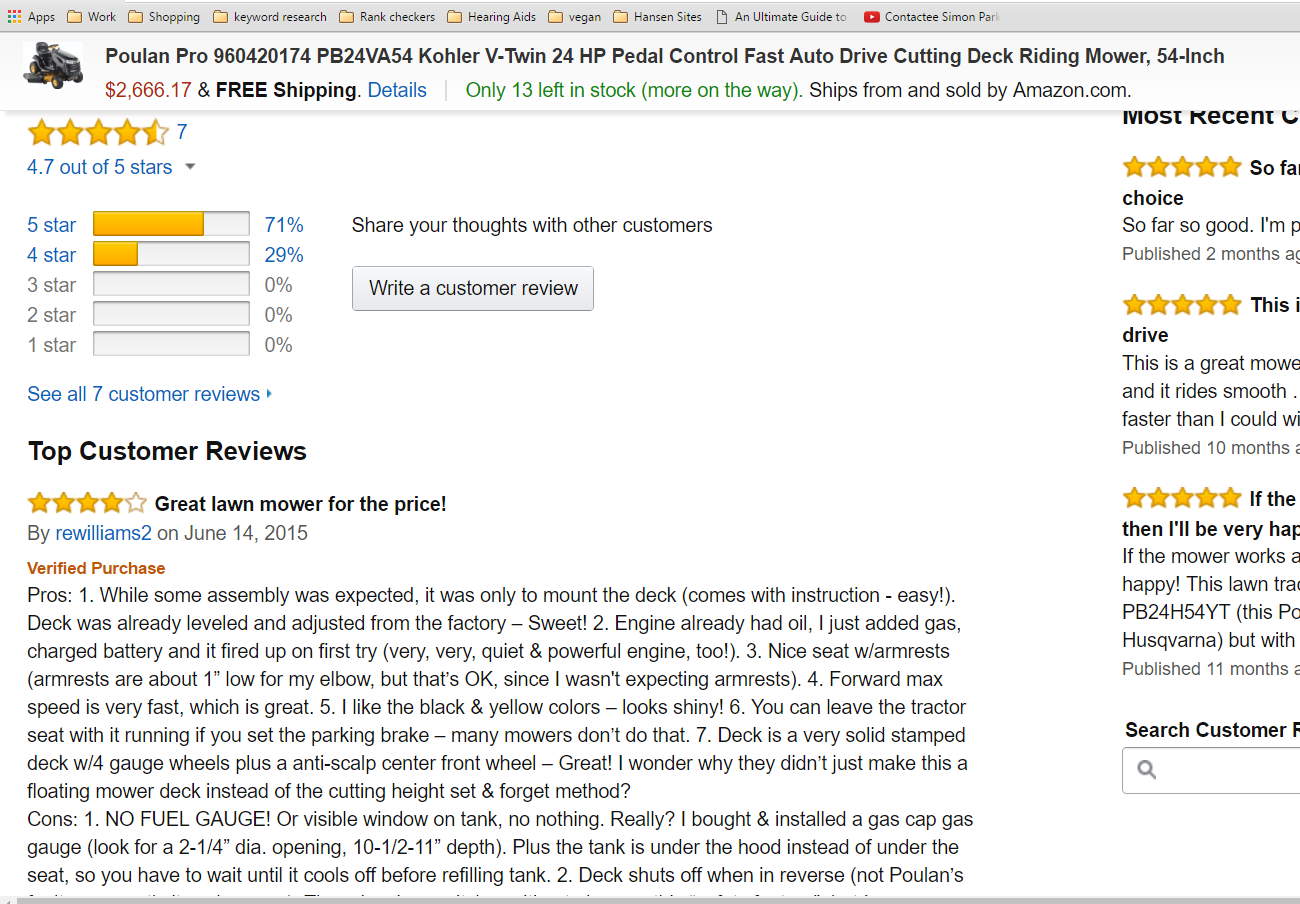 Here is a small selection of what reviewers are saying:
"… the mower runs quite smoothly and the rider barely feels any vibrations."
"The Poulan Pro has good ground speed, a sharp turning radius and good torque."
"… the mower is a great machine overall. The few minor quirks don't take away much from the long list of pros."
From the reviews it seems that many people found that the mower handles tall and wet grass pretty well despite the lack of tire traction we found as mentioned earlier.
The bottom line is that Poulan Pro has created a high-performance machine which is the best choice for anyone looking to purchase a Poulan Pro turn riding mower with a wide cutting width.
The Final Verdict—Is This Poulan Lawn Mower Worth Buying?
If you have a large lawn, then a riding mower will make the task of landscaping easy and less time consuming. Riding mowers are an excellent choice if you require a highly efficient machine.
Poulan Pro has lots of good models available in their entry-level residential line but the Poulan Pro 960420174 is the best pick if you are looking for both value and high performance.
For residential landscaping needs a riding mower is definitely the best choice but is a significant investment and one that is seldom taken lightly. We have found that the Poulan Pro 960420174 has all the features you will need offering great value for the price without compromising on the quality and output. It is our pick for the title of Best Poulan Lawn Mower because of that.
The mower is quite compact and does not need much storage space. The mower itself weighs 598 pounds but total shipment weight is 608 pounds. Make adequate arrangements to move it to the desired spot once it has been delivered. Some minor assembly is required but shouldn't take longer than an hour. Simply follow the instructions provided in the owner's manual.
You will have to attach the mowing deck and then attach the five deck wheels. Be sure to align the wheels properly during attachment.
The V-Twin engine is powerful, provides quieter operation than most others in its class and has less wear and tear due to reduced vibration.
If you need to take care on especially rougher terrain, it may be better to invest in a lawn tractor. However, for typical residential mowing needs, even extra large lawn areas filled with obstacles such as trees or flower beds, the Poulan Pro 960420174 will perform more than admirably.
Summary
Poulan Pro has been making gardening and landscaping equipment since the 1940's. They manufacture top of the line riding mowers, tillers, lawn mowers, chain saws and snow throwers.
The Poulan Pro 960420174 is a 24 HP pedal-controlled riding mower which packs quite a punch.
The engine is a robust Kohler V-twin which delivers performance and speed while reducing sound to a minimum for such a powerful machine.
Residential landscaping needs can be easily met with this power horse. Whether you have a large lawn or a couple of acres to take care of, you can depend on this mower to deliver a stellar performance every time.
What's more the Poulan Pro does not disappoint when it comes to quality and value. The pedal controlled fast auto drive transmission enables the mower to perform smoothly.
The mower can handle steep hills easily; anything up to a 25 to 30-degree incline should be manageable. Although many owners claim it performs well in wet conditions we advise you not to use it on wet terrain or grass because its ability is compromised under wet conditions; you will get a much more professional cut if you use it under dry conditions.
The mower is built for speed and not designed to be used for tilling or other similar duties though it does come with an impressive amount of additional extras such as mulching kits.
The person operating the mower will feel minimum vibrations and should remain comfortable throughout the duration of use. The seat is quite comfortable as well, with a 15-inch high back and armrests (which is a great benefit during long periods of cutting).
The deck is 54-inches wide and is made with robust steel. The Poulan Pro 960420174 comes with a 10-year belt and deck warranty. You can take advantage of an online vendor's low overhead costs by buying directly from them online rather than paying a go-between or third-party seller.