Those of us fortunate enough to have yards know that we need to maintain our lawns to keep the overlook of our homes good. However, lawn care often involves more than just mowing the grass and tending to weeds. Ensuring proper care of your lawn requires many hours of hard work and many people abhor the idea of tending to their lawns using traditional methods.
The 4 Best Mulching Lawn Mowers On The Market Today Reviewed By Category
One yard duty in point is mulching. Traditionally after mowing the lawn, using a standard walk-behind or riding mower, you would have to then rake the cuttings and mulch the lawn manually.
Luckily modern technology means this is one piece of yard work that we can pass over to a machine.
This is where mulching mowers come in.
Why there are 4 different categories of mulching lawn mower
Not everyone needs the same type and size of mulching lawn mower.
For that reason we have included the best mowers in 4 different categories.
Below are our top picks for:
The best electric corded mulching lawn mower
The best cordless electric mulching lawn mower
The best gas-powered mulching lawn mower
The best riding mulching lawn mower
Let's take a quick look at our top picks in those 4 categories.
Best Electric Mulching Lawn Mowers – Corded

The 2 best corded electric mulching lawn mowers

2. Best Electric Mulching Mowers – Cordless
The best cordless electric mulching lawn mower
3. The Best Gas Powered Mulching Lawn Mower:
4. Best Riding Mulcher:
Why your mower should mulch while it cuts
Mulching mowers are much more efficient than normal mowers in a lot of ways.
They have unique blades and a mowing deck that cuts grass more efficiently than a standard mower and creates clippings in a way that a normal mower cannot.
Anyone who has mulched before knows that it is important for the grass clippings to be small so that they can be easily and quickly broken down by microorganisms in the soil.
When this breakdown occurs the nutrients are released from the mulched plant material back into the soil to reinvigorate it.
Mulching has many benefits that surpass the obvious feeding you are giving to your soil.
Here are a few key benefits of mulching:
Mulching helps with the overall health of your lawn's soil through water retention (it stops evaporation of moisture that often starves soil of much-needed water).
Mulching helps to keep soil temperature cool in warm climates and protects the soil from frost in cold climates.
Mulched clippings are composed of approximately 85% water with a 5% nitrogen content meaning they can provide, on average, up to 25% of the fertilization needs of a typical lawn.
Mulching your grass clippings greatly helps to reduce your carbon footprint: According to the EPA, a whopping 13% of the national waste stream is made up of yard trimmings with grass clippings accounting for 2/3 of all yard waste.

As well as reducing your overall yard work duties, mulching via your mower can also dramatically reduce the time you need to spend mowing the lawn; as you will not have to dispose of the grass clipping afterward nor rake the grass if you use a standard "large clippings" lawn mower.
Mulching can also save you money if you live in a municipality which levies fees and has extra charges for landfill yard waste.
According to the University of Georgia's turf expert and agronomist, Dr. Keith J. Karnok, it wise to Mulch your lawn whenever possible and he notes that it is a good idea to use grass clippings for mulching whenever it does not detract from the look of the lawn.
Our Check List For Picking The Best Mulching Lawn Mower In Each Category
There are several factors that should be taken into consideration before buying a new mulching mower.
The most important one being the size and shape of your lawn.
It is important to go for a mulching mower that is compatible with your lawn.
This is so that you can get the desired results without falling short of power or having to overspend on a mower with an excessive amount of power.
If you have a small garden, then a small engine gas mower or even a decent electric mower would be more than suitable for you.
For medium and larger gardens, a powerful self-propelled mulching mower will prove to be your best option.
Medium and large lawns require a mower with a bit more power to carry out a good mowing job and reduce the of amount time spent actually cutting the lawn.
In this review, as I will be discussing the best mulching lawn mowers in each of the four categories listed above.
I will also be discussing three of the best mulching mowers based on yard size, as follows
Small yard mulching lawn mower.
Medium yard mulching lawn mower.
Large yard mulching lawn mower.
As well as choosing each mower based on its suitability for your yard size our choices are also based on the quality of the product and the price of each mower.
We have also taken into consideration the suitability and usability of the mower's features.
To avoid any confusion, and for a quick reference guide, we have also added a comparison chart at the end of this post – right under the review section.
There are various things, above and beyond the size of your yard, that you need to consider before buying a mulching mower.
Let's have a look at them.
We looked for mulching lawn mowers with reduced noise levels
Noise generating mowers are irritating and in most cases, they are also polluting as the noise is generating by big, powerful, gas-hungry engines.
Noisy CO2 producing mowers do not only affect your ears but they also affect your immediate surrounding.
Gas-guzzlers can pollute the environment adding to your carbon footprint.
Mowers that have better quality blades and good decks both designed for mulching are usually much quieter.
They also add to overall fuel-efficiency meaning they produce less environmentally unfriendly emissions.
The best mulching lawn mowers had to produce finer clippings
When using a grass for mulching you need a mower that cuts the stems into smaller bits than a standard mower.
As far as mulching goes the adage should be 'the smaller to clippings the better'.
So a mower with specially designed mulching blades and side discharge is what you should be looking for.
Using grass directly from the mower for mulch is just about as "green" as you can get.
Using a mulching mower makes it easy for a person to recycle the grass clippings while ensuring their lawn soil gets all the nutrients it needs and remains healthy without the need for chemical fertilizers.
The Finely chopped grass is a feast for the tiny creatures that dwell in the soil.
These micro-organisms help to improve the quality of the soil by feeding on the grass mulch and imbuing the soil with nutrient-rich waste.
Mobility was an essential factor when considering the mulching lawn mowers
A mower that comes with easy mobility is essential so you can have a good experience while trimming your lawn.
It also allows you easy access all areas of your yard – even those hard to reach spots.
The mower should have proper wheels designed to deal with its weight and provide extra ease of movement over your particular terrain.
Some heavier mower models that come with smaller wheels could make mowing a difficult task if your lawn is uneven or slightly sloped.
It is always a good idea to take into consideration your terrain and the overall topography of your lawn before deciding on a mower.
For example, if you have a lot of lawn obstacles, such as trees, garden beds, bushes etc., then you may want to opt for a commercial mower with a mulching capacity that has zero turn capability.
The power behind the mulching mower is also important
Gas mowers are the most popular type of mower on the market today and will probably remain so for the foreseeable future.
If you have a particularly challenging lawn or a sizable yard then you will most likely want to stick to a gas mower.
Although gas mowers are still the most popular models sold in the USA today some people concerned with their carbon footprint often opted for electric mowers.
Be sure to think about the potential problems a corded electric mower might cause with your specific lawn layout.
A corded mower may also be impractical if your lawn is not a straight.
Corded mowers also pose a problem if your yard has multiple obstacles or you find that your nearest electric socket is so far away that you have to use multiple electrical cord extensions.
Cordless mowers for the most part as not as powerful as corded mowers.
So electric mowers that run longer on battery and can be charged quickly but keep their charge for a long time stand out in the world of electric mowers.
Mowers that pack a 5Ah battery typically run longer than the alternatives – 40 – 45 minutes on one full charge on even terrain.
Those who have a medium sized lawn (1/2 acre – 1 1/2 acres) should go for a mower that can run for longer periods so that the charge does not drain out before the entire lawn is done.
If you have a larger lawn than that then an electric mower is probably not going to be a good fit for you.
In fact, anything over 1/2 an acre probably needs a lawn mower with a bit more bite than an electric can provide.
Having better charging and battery performance should definitely be taken into account so that you don't have to worry about running to find a socket.
Ease of storage was also considered
We also felt that the mulching mower must be easy to store at least as far as the push mowers go.
Although big riding machines offer power and comfort, a mower with a compact design has tons of benefits.
You can store a smaller mower easily, and small mowers are also easy to handle.
A mower that can be folded up in a matter of minutes saves a lot of time and also occupies very little space in a corner.
A mower than can be easily hoisted up and hung on a wall is another easy storage solution.
So regardless of which type of mower you intend to buy always be aware of the limited space you have in which to store the machine.
We also considered each mulching mowers capacity for large and small jobs
The size of your lawn is very important as the power requirements of the mower you choose will largely depend on your lawn size.
Most push mowers would be perfect for a small (less than 1/2 acre) to medium sized lawns (1/2 acre to 1 1/2 acres).
Though mowing an acre and a half of lawn with a push mower may involve a bit more work than you are willing to put in.
For a big lawn (more than 1 1/2 acres) you really need to invest in a riding mower or stand on mower.
Of course, there are exceptions to every rule.
If your lawn is big in size but you prefer a self-propelled walk-behind mower you can always get one with that comes with a big deck. There are also walk behind mowers with zero-turn capability like the commercial Swisher Predator.
For a small lawn, a reel mower (available on Amazon) with a small deck would do just fine as long as it comes with mulching blades. This will work as long as you don't mind the added exercise that comes from having to push it manually.
Such mowers can be useful as they can reach the smallest areas in a lawn without any issues.
Of course, they are not advisable for those with health challenges.
The best mulching lawn mowers had to have a good warranty & positive customer feedback
Always choose a mower that comes with a good warranty. If it doesn't have at least 2 years warranty for residential use don't touch it.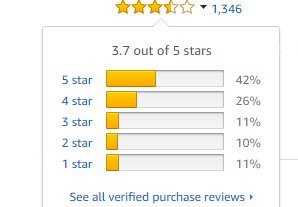 Be sure to go online to check current reviews of any lawn mower you are considering buying.
Be sure that the mower has mostly positive reviews.
Do not be put off by the occasional negative review as it is unusual of any product to have a 100% approval rating.
When you scan through the reviews pay particular attention to statements that apply to you and your lawn type.
Just 30 minutes doing this can make all the difference to your selection and help you avoid making the wrong purchase decision.
It's not just about the price
This is pretty obvious but, although it may be essential for you to make a purchase within your budget, don't be fooled into thinking you will save money going for the cheapest option.
There is an old saying in the retail industry relating to making a cheap purchase which later costs you more.
A "cheap buy" can end up an expensive purchase due to higher running costs, repairs or even because you have to replace the product before you have got your money's worth from it.
This is called making "a false economy".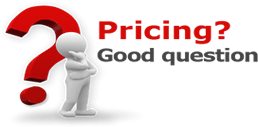 Likewise, on the flip side, just as bigger doesn't always mean better, neither does more expensive mean better.
It may true that you usually get what you pay for but just because a lawn mower is more expensive, and just because it comes with a lot more added features, that doesn't mean that it will be the most suitable machine for you or your lawn.
In certain specific cases, you may be better off with a much cheaper purchase.
For example, an expensive riding mower with zero-turn capability is obviously a much better machine than a small electric mulching mower.
However, it isn't the best choice if you have a yard the size of a postage stamp or your lawn is flat and as straight and unencumbered as the Great Plains!
The Best Mulching Lawn Mower In Each Category – The Reviews
Below are our top picks for the best mulching mowers.
We have divided the picks into mowers best suited for specific lawn sizes.
Additionally our choice of best electric mulching mower we have included our choice for best corded mulching mower and best cordless mulching mower.
Without much ado, let's have a look at three of the best mulching mowers.
They are:

Electric Corded


Electric Cordless
Gas Powered
Riding Mower
Let's dive deep into the details now:
1. THE BEST CORDED ELECTRIC MULCHING MOWERS – there are actually 2 that made our list
When have included 2 corded electric mowers because they were both too good to leave either one out!
We also thought it was important to cover the two best machines in different classes.
Here we review the:


Earthwise 50520 20″ 3-in-1, 12 Amp Side Electric Corded Lawn Mower


GreenWorks 25142 16″ 2-in-1, 10 Amp Corded Lawn Mower



Electric lawn mowers allow you to greatly reduce your carbon footprint because you can forget about the fumes caused by gas and oil.
Both of these mowers are ideal electrical lawn mowers and share many similar features.
a) The Earthwise 50520 Corded Electric Lawn Mower
The Earthwise 50220 is has a 12 Amp engine fed electricity directly via a standard electrical house socket.
It has a large 20″ blade, 7″ front wheels and is stabilized with the larger 9.5″ back wheels.
The V-styled handle comes with a comforting grip. The Earthwise 50520 serves as a 3-in-1 lawn mower with 3 separate functionalities.
With the Earthwise 50520 Corded you can choose at any time to switch between:
mulching
bagging
side discharge
There's an adjustable lever that can change the cutting with heights ranging from 1.5 to 4 inches.
This mower can deal with moderate sized gardens really well.
It is easy to assemble and you will be ready to plug it in and start mowing in just under 15 minutes.
The Earthwise 50520 gives great grass cutting quality.
But, it should be noted that the engine is not sufficiently strong enough to deal with very challenging terrains and will struggle if it's pushed past 3,500 RPM.

Warranty
It comes with a 2-year warranty starting from the date of purchase.
For more information click here.
b) Greenworks 25022 Corded Electric Lawn Mower
The GreenWorks 25022 has a 10 Amp engine with a 16″ cutting deck, 7″ front wheels and 6″ back wheels.
Its 2-in-1 functionality of mulching and bagging makes it one of the best electrical mowers. Its handle can be adjusted to 7 heights ranging from 5/8-Inch to 2-5/8-Inch inches.
This machine is easy to move as it weighs a mere 37.5 lbs.
An extraordinary mower for little to medium-sized gardens, this one packs quite a punch for its small size.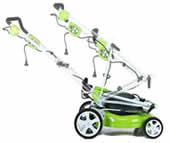 It is an ergonomic mower and, due to its light weight, it can be easily pushed around a mid-sized garden without causing the slightest bit of fatigue which is often associated with heavier gas-powered machines.
One really neat feature is the foldable handle which makes this mower much easier to store.
One slight problem we found is that you might need to purchase an extension cord because its cable isn't that long, something that should really be addressed by the manufacture in our opinion.
Warranty
The Greenworks 25022 corded mulching mower comes with a 4-year guarantee.
For more info on its warranty click here.
Main Features of Both Corded Mowers:
Lower noise levels makes for quiet mowing
Electric lawn mowers don't make much noise as their gas-powered cousins.
Regular gas mowers can produce an average noise rating of between 90 to 106 decibels, which is actually harmful to your ears.
However, going green means both The Earthwise 50520 and The The GreenWorks 25022 produce much less noise and they let you, and your neighbors, have a pleasant mowing experience.
For a quick comparison look at the chart below.

| Activity | Noise Level (in decibels) |
| --- | --- |
| Cat meowing | 45dB-65dB |
| Human Conversation | 45dB-65dB |
| Car driving at 65 mph | 75db |
| Blender | 88dB |
| Petrol Lawn Mower | 96dB – 106dB |
| Electric Lawn Mower | 70dB |
As you can see from the chart an electric mower is considerably more quiet than a gas mower.
Cordless mowers offer ease of use
Forget the need to keep tugging at the pull-cord to get your mower started.
With electric powered machines, all you have to do is push a button and you're ready to start.
When it comes to maintenance there is much less to do with an electric mower.
A little sharpening of blades might be needed after some time of use and of course, you will need to regularly recharge the battery.
A quick clean after use is often all that is needed to keep your machine in top shape.
The advantage they have over gas mowers is that no oil change is required and you don't have to get its engine tuned plus there is no problem with messy refueling either.
Meanwhile, traditional mowers require oil changes, engine tune-ups and refueling.
Great deck size for cordless mulching mowers
A mower's deck size represents the width it can cover while mowing.
A widened mower deck implies that the blade will cut more grass in a single trip and could finish the job with a few passes, saving you time and effort.
So, a mower with a big deck size is preferable over a one with a smaller deck size.
Traditionally electric mowers have been lacking in this department but with the Greenworks have a respectable 16″ deck and the Earthwise having a large 20″ deck this is no longer a problem.
However, bigger deck sizes, for the most part, will mean bigger and heavier mowers which require more energy to actually move the machine as well as the blade.
Since a bigger mower slices through more grass and thus gets the job done quicker it has always been a compromise between deck size and weight.
A heavy mower is would be a big drawback to any electrical machine.
In a cordless model, the battery would drain faster and even in the corded models there is only a certain amount of electricity to power the machine.
For this reason, most electric mowers have small decks and thus using one usually equates to you having to spend more time cutting your grass.
Not anymore though!
With a 16″ deck on the Greenwise and a large 20″ deck on the Earthwise mowing with an electrical machine no longer needs to take longer than a gas mower.
What's more, bigger gas mowers require more storage space but with the lightweight electrical alternative storing your lawn mower is much easier.
It can even be lifted onto a wall hanging!
Each mower offers superior grass management through mulching
When it comes to managing the grass that is cut during the mowing process modern lawn mowers deal with them in 1 of three ways.
Most standard mowers today are designed to:
Eject grass cuttings to the side
Gather the cut clippings into a rear bag
Mulch it once more into the lawn
the lawn that a side-discharge machine requires but this grass usually isn't fine enough to be an effect mulching material either.
However, mulching with grass is extremely good for your lawn but not all grass clippings are created equal.
In order to cut the grass into fine enough bits to be effective for mulching, most mowers need a mulching blade.
For this reason, many mowers are sold as purely mulching machines because they have a set blade.
The great thing about both the Greenworks and the Earthwise corded mowers is that they are interchangeable.
Although you are obviously reading this review because you want a mulching mower don't be afraid to get a mower that can do more.
A mower that can mulch, bag and side-discharge will not mulch any less effectively than one that was designed to exclusively much.
Check out the latest deals available on Amazon now:
Earthwise 50520 3-in-1 – check price on amazon.
Greenworks 25022 2-in-1 – check price on Amazon.
They both have great customer feedback
Below is a sample of some online reviews left by customers of both the machines reviewed above.
Earthwise 50520
This corded electric mulching mower currently has a 4.3-star rating on Amazon.
This is an extremely high rating indicating that the mower has an extremely high number of positive reviews.
Here is what one user (verified purchase) had a say about it:
"Very, very good. Mulching ability is superb. I no longer have to bag heavy grass and there is no evidence of lawn clippings whatsoever. I didn't want to bother with oil and gas! I am still trying to get used to the cord and how best to mow back and forth as my yard is odd shaped. It took me about 5 minutes to assemble (super easy). The hardest part was the weight (it is heavy) and getting it out of the box by myself. It is very well packed so removing the stuck in materials and lifting it from the box was tricky." Amazon verified purchase by Rachel.
All we can say is this user has obviously never tried to lift a gas mower but I suppose we should note that the user is female so it's understandable that the mower was heavy.
Greenworks 25022
This superb corded electric mulching mower currently has a 4.6-star rating on Amazon.
Again, like its competitor's rating shown above this is an extremely high rating indicating that the mower has an extremely high number of positive reviews.
Here's one customer's review about the product:
"I shop regularly at Amazon and frequently read and rely on customer reviews, but I hardly ever write one. I have been mowing lawns for 60 years and have always believed you need a 5 HP gas mower to mow grass. Period. But times change. I wanted to try an electric corded mower to see if it would help with several issues. Until last month, I had never, ever used anything but gas. This 16″ mower exceeded all expectations. I gave away my old mower, gas cans, air filters, and tossed the oil changing pan and a bunch of other stuff. I am never going back.

This particular mower is very well designed. I do not know how well it will hold up over time, but based on three mowings of heavy, wet, tall northwest spring grass, I think the build quality is very good and I expect it to last. It has plenty of power to mow grass. It is very easy to change mower height with one control. The mulching plug is a welcome addition (but mulching will have to wait for dryer weather.)

I did not expect the grass catcher to work at all, but it not only works great, it works better than any other one I have ever used. There is an impeller (or something) mounted above the blade which may have something to do with filling the bag. Also, the smooth curved surface of the underside of the mower may have something to do with it. Anyway, the grass catcher bag fills with heavy wet long grass until the bag is full. Completely unexpected.

Here is a hint for everyone: I was looking around the shed for something to clean the underside of the mower. I did not want to use the steel scrapers I used on my old mower. I found a rounded plastic tool my wife must have purchased for gardening. It is perfect! I used this: Fiskars Fiber Composite Soil Scoop (7068).

If you have never used a corded electric mower, here are some thoughts which might help. Things which are easier with this mower than my old gas mower include: lighter, much less vibration, much quieter, much easier to start, no gas, no oil, no air filter, no tuneups. To start, you press a button, squeeze the bail (just like your gas mower). That is it. No bending over, nothing to pull. It just starts up and keeps running until you release the bail. The main adjustment is using a cord. You do have to learn how to manage the cord and devise a new plan to mow your lawn. It took me three mowing sessions to be comfortable with all aspects of mowing with this mower. You will probably learn faster than I did." Amazon verified purchase by Old Guy.
So which electric corded mulching lawn mower is better for you?
These two mowers are slightly different from one another in terms of weight, price, and functions.
However, they both run on electricity straight from a home electrical socket.
They both have adjustable cutting heights.
If we have a look at their weights, Earthwise 50520 weighs 62 pounds while GreenWorks 25142 weighs 37.5 pounds, making the Greenworks much, much lighter.
This is not at all surprising considering its extra functions.
So, if you like the fact that the Earthwise has the ability to bag grass clippings then this mower wins the game hands down as it comes with a 3-in-1 ability to mulch/bag/side discharge, something which Greenworks lacks.
Considering the lower price of the Greenworks 25022 however, in conjunction with the obvious popularity of the machine, it may be a better buy if all you want your mower to mulch only.
Though this may limit your mowing days due to weather conditions; mulching wet grass is not advisable.
The Earthwise 50520 also costs marginally more because of its 12 amp engine and triple functionality while Greenworks costs a little lower but is much more popular and seems to really shine as a mulcher across a myriad of different lawn environments.
It depends on which electric mower suits you according to your needs.
If we were pushed to make a choice it would be:
If you want a mower purely for mulching get the Greenworks 25022 – available on Amazon.

If you foresee the need for extra functionality now or in the future then you should take advantage of the 3-in-1 capability and a get the Earthwise 50520 – available on Amazon.
2. THE BEST CORDLESS ELECTRIC MULCHING LAWN MOWER
Our top electric cordless mower is the very same mower that grabbed our coveted best electric mower for 2018!
Introducing the compact and surprisingly powerful Ego+ Power 20″ cordless electric mower.
EGO Power+ 20-Inch 56-Volt Lithium-ion Cordless Lawn Mower Review
The EGO Power+ 20″ cordless mower is your best bet when it comes to buying an electric cordless mower.
As we mentioned above this machine isn't just the company's flagship electrical mower and, in our opinion, the best electric mower for 2018, it is also a kick-ass mulcher.
Not only is this electric mulching machine made of very high quality components but it is also very reasonably priced.
This 20″ cordless mulcher is actually a full 3-in-1.
With the advantage of a powerful electrically charged motor this cordless mower mulches, bags, and side discharges.
Unlike the corded alternatives mentioned above, which have only one blade, the Ego Power+ has a large 20-inch cutting deck with a tough stainless steel blade.
This electric mower's foldable design and weather durability make it more alluring for homeowners.
This mulching mower's cut quality is commendable and fast.
Being electric it gives off less much less noise than a gas-powered alternative while its compact lightweight design lets you move it with ease and makes it a well-engineered efficient machine.
This mower exceeds even the harshest of critics expectations.

It provides a truly amazing 55 minutes of runtime and cuts evenly even when the juice is running low, leaving no signs of a mess as it accumulates grass clippings and shredded leaves in its bag.
The single lever lets you adjust the cutting height up to 5 positions which is a quality that is rarely found in walk-behind mowers let alone in cordless electric machines.
This 61-pound mower is lightweight, quiet and with its foldable handle very easy to store.

Let's have a look at its main features.
Features of EGO Power+ 20″ Cordless Mulching Mower:
Here is a short list of the main features found on the Ego Power+.
Electric- powered cordless
Powerful Arc-Lithium 4 Ah 56V battery with a (30-minute) Rapid Charger
20 inch rust-resistant cutting deck
3-in-1 features (mulch, bag, side-discharge)
Easy storage foldable handle
5 Height Positions
45 running time, 30 min charging time
Weight: 65.3lbs
5-years (mower parts) and 3-years (battery + charger)
This mulcher is user-friendly & fast charging
The Ego Power+ Cordless Lawn Mower has a sleek design that'll leave you awed when you unpack the shipment.
The icing on the cake is that it comes almost pre-assembled, and you will only be required to attach the handle and the rear bag.
Don't let the look fool you, while the mower looks attractive, it is more than just a physical piece of beauty.
The mower does what it is expected to do, and does it better than most other substitutes out there.
It comes with an amazing ergonomic structure that makes mowing very easy with greatly reduced vibrations and almost no shake which is usually associated with engine-powered push mowers.
The wheels let you move it freely as it comes in the dimensions of 37.4″ x 21.6″ x 16.1″.
As far as the charging is concerned, 30 minutes is all it takes to give you a runtime of 55 minutes which is more than enough to cut 2 miles worth of lawn.
Though you should note that if you have exceptionally challenging or very uneven terrain this runtime may be reduced.
This mower is not confined to a single type of cutting either, you'll be able to do manage heavy cutting, slight trims and even deal effectively with wet grass – a truly amazing feature for any mower in this price range let alone an electric one.
The cut quality is superior to many gas-powered mulching mowers
The Ego Power+ Cordless Lawn Mower works efficiently on all types of lawn from zoysia to bermuda grass.
The cutting deck mulches the grass smoothly without making a mess of any kind as the clippings are so finely cut they are barely visible on the lawn.
Keep in mind that if choose to use the bagging option and you have a big lawn then you will likely have to empty the filled bag long before the mower runs out of power!
This mower is fast and is best suited to lawn up to a 1/4 of an acre. Anything larger and you are probably better with a riding mower anyway.
The 5 Different height adjustment settings makes this mulcher versatile
It's a simple, one levered mower that allows you to change the height to any 1 of 5 different positions.
The adjustable height ranges from 1.2 to 3.5 inches, giving some very respectable cutting height options.
Great mulching power for an electric motor
More motor power in a lawn mower means easier mowing. The Ego Power+ Cordless Mower is really amazing in this regard.
The Advanced Arc-Lithium 4 Ah 56V battery with Rapid Charging ability provides the Ego Power+ 20″ cordless mower with great power to keep it running for at least 55 minutes.
It only requires 30 minutes to get reach a full charge, which makes it by far the most efficient mower on the market when it comes to charging.
Another feature is that the same battery can be used to power all Ego products from leaf blowers to chainsaws!
You could save a lot of money in future yard equipment purchases with this lawn mower.
Another amazing quality of this mower is its high torque magnetic motor, which generates about 600 watts of energy, and if you wish to use the 5 AH battery, you get a runtime of almost an hour.
This mulching lawn mower offers care-free maintenance
This mower requires very little maintenance.
It comes with a very generous 5-year warranty, including the parts and electrical components.
The battery and rapid charger, on the other hand, come with a 3-year warranty because they will probably be used to power other
Ego equipment and thus will see a lot more use.
You'd be glad to know that there are no huge maintenance hassles like fuel mixing, spark plugs malfunctioning, power cord cut-outs etc.
This mower has a 5-year warranty for a reason – it is exceptionally well-built and with proper care should last you for decades.
The Ego Power mower is cost effective
Considering the price of this mower, which may seem a bit high to some people, but, it sure has plenty of valuable features to match its asking price.
This mower doesn't come with those regular batteries which die or lose performance within a year.
It has a battery built with cutting-edge technology that can be used on a whole range of Ego products and it comes with a 3-year warranty.
This mower's Lithium-ion battery provides incredible benefits, truly amazing power, much less noise than a gas-powered engine, and is environmentally-friendly.
When you think of the battery as an investment that will reduce the cost of other gardening power equipment (because you will be able to buy the base tools saving money on the battery & charger. it will pay for itself in no time.
If you don't plan on purchasing any additional Ego equipment the Ego Power+ 20″ lawn mower is still a great buy due to its performance and cordless convenience.
What is available:

EGO Power+ 20" 56-Volt Lithium-ion Cordless Lawn Mower:
Bare Tool
Mower with 4.0Ah Battery Kit
Mower with 5.0Ah Battery Kit
Mower with 7.5Ah Battery Kit
4 quick guide tables – The EGO Power+ 20″ cordless (4 different options compared)
| EGO Power+ 20" | Bare Tool |
| --- | --- |
| Battery: | Not included |
| Charger: | Not included |
| Deck Size: | 20 inch cut capacity |
| Body: | A body that is designed to withstand all weather conditions |
| Features: | 3-in-1: mulching/bagging/side discharging |
| Handle: | Folds easily for easy storage |
| Start: | Push Button Start |
| Price: | check current price on Amazon |
EGO Power+ 20"
LM2000 mower
4.0Ah Battery and Rapid Charger
Battery:
Advanced Arc-Lithium 4.0 Ah 56V Battery (Durable in all weathers)
Charger:
Rapid Charger Kit (up to 55 minutes runtime from a 30 minute charge)
Deck Size:
20 inch cut capacity
Body:
A body that is designed to withstand all weather conditions
Features:
3-in-1: mulching/bagging/side discharging
Handle:
Folds easily for easy storage
Start:
Push Button Start
Price:
check current price on Amazon
EGO Power+ 20"
LM2000 mower
5.0Ah Battery and Rapid Charger
Battery:
Advanced Arc-Lithium 5.0 Ah 56V Battery
Charger:
Rapid Charger Kit (up to 55 minutes runtime from a 30 minute charge)
Deck Size:
20 inch cut capacity
Body:
A body that is designed to withstand all weather conditions
Features:
3-in-1: mulching/bagging/side discharging
Handle:
Folds easily for easy storage
Start:
Push Button Start
Price:
check current price on Amazon
EGO Power+ 20"
LM2000 mower
7.5Ah Battery and Rapid Charger
Battery:
Advanced Arc-Lithium 5.0 Ah 56V Battery
Charger:
Rapid Charger Kit (up to 55 minutes runtime from a 30 minute charge)
Deck Size:
20 inch cut capacity
Body:
A body that is designed to withstand all weather conditions
Features:
3-in-1: mulching/bagging/side discharging
Handle:
Folds easily for easy storage
Start:
Push Button Start
Price:
check current price on Amazon
Customer Reviews of the EGO Power+ 20″ Cordless Lawn Mower)
The general consensus on the mower seems to be very positive with the majority of reviews being 5-star.
Here are two reviews we literally just picked from the beginning of the reviews:
"I will freely admit that I was a bit skeptical of having an electric mower. I liked the idea of not having to deal with gas and the necessary mess and smells that come along with it, but I was worried that an electric mower would never have the same power as a gas-powered mower and thought I would have to spend more time waiting for the battery to charge than actually doing lawn work. The EGO immediately did away with those assumptions after the first mow.

Those that have described the EGO as the "Tesla of mowers" are absolutely right. This thing screams "premium" and "well-engineered" along every inch of its design. It's built with quality materials yet significantly lighter than a gas-powered mower thanks to the electric mower. It quickly and easily converts from its fold away storage mode to ready-to-use in a few seconds with minimal work. The battery charges INSANELY fast: from no charge on delivery to a full charge took only about 30 minutes, and I was easily able to mow my front and back yards on a single charge (roughly 25-30 minutes of mowing) with plenty of room to spare. The mower puts out plenty of power and had absolutely no trouble with my overgrown lawn. Adjusting the height of the blade was by far the easiest I've ever seen on a mower: the mechanism works almost exactly like a manual transmission on a car and is extremely easy to adjust. Finally, no more adjusting wheel by wheel painfully trying to move levers to the correct position. The only "complaint," if you can call it that, is that the battery charger is quite loud. There's a fan that turns on while the battery is charging to prevent it from overheating. It's not the kind of thing you're likely to hear in the garage, but when indoors – since I couldn't wait to give this thing a whirl as soon as I got it – it's pretty noticeable.

Time will tell how long this honeymoon period lasts. My main concern at this point is the longevity of the battery. At $200 a pop, it's not a cheap part to replace and batteries will, inevitably, lose their charge. After a couple of trips through the yard though, I couldn't be happier with this mower. I'm a new EGO fan and will absolutely be getting more of their equipment. I can't recommend this mower enough." Amazon verified purchase (mower with 5Ah battery) by Nick Naylor

"I love this mower! This is my second electric mower, I am a petite, mid 40's professional woman. When I bought my house I knew I didn't want to deal with a large, heavy gas mower that I would have to pull to start, change the oil, get blades sharpened, tune-ups, mix gas, etc., My time is valuable, I am independent I just want to get the job done. My first mower was good, lasted 9 years had a heavy acid battery & was self-propelled. It took me about 1.5 hours to cut just over 1/2 of an acre (hilly terrain) and if it wasn't too long I just might get it all in. I left the northeast, moved to south Florida and I left my old mower behind. I researched, shopped, compared and then bought this one. I haven't mowed my grass since I moved in and the first mower I ordered never made it to me d/t damage in transit. So since I didn't know when the previous owner last cut the grass and we were now at 3 weeks of home ownership, I went out to home depot to look at mowers. I was really impressed with the warranty, it folded super compactly & I was able to lift it into my trunk (I'm 100 lbs). But what really sold me was the ease – push the button, grip the handler & go. I don't know that I will mow at night but my children loved the headlights. When I got it home, I didn't charge it, just took it out and me, my 9 & 7 year old all took turns with the new mower. It was super easy, quiet and fast! There was one area that was a bit long and I had to take less than a full pass but I was able to get 1/4th acre done in 15 minutes. The battery died just as I was finishing. Placed it on the charger and it was back to 100% in a half hour! love it! love it!" Verified Amazon purchase (mower with 4.0Ah Battery) by Kindle Customer
Final verdict on the best electric cordless mulching mower
This is certainly one of the best mulching mowers available on the market today. You can choose between buying the mower separately if you already own another
Ego product and thus have an existing battery or you can buy it as a bundle with a rapid charger and a choice from 3 different strength batteries.
The battery comes with a 3-year warranty though the lawn mower itself has an extremely generous 5-year warranty.
The runtime is around 55 minutes on this particular mower, which is certainly more than enough for a medium sized lawn
A quick 30 minutes is all it takes to charge the mower to full capacity.
The advanced arc-lithium battery is powerful, and cuts out the need for gas, thus reducing environmentally harmful emissions and the electric motor even reduces noise substantially.
Having a 600W high torque engine gives you incredible power when you are mowing your garden.
There is 20″ cut width, and you won't be needing to go over a similar area of grass more than once as long as you don't push the mower along at too fast a pace – slow & steady wins the day with the Ego Power+.
The machine is extremely tough and water resistant and can function at to performance rate in a myriad of climatic conditions.
It also folds up neatly and quickly, and can be stored in tight places or can also be hung on a wall.
It has a lot of power, despite its lightweight and compact size.
All in all, this is one of the best mulching mowers you can opt for if you want to reduce your carbon footprint but don't want to compromise on results.
3. THE BEST GAS-POWERED MULCHING MOWER
Snapper 12AVB2A2707 21″ Self Propelled Gas Powered Mower Review
The ultimate finishing touch to a landscape is an immaculately mowed lawn and everyone knows how good Snapper are at providing machines that can help you do that.
That tidy green surface adds a flourish to your yard, and it can be the spot where you gather with friends, play with kids, or relax on summer evenings.
But not every lawn mower is suited to every lawn.
The wrong mower can leave a ragged edge, get bogged down in tall grass, or be stubbornly difficult to start.
If you want a gas-powered mulching mower then you need a lawn mower that offers convenience, strength and the right power punch.
And that's what you will get with the Snapper 12AVB2A2707 21″ Self Propelled Gas Powered Mower.

Features of the Snapper gas-powered mulching mower
Snapper is a high-end manufacturer of mowers, both walk behind and riding models.
Their self-propelled, gas-powered lawn mower, the Snapper 12AVB2A2707, is in its own class.
Performance and reliability are unparalleled, and a unique 3-in-1 cutting deck system puts you in control of your mowing experience. Its mulching function is top rate.
The faultless design makes for easy mowing
Weighing in at only 85.4 pounds, this Snapper is a lighter mower than your usual gas-powered machines.
This makes it a good fit for users who can't or don't want to, push a heavy weight around their garden.
The handle height is 38 inches, which is one of the shortest measurements but still gives a comfortable experience while mowing while allowing the mower to be stored more easily than larger models.
This design makes it suitable for different body types, which would be helpful for a family if a teenager, mother and father all use the lawn mower.
With more power comes a superior cut
One of the steps in creating a perfect yard is choosing the correct cutting height for the lawn look you desire.
The Snapper 12AVB2A2707 mower is quick and easy to adjust with up to 6 cutting height options for different types of grass finish. The height settings give you more freedom to work with rough terrain and patchy or regenerating grass.
Although we have chosen this machine as the best gas-powered mulching mower, with the 3-in-1 cutting system you can choose the cutting mode that is best for your grass:
Side-discharge directs the clippings back out onto the lawn — helpful if you have grass that is coarse or tall. As you mow, the cut grass is ejected out the side of this mower, leaving behind large clippings that eventually decay into your lawn.Normally, this option works well. If the grass is really tall, however, you'll need to rake up the excess – especially during the dog days of summer. The extra clippings could smother the grass below, leaving brown streaks in your lawn. Something you may already be aware of if you are looking for a mulching mower.
Bagging mode collects the clippings at the rear of the mower, keeping your lawn looking clean without having to rake and reducing the spread of weed seeds.
Mulching mode (it has a mulch plug) allows the mower to contain the clippings so the blade can cut them to into much smaller size clippings.The clippings fall onto the lawn as very fine grass mulch to add nutrients to the soil. This machine is a truly excellent mulcher!
The gas motor allows for effort-free pushing through the self-propelled system
Because of the complexities that come with the walk-behind electric lawn mowers especially when it comes to pushing them (albeit though they tend to be much lighter), self-propelled mowers were made to be able to make a complete mowing without the need for pushing.
This mower actually pushes itself to reduce the fatigue that may come with a standard push mower.
You simply walk behind the mower to control its path.
The self-propelled drive system lets you maneuver quickly and easily around your yard on flat, hilly or uneven terrain.
The Snapper SP80 12AVB2A2707's self-Propelled system is perfect for yards up to 1 acre.
The variable speed settings make mowing easier & cuts more even
The Snapper 12AVB2A2707 features a variable-speed front-wheel drive that lets you mow at your own pace.
This stops the feeling that the mower is trying to take-off on you; no straining to keep up with the machine as it can mow at your pace.
The front wheel drive, however, means that to propel it forward the wheels must be firmly planted on the ground.
It actually performs at its optimum in areas which are well tended with short grass and flat topography.
Though it can handle any terrain as long as you stay aware that the front wheels need to stay on the ground.
The variable speed setting will allow you to go faster or slower depending on the conditions of the lawn, or on your physical condition or current level of tiredness.
There may be days you feel like racing through your lawn mowing chores, and other days when you want to take your time.
The variable speed setting can also deliver a more even cut when kept at the same setting throughout your mow.
This Snapper gives a great cut quality
The 21″ cutting deck in the Snapper is made of solid steel and the dual-blade is well-designed and razor-sharp ensuring a clean straight cut.
If you mow your lawn regularly and your grass is well-kept, a single mowing spree would suffice.
But for very tall grass above 7″, thick variants, dense weed coverage etc., at least two passes are required to get that perfect finish.
The mulching option is nothing short of brilliant.
The higher back wheel offers better maneuverability and traction
The basic for any self-propelled lawnmower is to have the same standard 8″ wheels in the front and back.
However the Snapper SP80 12AVB2A2707 has larger 11″ rear wheels for better traction and pivoting ability for large turns.
The smaller front wheels allow you to make sharper and fancier turns.
The high quality, solid wheels, both front and back, in the Snapper will handle the uneven or hilly terrain of any lawn.
You get top performance from a top machine
The single most critical element in gasoline-powered equipment is the engine. The engine is the heart of the machine and is responsible for producing the power to get the task done.
Generally the larger the engine size, the more options in terms of speed and variability the lawn mower will have.
This lawn mower features the Premium High-performance Briggs & Stratton 163cc OHV 725EXi Series Engine.
With G technology, you never have to change the oil. Just check and top-up if needed.
The ReadyStart motor means it starts first time
Starting the mower with ease is among the most desirable features, after power and cut-quality, when buying a mower.

Briggs & Stratton offer the widest selection of easy-starting options and are at the top of the pile for many lawn mower manufacturers.
They make some excellent small mower engines as well as the more powerful models used in the big lawn tractors and zero-turn machines.
In the SP80, Snapper has installed an engine which utilizes the Briggs & Stratton ReadyStart system.
Just one pull and the engine should start first time every time.
The convenient deck wash-out port makes cleaning easy
The underside of your lawn mower deck needs to be kept clean to prevent grass clippings from sticking to it.
These interfere with the airflow, and eventually lead to the deck rusting.
The convenient deck wash-out port in the Snapper 12AVB2A2707 SP80 accepts a hose connection for clearing clippings without bending or kneeling next to it and trying to direct water to the entire underside with limited vision of that area.
The ergonomic handles are great for
The design of mower handles is often underestimated or completely ignored. If you suffer from arthritis or other joint pain (see our guide to pain-free gardening tools)
The Snapper 12AVB2A2707 has ergonomic height-adjustable handles allowing for better comfort and easier pushing.
Snapper offer a great warranty & top class support
If anything goes wrong with this mower, it has a three-year warranty.
Final verdict on the best gas-powered mulching lawn mower
This mower was designed for … well most of us! In other words, this mower was designed for people who rarely or never service their lawn mowers.
It has been designed to need no maintenance!
Overall, the Snapper SP80 12AVB2A2707 lawnmower is an exceptional investment to make not because you never need to maintain it but also because of the many features it offers.
The front wheel self-propelled drive system, large sturdy rear wheels, and powerful engine means the SP80 is suited to just about any terrain type.
What stands out most about this great mower is its capacity for mowing on tight corners. And being a 3-in-1 you have the best of all "lawn mower worlds".
The rear bag is big enough to collect the grass from most medium sized gardens and it is very easy to detach it for disposal of clippings and debris, and reattaching is just as simple.
If you use the side discharge (with the mulching plug) you can even buy the optional side bag.
The mulching capability of this mower is nothing short of fantastic; no-one will even know there is cut grass on the ground unless they give the ground a really good inspection.
The only obvious drawback to this mower, compared to the electric models, is that being gas powered means it requires regular tune-ups and oil changes … or so you'd think.
But this mower was designed to be maintenance free … so think again!
You don't even need to change the oil, just top up the level every now and then.
While there are many lawn mowers on the market, this one is by far one of the better choices. This is especially true if you have mulching in mind and want to opt for a gas-powered machine that has power and offers great results while remaining maintenance-free.

4. THE BEST MULCHING RIDING LAWN MOWER
Now we get to the bigger machines. We have not included a zero turn mower in this selection because it really isn't necessary for mulching purposes.
Instead, we have chosen a very reliable, and extremely capable, lawn tractor as the best riding mulching mower.
The Poulan Pro 960420186 24 hp Auto Hydrostatic Transmission Drive Riding Mower
Although this machine is no zero turn mower it still packs a big punch.
It excels especially well on uneven lawns due to its sheer power.
Many people in the US have very challenging lawn terrain which can be very difficult to mow using a traditional push mower, even the modern self-propelled walk-behind mowers.
Additionally living the States means that many of us are fortunate enough to have large gardens.
This is why lawn mower manufacturers have strived to make lawn mowers, that were once exclusively marketed to commercial users, with powerful engines and wide cutting decks more financially accessible to ordinary homeowners.
This riding mower is one such machine.
It offers you dependable cutting thanks to a strong 24 horsepower Briggs and Stratton V-Twin Automatic Engine.
The machine delivers the ultimate comfort experience in mower mulching.
Main Features of Poulan Pro 960420186
Below are the main features on our pick for the best riding mulching mower.
Ride-on and reverse switch mode make light work of mower mulching
The mower comes with a switching mode so you can easily move into a reverse mode when needed.

This is a capability that makes the machine unique among other mulching mowers.
Although this is no zero turn mower it does have a front axle which oscillates, giving you a smooth turning experience with no difficulties while moving around trees or facing any ground obstacles.
You should note that you can cut in reverse and on a turn if you keep the blade connection in the "engaged" position.
The automatic hydrostatic transmission control gives more control over tough terrain
The ReadyStart+Y16 Starting System starts to engine every time with no trouble.
The automatic hydrostatic transmission also makes it simple to maintain your speed regardless of terrain.
There is no need to manually adjust the system either as the machine will make the necessary adjustments itself to ensure the right measure of fuel and air are fed at optimum levels for a smooth ride
Comes with mulching or bagging option as standard with the option of additional attachments
The reinforced vented deck is capable of drawing air from the top of the deck, to keep the flow of cooling air running smoothly throughout even when you're cutting long grass.
You can opt to mulch or bag with optional attachments. The mulching function is top rate.
You can give this machine a serious workout in any yard environment without any worries because it comes with a 10-year deck shell warranty.
Less overheating & less vibration from the motor make for a smooth ride
The oil is thoroughly pressurized and the oil is delivered to the critical parts of the engine at all times by internal oil pump.
The vibration is minimal because the deck remains cool due to the seriously reduced overheating common in many machines and this provides you an overall smoother experience.
The wide cutting deck & adjustable cut height make quick work of any lawn job
This mower is as solid as it comes. A 54″ steel strengthened deck helps lift grass effortlessly and you can adjust the cut to 6 different heights.
As you would expect from a lawn tractor this mower does its work smoothly on any type of lawn regardless of how even or uneven the terrain is.
The handy electric blade engagement let's you disengage from cutting
Cutting thick grass is no problem due to the high-quality blade.
You can also disengage the blade at any time thanks to the handy 'Electric Blade Engagement' feature.
It can be activated by just pulling a lever that is situated on the control panel.
Poulan offer a good warranty
Comes with a 10-year deck warranty. For more information and the manual click here.
If you are buying online then the mower will probably come with 2 options:
Without Assembly
With Expert Assembly (which usually costs about $190 but it's worth it if you are not technically or mechanically minded)
Quick View Stats For Poulan Pro Mulching Mower
The 46 in Reinforced vented deck draws air from the top of the deck, helping to keep the air flow moving under the deck in longer grass.
You can also mulch or with ptional attachment bag your cuttings.
Excellent Mulching capability
Comes with a 10 yr. Limited Warranty on the deck shell.
Operates like a car with foot pedal controls with the convenient automatic transmission travels at speeds up to 7.5 MPH.
The 20 HP Briggs & Stratton Over Head Valve Engine with Pressurized Lubrication is designed to run cooler and cleaner than a conventional engine delivering more power when needed.
With the internal oil pump, oil is delivered to the critical parts of the engine at all times.
Ready Start Starting System takes the guesswork out of starting your engine.
No need to prime or choke as the engine automatically senses the temperature of the engine and adjusts the amount of fuel it delivers so that it starts easily every time.
Oscillating Front Axle with a 6″ turning radius for level cutting is coupled with a floating deck, giving you a level cut even in rough terrain.
The 6″ turning radius lets you cut closer to smaller trees or obstacles, so there is less trimming to do.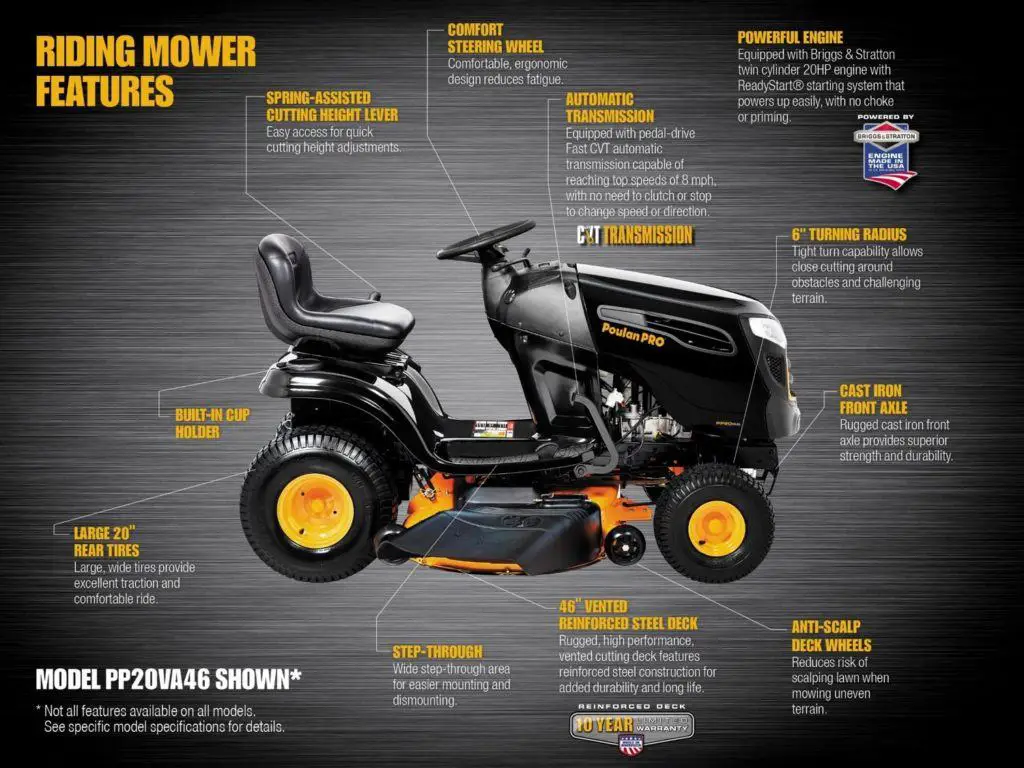 Customer Reviews for the Poulan Pro 960420186
The general feedback on this mower is quite good with tons of happy customers.
Let's have a look at one such feedback:
"I was looking for an average lawn mower that required low maintenance and was under my budget.

Luckily I stumbled upon Poulan Pro 960420186 and was surprised to see its incredible features offered at such a low price.

I bought it and I am satisfied using it without facing any difficulties."
Final verdict on the best mulching riding lawn mower
This ride-on mower is ideal for people who own a large lawn as it has an edge over walk-behind mowers.
The blade engagement feature also allows you to disengage the blade from cutting should you need to relocate the machine to a different area.
The mower has the ability to be upgraded through a number of great optional accessories. It's mulching function is top rate despite its very reasonable price.
The handy Maintenance Minder lets you know if your mower needs a service or not taking the guesswork out of maintenance schedule.
However, keep in mind that the mower doesn't automatically come pre-assembled unless you are willing to pay an additional fee.
This is well worth the cost unless you are very confident about your ability to put the mower together efficiently.
However, even assembled the Poulan Pro 960420186 is very competitively priced for a lawn tractor.
Comparison Chart for All Mulching Mowers Reviewed
| Item Name | Item warranty | Power Source | Item Type | Deck Size | Item Price |
| --- | --- | --- | --- | --- | --- |
| Earthwise 50520 | 2 years | Corded Electric | walk behind | 20" | check price on Amazon |
| GreenWorks 25142 | 4 years | Corded Electric | walk behind | 16" | check price on Amazon |
| EGO Power+ 20-Inch 56-Volt Lithium-ion | 5 year machine/3 year battery Battery | Cordless | Walk behind | 20" | check price on Amazon |
| Snapper | 3 years | Gas-powered 163cc OHV 725EXi Series Engine | Walk behind | 20" | check price on Amazon |
| Poulan Pro 960420186 Briggs 20 hp | 10 year deck shell warranty | Gas powered | Ride-on | 46" | check price on Amazon |